On the Missing History at New York's Battleship Intrepid Museum
James W. Loewen Wonders What Happened to Vietnam
The aircraft carrier USS Intrepid is probably the largest object on display in any museum in America. After seeing extended duty in World War II and Vietnam, it's now serving another tour as the Intrepid Sea, Air, and Space Museum on the west side of Manhattan. The Intrepid is a feel-good museum that would rather exhibit anything but the realities of war. Since war isn't a feel-good subject, Intrepid can't say much about even "The Good War," World War II. And since the Vietnam War isn't a feel-good war, Intrepid simply ignored it in 1999, when I was there. Since I have not revisited, I shall retain the present tense, but I invite visitors to let me know if it has improved.
The Intrepid Museum avoids giving visitors more than the briefest glimpse of the reality of the Second World War. Its brochure describes Intrepid as "the battle-scarred veteran of World War II," but it isn't any longer. The Navy repaired all World War II damage decades ago. Intrepid also imitates the practice of Time-Life's series on World War II, which Paul Fussell derides for its reluctance to show a dead American. The closest the museum comes are two photographs in one corner, several feet above viewers' heads. The first shows sailors cleaning up damage from an air attack and removing a dead crewman whose body is not fully visible. An adjacent photograph shows a dozen clean white body bags, awaiting burial at sea. The "Self-Guided Visit" material Intrepid distributes to schoolchildren omits even these glimpses of death.
No wonder every visitor in the dozens of photographs in its advertising brochure is smiling. Everyone looks entertained. No one looks thoughtful. The Intrepid Museum has not given them a thing to think about.
Intrepid served three tours in Vietnam from 1966 through 1968, winning "best ship in fleet" on its third tour, but no display in the museum covers the Vietnam War or the ship's involvement in it. This is a grotesque misrepresentation, not least because Intrepid no longer is a World War II aircraft carrier; between World War II and Vietnam, the ship was rebuilt, and her entire configuration is now that of a Vietnam-era carrier.
Aircraft from Intrepid flew 13,407 sorties against civilian and military targets in North and South Vietnam throughout its three tours. These attacks raise at least two important moral and strategic questions that would seem to be critical for any museum seeking to explain the role of an aircraft carrier. First, is it right to deliberately bomb civilian targets? Second, do such attacks work? Are they effective in bringing a war to a victorious end? Neither question is raised—let alone answered—in the Intrepid museum.
When accused of making attacks on civilian targets, the Pentagon simply denied it was doing anything of the kind in Vietnam. These claims lent drama to the reporting that proved them untrue. In December 1966, Harrison Salisbury of The New York Times went to Hanoi, capital of North Vietnam, and Haiphong, its port city, and sent back written accounts and visual proof of hospitals and houses destroyed by U.S. bombing. As they learned these facts, many U.S. citizens changed their mind about the morality of the Vietnam War and started to question statements made by government officials.
Deliberate bombing of civilian targets was not limited to North Vietnam. During Intrepid's tours in Vietnam, our "pacification camps" in South Vietnam became so full that units were ordered not to "generate" any more refugees. "Now peasants were not warned before an air strike was called in on their village," in the words of Robert Buckhout. Unannounced air strikes on civilians then became routine, even though they killed the people we professed to be helping. "They were killed in their villages because there was no room for them in the swamped pacification camps."
When accused of making attacks on civilian targets, the Pentagon simply denied it was doing anything of the kind in Vietnam.
Our bombing policy disgusted some American sailors including, according to Buckhout, half of the non-aviation junior officers aboard Intrepid's sister carrier Hancock, who lodged an official protest against the war with the ship's captain. Four sailors from Intrepid famously deserted in October 1967, when the ship was docked at a U.S. naval base in Japan. A Japanese peace organization helped them get to Russia, where they were awarded the Lenin Peace Prize, and they wound up in Sweden. There, dubbed "The Intrepid Four," they advocated for an end to the war.
All we get from the Intrepid Museum on these matters is a prideful label about the A-6 attack bomber: "A-6 attacks on Haiphong were so devastating that North Vietnamese believed they were being bombed by B-52 Stratofortresses instead of by two-seat naval attack bombers." Taking pride in such a job well done provides a perfect example of technical rationality.
Even by the standards of technical rationality, however, the A-6 attacks had a counterproductive effect on public opinion throughout Vietnam, stiffening the people's resolve to resist the American attackers. A serious analysis of the failure of air power to lead to victory in Vietnam might prove useful to the American people. A thoughtful military museum could raise this issue by asking visitors: if the United States were cruelly bombed, would Americans surrender? Such thoughtfulness is out of the question at Intrepid, however, which only in this one A-6 label even acknowledges that it was in Vietnam.
For two years, the museum did treat Vietnam in a special exhibit, "On the Line: Intrepid and the Vietnam War," which closed in 2017. However, that exhibit seems to have left little residue on the ship or its website. Online, the museum's main treatment of the Vietnam War is this paragraph:
Intrepid aviators attacked a range of targets, including transportation links, petroleum resources and industrial facilities. Intrepid pilots scored two shoot-downs of North Vietnamese aircraft. Three pilots became prisoners of war, and 21 men lost their lives in combat or in operational accidents.
How easy it would be simply to insert "four sailors famously deserted," into the middle of that last sentence!
A thoughtful military museum could raise this issue by asking visitors: if the United States were cruelly bombed, would Americans surrender? Such thoughtfulness is out of the question at Intrepid, however.
Some Vietnam vets have expressed anger and sorrow that the Intrepid Museum omits their stories. Leaving out Vietnam does violence to the ship's past and brings no honor to its veterans. Indeed, it invites them to feel shame, for they know why they are unmentioned.
Telling the story of their service in Vietnam complete with the conflicts built into that war would respect the airmen and sailors who were caught in the middle of Intrepid. But a feel-good museum cannot help visitors think about any issue about modern war—strategic, moral, or intertwined.
__________________________________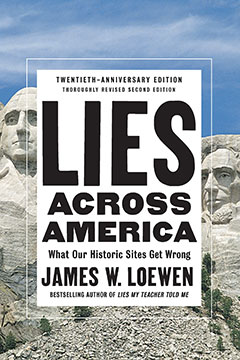 Excerpted from Lies Across America by James W. Loewen. Copyright © James W. Loewen 2019. Reprinted with permission from The New Press.
---