On the Magical Landscapes of Anne of Green Gables
How Prince Edward Island Become an Idyllic Tourist Destination
Often a measure of a novel's success, in its depiction of a particular place, occurs when readers feel they know it, they recognize it, or, better yet, they want to visit. Such has been the case with the perennial favorite, Anne of Green Gables. Since its publication in 1908, fans of Anne Shirley have sought out the small island in eastern Canada, keen to meet the character and tour the landscapes she made memorable—The Lake of Shining Waters, the Haunted Wood, Lover's Lane, the Birch Path. Like the free-spirited Anne, who loves and names almost every tree and flower she encounters, they, too, want to know the place that had such an influence on her. For lovers of the Anne novels (Maud Montgomery wrote an additional seven for the series), much of the magic seems rooted in the very land Anne roamed.

Visitors to Prince Edward Island will find much to love in its natural beauty—a narrow strip of rolling hills in the Gulf of St. Lawrence, with lush fields, quiet coves, and miles of white sand beaches. But its pastoral, timeless feel can't quite explain its powerful draw. While the summers are mild, its winters are long, and two of the primary industries—fishing and agriculture—can be tough to pursue at any time of year. Yet tourism, the second most important, remains strong, with hundreds of thousands of visitors arriving every year to experience the same sites that were such a part of Anne Shirley's adventures.

It is, in many ways, an odd phenomenon, a balancing act between the real and the fictional that Canada's National Park Service, among others, helps sustain. In the town of Cavendish ("Avonlea" in the novels), in the house known as Green Gables, visitors can see the rooms where Anne and Matthew and Marilla slept; they can walk the same paths, cross the same streams and inhale the same fir-scented air. 

Along the way, they can relive some of Anne's more memorable moments—scaring herself with Diana in the Haunted Woods, welcoming spring with her schoolmates on a mayflower picnic, accepting Gilbert's offer of friendship on an evening stroll as the novel concludes. And yet these are all imagined events, superimposed on the PEI canvas—until one reads more about Montgomery's life. There, in the pages of her journals, which were first made available to the public in 1985 (edited by Mary Rubio and Elizabeth Waterston), is where the real and the fictional intersect.

Though Montgomery insisted that Anne wasn't based on anyone she knew—"I have never drawn any of the characters in my books 'from life,'" she writes, "although I may have taken a quality here and an incident there"—her journals suggest otherwise. Reading them alongside Anne of Green Gables is to see the many similarities between the young Maud and Anne. Both were raised by elderly people after losing their parents (Maud's mother died when she was young and her father left her with her grandparents before moving to western Canada). Both had vivid imaginations and the same seen-only-by-them friends (Katie Maurice, Violetta). Both gave similar names to their favorite places to walk (Lover's Lane, the Birch Path), and both saw trees and plants as sensate beings who welcomed a greeting after time spent apart. Anne is, in many ways, an idealized version of the young Maud, completely at home in and energized by the natural world. As a result, her presence is far larger than that of simply fascinating, charismatic girl; she embodies the very stuff of life, as in the epigraph from Robert Browning that Montgomery used for the novel—"The good stars met in your horoscope / Made you of spirit and fire and dew."

"Nothing else in her work—not domestic scenes or current fashions or intrigues between boys and girls at the school—resonates quite like her descriptions of nature."

In addition to this intimate relationship with PEI, another pattern becomes apparent in Montgomery's accounts of her life. She and Anne both look to the natural world when needing to transcend a difficult or uncertain situation, as when Anne arrives at the train station and, should no one arrive to pick her up, imagines spending a night in the cherry tree, "all white with bloom in the moonshine." When it's not clear if Matthew and Marilla will keep her, having asked for a boy to help with the work of the farm and receiving instead this skinny, garrulous girl, it's the brook and the Snow Queen and the Lake of Shining Waters that feed her imagination and soothe her soul. For the young Maud, laboring in the fields during the hated potato harvest, it's the distant view of the pond and the sea and the colors of the autumn trees that she chooses to focus on rather than the drudgery of the work. And when she's in Alberta a few years later, trying to please her disagreeable stepmother or enduring the unwanted attention of the schoolmaster, Mr. Mustard, it's memories of Cavendish in the prime of summer that help buoy her spirits, "ferns blowing spicily in the woods, lazy sunshine sleeping on the hills, with the beautiful sea beyond blue and bright and far-reaching. There is no spot on earth more lovely."

Unfortunately for Montgomery, such images couldn't completely avert the despair that often overtook her as an adult. Though writing gave her enormous pleasure, as did the attentions that came with it, she struggled mightily with depression and ultimately died from a drug overdose during a particularly dark time. Her journals suggest that turning to the beauty around her—and wrestling to find the right words to capture it—had been an antidote that saved her again and again. In Emily of New Moon, her most autobiographical novel, Montgomery reveals the aesthetic so central to her life when Emily labors to capture a particularly exquisite sunset, knowing it would "hurt her with its beauty until she wrote it down."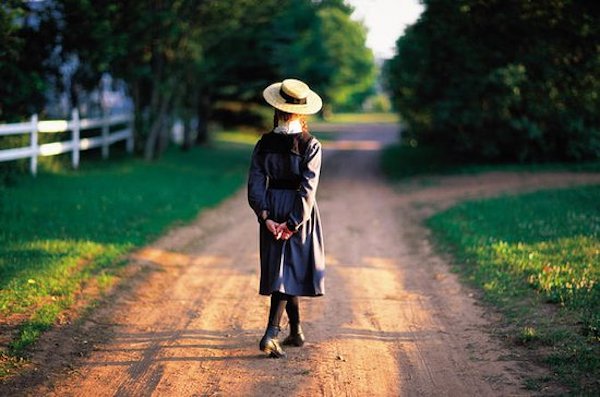 "It has always seemed to me," Montgomery writes in her journal, "ever since I can remember, that, amid all the commonplaces of life, I was very near to a kingdom of ideal beauty." A thin veil separates her from it, which she can never quite draw aside, but 
when the wind causes it to flutter, there's a glimpse of what lies beyond, and "those glimpses have always made life worthwhile." It's that drive
 to approximate what briefly caught sight her eye—in prose that does justice to the luminous moment—that makes Prince Edward Island, her landscape of choice, seem such an idyllic place.
Nothing else in her work—not domestic scenes or current fashions or intrigues between boys and girls at the school—resonates quite like her descriptions of nature. The reader can almost feel her changing gears when she lifts her eyes, looks out the window, or recalls a memory of time spent outside; the writing itself is transformed. The subtle hues in a sunset, the changing colors of fall, the winter scenes from a horse-drawn sleigh—all reverberate with new meaning when seen through Montgomery's or Anne Shirley's eyes.
It's no wonder, then, that the landscape exerts such a pull on Montgomery's readers. They witnessed its role as the impulsive Anne slowly matures, from the place she would go to truly feel a prayer, to the serene and familiar setting for what will be her last walk with Matthew, the woods "all gloried through with sunset." Along the way they experienced a landscape so memorable that they know, should they ever set foot in Avonlea, that they would immediately recognize Anne's woods and fields and lake as though they were old friends. 
---