On the Love Hotels and Pleasure Quarters of Tokyo
Anna Sherman Maps Sites of Hidden Desires
Tokyo is a city of darkness, a city of light. Each melts into the other. At its center, the city of light blacks out, and at bridges and crossroads, at the margins around train stations, the city of darkness shines, gleaming.
In that other city are love-hotel rooms laid out like train carriages where men brush against women pretending to be commuters. And the (now almost extinct) No Panty coffee houses, which appeared overnight and disappeared as quickly, once Tokyo tired of their mirrored floors and the waitresses who served terrible overpriced coffee, wearing short skirts and nothing else. Before the New Public Morals Act outlawed certain excesses of bad taste (such as revolving beds and oversized mirrors), there were cabarets near Shinjuku where women stood behind chicken wire as clients poked fingers through the mesh, straining to touch a rib, a wrist, or whatever they could reach. Rooms where adults could suck on a pacifier and wear diapers. And—most infamous—Lucky Hole, a bar where a man could push himself through an anonymous plywood board while someone invisible on the other side sucked or stroked him. "I thought it was sex for the future," wrote one aficionado wistfully of the time before the act came into force and the red light district's seedier establishments—including Lucky Hole—were shut down.
The two cities blend one into the other in Minato ward: at the Ritz, and in cheap karaoke bars. The American embassy, and the head office of the Tokyo Broadcasting System. The glass funnel of Roppongi Hills, and the towers of Midtown. The steel and glass ripples of the National Art Museum, and the hostess bars that cluster the crossing near where Expressway Number Three turns into Route One.
*
She was the most beautiful woman I had ever seen. She was lithe, her body like a wand, with silky blonde hair slipping over and around her shoulders in sheets.
She was dancing alone in Wall Street, a shot bar in one of Roppongi's long narrow basements; so graceful that no one would come near her because anyone dancing beside her would look clumsy. Empty space fanned around her legs, her arms. The other dancers shook themselves a few feet away. They were all a little off rhythm, watching her move.
Article continues after advertisement
"She's—radiant," I said to the man beside me, almost shouting because the music was so loud. Indifferent, he looked over his shoulder at the dancer.
"That's a prostitute. From somewhere in Eastern Europe."
The bar had walls of unfinished concrete. What lighting there was, was dim, except for a muted glitter under the bottles of vodka and whiskey and the massed empty tumblers and champagne flutes standing upside down on the bar. Like the glass, the dancer drew light to herself; to the lines of her shoulders and wrists, her hips.
I wondered if she had once trained at the Kirov or the Bolshoi. A tall girl, golden, who might have been a principal dancer in Europe, but who had ended up a few thousand kilometers to the east, a figure priced in yen on somebody's timesheet.
*
The Japanese language has a modest number of words for the English word penis. There's "robust individual," and "life-giving sword," after the spear used in the creation myth when the islands of Japan arose out of chaos. Blue-green snake and mythical serpent. Eel, turtle, cucumber. For monks, the penis was "demon of worldly cravings."
But where the words for the male member are either playful or grandiose, the Japanese vocabulary for female genitalia is whimsical, extravagant, and rococo.
She was dancing alone in Wall Street . . . so graceful that no one would come near her because anyone dancing beside her would look clumsy.
The most common equivalent for vagina is asoko: "there." Female instrument, muscle, money box. For really large parts, "the ultimate depth," and soshiki manjū, those sweet doughy buns served at Japanese funerals. There are terms imported from American English: rose, canoe, beaver, crevice, crater. Cherry blossom and the flower pink, for virgins. Secondhand for ones that are not. From the floating world of Edo's Pleasure Quarters, there is the antique language still sometimes used by older yakuza: teabowl, teapot, mortar, utensil, box. Inkwell. For loose vaginas: large basin, rice tub, bathtub, enormous plate. The garden has been scavenged for words (peach, watermelon, chestnut, fig), as has the sea (night clam, crab, and a wealth of different shells—raven, baked, freshwater, living, new). For monks who misbehaved in the so-called willow and flower world of Edo's pleasure quarters, religious terms in Sanskrit: sudden enlightenment. Lotus shell. And—harder to explain—"straw sandals."
Even if their lives were bound by strict ancient rules, the monks' sexual vocabulary could run wild: solitary pilgrimage, copying out a sutra by hand, and whipping, which meant caress.
*
You need no passport or luggage.
Whatever the fantasy, whatever the desire, in Tokyo a love hotel exists for it and inside the hotel, a room. The themes change—merry-go-round carousel, medieval castle, galaxy far, far away, underwater grotto—but certain elements remain the same. A love hotel's entrance is always hidden and deep, a recess that turns back on itself; the start of a journey. The main door stands behind a screening wall, and opens in response to automatic sensors.
The love hotel is a fantasyland for grownups: the chance to reinvent yourself, to disappear, if only briefly. More than quick sex, that is the promise of the shimmering door.
There will be no visible concierge, just a disembodied voice, saying, Welcome. A luminous wall of panels displays photographs of the available rooms. Choose REST (a few hours) or STAY(the night), and press the plate for the bedroom desired. Before magnetic cards, clear pneumatic tubes would deliver metal keys. Love hotels are designed so that guests never meet each other. In a hidden control room, glowing security screens cluster like an insect's prismatic eye.
Love hotels have variations on what the cultural historian Sarah Chaplin has called an "ur-code." Tiny traditional noren curtains to hide a guest's license plate. Enormous mirrors, everywhere. Ultraviolet lighting. Jacuzzis. Glass inner walls. The occasional cage. A costume rental service: Office Lady, Tart, Schoolgirl. A basic assortment of cosplay outfits.
To enter a love hotel is to depart from everyday life, to escape the crushing weight of society and its expectations. It is a fantasyland for grownups: the chance to reinvent yourself, to disappear, if only briefly. More than quick sex, that is the promise of the shimmering door.
*
In the heavy air, smoke from grilling eels. A shrine to the Seven Gods of Good Luck, pomegranates and pears ripening on trees by its stone gate.
I followed Kototoi dōri westward, through Matsugaya, Kita-Ueno; across Iriya and Shitaya, where the Black Gate of the old Yoshiwara district once stood. Yoshiwara, the 19th-century world of courtesans and Kabuki. At its height, a million men lived in Edo. Yoshiwara was the only legally sanctioned pleasure quarter: the nightless city.
I inspected my Tokyo City Atlas; the area between Ueno and Asakusa was blanked out. The atlas's mapmakers had severed Shōwa dori, the great arterial road that runs north to Nikko, and cut the thick weave of train lines that flow through Ueno Station. The missing crescent was crammed with love hotels; or would have been,if the Atlas had allowed it to exist. In guidebooks and atlases, love hotels are erased, absent. In Kabukichō and Shibuya, Gotanda and Uguisudani, love-hotel districts are shown as blank urban blocks on unnamed streets.
The buildings of Tokyo's High City, with its museums and conventional hotels, its embassies and temples and shrines and theaters, always appear. And maps of Tokyo's Shadow City show love hotels, but not, for example, museums or even the nearest train station. The spaces that belong to the city of shadows exist only in the minds of people who visit, and know where to look for them.
I passed Xanadu and Hotel Sting. Hotel Next and Ya Ya Ya. An old threadmaker's. Hotel Ramses Joy. Urban Castle Negishi. Petticoat Lane.
Once inside a love hotel, a guest can move only in one direction. A couple can enter as many times as they want, but they can leave only once. Further access is not allowed, so a guest must bring everything needed—food, clothes, toys—inside. Go out and the guest has to start all over again: the panel, the payment, the key. This is why foreigners are usually barred: Japanese guests understand the choreography, the protocols, where outsiders complain: what do you mean I can't come back in, why don't you have room service, can I have another room? A Japanese visitor knows that the love hotel is a theater of silence. Noise ruins fantasies.
A love hotel almost never has windows. Where they exist, they are always opaque.
Hotel Charme. El Apio. Hotel Crystal.
Such an enjoyable place.
You can spend wonderful time.
Please enjoy your time.
Hotel Calico. Hotel Love.
A wall of blue fairy lights, and a tiny pharmacy stocked with soaps, unguents, tissues, foams, plastic razors, whitecloth face masks.
Le Ciel, with a huge neon model of the planet Saturn shimmering over its entryway. Hotel Vogue.
Rest ¥4500
Stay ¥6500
A glowing blue circle over OPEN. FULL was blank.
Ribbon Hearts. Hotel Seeds. Hotel La Luna.
*
The street was almost empty. Under the expressway overpass, steel girders and floodlights; shadows and iridescent reflections off the green paint.
Invisible on maps is Uguisudani, "valley of the nightingales." Uguisudani, where solitudes intersect, before veering away from each other again.
__________________________________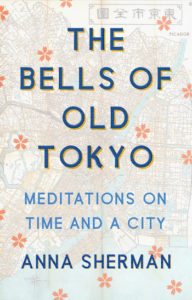 Excerpted from The Bells of Old Tokyo: Meditations on Time and a City by Anna Sherman. Published by Picador August 13th 2019.  Copyright © 2019 by Anna Sherman. All rights reserved.
---