On the Experimental Realism of an Eccentric Russian Anglophile
For Sigizmund Krzhizhanovsky, Strangeness Was a
Matter of Perspective
The Russian phantasmagorical modernist Sigizmund Krzhizhanovsky (1887-1950), lost to his own time and now being found in ours, was single-handedly saved twice. The first rescue was of his immortal remains. The second, always precarious for a prose poet, was his rebirth out of the Russian language into global culture.
Unwitting Street is the fifth of Joanne Turnbull's miraculous translations of this writer's work for The New York Review Books. More of Krzhizhanovsky's work is still being dragged out of oblivion. In 2012, Princeton University premiered his aborted dramatic adaptation of Pushkin's novel-in-verse, Eugene Onegin, with music by Sergei Prokofiev.  In 2018, Alisa Ballard Lin assembled and translated a volume of his writings on theater, including his best play, That Third Guy ("A Comedy from the Stalinist 1930s"). Two more volumes of prose (stories and essays) are in preparation.
It is wondrous how a creative life, once snatched from the cultural dustbin, does not age or decay as do our mortal parts but rather expands, gains traction, and picks up a momentum of its own.
When Krzhizhanovsky died in Moscow in 1950, only nine of his hundreds of stories, novellas, and plays had been published. Yet he was not a dissident or an outcast. He was not even wholly an outsider. He had freelanced most of his life to make ends meet and his name had gained some renown—as public lecturer, proofreading editor for the Great Soviet Encyclopedia, commentator on Shakespeare and Bernard Shaw in literary journals, stage adapter, and instructor on aesthetics at the Acting Studio of the Moscow Chamber Theatre.
But he was unlucky, stubborn in the face of censors and well-meaning friends, and he lacked influential patrons. None of his own plays were staged. Of his adaptations, only one made it to opening night; his contribution to movie scripts went uncredited. Most of his stories were rejected outright, but some got further. In 1925, the journal that had accepted his novella "Autobiography of a Corpse" was unexpectedly downsized, the issue containing his page-proofs delayed, and the following year its editor arrested. In the summer of 1941, a volume of his stories in press was interrupted by the Nazi invasion—and after the war, not revived.
Doggedly, Krzhizhanovsky kept writing. In pursuit of a public, he bent his dramatic and essayistic talents as far as they could honorably go in the nation's interest. But on his fiction he refused to compromise, resigning himself to being a "quasi-person" and continuing to live in his closet-sized room in Moscow's Arbat district. (His lifelong companion, the actress and theater pedagogue Anna Bovshek, had decent quarters elsewhere in the capital, but Krzhizhanovsky resisted moving in and marrying until the very end: as he put it, "double bed, double grave.")
A familiar scenario in his work is the letter, word, or humanized speck that jumps off the page, bloats up or miniaturizes, sinks into our bloodstream or epidermal layer. . .
In the freezing winter of 1942, his politically correct libretto Suvorov, on the great 18th-century tsarist general who battled Napoleon in Italy, premiered in Moscow under bombardment (he and Bovshek were there in the unheated hall; unlike the opera's composer, the librettist had refused to evacuate his beloved city).
But Krzhizhanovsky was losing hope and already en route to being lost to drink.  His name had some currency among living audiences, but his fiction had next to no readership. This meant that his most precious work would die along with him.  "What, you may ask, makes me drink?" remarks the semi-autobiographical narrator in the title story of Unwitting Street. Answer: "A sober attitude toward reality." Krzhizhanovsky's themes had always been philosophical, philological, fantastical, whimsical.
Does thinking need a body? Do things cast shadows, or do shadows cast things? Do words help or hinder full, free thought? And even if words do help us shape our thoughts, what about the public arena of printed words, letters of the alphabet, are they not a trap that invites misunderstanding and abuse (thus does a group of disillusioned writers found a Letter Killers Club, the title of Krzhizhanovsky's novella from 1927). A familiar scenario in his work is the letter, word, or humanized speck that jumps off the page, bloats up or miniaturizes, sinks into our bloodstream or epidermal layer and alters our perception of the empirical world.
The 18 stories in this collection, written between 1920 and 1940, pursue these themes through horrific venues as well as unexpectedly gentle ones. What if a nihilistic thought, living in the leather band of a hat, hops into the brain of whoever wears it?  What about a master chess player whose consciousness migrates into his own pawn? (At the human level this migration is registered as death, but in Krzhizhanovsky the life-death, life-dream boundary is highly porous.)
What if paper suddenly rebels and refuses to carry all the lies squashed into it? In any event, if words matter so much they should be held to a stricter test. Let a metaphor be realized literally under our feet (for it is one thing for a university lecturer in 1917 to say "a page of history is turning"—and another thing altogether to be walking on a white sheet of pavement when it begins to turn, upending whole cities and bringing low mountains).
Such whimsy is not in itself an "anti-Party" trait. But Krzhizhanovsky had two characteristic ways of ending his tales: in solitude (usually quite tender) or in negation (usually suicidal). No inspirational heroism, no communal achievements.  "Nineteenth-century stories," said Maxim Gorky, head of the Soviet Writers' Union, who read several typescripts in the early 1930s. "Of little use to the working class."
The first rescue mission of this doomed creative vision was touch and go. In the 1950s, Krzhizhanovsky's widow, together with a handful of admirers, worked hard to have him posthumously commemorated by the Soviet Writers' Union with a two-volume set. When that project failed due to a negative reader's report, Bovshek managed to win her crate of manuscripts a niche in the Central State Archive for Literature and Art in Moscow. This was not a trivial achievement: when writers were arrested or shot, their work was meticulously preserved in secret police files—but Krzhizhanovsky was never famous or visible enough to be targeted in that way;  thus his papers sat in perishable boxes in a private apartment.
Over a decade passed. Then in the 1970s, while searching in the State Archive for something else, the Russian poet Vadim Perelmuter stumbled upon a reference to Krzhizhanovsky. Intrigued, he followed it up. Bovshek had died in Odessa in 1971, but Perelmuter spent the next 40 years bringing the Krzhizhanovsky archive into the light of day. The Russian Collected Works under his editorship, 2001-2013, is a handsome, thoroughly annotated six-volume affair.
The second rescue was the global one. Translations into German, French, and Portuguese had begun in the 1990s. Polish followed in 2003 (This was a homecoming: Krzhizhanovsky had been born into a Polish-speaking family near Kiev in Ukraine, and at the end of his life he supported himself by translating from his childhood tongue). It was the Moscow-based Joanne Turnbull, working with Nikolai Formozov, who turned the necessary page of history.
For several reasons, English was the conduit that would secure for Krzhizhanovsky a supra- or post-Russian life. It is the western world's default language; the Anglophone market is vast and multinational. More importantly, however, Krzhizhanovsky was a passionate Anglophile. His most adored foreign authors were Shakespeare, Jonathan Swift, H. G. Wells, Bernard Shaw, and Edgar Allan Poe. His closest academic friends in Moscow were the Dickens specialists and Swiftologists.
Unsurprisingly, he was drawn to adventurous, philosophically adept writers and thinkers in the English-Irish tradition. If H.G. Wells specialized in time-travel, then Krzhizhanovsky added space-travel and space-play (that aforementioned chessmaster of the Hastings Chess Club who enters his own pawn, or his famous 1926 story "Quadraturin," where a magic ointment smeared on the walls of a tiny room expands it to infinity). Always pivotal for Krzhizhanovsky is that moment when, willingly or no, our point of view is suddenly changed.
This is what he most loved about Jonathan Swift. The fantastical element in the opening episodes of Gulliver's Travels is strictly limited to one dimension: scale. Lilliputians and Brobdingnagians are not exactly monsters. They are simply very small, or very huge, humans.  Encountering them, the lesson to be learned is that no matter where we wake up, most rules of this world will still hold—but our role in the world (and our sense that we are in charge, at the world's intelligent center) is desperately dependent on perspective.
Krzhizhanovsky called this method of inquiry "experimental realism." Some of his stories experiment with scale gently, almost lovingly, exploiting its capacity to rekindle wonder. This most recent collection features a fly that wakes up in the body of an elephant ("The Flyelephant"), a tiny elf that seeks refuge in a cello and repays the cellist with irresistible melodies ("Death of an Elf"), and, in "The Slightly-Slightlies," infinitesimal creatures who, permeating our every pore, can cause minuscule shifts in the contours of visible things so that suddenly "nothing seems to have changed, yet everything was transformed and new." (The narrator of the story is a forensic examiner whose job it is to uncover fraud; for a brief time he grants the faked world an amnesty.)
Other tales in Turnbull's earlier volumes, however, such as "Bridge over the Styx," "The Branch Line," and "Red Snow," ring as bitterly and hopelessly about the human race as does Swift's mirror held up to the yahoos.
Like so many artists of his time and place, Krzhizhanovsky survived by accident. The man himself remains a riddle.
Krzhizhanovsky was an autodidact with a photographic memory who diligently accumulated European languages. English was his favorite—although he had little opportunity for practice. That did not keep him from penning a series of polemical articles in which he criticized all existing Russian translations of Shakespeare for failing to "weigh" the words, create airspace around them, compensate somehow for the fact that English is full of short, light, airy words whereas inflected Russian is pompous and heavy. He loved the way Falstaff spoke and wrote two essays on him.
An inveterate wanderer through the boulevards and alleys of Moscow, Krzhizhanovsky dreamed of visiting London. His archive contains an outline for a guidebook to the Elizabethan era, with a map of its streets. In terms of plots and preoccupations, then, Krzhizhanovsky is almost an offshoot of the English tradition. Moving him into English was returning him to his own, as it were, and such a repatriation must be done with the utmost care and intimate curating, as Turnbull does.  But in the end, England was a fantasy like all the rest of Krzhizhanovsky's reality, because fantasy was the realm that felt to him most like home.
Why the lengthy backstory of these two literary rescues? Like so many artists of his time and place, Krzhizhanovsky survived by accident. The man himself remains a riddle. A solitary person who kept no diaries and wrote no memoirs, he also left no handwritten drafts of his stories, referred to himself as a "crossed-out person," and predicted that he would be buried in an unmarked grave (he was). His letters to Bovshek are laconic and matter-of-fact (no luck finding a job, no money for food, another story rejected); his working notebooks contain mostly stand-alone aphorisms.
Surviving photographs of him are largely formal portraits or official ID cards: a tall man with a pince-nez, well-dressed, almost a dandy, gradually growing more grey.  During the last decade his eyes look out blankly. The final story in this collection, "Unwitting Street," is Turnbull's evocative rendering of the Russian nevol'nyi pereulok: pereulok is a side-street or alley, nevol'nyi means (among much else) involuntary, unwilled, unconscious, clueless.
The narrator of "Unwitting Street," a lonely alcoholic, writes letters to unknown addressees and one day finds himself in this oddly named little alley. The Revolution arrived, he says, and all people of my type ended up on history's Unwitting Street. Krzhizhanovskian space is peculiar. It is rarely comfortable to live in: on one side, unbearable constriction, a dot; on the other, an almost unlimited abyss.
Separating no space from infinite space is a thin seam or crack, through which all human energy and thought must pass. The fate of this energy on both sides of the crack is uncertain, until plucked up or pinned down.  Rescue squads cannot be everywhere at once, but Krzhizhanovsky was saved.
__________________________________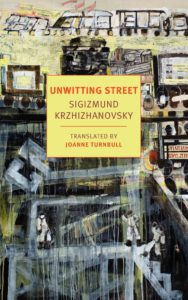 Sigizmund Krzhizhanovsky's book Unwitting Street, translated by Joanne Turnbull, is available now.
---