On the Ethics of Writing About Social Issues (While Minimizing Harm)
Kavita Das Lists Some Key Questions to Ask
Like so many other writers, I was shocked and saddened by the brutality of the recent attack on famed author Salman Rushdie. As someone who transitioned to becoming a full-time writer ten years ago after working in social change for close to fifteen years, I held Rushdie up as much for his craft as his conscience. I admired the way he unwaveringly championed the rights of writers from his perspective as a writer who has faced the consequences of engaging issues of religious tyranny with the ever-present threat imposed by the Fatwa issued against him by the Ayatollah of Iran following the release of his novel The Satanic Verses.
It is tempting to view this horrific attack as an isolated incident, one borne by the specter that followed Rushdie for decades. However, we have only to look at the heightened climate of hostility and divisiveness in this country and in other parts of the world to know that writers whose work engage fraught social issues are at risk of harassment and harm.
When I worked in racial justice, I was inspired when writers and activists in our movement wrote powerful, thought-provoking pieces illustrating the urgent need for racial justice. But I also watched in horror when those same individuals I admired became targets of racists and xenophobes and faced harassment from online trolls and bullies.
I felt compelled to write about issues of inequity and misogyny once I transitioned to becoming a full-time writer. And given my experience, I should have been prepared for the response. I wasn't. I was prepared for a debate. But I was stunned when I was met with hostility and hatred.
I took many writing classes and workshops with respected writers however the focus was most often either on the craft of writing or strategies for getting published. Proclamations of "writing your truth" and "speaking truth to power" were thrown around as inspiration but little if no attention was paid to preparing writers for the possible risks of their work being out in the world.
You cannot write about social issues responsibly unless your work is grounded in ethics.
I especially worried about marginalized writers being further harmed when they wrote honestly and courageously about the fraught issues they face because of their identities. There are risks of being alienated by family and friends, who see their writing not as a quest for truth but as transgression. There is the risk of losing jobs and professional opportunities for revealing personal struggles, past and present. They also face hostility and harassment from those who oppose their views or live in vehement denial. And, as we painfully learned through the attack on Rushdie, there is the danger of fanaticism, which seeks to silence voices by any means necessary.
This was my motivation for discussing both the negative and the positive implications of writing about social issues in my Writing About Social Issues class and my book Craft and Conscience: How to Write About Social Issues. I believe it is my responsibility as a writing instructor to prepare writers to think about how their work in the world could elicit reactions, sometimes negative ones, to them and to their subjects. I don't seek to dissuade my students, but I want them to think of ways to mitigate or prepare themselves (and their subjects) for this possibility. I want them to be more prepared than I was. That a writer can learn the craft of writing but not how to weigh and face possible negative implications to their work needs to be remedied.
Ethics are not ancillary to craft but, in fact, critical to the craft of writing. And when it comes to writing about social issues, I will go so far as to say that you cannot write about social issues responsibly unless your work is grounded in ethics. So many problematic essays that have been and continue to be published, sometimes to the regret of the writer and to the distress of many readers, could be avoided by foregrounding discussions of ethics and moral clarity in the work and in the editorial process.
Since motivation, perspective, opinion, and ethics are important drivers for writing about social issues, we can acknowledge that we are motivated by the possibility of our writing having an impact. But what do we mean by "having an impact"? often, when we talk about wanting our work to have an impact, we are talking about wanting to raise awareness and change the conversation, and if we are really fortunate, change hearts, minds, and culture and contribute to policy shifts. So, when we talk about impact, we are usually presuming a positive impact.
However, we need to be aware that our work can also have a negative impact, such as provoking an angry reaction towards our subject or towards ourself, as the writer. Whether the overall impact is positive or negative, there are implications to writing about social issues, which may be felt far and wide, like the ripples from a powerful wave we have set in motion. We should consider and prepare for how these implications may play out in our own lives and in the lives of others.
If you are directly or indirectly connected to the subject you are writing about, be sure to consider the implications, positive and negative, to yourself as the writer.
It is especially crucial to consider the implications of our work when we write about subjects outside of our experiences and communities outside of our identity. Here are some considerations:
How might your subjects be impacted, positively, negatively, or both, if this story is published? Even positive attention for an issue can have negative implications for individuals or communities affected by that issue if it violates their privacy by creating undue scrutiny on their lives.
Have you been transparent with your subjects about the intent of your work on this issue and their portrayals in it? What is their reaction? When possible, writers should be transparent with their subjects about the intentions of their work. This ensures that the depiction of the subjects' circumstances is fair and accurate and, ultimately, strengthens the work as well as the relationship between the writer and their subjects.
What can you do to prepare your subjects for any positive and negative attention the piece might attract to them? It's important to let individuals and communities featured in your piece know the possible positive and negative implications of your piece being published and talk with them about how to handle these potential situations.
Are featured individuals dealing with existing stigmas that make them additionally vulnerable? How will the piece impact their security and well-being? It is critical to think about how the security and well-being of vulnerable subjects might be impacted by your writing. Are they made more or less vulnerable by your work? For instance, if you are writing about individuals who are undocumented or in substance abuse recovery, how will your work impact them, and are they prepared for this?
Does the published piece reflect the identities and lives of your subjects responsibly and with integrity? If not, are you willing and able to make changes and corrections if the writing or editorial process has resulted in mischaracterizations of your subjects? Hopefully, you are familiar and comfortable with your publisher's approach to social issues. Be sure to ask your editor for a clear understanding of what interventions are available to you, as the writer, during and after the editorial process, to mitigate any issues in tone or accuracy.
If you are directly or indirectly connected to the subject you are writing about, be sure to consider the implications, positive and negative, to yourself as the writer. Start by assessing how close you are to the subject. Here are some questions to help in that assessment:
What is your relationship to the subject/story/issue?
Are you part of the community or outside of the community covered in your work?
Are you directly or indirectly impacted by the issue?
How indirectly are you learning about the issue? How many levels of filters has the story been through before reaching you?
How will you be impacted by your coverage of this issue? Who might view your coverage of this issue favorably or unfavorably?
If you are directly or indirectly affected by the publication of your story, you need to consider the impact on yourself. Are you prepared for the possible positive or negative implications for yourself? If you are telling the story of a social issue through your own lived experiences or your eyewitness account, it is critical to feel comfortable with that part of your life being exposed to the public. You have to prepare yourself for the range of possible reactions from strangers as well as people you know, from those who are understanding and supportive to those who are judgmental and critical.
Most of all, you have to be at ease with the idea that once your story is in the public domain, it no longer belongs just to you. Therefore, I encourage writers to carefully consider whether they are comfortable with the loss of privacy that comes with telling your life story.
If you are concerned by personal implications to you if family members, friends, or colleagues learn about this aspect of your life, then consider asking if it is possible to publish the piece anonymously or under a pseudonym. Or consider fictionalizing it.
Bear in mind, every writer has a different threshold for what they are comfortable revealing about themselves and their lives through their writing, so do not feel pressured to share details that other writers share in their work, unless you are truly comfortable with making those details public. This is why I believe it is often worth hitting pause between writing a fraught personal piece and submitting it and publishing it, to give yourself the time and space to reflect on the implications of it being out in the world. Social issues matter, but so does your sense of comfort.
It is crucial to encourage writers to consider the implications, both positive and negative, of publishing writing about social issues, and to push forward, with eyes wide open, to how it will impact others and themselves. We write to be seen and heard so why not be clear-eyed and earnest in our assessment of how our work might ripple out into the world, hopefully joining forces with the currents created by others who also seek progress. I'm grateful I have had the opportunity to witness, connect with, and guide others along their own currents, as we collectively create the momentum for sea change.
__________________________________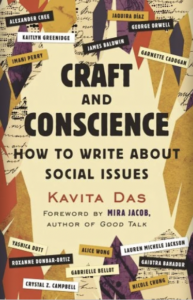 Adapted from Craft and Conscience: How to Write about Social Issues by Kavita Das, available via Beacon Press.
---