The Annotated Nightstand: What Ross Gay is Reading Now and Next
A Series by Diana Arterian
In some ways I am late to the party that is Ross Gay and his work, in other ways I'm early. I first heard Gay read his poetry at the Conference on Ecopoetics at UC Berkeley in 2013. At one point I approached the poet and activist Brenda Hillman, one of the members of the conference's advisory board, and mentioned how the gathering felt historic. "It does feel historic," she said.
The highlight, for me, was the equally epic reading that took place over two nights. It was there that I heard Gay read his remarkable titular poem from the yet-unpublished award-winning Catalog of Unabashed Gratitude. "Who the hell was that?" I thought when he finished his breathless list that switchbacked through a multitude of flora, fauna, landscapes, textures, images, feelings. His most recent poetry collection, Be Holding, illustrated to me that this was an artist who had absolutely no interest in resting on well-earned laurels.
Gay continues to push himself toward new concerns and their shapes (in this case Dr. J's gravity-defying basket, Black bodies moving through air). That book is one of the most challenging, compelling collections of poetry I have read in a long time. It felt like an ecstatic religious experience to me. I am not exaggerating.
His 2019 collection of what he called "essayettes," The Book of Delights, put Gay on the map outside the niche literary world. In that, I mean he talked about it on This American Life, it was a New York Times bestseller. I read it at the height of the pandemic, and afterward decided everyone needed the following from the Federal government: $50,000, a hammock (with trees and space it requires), The Book of Delights.
In it, Gay ably pursues descriptions of what evokes delight in him: walking through an airport with a plant; biking past a street where a good friend lived. What drew me to the book, however, was that these weren't flat delights—there was darkness there always at the edges (the friend was a victim of murder, the clapback toward Thomas Jefferson concerns enslavement). How these emotions are braided together feels central to Gay's work.
In his new book just out this month, Inciting Joy, Gay writes, "It is a kid's fantasy (by which we grownups seem as seduced as plenty of kids) to imagine any emotion discreet from any other." It's clear he is continuing to drill down toward these emotions (gratitude, delight, joy), which one might associate with a kind of simple positive gloss, to more fully comprehend what they mean to and for us—and can do.
Gay generously annotated his own to-read pile, which you can read below.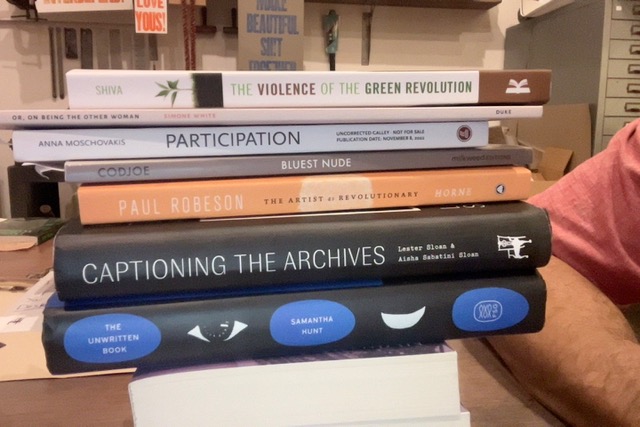 Vandana Shiva, The Violence of the Green Revolution
One of those most indispensable thinkers about land, power, colonialism, etc. No one better articulates and demonstrates how these motherfuckers are always trying to steal every goddamn thing. And how we might keep them from doing so.
Simone White, Or, On Being the Other Woman
Simone White is one of my favorite writers and thinkers, and this came in the mail a few weeks back, at which point I ripped open the package and sat down and read it, boom. I couldn't put it down (although it made me want to go write). Captivating and beautiful. And now I will read it five more times.
Anna Moschovakis, Participation
I heard Moschovakis read from this a week or two ago on a zoom reading hosted by Claire Donato and I was knocked over and immediately (pre-)ordered the book. But I was at a book conference today and went by Coffee House's table and it was there, and they were so kind as to give me this advanced reader's copy. I guess I'm being greedy, but I can't wait.
Ama Codjoe, Bluest Nude
I've read this a couple times, but you know how it goes with poems, maybe four readings is a first reading if you love it, which, goddamn, I do. I love it. Sensual, heartbroken, flummoxed, ravenous, wonderstruck. So much music and dreaming.
Gerald Horne, Paul Robeson: The Artist as Revolutionary
I heard a conversation between Gerald Horne and Chris Hedges about Paul Robeson, whose story I realized I don't really know. Though I know the basics: he was a political activist, he was a communist, he was blacklisted, they ran him out, they ran him under. It's what they do if you threaten power, if you expose power, it seems. As a matter of fact, they're murdering Julian Assange right now.
Lester Sloan and Aisha Sabatini Sloan, Captioning the Archives
The photographer Lester Sloan's photographs are paired with conversation between him and his daughter, the writer Aisha Sabatini Sloan (author of many books, recently the brilliantBorealis). It's about these photos, which are important photos, but it's also about the conversations that happen around them, a father and his kid thinking together. It's so good.
Samantha Hunt, The Unwritten Book
I'm about a hundred pages in, and it's such a weird, brilliant book. So far Hunt is doing a kind of close/digressive/lyric reading or interaction with a manuscript of her deceased father's that she found. Like, her dad's book is actually in the book, and she's making all these long speculative notes or observations, etc. I have rarely been as captivated by a book as I am by this. It is fascinating. It is moving as hell. So beautiful.
---