On the Difficulty of Convincing Samuel Beckett of Just About Anything
Deirdre Bair, Biographer of Record, Recalls Their First Meeting
"So you are the one who is going to reveal me for the charlatan that I am." It was the first thing Samuel Beckett ever said to me on that bitter cold day, November 17th, 1971, as we sat in the minuscule lobby of the Hôtel du Danube on the rue Jacob. I had gone to Paris at his express invitation, to meet him and talk about writing his biography. We were originally scheduled to meet on November 7th, and for ten days I had no idea where he was, because he never showed up and never canceled.
When we made the initial appointment, he told me I should phone when I arrived in Paris on the 6th and we would confirm the time and place. I was to call precisely at one o'clock, because he disliked the telephone and answered only during the hour between one and two. When he did not pick up, I spent that hour phoning every five minutes, becoming more anxious and upset each time as I let it ring and ring. 
In those days Paris had a system of pneumatiques, little blue messages that looked like telegrams and went through tubes all over Paris, to be delivered within the hour. I wrote several little "blue pneus" during the days that followed, and still I did not hear from Beckett. I had no idea what to do, and fluctuated between disappointment and fear that he was avoiding me because he had changed his mind about cooperating. And yet I did not think anyone could be so deliberately callous and cruel, so I set about keeping other appointments related to the book I wanted to write until I could find out what was going on with him. 
On November 16th he phoned my hotel to arrange a meeting for the next day. He apologized for going off without contacting me and said he would explain in full in person. On the phone he said only that he had been felled by a terrible cold and was so weak and debilitated that he had allowed his wife to take him to Tunisia for sun and warmth. They left in such a hurry that he had not been able to cancel all his appointments. I was relieved beyond measure. 
The Hôtel du Danube was not the chic and expensive place it is now. In 1971 it was a $19-a-night shabby dump favored by poor graduate students and budget tourists. The hotel was in such poor repair that there had been neither heat nor hot water for the 24 hours before our meeting, so there was no coffee at breakfast and no hot bath. The only staff around to deal with disgruntled lodgers were the two Portuguese maids, whose French accents were so incomprehensible that I did not know whether the inconvenience was the result of yet another of the many utility strikes that roiled Paris that winter or if the decrepit plumbing and heating had simply given out. 
I was hungry, cold, and desperately in need of caffeine, but I was too nervous to go out to get it. Because of the missed connections during the previous week, I was superstitious enough to think that if I left the hotel, some terrible accident would happen to make me miss my first meeting with Samuel Beckett. So I decided to bundle up and wait for his arrival in my cold room, where, with the noisy radiator gone silent, the only sound was my growling stomach. 
Beckett saw the look on my face and, courtly Old World gentleman that he was, began to stammer an apology for having upset me.
At precisely two o'clock, the time he said he would arrive, my phone rang. "Beckett here," he said in the high-pitched, reed-thin nasal voice I would come to know well. I mumbled something into the receiver as I slammed it down and bolted for the stairs to the lobby, where I found Samuel Beckett peering intently into the gloom through which I made my clattering descent. 
I recognized his hawklike visage at once, his slightly crooked nose and the tuft of white hair that reared straight up from his forehead. I don't think I have ever met anyone whose physical reality was so accurately captured in photographs. He was a tall man, but I was also struck by the discrepancy between his elongated torso and his legs, which appeared short in comparison. We shook hands and murmured greetings. He was bundled against the weather in a sheepskin jacket and heavy white Irish-knit sweater with a high turtleneck collar. It reminded me of the ruff worn by British Cavaliers in earlier times, particularly after I gestured toward the lobby's tiny table and two chairs and he swayed toward them, sweeping into one with a courtly half-bow.
I took the one opposite and smiled, waiting for him to begin the conversation. There was no other furniture in the lobby, and the arrangement worked fine for Beckett's diminished vision, but it was so tight that our knees touched underneath, even though we struggled to situate ourselves so they would not. I knew that he had recently had eye surgery, but I did not know that his general vision was still impaired and that his peripheral vision had not returned at all. The only way he could see someone was to sit or stand directly in front of them, as close as decorum would allow. 
So he stared at me intently, because it was the only way he could see me. I thought perhaps he was puzzled by my heavy coat, woolen hat, and gloves, all of which I had been wearing since I got out of bed that morning. I thought he might be afraid that I was dressed for the outdoors because I intended to spend the rest of the day trailing after him all over Paris, so I quickly explained about the hotel's lack of amenities. It did not have the effect I intended, which was to put him at ease, because I had to shout over the two Portuguese maids, who were busily trading obscenities in two languages right next to us as they pulled at opposite ends of an old treadle sewing machine that each was determined would be hers. 
When they were gone and quiet fell, Beckett and I managed to arrange our legs on the diagonal so they did not brush. He took out a lighter and a pack of something brown, whether tiny cigars or cigarettes I was too nervous to determine. He fidgeted with the lighter, all the while staring in silence straight at me through the pale blue "gull's eyes" he gave to Murphy, the hero of his first published novel. I was disconcerted by what I mistook for the appraising boldness of his gaze. As he fidgeted with the lighter, I picked up his packet of smokes and twisted and turned it in my hands. In one swift motion, Beckett reached across the table, snatched the packet, and spat out those first alarming words, that I would be the one to reveal him as a charlatan. 
I was struck by what I thought was scorn in his voice and a cold lack of expression on his face, and I was unable to speak. The silence deepened as he stared and stared—and stared. I don't remember my exact reply to such a stunning declaration, but it was probably something stammering, perhaps even silly, for I was a young woman proposing an ambitious project for which I wanted his cooperation, even though I had no idea how to go about it. Several months earlier I had sent Beckett a letter volunteering to write his biography, and to my amazement he had replied immediately, saying that any biographical information he had was at my disposal and if I came to Paris he would see me. Imagine then, my shock at his initial greeting. 
Beckett saw the look on my face and, courtly Old World gentleman that he was, began to stammer an apology for having upset me. No, no, I insisted, I was not upset. He had just taken me by surprise, for after all, I was in Paris at his invitation. What I remember most clearly of that awkward beginning is how so many thoughts raced through my mind. I wondered what sort of game he was playing and whether his invitation was little more than a bait-and-switch meant to sound me out before deciding whether—or how—to put insurmountable obstacles in my way so that I would never write the book. After all, wasn't he one of the most secretive and private of all writers, one about whose personal life almost nothing was known? 
Beckett had made so many remarks—cryptic, sarcastic, friendly and open, evasive and unfriendly—that I wanted to record them while I still remembered what he said.
Then there was the business of him calling himself a charlatan. I struggled to comprehend how he could possibly believe that his writing was a joke that had somehow gotten beyond his control and managed to hoodwink the reading and theatergoing public. He was a Nobel Prize winner whose novels and plays had changed literature and drama irrevocably in our time, so how could he think of himself as a sham and a hoax? Perhaps this was just his way of testing me, to see if I would respond with flattering and insincere disavowals intended to curry his favor, to determine how serious I was about writing an "objective" biography, as I had stated in my letter. 
All this went through my mind in a matter of seconds as I dropped my head into my hands and said, "Oh dear. I don't know if I'm cut out for this biography business." 
His demeanor changed immediately, as did his tone of voice. "Well, then," he replied, "why don't we talk about it?" 
Beckett seemed nervous as he launched into an apology for having to meet me in midafternoon instead of inviting me for drinks or a meal. He apologized several times, each with increasing agitation, for needing to rush off as he had to do, saying how he hoped that this long-delayed rendezvous had not inconvenienced me and explaining again about how the last-minute trip to Tunisia had caused his appointments to pile up. 
He spoke kindly when he asked me to tell him why I wanted to take on "this impossible task" and was smiling when he said, "I would have thought a young woman like you would have more interesting things with which to amuse herself." 
And so I began to talk, most of the time coherently, because I had practiced what I wanted to say, memorizing the key arguments. Even so, there were times when I lapsed into unorganized or unrelated remarks, because there was so much I wanted to tell him. I did not touch on any of the many questions that I wanted to ask about his life or his work. Instead I told him a little bit about myself and a lot about the current state of academic theory in the United States, particularly at Columbia University, where I had written a dissertation about his life and work, for which I would receive a doctorate in comparative literature in spring 1972.
He sat there quietly, giving me no visible sign that he was receiving my remarks in any way other than just listening—keenly, deeply, and intently listening. In years to come, he often responded to things I told him in this same neutral manner, and each time I found it as disconcerting as I did on this first occasion. 
However, he must have found what I said interesting enough.
Time passed, and the hour he said he could spare lengthened into almost two before he realized that he was now behind schedule for the rest of his appointments. Before leaving, he made the remark that has since come to haunt me: "I will neither help nor hinder you. My friends and family will assist you and my enemies will find you soon enough." He began to gather his things and said we could meet again in a day or two, but he could not confirm the time or date just then and would have to phone later. And with that he was gone, leaving me to wonder when (or even if) another meeting was going to happen. 
I went back to my room, and as I opened the door, I heard the radiator cranking on. With the promise of heat, I decided that coffee could wait a little longer. Beckett had made so many remarks—cryptic, sarcastic, friendly and open, evasive and unfriendly—that I wanted to record them while I still remembered what he said. It was the first of the many times after our meetings that I hurried back to a place of splendid isolation where I could transcribe everything I retained. And after this first meeting I also needed to recall everything that I had told him about myself. 
"You need to know about me," I had insisted. "Before we get started on a biography, I can answer your question about why I want to write yours only by telling you who I am." And so I had. Looking over my notes, his remark about his friends, family, and enemies resonated. Indeed, in the seven years to come, those people did exactly what Beckett had said they would.
__________________________________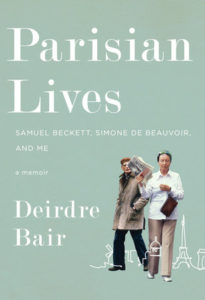 An excerpt from the book Parisian Lives © 2019 by Deirdre Bair, published by Nan A. Talese on November 12, 2019.
---