On the Darkness, Strangeness, and Unbridled Joy of Children's Books
Cara Hoffman Gets Real About Talking Mice
The first novel I published with a major house was about a murder I covered as a reporter when I was in my early twenties. The victim, who was my age, and lived in my neighborhood, disappeared in the winter and her body was found in the summer in a shallow grave in the woods near native land. My regular beat was environmental crime and I was initially assigned the story—covering the woman's disappearance—because another reporter was out. I had never done a major investigation, nor interviewed the family of a missing person, nor seen a dead body before. Reporting on the story was a grueling, enraging experience, made worse when the men who killed her, who'd remorselessly detailed things they had done to her body, who'd bragged about the murder to friends and strangers out at the bar, were acquitted because of a plea deal.
The novel that came from this was called So Much Pretty. I wrote it as a ring cycle, in a fragmented multiple point of view narration, which includes letters, interviews, and court transcripts. I tried to stay true to the experience of reporting; piecing together an event through what had been hidden and shattered; breaking a single moment down to lucid details. I had wanted to make work that would wreck the quiet of a literary novel and the blunt salaciousness of true crime. And in fiction the story didn't have to end with acquittal, but could go where I had wanted it to the day those men walked free down the courthouse steps. So Much Pretty found its readers and its readers found me, their letters presaging the #MeToo movement by nearly a decade with an outpouring of anger and their revelation of everyday crimes that are now openly discussed.
The novels that followed were just as dark. I wrote about a soldier, who'd been a holy minimalist musician, coming home from a tour of duty in Iraq who kidnaps her brother, and in my third novel, Running, queer homeless kids squatting in a hotel in the red-light district of Athens, Greece, stumble their way into an act of terrorism. Each book required a kind of emotional stamina that occasionally faltered, leaving me sick, depressed, and grateful to have a brother who checked in on me, and friends who were equally off the grid in their art making who understood, especially my partner.
Darkness and strangeness abound in children's literature, as they should. Anything else would be a lie.
And so this September, when my fourth novel, Bernard Pepperlin, was published, many of my readers, and friends, and colleagues were surprised. One friend told me, "When you said you were writing a kids book, I thought, 'Oh god, she's hit bottom.'" The people who weren't surprised took it as the natural end point to my decades immersed in existential stories and research about crime, disease, and environmental collapse. In other words, they thought I'd cracked.
The book follows the dormouse from Alice's Adventures in Wonderland as he finds himself in an enchanted New York City and becomes friends with a hard-working bodega cat, a lizard, a rat, an opera singing frog, and a troupe of tap-dancing cockroaches. Together, they fight to save the city from a gang of weasels in porkpie hats who want to stop time. I also wrote songs for the audiobook, which were scored by Em Goldman.
Writing the book had broken me open, filling me with a giddy joy. I dreamed about underground libraries, and the flower district, and cats talking to queens in Chelsea. I wandered around the Lower East Side singing songs about how beautiful New York City was; as soon as I finished Bernard, I started writing a novel about a frog who played the harmonica and his cousin who studied at the Sorbonne. And while I felt a happier writing these books, while I loved getting lost in their worlds, none of this was a departure for me. On the contrary, the happiness I felt was one of returning.
When I was a child, three of my favorite authors were Russell Hoban, Tove Jansson, and Roald Dahl. They wrote dark work for adults and fantasies for children. Hoban was known for Bread and Jam for Francis, but less so for Ridley Walker, written in a future dialect, about a mentally disabled 14-year-old-prophet living by the ruins of Canterbury Cathedral, whose lover is an older woman. Tove Jansson's Moomin characters are loners and oddballs and anarchists and lesbians, but you only figure that out once you're grown and are those things yourself. Her work for adults, The True Deceiver and The Summer Book are gorgeous and bleak and feel like continuations of the Moomin books, with different animals.
Darkness and strangeness abound in children's literature, as they should. Anything else would be a lie. Alice's Adventures in Wonderland is propelled by characters' fears, and by bodily transformation, and by threats of beheading, cultural misunderstandings, class anxieties, time itself stopped by the atrociousness of a poorly sung song, a muttering dormouse on the nod, a floating, grinning cat, a mock turtle with the head of a calf, flamingoes used as croquet mallets. It's as if Bosch had painted it. But the unbridled and unselfconscious joy in children's literature is also as it should be, and to write the world otherwise would be a lie.
The boundaries crossed in children's literature are deep and strange, and those with talking animals are the strangest of all. The transgressive work I admire, and make, pales in comparison to the stories we read and tell children: talking pigs have their houses demolished by a talking wolf until they trick him, boil him, and eat him; step-parents behead their children, who come back as birds to avenge their poor human forms; families sell their daughters to hideous beasts with elegant homes; boys are swindled by strange men offering them magic beans that lead to homicidal cannibal giants who live in the sky.
The darkness in these stories has been present since the first figurative art, which was painted on the walls of caves and depicted animals. As John Berger writes, they were likely painted with animal blood. Ancient literature is full as a forest with animals who speak to us, who have the power to divine the future and reveal secrets, alongside Gods or demons who take animal form.
Now, in the midst of the sixth extinction, animals speak mainly to children. What a transcendent joy it was to let them speak to me.
————————————————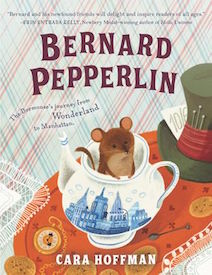 Cara Hoffman's book, Bernard Pepperlin is now available. Used with the permission of the publisher, HarperCollins. Copyright © 2019 by Cara Hoffman. Illustration copyright © 2019 by Olga Demidova.
---