On the Daily Rituals of Joan Didion, Patti Smith, and More
Women Artists on What Gets Them Through
Joan Didion 
In 1978, The Paris Review asked Didion if she had any writing rituals. "The most important is that I need an hour alone before dinner, with a drink, to go over what I've done that day," she said.
I can't do it late in the afternoon because I'm too close to it. Also, the drink helps. It removes me from the pages. So I spend this hour taking things out and putting other things in. Then I start the next day by redoing all of what I did the day before, following these evening notes. When I'm really working I don't like to go out or have anybody to dinner, because then I lose the hour. If I don't have the hour, and start the next day with just some bad pages and nowhere to go, I'm in low spirits. Another thing I need to do, when I'm near the end of the book, is sleep in the same room with it. That's one reason I go home to Sacramento to finish things. Somehow the book doesn't leave you when you're asleep right next to it. In Sacramento nobody cares if I appear or not. I can just get up and start typing.
In 2005, Didion told an interviewer that she typically spends "most of the day working on a piece not actually putting anything on paper, just sitting there, trying to form a coherent idea and then maybe something will come to me about five in the afternoon and then I'll work for a couple of hours and get three or four sentences, maybe a paragraph." The slowness of the writing process stems, Didion has said, from the sheer difficulty of thinking clearly. "Writing," she said in 2011, "forces you to think."
It forces you to work the thing through. Nothing comes to us out of the blue, very easily, you know. So if you want to understand what you're thinking, you kind of have to work it through and write it. And the only way to work it through, for me, is to write it.
When she's in between writing projects, Didion isn't necessarily able to relax. "It feels very different," she said in 2011. "I don't like it."
*
Miranda July 
July is a filmmaker, a performance artist, and a writer—of screenplays, short stories, and a novel—and she has succeeded in all of these mediums thanks to formidable self-discipline, although she does not see this as an entirely positive character trait. July is forever making rules for herself, and she works by heaping varying degrees of guilt, abuse, and deception onto her work life. One of her cherished mental tricks, for instance, is to avoid working on her "front-burner project" by tinkering with another, less-pressing project, beating herself up about procrastinating even though at some level she knows that it's by working in multiple disciplines that she creates her best work.
Having a child in 2012 only raised the stakes. "Once you have a kid it's sort of like the Olympics of self-discipline," July said in 2016. "It's like, 'Ah, now I can really flex my muscles! Let's see if I can write a novel in just 45 minutes a day!'" In fact, July wrote her debut novel, The First Bad Man, over the course of her pregnancy and the first couple years of her son's life, finishing it after about three years total. "At the beginning, it was simply, like, handing the baby to the nanny for 30 minutes and going in my room and writing anything," July said. "But now I realize that was sort of important."
July lives in Los Angeles and works in her former residence, "a squalid little cave" that she kept as an office space after moving in with her now-husband, the filmmaker Mike Mills. Most days she gets up at about 6:30 a.m. and does "mothering things" for as long as that takes; then she drops off her son at school and heads to her office, arriving at about 9:00 a.m. Although she generally spends the workday alone, she puts great care into getting dressed each morning. "I like clothes, and I think I see it as a bit of an antidepressant," July said. "I just like looking down and seeing the material and having the sense that I'm fit for the world, even if I'm not in the world."
July works in too many mediums to follow one set work routine, but very often writing is the primary goal of her day. She prepares for it while still at home, by doing a quick review of her emails to see if there are any fires that need putting out before she gets to the office. Once she's there, she enables Internet-blocking software on her computer for anywhere from three to six hours, and sets to work. Walking is a key part of her writing process.
"Often I feel like I'm playing hooky," July said, "but I find there's only so many good ideas you can have sitting in a chair. Of course the work has to be done there; you have to write. But there's a way that I can get really kind of frozen—where I'm literally not doing anything and yet I forget to remember that I can get up and walk or look at a book or do something else." Once she breaks this chair-lock, July will set off on a walk around her neighborhood, and as she has ideas she'll record voice notes on her smartphone.
Through long experience, July knows precisely "the amount of pressure to apply to my brain on a writing walk," she said. "It's not too much. You know, you kind of want to trick yourself that you're just enjoying being outside and maybe plant the seed of, like, 'How does this character do this?' And then let it go." For each writing project she ends up with hundreds of voice notes, which she'll consult while writing the first draft—"like a little bible," she said.
Before having her son, July would normally work until 7:00 p.m., but nowadays she stops at about 3:45, and a late night at the office means continuing until 5:30. As a result of this shorter work day, July sometimes gets stuck dealing with emails and other work tasks after her son is asleep, but generally she tries to avoid working in the evening, instead catching up with her husband before going to bed at about 10:00 p.m.
*
Patti Smith 
"I get up and if I feel out of sorts I'll do some exercises," the punk singer, visual artist, and poet said in 2015. "I'll feed my cat, then I go get my coffee, take a notebook, and write for a couple of hours. Then I just roam around. I try to take long walks and things like that, but I just kill time until something good is on TV." Smith writes at home, usually in bed—"I have a fine desk but I prefer to work from my bed," she has written, "as if I'm a convalescent in a Robert Louis Stevenson poem"—or else at a café near her Manhattan apartment. As for television, she is a devoted follower of crime shows, especially the darker varieties, and she sees parallels between their moody, obsessed detectives and the writing life. "Yesterday's poets are today's detectives," Smith wrote in her 2015 memoir M Train. "They spend a lifetime sniffing out the hundredth line, wrapping up a case, and limping exhausted into the sunset. They entertain and sustain me."
*
Ntozake Shange 
"I write whenever I get up," the American playwright and poet said in a 1983 interview.
I also like to go to one of the cafés that I frequent and write during off-hours between 2 and 4:30 in the afternoon and between 6:30 and 8:00 in the evening. I'll have a glass of wine and Perrier water, and I just sit and write in my journal for an hour-and-a-half or two hours. That's very good for me to do because that environment is very protected. I'm not here at home by myself; so whatever my demons are, they're not going to be able to overwhelm me because I'm alone and vulnerable. If I have a real scary piece to write, I might go outside and do it . . . if I go outside and I know I'm around people, I feel very secure. Then I can write about all kinds of weird or scary things. The demons must control themselves.
But, for Shange, the writing process also means letting go of control, at least part of the time. "I do feel myself as a medium sometimes," she said in 1991. "I think that the unconscious—which sometimes expresses itself through artists—is a medium of other spirits—of other deities: to let us have things that we can't have rationally."
__________________________________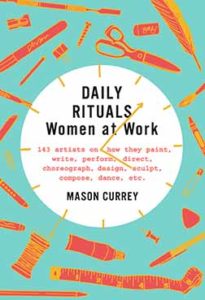 From Daily Rituals: Women at Work. Used with permission of Knopf. Copyright © 2019 by Mason Currey.
---