On the Cruelty and Tenderness of Isaac Babel
Jerome Charyn Meets the Daughter of a Master
1.
It's the one book I have two copies of. They sit side by side. The Collected Stories of Isaac Babel (circa 1960), with Milton Glaser's cover of three Cossacks on horseback wiggling against a white background like quarks or some other magic material suddenly visible to the eye. Glaser has caught both the ferocity and the fragile charm of Babel, whose language seems to slice at us while his characters float across our field of vision. Babel is dangerous; he disturbs our dreams. He's cruel and tender, like some kind of crazy witch. Each of his best stories—"The King" or "Di Grasso" or "Guy de Maupassant"—is like a land mine and a lesson in writing; it explodes page after page with a wonder that's so hard to pin down. The structure of the stories is a very strange glass: we learn from Babel but cannot copy him.
I've lived with him nearly all my adult life. I discovered Babel after I'd written a novel and read Nabokov, Faulkner, Hemingway, James Joyce, Scott Fitzgerald, Jane Austen, Saul Bellow, and Grace Paley. I was sitting with my editor in an Italian restaurant filled with mafiosi. He himself was a novelist, and every other editor in New York feared him, because he was a pirate who ransacked publishers' lists and stole authors at will. He didn't have to steal me. I was his single discovery, his one dark horse. And for a short period, just before my first novel was published, while he bickered with book clubs and lined up blurbs that he himself would write and then ask one of his stolen authors to sign, I remember having lunch with him every day of the week.
He happened to compose one of the blurbs while we were finishing our hazelnut cake (reserved for him and me) and coffee with lemon peel. "Incomparable," he scribbled on the tablecloth. "Stupendous." I was embarrassed at his flamboyance, and the liberties he took with the restaurant and its tablecloths. "Babel is the one and only writer who comes to mind."
"Couldn't you be a little less exotic? Who's this Babel?"
He revealed his disappointment by crushing the lemon peel and canceling all our other lunches. He wouldn't talk to me (or write another blurb) until I'd read Isaac Babel. I was whisked into another dimension, where everything to do with my book stood still. I had a book jacket with my name on it but with the title missing. I had a photograph of me with half a face. I had the proofs of every fifth chapter. I found Babel's stories in a bookshop, but I resisted reading him until I fell upon "The King" and its perverse outlaw in orange pants who reigned over Odessa and disposed of his enemies by firing bullets into the air. He was called Benya Krik, and he was so recognizable that I suffered through palpitations of pleasure and pain.
Benya's native territory was a Jewish slum, the Moldavanka, home of gangsters and grocers and mythical draymen, a ghetto of dark streets that seemed outside ordinary time, suspended in the reader's own imagination. I'd met this Benya before, many times, in my Moldavanka, the East Bronx, where he was always defiant in his orange pants. He wasn't a drayman. His shoulders weren't broad, but he walked with his own marvelous ballet, giving out candy to all the kids. His nails might be dirty, his shoes unshined, but he was still a gallant. He didn't seek wealth, but a kind of feudalism, a fief that belonged to him and him alone. The grocers gave him food, and no one would dare steal a solitary fig from them. We never took our problems to the police—they were from another planet, aliens who didn't bother to understand our sins. The important thing was that our Benya with the dirty fingernails had no fear of them. He ruled even if he never got rich. He was the lord of empty space, prince of those without a language other than the glaring musicality of his orange pants. . . .
I read on and on. I found myself going back to the same stories—as if the narratives were musical compositions that one could never tire of. Repetition increased their value. Babel was involving me in merciless fairy tales that evoked the first books I'd ever read. With each dip into Babel I discovered and rediscovered reading itself.
"Babel is dangerous; he disturbs our dreams. He's cruel and tender, like some kind of crazy witch. Each of his best stories—"The King" or "Di Grasso" or "Guy de Maupassant"—is like a land mine and a lesson in writing; it explodes page after page with a wonder that's so hard to pin down."
I bought another copy, savored it, put it on my shelf. I wouldn't travel anywhere with my two Babels. I didn't want the binding to break. I knew nothing about him until I read the introduction beneath Milton Glaser's cover of the three wiggling Cossacks. Babel died in a concentration camp in 1939 or 1940, according to Lionel Trilling (he was murdered in the cellars of the Lubyanka; his executioner didn't fire into the air, like Benya Krik). "It has been said that he was arrested when Yagoda was purged, because he was having a love-affair with Yagoda's sister." I put a check near that sentence; the name Yagoda seemed poetic and sinister at the same time. And I couldn't stop thinking about Yagoda's sister. Yagoda himself was chief of the Cheka (Stalin's secret police). And I couldn't have known it then (few people did), but Trilling had the wrong police chief and the wrong relative. Babel had had an affair with Evgenia Yezhova, wife of Nikolai Yezhov, the Cheka chief who came after Yagoda. Yezhov was one of the great killers of the twentieth century, next to Stalin. And Evgenia and Babel died because of Yezhov, a little man with a limp. But I only learned that years after my original romance with Babel. . . .
My pirate of a publisher never took me back into the fold. He disclaimed me as his one dark horse. My novel appeared, but only with a minor hiccup from a book club, and no blurbs. I had my compensation: Babel. In 1937, at the height of Stalin's terror machine, with Yezhov in power, Babel was obliged to give an interview before the Union of Soviet Writers. The questions asked of him were absurd. I offer one in particular: Why was Babel interested in the exceptional?—as if this were a crime. It was a crime under Stalin. But without the exceptional, we would have no Benya Krik, no stories about Babel's own ride with the Red Cavalry, no sense of a poetic, troubled language that reverberates in every direction, bathes us in the blood of verbs and nouns.
Babel had to give an answer. It was as absurd as the question, but with a little tongue of truth. Tolstoy, he said, "was able to describe what happened to him minute by minute, he remembered it all, whereas I, evidently, only have it in me to describe the most interesting five minutes I've experienced in 24 hours. Hence the short-story form" (You Must Know Everything).
And I carry Babel's "five minutes" in my head wherever I go. It has nothing to do with Tolstoy, with War and Peace versus Red Cavalry, or with large canvases versus small. Babel's "five minutes" were about creating volcanoes with each sentence, about conjunctions on the page that are closer to jazz riffs than to any writer (including Tolstoy), about a strange autobiographical journey in which Babel mingles with killers and rabbis, Cossacks and painters of icons, the beautiful wife of a Petersburg banker whose only dream is to translate Maupassant, philosophers with their eyes plucked out, Marxists with bullets wrapped in phylacteries; he takes us where we've never been and where we could never go—into the incredible lost land of art that Milton Glaser captures with his three cavaliers. Babel lived inside language, lived inside myth, settled there, a Headless Man whose single desire was to turn his existence into a wondrous tale.
2.
In July 2003, I went on a pilgrimage to Washington, D.C., to interview Nathalie Babel. I didn't know what to expect when I knocked on Nathalie's door. Should I call her "Natasha," the name under which Babel had known his little Russian daughter, who happened to have been born in France? I admired her fierce devotion. She'd become Babel's "editor" in the United States, had gathered his stories and letters . . . like a cunning cadet.
"Being Russian, French, American, and Jewish has meant that wherever I am, part of me could be somewhere else." She could also have been writing about her father, who was always "somewhere else," whether in his own mind or on some crazy gallop from place to place, or about wanderers like myself who'd traveled from their own "Odessa" on some rocking horse of words.
I felt close to Nathalie. Was she really the child of that Headless Man? When she opened the door, I didn't have any doubt. She looked like Babel, had the wondrous truculence of her father's face, like a little commissar of mind and imagination. I'd been told she was a tough customer. Nathalie herself had said on the phone that she'd scared off another interviewer. He'd come all the way from Montreal and wanted to camp outside her apartment, question her for ten hours at a clip. But his first question was fatal. "Who are the Shapochnikoffs?" he asked. (Shapochnikoff was the married name of Isaac's sister, Maria.) But I had studied the whole Babel tree, including the Shvevels (his mother's family), the Gronfeins (his first wife's family), and the Shapochnikoffs.
I asked Nathalie about her mother, Zhenya Gronfein.
"She's the one who intrigues me," I said, the dark lady from Kiev (with reddish brown hair), who'd been dismissed by Ilya Ehrenburg and others as a bourgeois beauty. The entire Soviet Union, it seems, had condemned her because her father happened to be rich before the Revolution. She'd been written out of Babel's life, expunged. We have Antonina Pirozhkova's testimony, her years with Babel—the pieces of string, Babel's fear of forests (was he still haunted by the Red Cavalry campaigns near the end of his life?)—but we have nothing from the first Mrs. Babel, who was so unlike the second. . . .
Nathalie would grow up without the usual children's stories. She had Isaac Babel. "Mother read the stories to me as a child. She admired them very much." It wasn't only Antonina who recalled Babel's piece of string. Zhenya had told Nathalie about that habit of his. "They were in the Caucasus [it was 1922]. He would work at night, with a piece of string, and every day he would read to her what he was working on."
Zhenya had fond memories of Batum, where she lived with Babel on the side of a mountain and had to hike for miles on unsafe roads in order to reach the nearest market. There were "hard times" on Babel's mountain, yet "they were happy together." An "heiress" from Kiev, "she didn't have the slightest idea of how to cook. But she decided she had to cook." And when she made Babel soup for the first time, "he put his knife into it. The knife stood up in the soup."
Babel worked like a madman on his mountain. And then there was the move to Moscow, when his writing began to unravel. Enter Tamara Kashirina, the Russian Delilah who entangled herself with the weak-eyed Samson of Soviet literature. And Babel scrawled his Avtobiographiya that same year: 1924. It begins to make sense why he didn't include his marriage to Zhenya, a daughter of the Jewish bourgeoisie. He'd had his second birth, as a Soviet writer called Kiril Lyutov, the fictitious narrator of Red Cavalry, who'd also "lost" a wife. The nom de guerre he used was hardly an accident—lyuty in Russian means "wild, ferocious," as if Babel were pretending to be "ferocious" as a Cossack, or as "wild" as language itself, or could borrow his persona from the Revolution, cut off the past with some of the same violence. But the man who rode with the Cossacks wore an invisible skullcap. He had a tribe as compelling as the Cossacks themselves. . . .
Zhenya couldn't forget the string of pearls her father hid from the Bolsheviks. Gronfein "twisted that string of pearls into the electric cord hanging from the ceiling. [And he did it just before the era] of Bolsheviks entering your house and grabbing everything—muzhiks coming in and threatening everybody," after 1917. Her father "died first and quickly." Zhenya had already gone to France, where she had neither friends nor family, and she asked Babel to bring her "certain mementos" of her dead father; Babel found "two small ivory cigarette holders—that's all."
__________________________________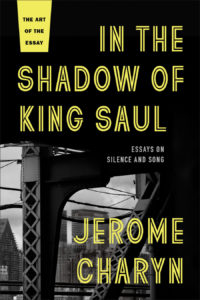 From In The Shadow of King Saul. Used with permission of Bellevue Literary Press. Copyright © 2018 by Jerome Charyn.
---