On the Complicated Questions Around Writing About Travel
"Travel was and will always be about exclusion."
Jakarta, 1994: I wanted to write a story about magic slippers that would take me anywhere. I ended up writing a novel about demonic red shoes as an adult, with more complex reasons than fulfilling my simple wish to go to Singapore, but there were times when travel was an unattainable obsession. I thought of Singapore because my imagination as a Third-World 90s teen did not stretch far enough. Japan was too costly, Cambodia was unthinkable, and America only existed on TV. Singapore was the place where my wealthy friends would go shopping, although they also visited other countries. In one girl's house, I saw a family photo in Dutch costume taken in Volendam, and in another girl's mansion, photos of family vacation to Disneyland California were hung on the wall. Our friendship lasted long, despite being occasionally haunted by the not-so-ghostly presence of different class. My parents lived in Jakarta as common people, raising two kids who would be common people, doing whatever common people do.
What does it mean to travel? Does writing about it from where I stand make a difference? The question of moving has never ceased to be relevant, and it is, to borrow from Baudelaire, the one "I discuss incessantly with my soul." "Questions of Travel" is the title of Michelle de Kretser's novel about travel, home, and belonging, Caren Kaplan's scholarly book on the modern and postmodern discourses of travel and displacement, and the famous poem by Elizabeth Bishop that both writers allude to. "Should we have stayed at home and thought of here?" asked Bishop. Questions of travel are many and have become more complicated, especially when we think about the global conditions that shape travel today.
Interrogating the socio-economic and environmental impacts of travel can be challenging because the romanticized images of travel have been sustained in narratives, via literature and the media. Thus here is the first question to begin with: Why do travel stories fascinate us, and why do people keep telling them? We want to know every path, every yellow brick road trodden by our favorite characters, on the pages or screen. What will Dorothy discover when the on-screen image shifts from black and white to technicolor? In The Wizard of Oz, excitement is always somewhere else, somewhere unknown, over the rainbow. Stories of travel speak to us because we, too, desire to venture into the unfamiliar. Perhaps in our journey, our troubles will melt like lemon drops, and we are eager to find out what awaits us. What kind of world is there to see? What souvenirs to bring home? Will we ever return home?
Travel narrative has a long tradition in both Western and Non-Western cultures, from Odysseus, who faces various obstacles and temptations that lure him away from his goal to return home in Homer's The Odyssey, to the Mahabharata, in which the Pandavas are sent to exile for 12 years after losing a dice game. Stories of exile, return, and conquest have been told many times. Messages are often deeply embedded in the dominant social norms, from 'see the world and seize the day' to 'home is where the heart is,' and they are both strong and shaky. The mantra "there's no place like home" in The Wizard of Oz, as Salman Rushdie writes, ambivalently co-exists with the portrayal of Oz as a magnificent place where Dorothy savors her freedom.
History constructs how travel is imagined in my Third World backyard. Indonesian children know the song "My ancestors were sailors" by heart. It is a celebration of travel within the archipelagic imagination—sailing the vast ocean with delight, against the waves, without fear—but here is the irony: Most of us do not travel, or even if we do, stories of our travel are insignificant. We have always been the place traveled, the people written about, the picture painted. We are the bare-breasted Balinese women in paintings, a paradise, a heart of darkness, a perfect setting for a thriller in The Year of Living Dangerously. My hometown Jakarta, despite being less charming than Bali, appeared in Baudelaire's poem when it was Batavia, described as a tropical beauty wedded to the spirit of Europe. In 1869, certainly this was not the way how we the natives, the half-naked, lazy, and unsophisticated Inlanders, perceived the city. The Grand Tour, the 17th- and 18th-century travel for education, was not part of our tradition. When we Inlanders traveled, we became the exhibits in the colonial expositions.
Questions of travel must consider the unequal power relations that characterize present global encounters and how they are enmeshed in the historical processes in the past. Travel was embedded in the colonial exploitation of Empires, and cosmopolitanism—at least the dominant version of it—has always been capitalist-driven. Knowledge about other cultures has been used to validate colonialism, as we have learned from Edward Said, and to create infrastructure for neo-imperialist market expansion. The traveler has been wearing the colonizer's cloak since Prospero claimed an island and enslaved the "hag seed." The Tempest exemplifies travel as a narrative of discovery, and Prospero is not the only one who understands that knowledge is power.
My story as a traveler was more precarious than glamorous.
Narratives of discovery, which involve discovering the Other and the self in a dialectic fashion, frame many stories about travel. How do I write about travel without taking into account the historical construction of my home, my people? In these stories, we are the ones being discovered: the smiling Calibans. In contemporary travel memoirs such as Eat Pray Love, the external journey is a vehicle for the internal journey, a journey to discover oneself. Abuse and economic hardship suffered by Wayan in Eat Pray Love allows the New York traveler to understand her feminist agency. The smiling Calibans are the catalyst for self-recognition in global tourism.
Should we seize Prospero's pen and write our own stories of travel and discovery? There is a problem there. What we will discover is determined by a map that already exists. We can read the map, but the map has read us first, locating us based on where we come from and the color of our skin. Elizabeth Bishop writes, "Continent, city, country, society: the choice is never wide and never free." Your option as a traveler is certainly not wide and free especially if your body, class, or gender does not fit quite right. Your name is not 'universal' enough. Your passport determines your status, access, and even the length of time you will spend at the immigration counter.
Travel was and will always be about exclusion. Instead of unpacking the idea, many contribute to strengthen the demarcating lines. Social hierarchies are maintained through attempts to promote that certain traveling practices are more prestigious than others. In Abroad: British Literary Traveling Between the Wars, first published in 1979, Paul Fussell historicizes travel and outlines the distinction between the explorer, the traveler, and the tourist: "All three make journeys, but the explorer seeks the undiscovered, the traveler that which has been discovered by the mind working in history, the tourist that which has been discovered by entrepreneurship and prepared for him by the arts of mass publicity." Fussell's elitist view exposes a nostalgia for certain ideals. In idealizing the age of Renaissance exploration, Fussel deodorizes travel from colonialism. He also suggests that that masculinity constitutes the 'real' travel; exploration, in his term, involves "the athletic paramilitary activity" and results in knighthood.
For centuries, travel stories have always been male stories, and women occupy the roles as objects of desire or the loved ones at home receiving letters. The 19th-century figure of the flâneur, or the wanderer in the Parisian streets, was male, while unchaperoned women in the city were not considered respectable. Literature and cinema are packed with stories of male travelers who discover freedom on the road, such as Jack Kerouac's On the Road and the 1969 film Easy Rider. Looking back to my own history, not everyone in the Dutch East Indies was njai (concubines) or baboe (maids), confined to beds and kitchens. A few select people went to the Netherlands: the upper-class men. Student Hidjo, a 1918 novel by Marco Kartodikromo, tells the story of a Javanese student sent to the Netherlands to study. While offering a critique of colonialism, the novel presents self-discovery in gendered terms: the male protagonist's awareness of his cultural identity emerges as he distances himself from morally-loose Dutch women (of course, after some passionate love affairs).
Jakarta, 2008: The pair of red shoes I was wearing have traveled. I was a PhD student at NYU, after living in San Diego for two years, and I visited Jakarta for a summer break. Travel was disorienting; I had been everywhere, but I felt that I belonged to nowhere. In the Indonesian language there is a word we use for wandering spirits who are no longer in our world but have not crossed to the world of the dead: gentayangan, being in between, neither here nor there, a common symptom of border crossing. The Third World woman had a travel story to tell. But what kind of story?
I did not want to talk about freedom on the road like in Easy Rider without considering the exclusion of women. Unlike men's travel stories, stories of women who traverse are usually haunted by guilt and punishment. In Hans Christian Andersen's The Red Shoes, the girl cannot stop dancing with her red shoes, so she asks for God's forgiveness and begs an executioner to cut off her feet. Good girls go to heaven, but the red shoes keep wandering. I wanted to write about gentayangan women, but I could not relate to stories of women's travel in which self-discovery is achieved through financial independence and consumption, like in Eat Pray Love. I could not write about New York from the perspective of the elites, like Sex and the City, and glorify the Emerald City sanitized by Rudy Giuliani.
The Sex and the City ladies drink cosmopolitans, but the stories of privileged globetrotters were not mine. A brown version of neoliberal cosmopolitan narrative felt like ill-fitting shoes. I lived in Queens, a borough of migrants that smells of tacos and masala, juggling between teaching jobs in Staten Island and Bronxville to pay the rent. My story would be inspired by my Asian landlords, one of which is a Vietnamese-American who picked me up from a shady motel when I first arrived in the United States. He came as a refugee as a teenager, and although he was doing well, he would tell me stories of daily micro-aggressions such as people patronizing him to speak better English (he would reply: "You speak better English!"). My other landlords were Chinese immigrants, whose interactions with me were mediated by their children acting as interpreters. They had many properties, and they would only accept cash payment.
Questions of travel should go beyond the rainbow, digging deep into the greasy moments, disjuncture, power relations, and social inequalities.
My story as a traveler was more precarious than glamorous. In times of troubles, the idea of borrowing money from my parents was a joke because they had nothing to lend. Yet I kept traveling to conferences to maintain a professional network that I was afraid of being excluded from, and this made me aware of my privilege compared to friends and neighbors who overstayed their visas and therefore could not travel freely. Undocumented migrants, however, do not see themselves as victims. They engaged in gatherings and lively conversations, easily switching topics from food from home to Obama, though the subject of paperwork was delicate and perhaps irrelevant.  Some were politically conscious, and today, they remind me of writer and migrant worker Yuli Riswati, who was deported after covering Hong Kong protests to raise awareness among the migrant community. Migrants are actively looking for shared experiences, connections, and solidarity. This is a different version of cosmopolitan life and sensibility: cosmopolitanism of the common people.
Openness to other cultures that marks cosmopolitanism is often understood in a narrow sense, as taste, made possible by access to mobility entangled in social and economic privileges. But let's not forget that Diogenes, who claimed that he was "citizens of the world" (kosmopolitês) was a hobo. The categories produced by global travel discourse—expats, exiles, migrants, refugees, tourists—contribute to how one experiences mobility, whether they would encounter bridges or barriers, hospitality or displacement. Those who make the bed when travel bloggers/ influencers go on vacation have their own travel stories; their lives are shaped by national and transnational structures as they juggle between making their ends meet in their new home and sending money to families in the old home. Yet when neoliberal cosmopolitanism becomes the dominant frame, some traveling bodies are erased, and certain forms of mobility do not count as stories of travel, or stories that travel.
Travel is about the desire to cross boundaries as well as tangible encounters with walls and borders. Questions of travel should go beyond the rainbow, digging deep into the greasy moments, disjuncture, power relations, and social inequalities.
I decided to write a story that puts you in the shoes of a Third World woman who, after making a Faustian deal with the Devil, receives a pair of red shoes to roam the world. Getting off the plane (or a flying house) is one thing, but to stay in a place without security—social connection, cultural capital, or First-World privileges—is another animal. Unfortunately, no magic slippers can help you with that.
__________________________________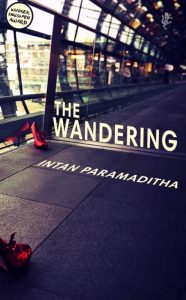 The Wandering by Intan Paramaditha (trans. by Stephen J. Epstein) is out now via Harvill Secker.
---