On the Comedy of History, and the Importance of a Good Joke
Christopher Bram Finds Humor in the Greatest Literature
Everybody knows the tragedy of history—we cannot forget it—but we rarely hear about the comedy of history. "He who laughs / Has not yet heard / The terrible news," wrote Bertolt Brecht. Yet there is no denying that the past is often very funny.
The humor can be in the subject itself or in the voice of the author or in a combination of the two. It can be a teaspoon of honey for bitter medicine—which is how Charles Johnson uses it in Middle Passage. It can be entertainment, amusement, relief. Best of all, comedy can be a truth teller, a reality test, a bullshit detector.
Probably the most famous work of comic history is Eminent Victorians by Lytton Strachey. He was preceded by Edward Gibbon, but the jokes in Decline and Fall of the Roman Empire come only every hundred pages or so and can be awfully snarky. ("Of [Pope John] . . . the most scandalous charges were suppressed; the vicar of Christ was only accused of piracy, murder, rape, sodomy, and incest.") Strachey gives us two or three humorous turns of phrase on every page, and they are often direct and friendly. He regularly teases and mocks his subjects—Cardinal Manning, Florence Nightingale, Dr. Thomas Arnold, and Gordon of Khartoum—but his jokes make his people more human.
The Nightingale portrait is the strongest and most memorable. Strachey opens by declaring that the myth of the Lady with the Lamp visiting the hospitals of Scutari during the Crimean War isn't nearly as interesting as the reality. "A Demon possessed her. Now demons, whatever else they may be, are full of interest. And so it happens that in the real Miss Nightingale there was more that was interesting than in the legendary one; there was also less that was agreeable." He makes fun of her, but most of his comedy is directed at the society that opposed her. His humor becomes scalding when he talks about her enemies. His bitter jokes about the stupidity of the British high command can still move one to indignation. He takes her side when an incompetent medical superior is awarded a knighthood and she wonders if the letters KCB stand for "Knight of the Crimean Burial-grounds."
Strachey's account of the heroic period at Scutari, when Nightingale and her volunteers cleaned out the foul, filthy, rat-infested army hospitals and brought in fresh air, clean water, and modern nursing, is masterful. Then he tells the story of the next fifty years, and things become more complicated. Nightingale's demon drove her to battle army bureaucrats to improve soldiers' lives, winning new enemies and wearing out old friends, all from her sickbed—Crimea broke her health—where she wrote endless books and letters. (A later biographer, Cecil Woodham-Smith, includes the wonderful detail that Nightingale's letters were frequently decorated with the inky paw prints of her cats.) Yet she outlived her enemies, her overworked friends, and even her demon. She became gentler in old age. Strachey continues to make jokes to the end, but he clearly misses her old fury.
Eminent Victorians was a best seller during the First World War and was even read in the trenches. A few years ago I tried to teach it to my class in short biography. They were a smart group who could appreciate Oliver Sacks, William Maxwell, and Janet Malcolm, but they were thrown by Strachey, put off by his old-fashioned diction and alien concerns. Almost nobody appreciated his use of comedy to knock down pious righteousness—nobody except an Iranian student, a young woman whose mother had been imprisoned under the mullahs. This student was also a very big Woody Allen fan. She understood hypocrisy, Victorian and Islamic, and knew that scornful laughter was a perfectly valid response.
Many historians learned from Strachey that a writer can make jokes and still be serious. One of the best is Nancy Mitford. A fine comic novelist in her own right (Love in a Cold Climate out-Waughs the upper-class comedy of her friend Evelyn Waugh), Mitford was also a highly entertaining historian who wrote repeatedly about the glamour and absurdity of 18th-century court life, chiefly that of Versailles.
Let's look at her wry, witty, worldly biography Madame de Pompadour. Born with the plain family name Poisson (Fish), this bourgeois daughter of a tax collector was told by a fortune-teller as a child that she'd be loved by the king, Louis XV. She was obsessed with the king throughout her adolescence, even after she married minor nobility. Then, in 1745, she finally met Louis at the Ball of the Yew Trees, where he was dressed as a large tree. Within a few months she was his mistress. She was 24, Louis 35. He gave her a title, the Marquise de Pompadour, while her husband was awarded a deed of separation and a profitable post in the provinces.
Francis Parkman, in France and England in North America, treats her as a cunning Lady Macbeth, but for Mitford she is a heroine: charming, kind, intelligent, and honest. She was friends with many of the philosophes, including Voltaire. I like to think that Mrs. Comstock, my English teacher, knew and loved this book.
The king was still married, but the queen, after giving birth to ten children, had withdrawn into religion and card playing. Pompadour courted her after winning her husband, wanting to be her friend. She even offered to join the queen in her hobby of washing the feet of the poor. This was a strange world, in which the sacred mixed with the profane and adulterers attended mass every morning. Later, when Pompadour briefly found religion herself, she stopped wearing rouge and ordered the secret stairway between her rooms and the king's walled up.
Life in court included cliques and hierarchies, elaborate rituals and Byzantine rules. Choice apartments were fought over like corner offices. There was much insult and gossip, including nasty anonymous poems called Poissonades, about the little bourgeois in their midst. Versailles frequently feels like an even meaner version of high school. But Mitford doesn't make the mistake the Victorians did when they assumed that a life of pleasure was empty and boring. She understands that these people were having a good time.
The four main pastimes were love, gambling, hunting, and the official entertainments. Love was played like a game, or like a comedy by Marivaux; it had, of course, nothing to do with marriage. Children,
in those days, were married off in their teens, and these little husbands and wives usually grew up to be very fond of each other, sharing the same interests, absorbed in the family and its fortunes. Even if they did not like each other, which was rare, they could generally manage to get on, since good manners demanded that they should.
We are very far from the worlds of Nat Turner and Beloved.
In time the king and his mistress stopped being lovers and became only intimate friends. The king turned to a private brothel and minor nobility for sex. Pompadour accepted this just as the queen had accepted Pompadour, but it didn't stop the courtiers from gossiping and making jokes about them.
The comedy ended with the Seven Years' War. The court found mirth even here, in the many defeats and the loss of Canada—they found the Lisbon earthquake hysterical. Yet Pompadour was grieved by her country's failure. She advised the king and wrote endless letters of support. She had no real power, but the people blamed her for the victories of England and Prussia. After all, they couldn't blame the king.
She was only 40 when she died of pneumonia. The king could not attend her funeral, but he stood on his balcony without a hat or coat, weeping as her funeral cortege left Versailles for Paris.
Death is present even in comic Eden. Et ego in Arcadia: "I too am in Arcadia," says Death in many paintings and poems. But death and comedy are not mutually exclusive.
Smart historians use humor in their work, and they use it in different ways. Charles Royster's The Fabulous History of the Dismal Swamp Company isn't actually funny, but its digressive style is a history equivalent of the comic run-on voice of a story like Eudora Welty's "Why I Live at the P.O." David McCullough and Brenda Wineapple both use comedy in their books as human notes, breaks in the solemnity, escapes from seriousness. George Stewart and Evan Connell use it, too, but in a dry, bitter manner, often as gallows humor.
There is a reality principle at work here. If one can make a joke about an emotion, and the emotion isn't exposed as silly or fake, then that emotion must be real. Humor also makes action seem more lifelike.
This is true in fiction, too, where comedy is not limited by facts and has freer rein. But writing comic historical fiction requires enormous knowledge, imagination, and confidence. It's like making jokes in a foreign language.
People do not give it credence that a 14-year-old girl could leave home and go off in the wintertime to avenge her father's blood but it did not seem so strange then, although I will say it did not happen every day. I was just 14 years of age when a coward going by the name of Tom Chaney shot my father down in Fort Smith, Arkansas, and robbed him of his life and his horse and $150 in cash money plus two California gold pieces that he carried in his trouser band.
True Grit by Charles Portis is a comic gem, a first-person tale told by Mattie Ross about her adventures as a teenager. And it's a wonderful historical novel. Mattie speaks in the deadest of deadpan voices, a Buster Keaton prose that pretends to reveal nothing but is full of feeling. Portis must've read scores of Old West memoirs and dime novels to get the tone exactly right, as well as to capture the slang and wealth of details.
Mattie's narrative is full of surprising digressions, bitter religious beliefs, and harsh revelations. She knows a lot about horses, guns, cooking, bank documents, and bookkeeping. The story itself is very simple, occupying only a couple of weeks in 1875. Determined to find the killer of her father, she goes to Fort Smith and hires a hard-drinking federal marshal named Rooster Cogburn, who looks like a one-eyed Grover Cleveland. ("Some people will say, well there were more men in the country at that time who looked like Cleveland than did not. Still, that is how he looked.") He isn't the laconic hero of Western legend but a real chatterbox, full of endless stories when he's drunk or needs to keep himself awake. They are soon joined by a younger man, a Texas ranger named LaBoeuf, also hunting for Chaney.
Mattie takes her time describing the pursuit into the Oklahoma territory, shifting the story from the realm of movies into real time, a world full of vivid details and comic indignities. The winter landscape and weather are very strong here. The violence, when it comes, is unexpected and clumsy, without grandeur, like the violence we sometimes witness firsthand on the street.
Cogburn and LaBoeuf capture two shabby outlaws named Moon and Quincy, who know where Chaney is. They all sit together in a dark shack. Moon is wounded and wants to rat on Chaney.
"Don't act the fool!" said Quincy. "If you blow I will kill you."
But Moon went on. "I am played out," said he. "I must have a doctor. I will tell what I know."
With that, Quincy brought the bowie knife down on Moon's cuffed hand and chopped off four fingers which flew up before my eyes like chips from a log. Moon screamed and a rifle ball shattered the lantern in front of me and struck Quincy in the neck, causing hot blood to spurt on my face. My thought was: I am better out of this. I tumbled backward from the bench and sought a place of safety on the dirt floor.
The old-fashioned diction gives the scene the stiffness of a period illustration, but Portis can find poetic life inside the most wooden prose or dialogue.
Mattie tells us her story many years later, in 1928, when Al Smith is running for president. She is now a one-armed bank manager, hard as nails, and with no illusions about the people in town. "They love to slander you if you have any substance. They say I love nothing but money and the Presbyterian Church and that is why I never married. They think everybody is dying to get married." She never sees Cogburn again. When she learns he has died, she brings his body to town and buries him in the family plot with a good tombstone. She denies feeling anything but friendship for the man, but her denials are strangely moving. The final, deliberately flat-footed sentence is strangely moving, too. "This ends my true account of how I avenged Frank Ross's blood over in the Choctaw Nation when snow was on the ground."
This comic anti-western offers more excitement than most serious westerns. Cormac McCarthy looks phony by comparison. After you scrape off the fancy prose style, his novel Blood Meridian could be just the fantasy of a really mean adolescent boy who's seen too many Sergio Leone movies. But True Grit, with its mix of slapstick and bloodshed, toughness and tenderness, feels like the real thing.
The American West is a frequent setting for comedy, both fiction and nonfiction. Part of this is due to the influence of Mark Twain, whose voice haunts the region. But it's also due to the tradition of Western humor, which Twain refined and built upon. The wide-open spaces evoke a strange mix of jokey understatement and high exaggeration, a good language for laconic yarn-spinning. Many fine writers draw upon this language, most notably Larry McMurtry. But one of my favorite examples is Thomas Berger in his wonderful 1964 novel, Little Big Man.
While True Grit works in the backyard of old movies, Little Big Man works in the backyard of actual American history. This sprawling comic picaresque incorporates famous events and figures, including Wild Bill Hickok, Walt Whitman, and our old friend George Armstrong Custer. It's the first-person account of a 111-year-old man, Jack Crabb, spoken into a historian's tape recorder in 1952. Jack is a Huck Finn who has grown up and grown old and seen the country grow old around him. It's a sadder, wiser, richer voice.
Jack was captured by the Cheyenne when he was ten years old and spent the next five years as an Indian in a small band led by a chief named Old Lodge Skins. They call the short redhead with freckles Little Big Man. For the rest of his life, Jack goes back and forth between the world of whites and the world of the Cheyenne, never entirely at home in either. He sees both with a satirical eye. This is his description of the Cheyenne's war with another tribe, the Crow.
When the Cheyenne gave the beating there was celebration. If it happened near our camp, the women and children went out and clubbed and stabbed the enemy wounded who was lying about and mutilated the dead, taking as souvenirs such items as noses, ears, and private parts. This was a real treat for them. If you seen as much as I did, you would have like me developed a strong stomach. Buffalo Wallow Woman was sort of my Ma, just a fine soul. I can't count all the times she hugged me against her fat belly . . . But now what'd you think when you saw that sweet person ripping open some helpless Crow with her knife and unwinding his guts?
One of the achievements of this novel is that the Indians are as strange and comic and real as the whites. Old Lodge Skins himself is a great comic character, absurd one moment, profound the next, transcending all easy judgments. He can be as racist as any white—the Cheyenne call themselves "the Human Beings"—yet he begins in amused tolerance. He tells Jack:
Whatever else you can say about the white man, it must be admitted that you cannot get rid of him. He is in never-ending supply. There has always been only a limited number of Human Beings, because we are intended to be special and superior. Obviously not everybody can be a Human Being. To make this so, there must be a great many inferior people. To my mind, this is the function of the white men in the world. Therefore we must survive, because without us the world would not make sense.
But the next time Jack sees him, after the massacre at Sand Creek, where Old Lodge Skins loses his eyesight and two of his wives, the old man has stopped being amused by "Americans."
I no longer believe they are fools or crazy . . . The Human Beings believe that everything is alive: not only men and animals but also water and earth and stones and also the dead . . . But white men believe that everything is dead: stones, earth, animals, and people, even their own people. And if, in spite of that, things persist in trying to live, white men will rub them out.
Jack's own voice is loose and fluent. Unlike Mattie's slightly wooden written sentences, Jack's spoken sentences flow easily, mixing slang and bad grammar and five-dollar words. He is an excellent storyteller who makes his experience very real, both physically and emotionally. He shows us the intense darkness of the interior of a tepee after the bright sunlight outside. He compares the different smells of an Indian village and a white settlement, admitting he can grow accustomed to both but is startled by each when he's been living in the other. And he explores the very different attitudes about sex and violence among whites and Cheyenne. He is remarkably evenhanded. There are good whites, just as there are bad Indians, but he gives everybody valid reasons for doing what they do. (One trait that whites and Indians share is a mulish inability to listen to another person. More than once Jack must pull out a knife before the other person will understand what he's been saying for the past five minutes.)
Jack lives a remarkably varied life with an impressive range of roles in the white world: schoolboy, teamster, storekeeper, drunk, gambler, buffalo hunter, and scout. He has and loses two different families, one Cheyenne and one white. He is a resilient, flexible man who quickly adapts to whatever situation he's in, but the past frequently catches up with him. And there are horrors he cannot shake.
The novel's climax is the Battle of the Little Bighorn, and Jack's account is as brutal as Evan Connell's in Son of the Morning Star. It's fascinating to revisit the battle from a single point of view, albeit fictional, after experiencing it from the multiple points of view of Connell's history (which was published 20 years after Berger's novel). Because it's fiction, Berger can give us something the historians can't, a report of the massacre as experienced by the soldiers, including a final glimpse of Custer. Jack accompanies the Seventh Cavalry as a kind of court jester and is trapped on the hill with Custer and his men when they are overwhelmed by the Sioux and Cheyenne.
I says: "General, won't you get down?" . . . He stared back with eyes like blue gems through the dust on his countenance, fanatic as an idol, and he says: "Splendid, boys! We have them on the run now!" And he went along the skirmish line, kicking the troopers' boots in encouragement, only some of them covered the feet of dead men.
The possibility is raised that Jack is a liar and the whole book is made up. But I believe Jack's story. He may stretch things now and then, but his tales are full of realistic grace notes and unpredictability, and they line up with the historical facts. Yes, Berger made it all up, of course, but if he wanted us to doubt Jack, he would've dropped a few obvious whoppers into his saga. And Jack's life story isn't nearly as interesting as a fantasy as it is as truth. As Jack says earlier, "I'm telling the truth here, and the truth is always made up of little particulars which sound ridiculous when repeated."
The novel ends with Jack back with the Cheyenne in the tepee of Old Lodge Skins. The old man is pleased his adopted son survived the battle; he doesn't need to know why he was with the whites. His first question is "Do you want to eat?"
Comedy can take us into tragedy—the destruction of the American Indian—and out again. The slapstick adds to the sorrow. This is a comic novel about genocide, but comedy opens the reader to a more complex and profound sadness than tragedy does, in part because we don't see sorrow coming.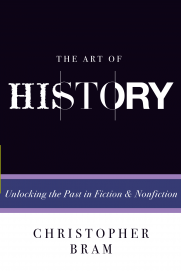 "The Comedy of History" from The Art of History: Unlocking the Past in Fiction and Nonfiction. Copyright © 2016 by Christopher Bram. Reproduced with the permission of Graywolf Press, Minneapolis, Minnesota, www.graywolfpress.org
---