Five Books Making News: Freaks, Geeks, and Crazy Love
Diane Arbus, The Romanovs, Alain De Botton, Ali Eteraz, and Terry McMillan
Chimamanda Ngozi Adichie, whose Americanah won the National Book Critics Circle fiction award, writes a Virginia Woolfian short story about Melania Trump, the first story commissioned for the New York Times Book Review. Slate's Katy Waldman jumps in with suggestions for more author/politico pairings. Members of the Los Angeles Times' cast of critics pick the Great American Novel. Think Toni Morrison's Sula (Rebecca Carroll), Morrison's Song of Solomon (Laila Lalami), and NO WINNER—no, wait, James Ellroy's American Tabloid (Marlon James): "Because Noir may have been America's greatest cultural invention, even if she might not have invented it. Because American Tabloid is the only novel I've read so far that realizes that the crucial moments in history are made by people who never make the history books… And it is that American novel that realized before we did, that our American dream was somebody else's nightmare." RIP Nobel Laureate Elie Wiesel. His newly translated essay on discovering the U.S. (and Disneyland) on a 1957 road trip, published this week, reminds us of the beginning of his decades-long work as an author and eloquent witness.  ("America is truly a wonderland. Even the Indians speak Yiddish," he wrote.) Plus new biographies of photographer Diane Arbus and the Romanovs, new novels from best sellers Terry McMillan and Alain de Botton, and a first novel by a secular Muslim American whose pen name means "Noble Protest."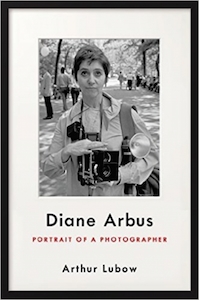 Arthur Lubow, Diane Arbus
The first biography of Arbus in 20 years overcomes the handicap of no photographs with extensive research and interviews, and draws admiring critical attention.
"Lubow is entering a crowded arena," notes Anthony Lane (The New Yorker), "for the Arbus industry is hardly a place of repose. Yet the author fights for his spot, and earns it. His research is unflagging and his timing is good, for Arbus could scarcely be more fashionable, with her thrill at the fluidity of genders, and her trafficking with anonymity and fame. Bosworth may have a keener nose for detail (from her we learn that at one MOMA show, an assistant had to go around each morning and wipe the Arbus photographs where people had spat on them), whereas Lubow is more intent upon the shifts in Arbus's work. He is rightly amused, too, by the clash of her professional ardor with her domestic duties, highlighting a note from her appointment book, from 1959: 'Buy Amy's birthday present, go to the morgue.'"
Lyle Rexer (New York Times Book Review) delves into Lubow's research and the roadblocks he faced:
The book is based on substantial interviews with Arbus's friends, lovers and others, and on documents that hadn't been available until now. It revisits issues and incidents reported (to much consternation) in Patricia Bosworth's 1984 biography. It fleshes out—gives truly carnal context to—the biographical timeline published in Revelations, the book accompanying the landmark exhibition of Arbus's work in 2003. That book provided extensive quotations from Arbus's diaries and letters, as well as a kind of inventory of holy relics, from pages of a high school autobiography to contact sheets to the lugubrious pictures she ripped from tabloids and pinned up next to her bed. It seemed to sanctify her as an artist-saint at the same time that, for all its biographical paraphernalia, it revealed less about the person than met the eye.
But it had one thing Lubow did not: the cooperation of the artist's estate. None of the more than 150 photographs Lubow mentions are reproduced in the biography. The estate would not grant him permission to use them. This writer—and others—have encountered the same roadblock. The estate's permission depends on its review of any text to be printed, and it has asked writers to revise offending ­passages. Since the estate is controlled by Arbus's two daughters, Doon and Amy, we can imagine that there would be sensitivities about attempts to connect the life with the work and to pry deeply into the life.
"The most talked-about reveal will likely have nothing to do with Arbus's art," writes Rachel Shteir (Boston Globe).
It will be Lubow's treatment of her sexuality. It is hardly news that, as a child, Arbus played erotic games with her older brother, the poet Howard Nemerov. But Lubow tells this story more fully than did Patricia Bosworth in her important 1984 book, Diane Arbus: A Biography.
One way he does so is to put front and center a recently excavated detail about how months before her death, Arbus told her psychiatrist that she was still sleeping with Howard. Apparently, she was as remorseless about this as about her many other conquests: "[S]he referred to their ongoing sexual liaison . . . as if there was nothing so remarkable about it.''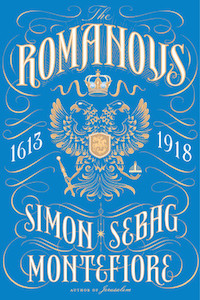 Simon Sebag Montefiore, The Romanovs
A new 800-page volume covering three centuries of the reign of the Romanovs surprises critics with its fresh insights and angles.
"It took only the introduction to enslave me," writes Katherine A. Powers (Christian Science Monitor), "and I have spent the last week or so neglecting practically everyone except for Montefiore's variously ruthless, despotic, sexually voracious, bibulous, unstable, addlepated, and gifted Romanovs. The author's ease of manner, his limber way with historical intricacy and statecraft, and his connoisseur's appreciation of personality, foible, and family unpleasantness—all that—render the familiar territory fresh, and the less-familiar memorable."
Olga Grushin (New York Times Book Review) remarks upon the biography's scope: "Montefiore, the eminent biographer of Joseph Stalin and Grigory Potemkin, covers the entire dynasty, from its rise to its apogee to its fall—an enterprise that has been accomplished only twice before, for reasons that become apparent just pages into the volume: It takes true historical daring to tackle such an immense subject." While not the "easiest" introduction to the subject, she concludes, "this monumental work is an essential addition to ­the library of anyone interested in Russian history and the doomed dynasty of Romanovs, 'blood-spattered, ­gold-plated, diamond-studded, swash-buckled, bodice-ripping and star-crossed.'"
"Montefiore is an accomplished storyteller," writes David Walton (Dallas Morning News) "and what might have been a plodding succession of reigns reads instead like a novel—specifically, in its interplay of themes and motifs, and especially its pairing of opposites, like Gabriel García Márquez's One Hundred Years of Solitude."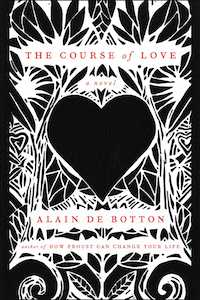 Alain de Botton, The Course of Love
From the author of the 1993 novel On Love and How Proust Can Change Your Life (1997)—and founder of the London-based School of Life—comes a sequel of sorts that follows Rabih and Kirsten as they engage in the complicated the twists and turns of love after marriage and children. In a New York Times Book Review essay that underscores the novel's thesis, he writes, "…though we believe ourselves to be seeking happiness in marriage, it isn't that simple. What we really seek is familiarity—which may well complicate any plans we might have had for happiness. We are looking to recreate, within our adult relationships, the feelings we knew so well in childhood." Critics have mixed reactions to his hybrid form.
Maria Popova (Brain Pickings) calls the novel "a meditation on the beautiful, tragic tendernesses and fragilities of the human heart, at once unnerving and assuring in its psychological insightfulness." She continues:
At its heart is a lamentation of—or, perhaps, an admonition against—how the classic Romantic model has sold us on a number of self-defeating beliefs about the most essential and nuanced experiences of human life: love, infatuation, marriage, sex, children, infidelity, trust.
…the book is bold bending of form that fuses fiction and De Botton's supreme forte, the essay—twined with the narrative thread of the romance between the two protagonists are astute observations at the meeting point of psychology and philosophy, spinning out from the particular problems of the couple to unravel broader insight into the universal complexities of the human heart.
In fact, as the book progresses, one gets the distinct and surprisingly pleasurable sense that De Botton has sculpted the love story around the robust armature of these philosophical meditations; that the essay is the raison d'être for the fiction.
What propels us through the novel is not plot, but character," writes Francine Prose (The Guardian) "and De Botton's meticulous examination of the emotions and behaviours that draw the couple together and nearly drive them apart. He is acutely perceptive about the rapidity with which our moods can change radically over the course of a weekend; about the ease with which familiarity can blunt the edge of passion; about the ways in which our friends' good fortune can make us question our own hard-won contentment; about our reluctance to reveal the most secret aspects of our psyches; and about the complex predilections that determine the choices we make."
Heller McAlpin (NPR) calls The Course of Love "more a case study than a novel."
The Course of Love lacks the playful charm and wit of On Love, but it isn't a total downer… Readers looking for insights and guidance will find plenty in his espousal of attachment theory therapy, which seeks the roots of lovers' needs in their early childhoods and teaches them to hear the other side sympathetically and accept the concept of "good enough."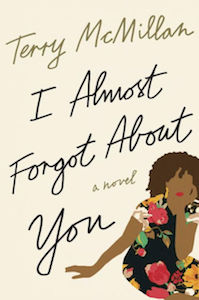 Terry McMillan, I Almost Forgot About You
"Life is a lot of stops and starts, but when you get in your fifties, you see there is a finish line, and I want to go out sliding into home," McMillan tells NPR. Her new novel revolves around a baby boomer who starts tracking down her former boyfriends on Facebook and other social media, shuts down her dental practice and prepares to reinvent herself. It hits the bull's eye.
"McMillan's true subject has always been the bonds between women," writes Karen Karbo (New York Times Book Review). "Georgia's newfound determination to remake her life provides plenty of grist for boisterous discussions with her best friends, Wanda and Violet. McMillan, justifiably celebrated for her wisecracking dialogue, also pokes some fun at midlife reinvention." And, Karbo concludes, "Georgia is as alive, complex, inquiring, motivated and sexy as any 25-year-old. Maybe more so."
Carol Memmott (Washington Post) writes,  "After almost three decades of success and celebrity, McMillan still knows how to please… I Almost Forgot About You is another appealing multi-generational story whose chief protagonist, like millions of Americans, is a baby boomer trying to dance gracefully into the second half of her life."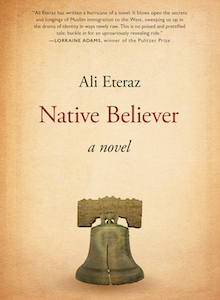 Ali Eteraz, Native Believer
Eteraz's 2009 memoir Children of Dust followed his life from Pakistan to the American South through the adoption of his pen name—which translates to "Noble Protest"—a few years after 9/11. His first novel provokes strong critical reactions.
Pauls Toutonghi (New York Times Book Review) notes the novel's timeliness: "I found myself wondering—as I sped through its pages with alternating interest, awe and queasiness—whether Eteraz had set out purposefully to challenge his imagined readership, to engage in a kind of 'noble protest' against the demands of literary commerce. I believe this novel will offend as many readers as it captivates. It is unflinching in its willingness to transgress taboos, whether those taboos are religious, sexual or both. And in the end, Native Believer stands as an important contribution to American literary culture: a book quite unlike any I've read in recent memory, which uses its characters to explore questions vital to our continuing national discourse around Islam."
Richard Marcus (Qantara) concludes, "This is a brilliant, unapologetic book that takes a grim look at a dirty topic. It's also the perfect book for our times. In a just world it would be awarded a place alongside other great civil rights books. However, it will probably just end up being banned and scorned by the self-righteous and the blind; the ones who need to read and understand it the most."
O, the Oprah Magazine calls Native Believer a summer "must read," a "wickedly funny Philadelphia picaresque about a secular Muslim's identity crisis in a country waging a never-ending war on terror."
---