On the Brink of War: A View of North and South Korea in 1950
Charles J. Hanley on the Cold War Rivalry that Led to Battle
A Korean adage has it that "shrimp get broken backs in a whale fight."
In 1945 the Korean people celebrated liberation from 35 years of Japanese colonial rule and looked forward to the promise of independence, of Korea as a sovereign nation again. But those hopes were crushed in the Cold War rivalry of the Soviet Union and the United States, the two great powers occupying and sponsoring rival Koreas, a communist North and a capitalist South. The Americans and Soviets failed to meet a commitment to reunite Korea's halves. Now, by the summer of 1950, border skirmishes between two Korean armies have brought the peninsula to the brink of war.
In the drizzly predawn of June 25, following a plan drawn up by Soviet military advisers, seven North Korean divisions invade South Korea. For the first time in a millennium, Korean armies will fight each other.
The southern capital of Seoul falls quickly, and the United States rushes in troops to bolster the retreating South Korean army. The decision by President Harry S. Truman to use military force to oppose the spread of communism is swift and unprecedented, done without approval of Congress.
From the very first days, the fighting unleashes the murderous impulses of an ideological civil war.
The Americans, too, are driven back by the tank-led North Koreans, finally forming a defensive quadrant in the peninsula's southeast corner.
From the very first days, the fighting unleashes the murderous impulses of an ideological civil war. South Korean authorities carry out mass executions of tens of thousands of suspected southern leftists. In their occupied territory, the North Koreans execute many southern rightists after summary "people's court" trials.
At the same time, in their desperate retreat, American troops and warplanes open fire on columns of South Korean civilians fleeing the fighting. Rumors have spread that disguised northern infiltrators lurk among the refugees.
In late summer, overall US commander General Douglas A. MacArthur strikes back, landing a large amphibious force west of Seoul, behind North Korean lines. American and South Korean forces then advance north from their southeast perimeter. In disarray, the northern army retreats and perpetrates a new round of atrocities against suspect southerners. When the South Koreans return to Seoul, they again stage executions, this time of alleged collaborators with the northern occupation.
The momentum of MacArthur's counteroffensive takes his forces deep into North Korea, all the way to the Chinese border, setting the stage for an even greater war, the Cold War's first armed collision of communist and capitalist powers.
__________________________________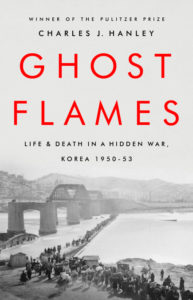 From Ghost Flames by Charles J. Hanley. Used with the permission of PublicAffairs Books. Copyright © 2020 by Charles J. Hanley.
---