On the Anguish of Quarterlife: A Literary History
Satya Doyle Byock Considers the Perennial Preoccupations of One's Midtwenties
There is a rich and soulful log of Quarterlifers throughout history and literature who have grappled with the same issues across time, culture, and demographics. Saint Augustine's Confessions, published around 1600 years ago, is considered the first Western autobiography, but it might most accurately be described as the first Quarterlife memoir.
In it, Saint Augustine—then Aurelius Augustinus Hipponensis—wrote: "I found much to bewilder me in my memories of the long time which had passed since I was nineteen, the age at which I had first begun to search in earnest for truth and wisdom… I realized that I was now thirty years old and was still floundering in the same quagmire." Aurelius was resisting marriage, the pressure of his heavily involved mother, and his own predilections toward obsession with money, fame, and influence. He was deeply preoccupied with finding the right path for his life. Marriage and a successful career seemed easy, but they didn't answer the deeper questions he sought.
And in this way, Aurelius wasn't an enigma of his time. He and two close friends felt lost and were searching for answers together. "We were like three hungry mouths, able only to gasp out our needs to one another. . . . We tried to see the reason for our sufferings. But darkness overshadowed us and we turned away asking, 'How long is this to be?'"
I was preoccupied by similar things in college. As I became increasingly overwhelmed with questions about my future, I—like many before me—found Letters to a Young Poet. This collection of letters from the great poet Rainer Maria Rilke to a nineteen-year-old, Franz Xaver Kappus, gave me tremendous solace. Kappus had originally written to Rilke in 1902 from his Austrian military academy, a school that Rilke had also attended, with questions about whether he should become a poet and how to live.
Rilke replied, "You mustn't be frightened, dear Mr. Kappus. If a sadness rises in front of you, larger than any you have ever seen; if an anxiety, like light and cloud-shadows, moves over your hands and over everything you do. You must realize that something is happening to you, that life has not forgotten you, that it holds you in its hand and will not let you fall."
Seemingly every line of Rilke's letters gave me comfort when I read them in my late teens and for years following. They also gave me some of the earliest hints that my depression and confusion weren't unique to me, or to my time. Rilke was himself just twenty-seven years old when he began writing those letters. He had gained comfort from the work of the Danish author Jens Peter Jacobsen, whose 1880 novel, Niels Lyhne, tells the story of a Quarterlifer trying to make his way in the world. Niels's suffering felt familiar to me too. "There must be some defect in him, he would tell himself, some incurable flaw in the innermost marrow of his being, for a human being could become whole by living, he did believe that."
That's a line that I've read countless times and it still moves me. It encapsulates for me the simultaneous pain and longing that is so core to Quarterlife. Niels Lyhne was frustrated by his own failed attempts to achieve the life he wanted, or to manage life in a world that often overwhelmed him. "These perpetual attempts at a leap that was never leaped had exhausted him, everything was empty and worthless for him, distorted and confused, and so trivial as well." In my own Quarterlife, I'd endured the "attempts at a leap that was never leaped" an infinite number of times and seen it in my peers. I've since seen it over and over with clients too.
Once I started gathering Quarterlife stories from novels, memoirs, and historical records, I began to see the same dissatisfaction and disorientation everywhere. I noticed, for instance, that the anguish of Quarterlife was embedded in the modern feminist movement. In her 1949 magnum opus on women's lives, The Second Sex, French philosopher Simone de Beauvoir described the experience of being a young woman anticipating adult life. "It is a painful condition to know one is passive and dependent at the age of hope and ambition, at the age when the will to live and to take a place in the world intensifies; woman learns at this conquering age that no conquest is allowed her, that she must disavow herself, that her future depends on men's good offices."
As the Quarterlife years encompass the bulk of female fertility, questions—or certainties—of partnership and childbearing loom large. Gender roles are often stark and restrictive. As de Beauvoir put it, women's natural instincts in Quarterlife toward "hope and ambition" and "the will to live and to take a place in the world" were in direct contradiction to the social expectations of passivity and dependency placed upon them. Their various emotional and physical symptoms were the inevitable result.
Seemingly every line of Rilke's letters gave me comfort when I read them in my late teens and for years following. They also gave me some of the earliest hints that my depression and confusion weren't unique to me, or to my time.
American feminist Betty Friedan expanded on this idea in her 1963 book, The Feminine Mystique, about the secret malaise that so many American housewives were feeling, though they were expected to be perfectly happy and content. Strangely, my feelings as a college grad forty years later, single and unencumbered, were very similar. I'd done everything that had been expected of me in this era and by my family: a college degree in lieu of marriage and pregnancy.
And yet, within that privilege and freedom, I still wondered, as Friedan had put it: Is this all? "It was a strange stirring, a sense of dissatisfaction, a yearning that women suffered in the middle of the twentieth century in the United States… As she made the beds, shopped for groceries, matched slipcover material, ate peanut butter sandwiches with her children, chauffeured Cub Scouts and Brownies, lay beside her husband at night—she was afraid to ask even of herself the silent question—'Is this all?'" She'd done everything that had been expected of a Quarterlife woman of her era. She had everything society told her she should want. But she couldn't help but wonder if there wasn't supposed to be more to existence.
For the author Richard Wright, Is this all? was an anguished reflection on the entire country in which he'd been raised. Wright's memoir, Black Boy, is a largely Quarterlife story about surviving poverty and segregation in America in the early 1900s while struggling to forge a creative life. At twenty years old, having left the Jim Crow South for Chicago, Wright was denied a job as a regular postal clerk because, after a lifetime of chronic malnutrition, he weighed just under what was required for the position. In many ways, he blamed himself. "Waves of self-doubt rose to haunt me. Was I always to hang on the fringes of life?"
But he also felt the injustice of losing a career path for which he was fully qualified because "of a few pounds of flesh," and he reflected on his struggle with the "material way of American living that computed everything in terms of the concrete: weight, color, race, fur coats, radios, electric refrigerators, cars, money." Wright longed for something more. He had creative ambitions. He wanted to be a professional writer and had been studying writing on his own for years. Nonetheless, the doubt in his capacity to have that career permeated everything around him. At home, Wright had to grapple further with the doubting inquiries from his aunt Maggie, with whom he, his brother, and his mother lived in close quarters.
My excessive reading puzzled Aunt Maggie; she sensed my fiercely indrawn nature and she did not like it…
"Boy, are you reading for law?" my aunt would demand.
"No."
"Then why are you reading all the time?"
"I like to."
"But what do you get out of it?"
"I get a great deal out of it."
And I knew that my words sounded wild and foolish in my environment, where reading was almost unknown, where the highest item of value was a dime or a dollar, an apartment or a job.
It was something internal that demanded Wright's focus. His "hope and ambition" drove him forward, an aching, desperate urge when he received neither emotional nor tangible help from others.
In movies and television, Quarterlife characters are everywhere. Our heartthrobs in rom-coms and heroes in adventure stories are typically Quarterlifers. And yet, these depictions are so common and usually so dramatized that they render the stage of life itself strangely invisible. We observe fantastical stories built on the relative youth of these characters, but we less frequently see honest interpretations of how hard this period of life can be. Quarterlife characters are objectified, fetishized, and almost dehumanized as a result.
Meanwhile, Quarterlife is the stage of life most often depicted in global mythology and folk tales, the oral storytelling traditions that entire cultures knew and listened to for entertainment, but also for psychological guidance. The stories that reverberated in young ears expressed explicitly: Life will include ups and downs, some of the downs may almost kill you, but there are ways to survive, strange ways; if you get through the danger and confusion, you will have changed for the better—you'll be you, but grown and transformed.
These stories taught something much deeper and more supportive than the modern trope "what doesn't kill you makes you stronger." They taught about the intangible parts of life. They taught about the return of joy, the erotic, the pleasure of existence that is possible after trials of loneliness, pain, terror, and boredom are processed, integrated, and understood. These stories taught young people to trust themselves and to know that life is an obscure, individual journey of meaning wrapped in a tale of social accomplishments and failures.
In the popular Grimms' fairy tale collection alone, stories like "The Three Languages" and "The Story of the Youth Who Went Forth to Learn What Fear Was"—two of my favorites—tell of Quarterlife men being banished from town by their fathers after struggling to find their vocation in life. Each Quarterlifer sets off on a journey filled with catastrophes and confusion, entirely unlike anything they've encountered before. And each finds, in the end, that the solution to their anguish is a far cry from what they might have imagined. These travelers learn that their true pursuit is not about achievement or heroics. In these tales, such inflated desires tend to be thwarted by humiliations and injury. There's a far deeper goal at play.
Quarterlife is the stage of life most often depicted in global mythology and folk tales, the oral storytelling traditions that entire cultures knew and listened to for entertainment, but also for psychological guidance.
Stories like these are core to what mythologist Joseph Campbell began to identify in the 1940s as the Hero's Journey theme in global storytelling, a theme that I was grateful to start understanding in my midtwenties. Hero's Journey stories convey the transformation of a person—almost always a Quarterlifer—from one level of consciousness to another. It's a transformation that occurs through some combination of risktaking, happenstance, hard work, and magic; never through pure logic or planning alone. All of these stories, Campbell wrote, are really about "the maturation of the individual."
Campbell broke down the Hero's Journey structure into three primary stages: Departure, Initiation, and Return. He identified this as the same structure of traditional initiatory rites once hosted by societies worldwide when boys reached puberty and a new stage of psychological life. "The stages of human development are the same today as they were in ancient times," Campbell wrote. "As a child, you are brought up in a world of discipline, of obedience, and you are dependent on others. All this has to be transcended when you come to maturity, so that you can live not in dependency but with self-responsible authority." (Emphasis mine.)
When read symbolically versus literally, mythic stories and fairy tales offer a great deal of insight into what Quarterlife development requires. Within these stories and also tucked away within Jungian psychology—the scholarship that inspired much of Campbell's work and now my own—there is a veritable road map, a system of guideposts to provide psychological orientation for Quarterlifers out in the world alone.
And yet, some important updating is required. Most of this past work was based on male development, and myths with male heroes. We are long past the point of needing a Heroine's Journey to counter the Hero's Journey, but instead need a gender-neutral understanding of the possible paths—one more outward and conquering, one more inward and contemplative. The development of consciousness has patterns and pitfalls just as biological development does. But it needn't be gendered. There is a natural course of development, two classic types of Quarterlifers throughout history, and a goal that they all share.
______________________________________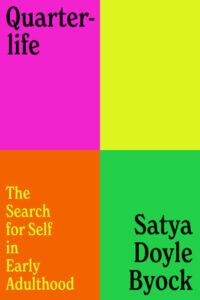 Excerpt from Quarterlife: The Search for Self in Early Adulthood by Satya Doyle Byock, copyright © 2022 by Satya Doyle Byock. Used by permission of Random House, an imprint of Random House Group, a division of Penguin Random House LLC. All rights reserved. No part of this excerpt may be reproduced or reprinted without permission in writing from the publisher.
---