On the 50-Year Fight to Preserve the Navajo Homeland
David Roberts Outlines the Political Work of Mark Maryboy
Mark Maryboy, the Navajo man who would ignite the movement that led to the Inter-​Tribal Coalition, Diné-​Bikéyah, and President Obama's declaration of the Bears Ears national monument in 2016, was born on the reservation near Bluff, just south of the San Juan River, in 1955. His father and two older brothers worked in the uranium mines that proliferated across San Juan County in the 1950s and early 60s, and Maryboy's mother often moved her six other children to temporary camps in nearby canyons, well north of the reservation, to support the miners. Maryboy's father would die of lung cancer, almost certainly a victim of exposure to the radioactive ore.
Maryboy traces his awakening to an event in 1967, when he was eleven. That year Robert F. Kennedy, already pondering a presidential run, visited the Navajo Reservation. For years Kennedy had championed the cause of Native Americans, and had made it a point to visit reservation schools and councils. As early as 1963, as attorney general, he had addressed the National Council of American Indians in North Dakota, where he proclaimed, "It is a tragic irony that the American Indian has for so long been denied a full share of freedom—​full citizenship in the greatest free country in the world." In Window Rock in 1967, speaking to the Navajo Nation, he drove home another injustice: "Is it not barbaric to take children as young as five and send them a thousand miles from their families to a boarding school?"—​prompting an elder to shake the then senator's hand and swear, "I've waited my whole life for a White man to say that."
In 2018 Maryboy recalled Kennedy's visit to the Rez, claiming the senator had stopped to address a group of elders on the south bank of the San Juan, right where the Maryboy clan tended their sheep. "I was just a kid running around all over the place, climbing around on those trees," Maryboy told journalist Rebecca M. Robinson. "Then all of a sudden, my dad [said] . . . ​'Son, all of those old people, they're going to be gone pretty soon. Listen to them. Listen to what they have to say.'
"So I sat down for a moment, and watched those old people talk, and I noticed that they were talking about the land": places such as the Abajo Mountains, Monticello, the Great Salt Lake, and the Bears Ears.
"They told Bobby Kennedy, 'Those are very important . . . ​and the land is who we are. It's something that's sustained us for millions of years. . . . ​Never, ever forget us."
"Is it not barbaric to take children as young as five and send them a thousand miles from their families to a boarding school?"
In 1984, Maryboy won election as one of the three commissioners for San Juan County, making him the first Native American ever to serve on that board. He lasted as commissioner for 26 years, retiring only in 2010. At the age of 55, he thought he was done with politics, planning instead to "lead a quiet life, free of controversy, and focused on family." But the splinter that Bobby Kennedy's visit had lodged under his skin at age eleven still festered. In his retirement from public office, Maryboy began seeking out Navajo elders and asking them about their connections to lands beyond the borders of the reservation. Soon he paired up with a Utah-​based nonprofit organization called Round River Conservation Studies, which already had 15 years of comparable advocacy for Canada's First Nations under its belt.
Gavin Noyes, second-​in-​command at Round River, recalls the collaboration with Maryboy. "The ethnographic mapping interviews at Bears Ears began in 2010, after several months of designing these elder interviews to meet the needs of the local communities," Noyes told me in 2019. "Mark got permission in the form of Chapter House resolutions from all seven Utah Chapters, and he administered each of the interviews. . . ."
"Many [of the interviews] happened in the Diné language. Some questions were map-​based and Mark drew their responses onto maps that my team digitized and organized. Interviews ranged from two hours to six hours in length. About seventy-​five elders were interviewed. . . . ​There were not many surprises due to the research and years of investment into relationships that led up to these interviews. However, one mistake is I limited elder responses to San Juan County (that was our map extent) and it turns out that elders had ties well beyond SJC. Also, the ceremonial use of the Diné was far more extensive than I ever would have guessed. I expected that with hunting, herb collection, and stories, but the ceremonies blew me away!"
A comparable effort to document Navajo connections to the landscape had been carried out in the 1960s, thanks to a remarkable scholarly enterprise called the Doris Duke American Indian Oral History Program. Using interpreters whose first languages were the same as the subjects', scores of interviewers recorded short biographies of some 4,000 Native Americans. All the speakers began by identifying the places where they were born and where they subsequently lived.
Thus in January 1961 a Navajo woman testified: "My name is 'Desbaa', 'Warrior Woman'. . . . ​I am 71 years old [born ca. 1889]. I am of the Bit'anni clan"—​the Folded Arms People, the same clan as Manuelito. "I was born on Bear's Ears Mountain, and lived in this country until about 25 years ago, when we were forced to move by the Mormon settlers in that area. From Bear's Ears we moved to the vicinity of John Ismay Trading Post, where we have lived ever since." The Ismay trading post, derelict today, sits on the Colorado-​Utah border at the junction of Hovenweep and McElmo Creeks, fifty miles as the raven flies from the Bears Ears.
A comparable effort to document Navajo connections to the landscape had been carried out in the 1960s, thanks to a remarkable scholarly enterprise called the Doris Duke American Indian Oral History Program.
Desbaa' recounted vivid associations with the landscape where she had spent her first forty-​five-​odd years. A place called "Rock Springs," east of the Bears Ears, was a shearing ground for Navajo sheep. A place farther west called "Lonely Tree" was also known as "Navajo woman gave birth to a child." There Desbaa''s mother kept her sheep, "and when I was old enough, I herded those sheep."
Throughout the 1850s, conflict between Navajos and Anglo settlers supported by the American army radically intensified. In 1862, Brigadier General James H. Carleton organized a roundup aimed at capturing every single Navajo in the West, with the intention of sending them on a forced march to a newly built concentration camp 300 miles to the east. (Of this genocidal campaign—​the greatest tragedy in Diné history—​more below.)
Many Navajos escaped the roundup and spent the next five years in hiding. As Desbaa' recalled in 1961, "My father's mother was named Nakai Asdzaan, 'Mexican Woman'. . . . ​She died over in the Bear's Ears country, and is buried there. She did not go to Fort Sumner [Bosque Redondo], because she was with the group that hung out with Kaayelii in the Haahootso." K'aayelii was Manuelito's brother. Kigalia Point and Kigalia Canyon, high on Elk Ridge north of Cedar Mesa, are named after him.
At the end of her testimony, Desbaa' made a passionate plea for the Bears Ears as a Navajo homeland. "I would like to add that the old people used to tell us that they lived freely in the Bear's Ears and the Blanding Mountain country," she told her interviewer, "and that this was our country; that we should try to hold it; make whatever we could out of it; don't let anyone beat us out of the country that our ancestors lived on for years before the white people took control of the Navajos, and rightfully belongs to the Navajos."
Also in January 1961, the Doris Duke program interviewed Kit'siili, or "Old Ruins," an eighty-​nine-​year-​old Navajo who had been born on the south side of the Bears Ears. While he was still a child, his family had moved to a new range north of the San Juan River, but still regularly returned to the Bears Ears for summer camp. During the Long Walk and the ordeal at Bosque Redondo, both Kit'siili's mother and father, as well as his maternal grandmother and great-​grandmother, hid out near the Bears Ears, in the place called Haahootso, or "Canyon to Escape from Enemy"—​the same sanctuary in which Desbaa''s grandmother eluded the Navajo roundup.
At the end of her testimony, Desbaa' made a passionate plea for the Bears Ears as a Navajo homeland.
About those long-​ago days, Kit'siili added, "The headmen, and other Navajos of that time, made their living by raising sheep, cattle, and planting wherever they could find a place suitable for a farm. They also hunted antelope, deer, and mountain sheep. There was a lot of wild game in this country at that time. They usually hunted around Bear's Ears."
And so on. Taken together, the work of Mark Maryboy and the Round River Conservation Studies team with Navajo elders after 2010, and of the Doris Duke researchers more than forty years before, establishes beyond the scintilla of a doubt that the Diné had a rich ancestral connection to the greater Bears Ears domain long before any Spaniards or Americans arrived in the region. But with the controversy spawned by the Obama-​Trump flip-​flop over the national monument, all kinds of voices began to clamor against that legacy, fueled by arguments more emotional than rational.
__________________________________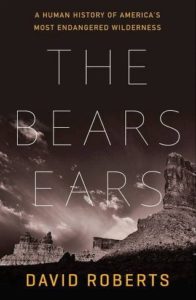 From The Bears Ears: A Human History of America's Most Endangered Wilderness by David Roberts. Used with the permission of W. W. Norton & Company. Copyright © 2021 by David Roberts. All rights reserved.
---