On Soseki's Bitingly Critical Novel, I Am a Cat
A Comic Evocation of the Author's Deep Pessimism about His Own Humanity
In December 1904, Natsume Sōseki's creative energy geysered, bearing him upward in the space of 16 months into the empyrean of Japanese writers who were taken seriously. His output during the first act of his literary career went beyond prolific: even as he was serializing his first novel, I Am a Cat (Wagahai wa neko aru), he produced 11 shorter works of fiction, two of which, Botchan and Kusamakura, are among his shorter masterpieces. Once he had taken up his pen (a quill pen inlaid with mother-of-pearl that he had brought home from England), he wrote incessantly, before dinner, after school, and after dinner until late at night and, according to Kyōko, with great pleasure and small effort.
From the outset, Sōseki's fiction was against the grain. To be sure, the "I-novel," the product of writers in thrall to the notion that only the confession of actual incidents in their lives, the more shameful the better, deserved consideration as art was still inchoate when Sōseki began I Am a Cat. Not until 1907 did Tayama Katai inaugurate the genre with his novella Bedclothes (Futon). But even before Bedclothes, writers in the ascendant Naturalist school, influenced by Guy de Maupassant and Émile Zola, among others, were basing their fiction on material from their personal lives. Their work tended to be egocentric, dominated by the protagonist-cum-author's point of view, unmediated reality serving as a substitute for artfully created verisimilitude. Sōseki deplored what he called "the gray skies of Naturalism." He was not objecting to the use of autobiographical material in fiction. Like most writers, he incorporated material from his own life in everything he wrote, although he was artful, never literal. He was critical of what he perceived in naturalist fiction as an absence of intellectual interest and emotional power that resulted from portraying reality unalloyed.
I Am a Cat was originally a short story introduced by Sōseki to a reading group at his house organized by the publisher of Hototogisu, Takahama Kyoshi. Kyōko prepared a meal, and the participants, most of them younger writers a number of whom became Sōseki's disciples, read their work aloud and critiqued it. Because Sōseki was a clumsy reader, Takahama read the story for him, and he joined the others in laughing at his own invention. Takahama wanted to publish the story in his magazine
and suggested
a number of emendations,
including changing
the
title
from
"Cat
Chronicle"—a
stray
kitten
had
just
at
this
time
found
its
way into the Natsume household—to "I
Am
a
Cat."
When the story appeared in the January 10, 1905, issue of Hototogisu, readers clamored for more, delighted by its wit and lightness of touch in contrast to the dogged earnestness of naturalist fiction, and Sōseki was happy to oblige. A "sequel" appeared in the February issue, and a "sequel to the sequel" came out in April. The June 10 continuation was subtitled "Installment 4," indicating that Sōseki had resolved to produce a full-length book. Chapters followed in July and October. Installments seven and eight were published together on New Year's Day, 1906; installment nine was published in March; installment ten in April, and the concluding chapter in August.
In mid-October 1905, Okura shoten published the first five chapters as I Am a Cat, Volume 1. The first printing sold out in 20 days. By that time, Sōseki's students were calling him "Professor Cat." Volume 2 was published by Hattori shoten in November 1906. The book was designated Volume 2 of 3 (中編), indicating that more was to come, possibly wishful thinking on the part of the publisher. But Sōseki never looked back. The previous month, the same publisher released a slim volume of the first two chapters translated into English by K. Ando and revised by K. Natsume.
"He was critical of what he perceived in naturalist fiction as an absence of intellectual interest and emotional power that resulted from portraying reality unalloyed."
I Am a Cat is a mordantly comic evocation of Sōseki's deep pessimism about his own humanity and indeed about humankind in general. The feline narrator, an alley cat who has taken up residence in the home of an English professor named Sneeze, is increasingly dismayed by the conversations at the heart of the book between the professor and his cronies, who pay him frequent visits in his study. They include a doctor of aesthetics whose name means something like "bewildered" (Meitei, translated as Waverhouse), a fatuous pedant at work on a "history of hanging" who is polishing a glass ball in hopes of eventually producing a perfect sphere ten years down the line (the resemblance to Casaubon is intended), a sycophant vassal of the wealthy family down the street, a former houseboy, and a "new playwright" working on the "haiku theater." The cat speaks with Sōseki's voice, now bitingly critical, now cynically amused. He concludes early on that "humans are selfish and immoral" but gradually augments his understanding:
The important thing in life, whether we speak of animals or humankind, is knowing the self. If humans would only learn to know themselves, they'd deserve more respect than any cat. I might even feel uncomfortable about treating them as caricatures in that case and put aside this poison pen of mine. Alas, . . . it appears they know as little about themselves as they do about the sizes of their own noses.
The first two installments include some charming socializing between the narrator and other felines in the neighborhood, a giant named Black who belongs to a rickshaw man and sounds like a Cockney chimney sweep, and a flirtatious little tabby who calls him "sensei," presumably because he lives with one. But beginning with the third installment, the cat devotes most of his time to critiquing the palaver in his master's study, venturing outside only occasionally to spy on the family down the street, the wealthy Kanedas.
A work of art need not have a model, but critics have been looking for one since I Am a Cat first appeared. As early as 1906, the father of German literature studies in Japan and Sōseki's friend, that same Fujishiro Teinosuke who was supposed to have chaperoned him on his voyage home from England, introduced Japanese readers to E.
T.
A. Hoffman's
unfinished
Lebansansichten des Katers Murr (The Life of Tomcat Murr,
(1820–1822))
and
identified
similarities and
differences
between
the feline "autobiography" by the German master of fantasy and horror and Sōseki's
novel.
Neither Fujishiro nor subsequent scholars have been able to verify that Sōseki had actually read Hoffman, which was available

 

only in German at the time, but he might have. In a
diary entry
late in
1915,

 
he mentions in passing that he is reading the German translation of Dostoevsky's Crime and Punishment.
Certainly
he
knew
about Hoffman's
book,
since
near
the
end
of
I
Am
a
Cat,
he
includes
a
reference:
It has now been more than two years since I have been living as a cat in this human world. I have always considered myself a creature of unequaled discrimination and perceptivity, but recently a fellow feline called Tomcat Murr abruptly appeared on the stage with a great show of vitality and enthusiasm and caught me off guard. When I looked into this carefully, I learned that he had in fact died one hundred years ago and had been impelled by a spasm of curiosity to journey all the way from Hades as a ghost to give me a scare.
Apart from the feline narrators, the novels have little in common: I Am a Cat is a commentary on humankind delivered by a cat; Tomcat Murr is the autobiography of the totally anthropomorphized narrator (and, crazily, of a second unrelated figure whose story unfolds on pages interspersed).
If a model must be found, a more likely candidate would be Lawrence Sterne's Tristram Shandy, which Sōseki certainly had read. It is hard to imagine him reaching the end of Sterne's hulking monster in English—no Japanese version was yet available—and one tends to be skeptical until reading the essay on the novel Sōseki published in
1899
when he was 30, the year before he went to London, and seeing how comprehensively he has grasped the book and how appositely he quotes from it. The essay reveals a facet of
Sōseki's
genius, that he was a
heroic
reader even in English.
He
likens Tristram to a "sea cucumber distinguished by no form or shape, no beginning or end, no head or tail." But this is not intended as a derogation.
He
continues, "The work that ensured a place

 

in history for the compulsively perverse and morbidly neurasthenic Lawrence Sterne was the compulsively perverse and morbidly neurasthenic
Tristram Shandy;
no other
novel
plays men for fools and clowns so extravagantly,
no
other
makes
us
cry
so
hard
or
laugh
so
loud."
In an interview he gave in May 1909, on the occasion of George Meredith's death, when asked whether Meredith's novels had influenced him, Sōseki replied, "Every book I have ever read carefully lives somewhere inside me and influences me in some way or
other."
In this case, to
an
extent that exceeds several explicit allusions to it,
Tristram Shandy
is present in I Am a Cat. The tone and flavor of the satire, the digressive nature of the
structure
that defeats a narrative story line, the action consisting

 

in the interruption of the action, and the self-lacerating humor, all these are evocative of Sterne's
masterwork.
Stylistically, I Am a Cat is a gallimaufry of elements: classical Chinese, classical Japanese, contemporary vernacular across a range of timbres from bourgeois refinement to "downtown" vulgarity, and a vast field of allusion to Western sources from the Greeks to 18th- and 19th-century English literature. Among the pleasures of the work is the repeated yoking together in any given passage of an assortment of allusions from Du Fu, the English poet Gray, Beowolf, and a contemporary play on words reminiscent of Cockney rhyming slang. Elsewhere, we find references to Rabelais, Robert Louis Stevenson, Victor Hugo, Chinese learning, Aristotle, Izumi Kyōka, Tsubouchi Shōyō, Shakespeare, Henry James, Meredith, and many others. Remarkably, the elements that comprise Sōseki's style are still unblended in this first novel, visible on the page to be identified and analyzed. Here, more distinctly than ever again,
we
can see Sōseki creating an unmistakable
voice
uniquely
his own from the range of disparate elements
he commands.
__________________________________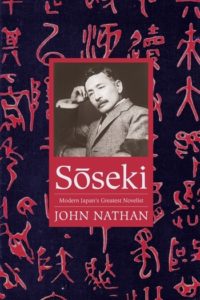 From Sōseki: Modern Japan's Greatest Novelist. Used with permission of Columbia University Press. Copyright © 2018 by John Nathan.
---