On Obsessive Female Relationships in Literature: A Reading List
Forsyth Harmon Recommends Raven Leilani, Makenna Goodman, and More
I was a high school cheerleader. Fridays we wore our uniforms to school. I'd walk down the hall, short skirt flapping, long ponytail flagging, and turn my head to watch the girl who walked opposite. She, too, wore a short, pleated skirt, but hers was silver pleather. While my cropped shell spelled out the name of our high school, her tight tee read "Poot!" I'd just polished my white Kaepa cheer shoes; her scuffed up lug sole Mary Janes matched her pitch-black chin-length bob. I was obsessed with her—with the things she was that I was not.
We became close, and I began to take on her characteristics. Not just her haircut or color, but her little quirks: the way she plucked stray hairs from her part line; how she fluttered her hands when she ran. I quit cheerleading. It didn't occur to me then that rather than encouraging football players from the sidelines, I was applauding skateboarders from a parking lot aisle divider. Our first kiss was a performance for them, but that made it no less electric.
My forthcoming illustrated novel Justine models a comparable dynamic. The teenage narrator, Ali, starts small. Justine wears black nail polish; Ali applies it to her toes. Justine reads Vogue; Ali sets aside Seventeen. But the mimicry quickly escalates. Ali is choosing what she eats (or more accurately, doesn't eat), who she hangs out with, and even who she sleeps with because of her brilliant friend.
It's easy to brush aside this kind of obsession as being particular to youth. But in the 20 years since high school, I have loved a succession of glittering Justines, and was, I think, on occasion, a Justine to others. I didn't consider these relationships romantic, but they weren't not romantic, either. Sometimes they triangulated a man. While these women were, in many ways, very different—one so well-read; another impossibly beautiful; the next brutally blunt—they were always very smart, and always very complicated. I had a type. I chided myself for codependence with this type, and also for the predictable arc the relationship always seemed to take: hot stars tend to burn quickly and die, as they say. At the same time, I acknowledge how much I learned from—and how much I loved (if imperfectly)—these women.
2020 was an extraordinary year—if not in any other way— for women obsessing over women in fiction. From a social media infatuation to a surprising cohabitation, I take a look at five hot stars here:
*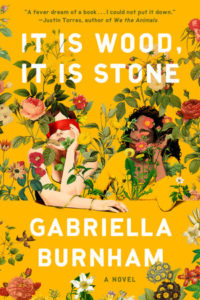 Gabriella Burnham, It Is Wood, It Is Stone
(One World)
Linda has just moved to São Paulo for her husband Dennis' job, despite having planned to leave him. While Dennis is at work, Linda feels trapped inside the apartment, and her life—she feels nothing more than her husband's wife—until she meets Celia, a charming Brazilian artist. Linda yearns for the freedom of spirit Celia seems to possess, and she begins to paint her new idol's portrait over and over—and their connection spirals from there. Linda later explains it to her husband like this: "I was ready to grow. And I now know, this type of growth can only be learned through an emotional apprenticeship from another woman who has learned the same."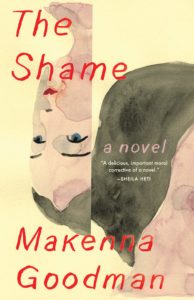 Makenna Goodman, The Shame
(Milkweed Editions)
Alma writes, paints, and stays at home with her children in their bucolic Vermont farmhouse—and she's miserable. She feels she has lost herself. "I didn't have anything to show for myself except my kids," she muses, "and the older they got, the more themselves they became, while I grew more and more servile, adhering always to their changing needs." In a quest for self-validation, Alma begins to write a novel. She bases the main character—a stand-in for herself—on Celeste, a Brooklyn potter she has never met but follows on social media. Celeste has it all: she's beautiful, she's a mother, she does fulfilling, culturally-relevant work. Alma's obsession with Celeste grows until "Time was measured not in minutes or hours but in the period between her publications." The fantasy finally overtakes Alma completely. When she learns Celeste is seeking a nanny, Alma applies for the job.
Jean Kyong Frazier, Pizza Girl
(Doubleday)
Jane is 18 years old, works at a B-rated pizza joint, lives with her mother and boyfriend, and is ambivalent about being pregnant with the latter's baby. She delivers a custom pickle-covered pie to Jenny, an attractive, frank, frustrated mother and wife, who is the first to acknowledge Jane's ambivalence about her pregnancy. From here, Jane becomes anything but ambivalent—about Jenny. "I noticed she had three moles on the back of her neck, and I began writing haikus about them in my head." Jenny orders pickle pizzas, and Jane is thrilled to deliver—until she learns that Jenny's moving out of town. Jane's obsession becomes dangerous when she shows up at Jenny's new house in the middle of the night.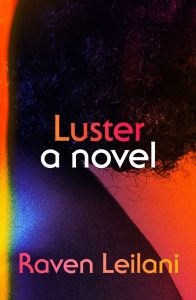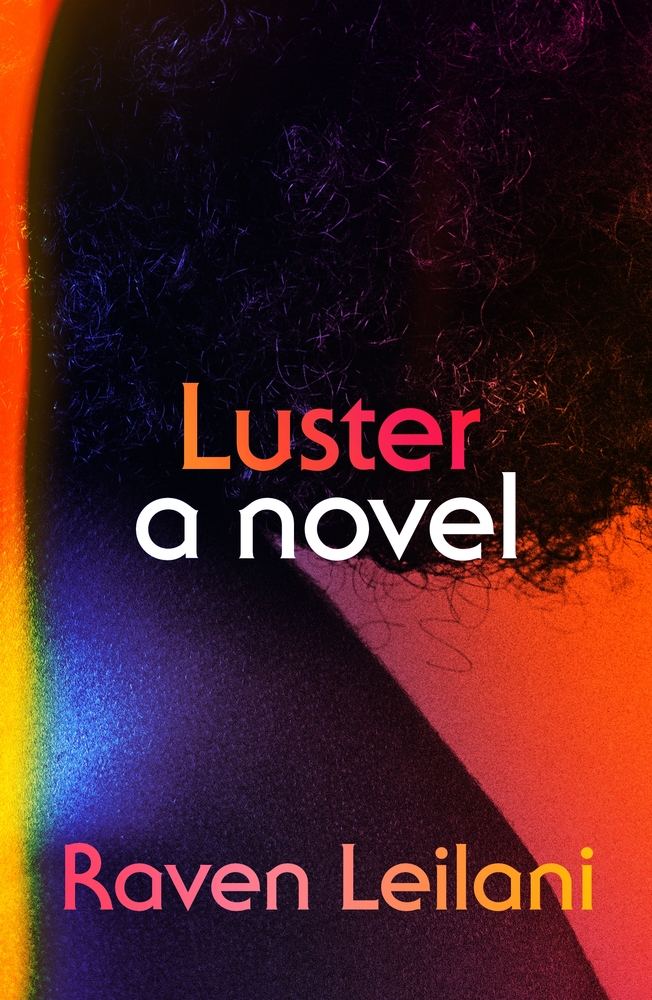 Raven Leilani, Luster
(FSG)
Edie is a 23-year-old assistant book editor who joylessly sleeps with her coworkers. She becomes infatuated with a man exactly double her age, and it's complicated—beyond just the age difference. Eric is white; Edie is Black. And Eric is in an open marriage, but it has a perimeter set by his wife, the eerily poised Rebecca. Edie blows this perimeter by entering their family's home. When Rebecca catches Edie there, rather than kicking her out, she invites Edie to her and Eric's anniversary party. And when Edie loses her job and is evicted from her apartment, Rebecca asks her to move in, based at least in part on the assumption that she can guide Rebecca and Eric's Black adoptive daughter. Living side-by-side, Edie and Rebecca become partners—"two magnets of identical charge"—and Edie's attention pivots from Eric to Rebecca, who is "sexy in the way a triangle can be sexy, the clean pivot from point A to B to C."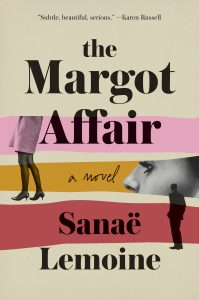 Sanaë Lemoine, The Margot Affair
(Hogarth)
Margot is a hidden daughter. Her father is an important man, and—married to another woman, with children—he has never publicly acknowledged either Margot or her mother, his mistress, Anouk. At 17, as Margot begins to come into her own sexuality, she decides to expose her father. She reveals her parentage to a journalist named David, who helps her reveal her father's secret to the press. Following this, Margot's relationship with her mother becomes tense, and more and more Margot finds herself at the home of David and his sharp and seductive wife, Brigitte, also a writer—becoming a kind of trois in their ménage. Brigitte is purportedly ghostwriting Margot's memoir, and quickly becomes the latter's most intimate confidante. She walks right into the bathroom as Margot showers. Margot listens at the door to her and David's lovemaking: "I pictured Brigitte and David's faces in the bedroom, heads tipping back, David's breath blowing aside strands of Brigitte's hair, her scalp glowing like a lightbulb beneath a mass of black hair. I had loved being on the other side of the door, hidden and close to them."
__________________________________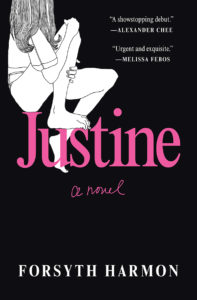 Justine by Forsyth Harmon is available now via Tin House Books.
---