Anne Lamott on Writing a Book for Those Feeling Hopeless
Five Questions for the Author of Dusk, Night, Dawn
Anne Lamott is the bestselling author of seven novels, including Imperfect Birds and Rosie. A past recipient of a Guggenheim Fellowship and an inductee to the California Hall of Fame, she lives in Northern California. Her latest books is Dusk, Night, Dawn.
*
Lit Hub: Who do you most wish would read your book?
Anne Lamott: I wrote Dusk, Night, Dawn specifically for people who were feeling hopeless in the aftermath of the UN papers on climate change, the fire in Australia, (remember those?), and then Covid. I wanted to remind my readers that turning these things around is hard, but that we are GOOD at hard. We stopped fascism, cured smallpox, created antiretrovirals, and some of us have actually managed to survive self-destructive teenage children, hideous breakups and custody battles, unsurvivable losses, alcoholism, and so forth.
So Dusk, Night, Dawn is insight and stories about where we start, and how we don't give, how we keep the faith, and how we pass along our own stamina and healing to others: as Rumi said, "Through love, all pain will turn to medicine." But I'll add, in my experience, that this is not possible without good humor and laughter. Laughter is carbonated holiness. Laughter is water wings. So I hope people who love to laugh at the weirdness and absurdity of it all will read this book.
LH: How do you tackle writer's block?
AL: I've always told my writing students that I think writer's block is a misnomer. I don't think we get blocked, but rather that we get empty. We need to fill back up. I believe there is a creative partner inside of me whom I call the Rag Bag man, who has a burlap sack of my memories, insights, visions, observations, from which I will eventually construct the quilt of my stories. My job is to search out these bits of cloth and thread, of velvet and unbleached muslin and corduroy, red cords and dental floss and grosgrain ribbons. So instead of sitting at my desk in full clench and despair, I go about accumulating snippets and chunks of cool stuff: I do informal interviews with brilliant friends on childhood, soul, the meaning of life, etc; I take my most articulate friends to marshes and museums, and I write down every brilliant observation either of us has; I look through old photo albums; I read more poetry. In other words, I fill back up.
LH: Which non-literary piece of culture—film, tv show, painting, song—could you not imagine your life without?
AL: My very favorite thing about life, besides my closest people and candy, is movies. Movies are where I learned half of what I believe about life, from Bergman and Charlie Chaplin, Truffaut and Fellini, Merchant Ivory. Before Covid, I went to the movies every Friday night. That is the first thing I am going to do after I get vaccinated, besides running around hugging everyone and burrowing my face into their necks. Now my family watches two or three movies a week on the couch: we are turning my grandson onto great movies that taught us about life, shaped our worldview in a positive and ever-curious way. Some examples recently would be Soul, My Octopus Teacher, Whale Watcher, and of course, all of Christopher Guest's movies, especially Best in Show and Waiting for Guffman.
LH: What's the best writing advice you've ever received?
AL: Well, there are two things and I've been repeating them for 20 years so you'll be sick of them. The first was what my dad told my older brother nearly 60 years ago when my brother was in tears because his fourth-grade term paper on birds was due, and he hadn't started. So my dad put his arm around John and said, "Just take it bird by bird, buddy." He had John read a page in Audubon or Roger Tory Peterson about pelicans, and then write a paragraph in his own words. And then read about chickadees, and put it in his own words. Little by little by little.
The second thing was something the great E. L. Doctorow said in an interview, that "writing is like driving at night with the headlights on. You can only see a little ways in front of you, but you can make the whole journey that way."
Both pieces of advice actually apply to all of life.
AND, PS, George Saunders has just published a brilliant book on writing, based on his graduate class at Syracuse, called A Swim in a Pond in the Rain. All writers and all serious readers will be blessed by this.
LH: Is there a book you wish you had written?
AL: So so many: do you have several weeks?
The Poisonwood Bible, by Barbara Kingsolver; Praying for Sheetrock, by Melissa Fay Greene; The Spirit Catches You and You Fall Down, by Anne Fadiman. Everything by Charles Portis…
When I read these books that I love so much, I am simultaneously filled with joy and gratitude and relief for their existence, and total jealousy that they are so great, these writers capable of creating entire worlds that shimmer with truth and humanity.
__________________________________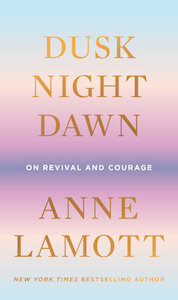 Dusk, Night, Dawn: On Revival and Courage is available now via Riverhead Books, an imprint of Penguin Random House LLC.
---