On Jay Gatsby, the Most Famous North Dakotan
Sarah Vogel Traces the Humble Midwest Origins of an Iconic Character
I was born in North Dakota, but I moved to New York City in 1967 for law school at NYU. During the 14 years I lived on the east coast, I met thousands of people who heard my accent (I didn't know I had an accent) and asked, "where are you from?"
When I said I was from North Dakota, the other person would say, "Wow, I've never met anyone from North Dakota before," and then move on to talk to someone else, someone from a place with which they had more of a connection. Decades later, I realized I should have said "I'm from North Dakota, just like The Great Gatsby."
Published in 1925, F. Scott Fitzgerald's novel is one of the most popular books of all time. As of early 2020, 30 million copies have been sold worldwide. The publisher continues to sell about 500,000 new copies a year; thus, more copies of The Great Gatsby are sold per year than most New York Times bestsellers. It has enduring appeal; in May 2021, it was ranked number 6 of Amazon's list of the top 100 books to read in a lifetime.
Even non-readers are familiar with the classic. There are four Great Gatsby movies, released in 1949, 1974, 2000, and 2013, starring Alan Ladd, Robert Redford, Toby Stephens, and Leonardo DiCaprio as Jay Gatsby.
But hardly anyone knows that that Jay Gatsby is a native North Dakotan, or that he grew up on a North Dakota farm.
I read Maureen Corrigan's 2014 book So We Read On: How The Great Gatsby Came To Be and Why It Endures looking for insight into Gatsby's North Dakota origins and found only a single mention of the state, where a character in a Willa Cather short story is compared to "another poor boy, James Gatz from North Dakota, reaching out for his own version of the green light."
More copies of The Great Gatsby are sold per year than most New York Times bestsellers.
A major plank in North Dakota culture is our stubborn conviction that North Dakotans are looked down upon by Minnesotans. (North Dakotans are not blameless either; we tend to believe Minnesotans are snooty and put on airs.) Fitzgerald was from St. Paul, and came from a stratum of society that tended to treat North Dakota as a provincial backwater, from which wealth would be transferred to millers, bankers, meat packers and railroad magnates based in Minneapolis/St. Paul. During the time that Jay Gatsby was a young man (yes, I know he is fictional, but indulge me), North Dakota was run by "the Mackenzie ring" and the political boss of North Dakota, Alexander Mackenzie operated out of St. Paul.
How did James ("Jimmy") Gatz rise up from a humble North Dakota farm and in a few short years transform himself Jay Gatsby, a military hero and an ostentatiously wealthy man with servants, an airplane, a swimming pool, and a mansion filled with expensive possessions?
Buried within the book are many clues. Jimmy Gatz was born in 1890 (as near as I can tell) somewhere in North Dakota. Starting around 1870, before statehood, North Dakota had an influx of Protestant (Lutheran, Mennonite) and Catholic Germans from Russia emigrate to North Dakota where most of them became farmers. They were known as the "Volga Germans." Half of North Dakotans today have German/Russian roots.
One of the common last names of the Volga Germans was "Götz," pronounced Gatz. The German Russians were known for being hard workers and good farmers.
Jimmy Gatz's parents were farmers, but it appears that while Jimmy Gatz didn't want to be a farmer, he was a hard worker who wanted to better himself. His father, Henry Gatz, shows the narrator of the book, Nick Carraway, 16-year-old Jimmy's daily schedule. It includes dumbbell exercises and wall scaling before he went to work from 8:30 am to 4:30 p.m. In the evening, Jimmy set aside an hour to "practice elocution, poise and how to attain it" and two hours to "study needed inventions."  His "General Resolves" include saving money, not wasting time, and being better to his parents.
Despite his poverty, he was bright and was accepted to St. Olaf College in Minnesota when he was 17, on scholarship. Although Jimmy Gatz was a Lutheran (as shown by the presence of a Lutheran minister at his funeral), a German Russian would have been a rarity at St. Olaf. The student body and faculty were mostly Norwegian, and the esteemed Ole Rølvaag, author of Giants in the Earth, a book about settlers in Dakota Territory, taught at St. Olaf.
Was it Jimmy Gatz's idea to go to college? Probably. His father later says he had "run away from home." His college career lasts only two weeks, and he moves on. He finds work on Lake Superior, where he befriends a wealthy yachtsman, and is invited to sail away from the Midwest. He boards the yacht with a new name, Jay Gatsby, and sails for five years, likely reading, studying and learning as he travels.
One of the reasons for a name change from James Gatz to Jay Gatsby—not mentioned by any of the literary critics I've read—may have been due to anti-German prejudice that he saw at St. Olaf. Anti-German sentiment grew in the Midwest as Germany became more militaristic under Kaiser Wilhelm, culminating in virulent prejudice against Germans before and during World War I. Use of the name Gatsby may have been an attempt to be less obviously of German origin, and avoid prejudice.
Fitzgerald was from St. Paul, and came from a stratum of society that tended to treat North Dakota as a provincial backwater.
Jay Gatsby enlists in the military at the beginning of World War I. He meets Daisy Fay while he's in officer training school in Louisville, and they fall in love. He fights in Europe and by the end of the war, he is a highly decorated major. His return to the United States, and to Daisy, is delayed because the military sends him to Oxford. Tragically, he waits too long and returns to Louisville on the eve of Daisy's loveless marriage to Tom Buchanan, a crude but wealthy heir to a Chicago fortune. Daisy vainly tries to avoid the marriage (by getting drunk) but she is married off like chattel.
Major Gatsby is devastated, and ends up in New York, wearing his uniform covered with medals, the only clothing he has. He hasn't eaten for two days when he meets Meyer Wolfsheim, a gambler and fixer. Gatsby—handsome, blond, articulate, Lutheran, war hero—becomes a front man for Wolfsheim, who faces virulent anti-Semitism from the likes of Nick Carraway and Tom Buchanan. Due to this collaboration, Gatsby becomes very wealthy.
Gatsby never admits to being from North Dakota (was he ashamed?) and instead he spins an improbable tale about his origins, claiming to come from a wealthy Midwestern family, all of whom are conveniently dead. (No one believes him.) When he learns that Tom and Daisy have rented a house across the bay from his mansion on Long Island, he spends evenings staring at the green light on their dock, dreaming of reuniting with Daisy. The summer of his death, he stages elaborate parties with the hope that Daisy will attend.
One of the themes in The Great Gatsby is the contrast in class backgrounds. Tom Buchanan, a truly repulsive character, is from a fabulously wealthy family. Nick Carraway, the narrator of the book, was reminded by his father to be discreet and self-aware about his privilege: "Whenever you feel like criticizing any one . . . just remember that all the people in this world haven't had the advantages that you've had."
Tom and Nick and the rest of their social set were raised not to socialize with those who did not come from their privileged background (prep school, Ivy League, jobs in finance). Despite his new money, Gatsby does not fit in with them. When a woman on horseback facetiously invites Nick and Gatsby to dinner, Gatsby doesn't pick up the subtle social cues that the invitation is insincere. Gatsby goes to get dressed for the dinner, whereas Nick recognizes her subtle signals and declines. When Gatsby comes out dressed for the dinner, the horseback party has left.
Gatsby never admits to being from North Dakota and instead spins an improbable tale about his origins, claiming to come from a wealthy Midwestern family, all of whom are conveniently dead.
Nick confides to the reader at the beginning of the book that Gatsby "represented everything for which I have an unaffected scorn." Yet Nick recognizes the cruelty and selfishness of his social set. At the very the end of the book, as Nick leaves Gatsby, Nick turns back and, referring to Tom and Daisy, he shouts to Gatsby: "They're a rotten crowd . . . You're worth the whole damn bunch put together." Does this mean that Nick accepted Gatsby? Probably not: Nick's next words are: "I've always been glad I said that. It was the only compliment I ever gave him, because I disapproved of him from beginning to end."
Why? Prejudice dies hard.
Like so many others who grew up in North Dakota, Jay Gatsby dreamed of success outside of his home state. Had he not fallen in love with Daisy, or if Daisy had waited for him and not married Tom, what might have become of him? With his charm, his good looks, his wonderful war record, his work ethic, and his "extraordinary gift for hope," I think Gatsby would have emerged from prohibition as a successful man.
The walls of the ground floor of the North Dakota State Capitol are lined with portraits of men and women who are winners of the Theodore Roosevelt Roughrider Hall of Fame Award. The portraits include famous athletes, journalists, war heroes, generals, authors, and some (perhaps too many) rich businessmen. Most of them received the award because of their achievements in places other than North Dakota.
It amuses me to dream that the enduring popularity of the book The Great Gatsby might warrant the addition of a portrait of Jimmy Gatz, North Dakota's best-known expatriate, to this august gallery of accomplished North Dakotans. In my imaginary portrait, he'd look like a blend of a young Robert Redford and a young Leo DiCaprio. He'd be smiling a "radiant and understanding smile," one of those "rare smiles with a quality of eternal reassurance in it, that you may come across four or five times in your life." And we North Dakotans would all be on his side. As Nick says, "Gatsby turned out all right at the end."
_______________________________________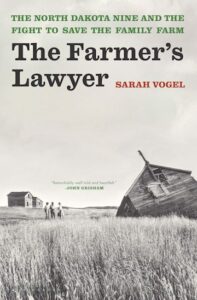 The Farmer's Lawyer by Sarah Vogel is available now from Bloomsbury Publishing. 
---