On First Hearing the Manic Rhythm of My Baby's Heart
Gabriela Wiener Listens to Her Daughter
My first visit to the obstetrician, instead of making the news feel official, made everything seem even more unreal. Public insurance doesn't include such perks as ultrasounds every time you're in the mood to give your embryo a little tickle. Here, unlike in Lima, there's no Women's Diagnostic Center next to every no-tell motel.
And so I was forced to wait until February for my first ultrasound, the first-trimester ultrasound. I'd have to live with it. The only clear news about this child had been delivered to me in the form of two red lines. I was going to spend Christmas and ring in the New Year without seeing so I could believe. 
The purpose of that first visit was to establish contact with the midwife, the person monitoring the pregnant woman from month to month. There are only three scheduled visits with the gynecologist before the birth. The midwife is not a doctor but she knows everything about pregnant women and babies. They are the hospital versions of the self-taught neighbor ladies from other eras who would come to attend to you at home and cut through the umbilical cord with their teeth. 
Eulalia appeared with her short, curly gray hair, her dirty white coat, and those inexplicable red high-heeled shoes that she always wore without stockings. She invited me in and, adjusting her thick glasses, prepared to take down my medical history. She gave me a little purple notebook that said Carnet de l'embarassada. 
"Do you have a family history of cardiovascular disease, cancer, congenital defects, multiple pregnancies . . . ?" 
The midwife took out a cardboard wheel and began to fiddle with it in order to calculate what week of gestation I was in and the probable due date.
My grandmother had been diabetic, my father had had a section of his intestine removed, several relatives had died of heart attacks, my great aunt had died of breast cancer. With her quasi-doctor's handwriting, Eulalia made note of some of the saddest parts of my biography, in the same style she probably used to make a grocery list. When we came to my own history, I mentioned my recently excised supernumerary glands and a cyst I'd had removed from my right ovary a few years back. Also three abortions. I felt a bit worse for wear. 
"What's your LMP?"
"My . . . LMP?" 
"Yes, your Last Menstrual Period." 
I told her I didn't know when my LMP had been. I've always hated that moment when, just before insert-ing an apparatus to sound the depths of my insides (an apparatus that looks dangerously similar to an industrial orange juicer), the gynecologist asks about my last period. Because at the instant they ask me about it, I draw a complete blank. Over time, I decided not to admit that I couldn't remember, and from then on, I always said "the eleventh," which is my lucky number.
She took out a cardboard wheel and began to fiddle with it in order to calculate what week of gestation I was in and the probable due date. Your little cabbage, she said, will be born in August. The word "cabbage" activated my own memories of the popular dolls, "Cabbage Patch Kids," that I'd had when I was a little girl. The song from the commercial was very cruel: "Cabbage Patch Kids were born from a flower/ Who will take care of them?/They have no mommy." And so a six-year-old girl got emotionally blackmailed into adopting a baby with a plastic head and a cloth body that their mom and dad would pay for. 
"Lie down here, please." 
I lay down on the exam table. Eulalia—who, I was later surprised to find out, was a gospel singer in addition to being a midwife—raised my T-shirt and began to prod my belly, which looked the same as always. 
"Now we'll listen to its heart." 
I would finally be able to confirm that something alive, something that wasn't my own soul, was inhabiting me. She put an ultrasound monitor on my belly. At first, the silence was absolute. Eulalia moved the wand from side to side and I started to think that I was maybe some sort of crazy lady with one of those imaginary pregnancies. Until, at last, the exam room filled with an outrageous "boom boom." 
Once upon a time, we too were only a heartbeat. Only much later do we become bigger than our hearts.
"That's its heartbeat." ". . ." 
"And this one is yours." 
The difference in rhythm was shocking. A fetal heart beats at a rate of 120 to 160 beats per minute, while an adult heart beats only 76 times per minute. The heart of a fetus is, proportionally, more than nine times bigger than a full-grown human's. From the eighteenth day onward, it beats and beats without stopping until the moment of our death. The sound of that muscle is almost the first human manifestation. Once upon a time, we too were only a heartbeat. Only much later do we become bigger than our hearts. 
When I left the office, I read in My Baby and Me, the magazine Eulalia had just subscribed me to, that this Christmas, among all the iPods and MP3 players, there was also a gadget that uses Doppler technology to listen to the fetal heartbeat inside a mother's belly.
"Without having to go to the doctor," said the advertisement, and "using a cable hookup," you can record the sounds or connect a telephone to share them with others: for only 69 euros, "we can also feel its little kicks, when it has the hiccups, and even record the mother's heartbeat to calm the baby after it's born." 
Soon we'll be able to chat with our fetus in real time. 
When I got home, I wrote in my blog: "Its heart beats like a sampler from a mentally unstable DJ; its heart is pure electronica while mine is an old progressive rock song."  
__________________________________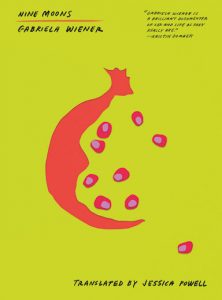 Excerpted from Nine Moons, by Gabriela Wiener, translated from the Spanish by Jessica Powell. Published by Restless Books, © 2020. 
---