On Finally Finding a Home Where the Outsiders Are In
How Jessica Anya Blau's Novel is an Ode to Anne Tyler, Baltimore, and the Spirit of the Oddball
I've always felt like an outsider. When I was a tiny kid in Boston, other children seemed unhinged. They wailed like little megaphones and hit each other over turns on the teeter-totter. In the courtyard playground of the graduate student apartment where my family lived, I liked to put on a necklace and shades, take off my clothes, and watch the kids from afar. I thought I was a grown up.
We moved to Ann Arbor when I was five. The children there seemed even more feral—climbing fences, breaking into attics, sliding down stairways on mattresses. I took shelter from them with my best and only friend, the 70-year-old woman, Mrs. White, who lived across the street. We drank tea on her screened porch and watched my sister—along with a pack of scraped-knee and scabbed-elbows boys—scramble across the lawns, always hollering.
In Southern California, where we settled, I finally found friends. Still, I felt like an outsider as mine was the only Jewish family in our tidy, suburban neighborhood. Our house was also the messiest and my parents—unlike those of my friends—grew marijuana and went to the nude beach. Even the food in our home was different: homemade yogurt, halavah, stinky cheeses wrapped in crinkled tin foil.
At college in Northern California, I felt like a So Cal dumb-dumb plunked in the middle of clove-cigarette and Eurocentric intellectualism. In spite of my fascination with and love for Diane Arbus photos, I had grown into what my father called, a "beach bunny," which in the Bay Area was seriously uncool. I moved to Canada after college and there I felt like an overly-happy American idiot. I smiled too much and seemed to be inappropriately friendly. In my neighborhood square one day, the woman with whom I was chatting appeared to think I wanted to have sex with her. She suddenly blurted,"You know I'm straight. I'm married, and in a good relationship." It took a while for me to process that one. Finally, I said something along the lines of "Yeah, I was just looking for someone to work out with at the Y."
I had a baby in Canada and eventually the two of us moved to Baltimore, a place I'd never even visited, so I could attend graduate school. If you had asked me to draw the outline of the state of Maryland, I would have been completely stumped. All I knew of Baltimore is what I'd read in the books of one of my favorite writers, Anne Tyler.
At college in Northern California, I felt like a So Cal dumb-dumb plunked in the middle of clove-cigarette and Eurocentric intellectualism.
My first day in town, I felt even more outsider than I'd been in Canada when someone said warter to me in a longish sentence. I politely, nervously, asked that the sentence be repeated many times, until a third person listening explained, "She's saying WATER." Oh. Yes. There is a Baltimore accent though not everyone there has it. Next up was the Ma'am thing, happening everywhere, followed by the refusal of my daughter's friends to call me Jessica. "I'm not allowed to call grown ups by their first names, ma'am," one of them explained. And just like that, one little kid reminded me that I was a weirdo-freak outsider no matter where I went. I had thought things might change as I grew up into the woman I believed I was at age three, naked with sunglasses and pearls. But, no, I'd been handed a life sentence of being stuck in my own head, standing outside the invisible lassos that encircle other people in giant, cohesive groups where they all seem to belong.
As I acclimated to my new home, that outsider feeling didn't leave. But in the process of getting to know Baltimore, I discovered something that was almost magical: the outsiders are the insiders. There is a weighty private school/country club population, but the tone, mood, style, and "scene" of Baltimore feels directed by the oddballs. The actress Mo'Nique was born, raised, and educated in Baltimore. She started off as a stand up comedian, which is about as outsider as you can get for a woman. Musician Frank Zappa, who named his daughter Moon Unit, was from Baltimore. John Waters, who filmed his best friend, Divine, in one continuous take eating a nugget of dog poop off the sidewalk for the film Pink Flamingos is from Baltimore. Philip Glass, the minimalist composer whose music was unlike anything any of us had ever heard before is from Baltimore.
He was preceded by Cab Calloway whose "Minnie the Moocher," with Calloway's brilliant ad-libbed scat (hi de hi de hi de ho . . . .) is a perfect example of breaking from the norm. And then there's Billie Holiday whose unique, shimmering voice developed out of a difficult outsider life in Baltimore. She was brought to juvenile court for truancy at age nine, and officially dropped out of school at age 11, after which she worked in a restaurant with her mother (which sounds like a respite compared to chaos and hardships which followed). Zelda and Scott Fitzgerald often lived in Baltimore, particularly when Zelda was so outsider in her thinking and behavior that she had to be checked into Sheppard Pratt Psychiatric Hospital. Edgar Allan Poe, a man who created characters like Hop Frog the obese court jester with dwarfism lived and died in Baltimore. Even Wallis Simpson, the twice-divorced, apparently irresistible (and possibly intersex) woman who compelled Edward the VIII to abdicate the throne simply to be with her, was from Baltimore.
And, of course, it is where Anne Tyler, the shy author of rare public appearances, lives and writes. My favorites of Tyler's many books feature outsiders, weirdos, outcasts, and loners, all from Baltimore. Think of Macon Leary, the travel writer who hates to travel and so just sits in a chair in his Baltimore living room. Ezra who never moves out of his mother's Baltimore home. Delia Grinstead who abandons her Baltimore family during a beach vacation.
I worship Anne Tyler and didn't expect to see her in Baltimore any more than I except to run into Jennifer Lawrence when I'm in Los Angeles. But Baltimore is strange that way; it's a village-city where people collide like bumper cars at the county fair. When I took my daughter to her first Baltimore birthday party, the directions to the house were, "take a right off Charles onto our street and once you've passed Anne Tyler's house . . . ." It wasn't long after that, when I was at the checkout in Eddie's market when the woman in front of me gave her name so the cashier could simply charge the groceries to her account. I honed in on this exchange as it seemed as quaint as telling a phone operator to connect the line to Andy of Mayberry. I leaned in to see the face. It was Anne Tyler using her husband's last name. Yup. There was my literary hero, buying Cheerios, broccoli, garlic cloves and a baguette. I breathlessly watched her sign the credit slip before she walked out with a single paper bag. Then I asked if I could open an account. If Anne Tyler had one, I wanted one, too.
But Baltimore is strange that way; it's a village-city where people collide like bumper cars at the county fair.
When I started writing Mary Jane, there was no question I was going to place it in Baltimore. I needed a town where a rock star and a movie star (two central characters) would be both at-home and outsiders rather than the hip insiders celebrities are in LA and New York. The title character of Mary Jane, a 14-year old summer nanny for a psychiatrist and his hippyish wife, is technically an insider, as she was born and raised in Baltimore. But Mary Jane senses herself as an outsider as she doesn't quite "get" kids her age and—until she starts the summer job that upends the trajectory of her life—spends most of her time preparing meals with her mother.
I wasn't aware of it when I was writing, but it's pretty clear now that in some ways, I was creating an ode to Anne Tyler and her lovable outsiders. I put Mary Jane's house and the house of her employers on the very streets that Tyler's characters have resided, the street where the movie of The Accidental Tourist was filmed. The market where Mary Jane and her five-year-old summer charge go to every day is none other than Eddie's where I witnessed Anne Tyler running up her credit. Eddie's is also the setting for the opening scene in Tyler's book Ladder of Years.
Mary Jane is about growing up in the 70s, finding rock and roll, figuring out who you are through the discovery of what you love, and figuring out how to love the people who see the world differently than you. And, maybe, in addition to being an ode to Anne Tyler, Mary Jane is an ode to Baltimore: A place where outsiders and weirdos, rock stars and movie stars, psychiatrists and housewife-hippies, five-year-olds and fourteen-year-old girls who love to cook, can joyfully come together and truly be themselves—a place where a quiet introvert like Anne Tyler can translate the oddball, misfit town into the perfect packaging of a story in a book.
It's where a weirdo like me finally felt at home.
__________________________________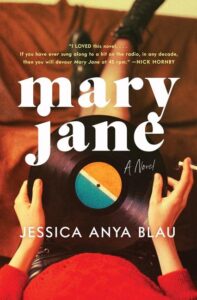 Mary Jane by Jessica Anya Blau is available now via Custom House.
---