On Dog Whistle Politics, Gaslighting, and Other Contemporary Political Tools
Definitions From A People's Guide to Making All Black Lives Matter
dog whistle politics
tool of oppression
Coded racial appeals
see also: racial euphemisms
A dog whistle is an instrument used to call a dog; the sound that the whistle makes is at a pitch that dogs can hear but humans cannot. Metaphorically, dog whistle politics is a means to clandestinely solicit and rally certain people using particular phrases that resonate with the targeted audience.
Ian Haney López penned a beautifully written book about this as a tool of oppression, called Dog Whistle Politics. He explains that this tool works in three basic moves: "A punch that jabs race into the conversation through thinly veiled references to threatening nonwhites, for instance to welfare cheats or illegal aliens; a parry that slaps away charges of racial pandering, often by emphasizing the lack of any direct reference to a racial group or any use of an epithet; and finally a kick that savages the critic for opportunistically alleging racial victimization."
López and others show that during and just after the civil rights era, there was real potential to undermine a racial hierarchy marked by white supremacy, but dog whistle politics were employed to rally (poor) whites around their racial group identity rather than against the political representatives who failed to develop more equitable policies for all, including poor whites and white women.
The political right used dog whistle politics to steer US governance policy toward neoliberalism, starting in the 1970s and 1980s. How else could you have convinced low-income whites to support the dismantling of New Deal and post–World War II economic policies than by suggesting that these policies served undeserving Black people at the expense of hard-working whites? Dog whistle politics are aimed to undermine efforts toward racial equality but ultimately serve to exacerbate the enormous gap between the top 20 percent and the rest of the US citizens and denizens.
*
Donald Trump's campaign used dog whistle politics as well as outright racist stereotypes to garner the support of a large swath of the American public. Are people who voted for Trump racist?
We would encourage you to ask a different question: Is it racist to vote for a candidate whose campaign and policy platform seek to maintain or exacerbate existing racial disparities, while developing new ones?
The answer to that question is, "Hell yeah."
*
Can dog whistle politics be used to rally racial egalitarians? If so, which phrases would be used? Who would "hear" them?
*
epistemology of ignorance
tool of oppression
1. A militant, aggressive willingness to not know
2. A process of knowing designed to produce not knowing about white privilege and white supremacy
It is common to hear that racists are ignorant. Another common refrain is that if white people knew more about structural racism and white privilege, they would behave differently, be more benevolent and sympathetic, and practice antiracism. The philosopher Charles Mills insightfully notes, "ignorance is usually thought of as the passive obverse to knowledge, the darkness retreating before the spread of Enlightenment," but he argues that white ignorance—ignorance about white supremacy and white privilege—is often militant and aggressive.
Many white people do know about white privilege and persistent racial inequality but actively bypass this knowledge and tacitly maintain white supremacy. Colorblind racism is rooted in this epistemology of ignorance.
The sociologist Jennifer Mueller points out that there are four ways that people actively bypass their knowledge about embedded systems of racial inequality. One way is to simply evade learning about racial matters. Another way is to introduce "alternate factors to facilitate misanalysing, ignoring and/or rejecting the racial dynamics" of racial inequality. For example, a person might assert something like, "Yes, my grandparents benefited from a policy that was implemented in a racist way, but they worked hard. Meritocracy is a better explanation for their accumulation of assets."
A third mechanism that produces not knowing is to suggest that people only participate in perpetuating racial inequality because they do not know they are doing so; this mechanism assumes that whites are inherently virtuous, failing only because they do not know, and assumes that whites' knowledge will automatically lead to better results. Finally, people mystify practical solutions or suggest that the problem of racism is too big to tackle, thus rendering change impossible.
People learn about what they want to know and actively avoid knowing what they do not want to know. Our goal is to make ignorance difficult to maintain.
*
false equivalence
tool of oppression
1. A logical fallacy, whereby two opposing sides of an argument are deemed equivalent when they actually are not
2. A reliance on feeble similarities in an attempt to make moot the more important observation and effect of the glaring differences
Most people value fairness, but sometimes we equate fairness with balance, with providing equal time for all sides of a story, or with trying to see the world through all possible sets of perspectives. It may sound counterintuitive to some people for us to argue that not all sides should get a say, but we assert such a claim because not all sides have the moral authority to take part in civil discussions that have the potential to produce more equitable outcomes for society's most vulnerable groups. To suggest otherwise provides an opening for a false equivalence.
For instance, some people would claim that calling someone a racist is just as bad as being a racist. That is a false equivalence. Or the suggestion that referring to a white woman who calls the police on people for being Black while grilling as a "Barbeque Becky" is as vicious as likening a Black woman to an "ape" is a false equivalence.
Or claims of reverse discrimination are by definition rooted in false equivalence. Or the proclamation that there is "blame on both sides" when a neo-Nazi protestor injures a dozen people and kills a counterprotester can best be described as a false equivalence. Or the argument that Black Lives Matter movement is just as divisive as the Ku Klux Klan also requires suspension of logic because that claim is also a false equivalence.
By equating the power and effect of racism with something that has little to no influence on one's opportunity structure or life chances is to minimize the power and effect of racism, and to equate an analysis of racism with racism itself is to ignore the power dynamics embedded in a racialized social system.
*
gaslighting
wisdom of popular culture
1. To psychologically manipulate a person or group of people into believing that they cannot trust their own memories, perceptions, or interpretation of events
2. Racial gaslighting: a systematic effort to discredit claims of racism, typically by means of contradiction, outright denial, misdirection, and lying
Considering the fact that racism today has a "now you see it, now you don't" quality, minorities often feel that when they are having a racialized experience, such as microaggressions or finding themselves on the short end of the structural racism stick, white Americans around them seem not to notice; if they do notice, the experience often gets downplayed as an isolated event or is invalidated entirely as nonracial. This persistent denial of racism is now known as "racial gaslighting," a form of psychic violence.
An excellent example of racial gaslighting is the use of the words "incident" and "bad apple," as in "Police shootings of unarmed Black people are not indicative of a larger system of racism but instead are isolated incidents caused by a few bad apples." The Department of Justice (DOJ) under Loretta Lynch's leadership tells us otherwise. After investigating the police departments of Chicago, Baltimore, and Ferguson, the DOJ found systematic abuses of power and widespread patterns of constitutional violations that were skewed in racially biased ways.
Police brutality is not a figment of the imagination, but some people would like to frame it that way. Another means to manipulate people of color is to misdirect attention of the true cause of the problem, especially when that problem is racism.
Bearing the brunt of a constant bait-and-switch and enduring the barrages of whitesplaining that interpret one's own reality in nonsensical terms can wear a person down. As an act of resistance and well-being, the contemporary Movement for Black Lives encourages Black people to love and care for themselves and other Black people because dealing with interpersonal and structural racism is mentally and emotionally taxing.
Black people and other marginalized human beings must be free to speak their truths, confess their intuitions, and heal themselves in community. We should take note of the sage advice attributed to Zora Neale Hurston: "If you are silent about your pain, they'll kill you and say you enjoyed it."
__________________________________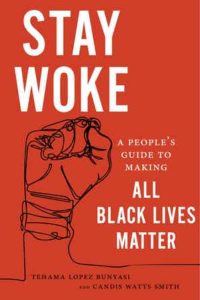 From Stay Woke. Reprinted with permission from NYU Press. Edited by Tehama Lopez Bunyasi and Candis Watts Smith. Copyright © 2019
---