Anthony Doerr on Throwing Out All the Rules for Writing a Short Story
"Wait, dog point of view wasn't allowed?"
As a boy I dreamed of becoming a writer, though this was an aspiration I articulated to no one, partially because I lived in rural Ohio and had never met or even glimpsed a writer, and partially because the writers I brought home from the library were all superworldly like Paul Bowles or superfamous like Gabriel García Márquez or superdead like Sarah Orne Jewett, and I was not worldly or famous or dead. Writers seemed a rare and exalted species; I figured I had as much of a chance of growing up to be one as I did of growing up to be a blue whale.
Yet I wrote. I wrote a nine-page book about snails titled Mollusks (riveting) and typed stories about my Playmobil pirates on my mother's typewriter, primarily for the pleasure of typing swear words, then frantically covering them up with gobs of Wite-Out. In my teens I scribbled short stories into spiral notebooks, most of which featured a boy who walked out of school in the middle of the day and never returned, because to a kid with a science-teacher mom and a perfect attendance record for four years running, walking out of school in the middle of the day and never returning was the most epic beginning to a story imaginable.
I didn't show these stories to anyone. Someday, maybe, long after I was dead, a beautiful and intrepid researcher might unearth my notebooks, decipher my microscopic handwriting, and be overcome by my brilliance. For now the magic of using black marks on a white page to conjure people and places out of nothingness was reward enough.
Or at least it was enough until our junior-year English teacher announced a forthcoming short story contest. I was not good at basketball, growing facial hair, or talking to girls, but maybe, I thought, maybe I could be good at this. Maybe I could win.
My current story-in-progress was "Avalanche," about a boy who strolls out of a trigonometry test, steals a delivery van containing thousands of chocolate bars, and drives to the Yukon only to become caught in (surprise!) an avalanche. I had loads of fun describing the snow whooshing and tumbling and grinding around the van, then switched to the point of view of a nearby dog who, out of the goodness of his dog-heart, begins searching for the buried kid. Then I jumped into some backstory on the dog (nice farm-girl, mean farmer, a misunderstanding involving chickens) and I described how the dog smells all that chocolate through six feet of snow and digs out the boy and they eat frozen Twix bars and the boy never studies trigonometry again.
Guaranteed victory, right?
I wasn't sure. A drip-drip of uncertainty sent me to the library, where I discovered a paperback titled Writing in General and the Short Story in Particular, which claimed to reveal "the secrets of the craft." Though the author, Rust Hills, sounded more like a South Dakota land feature than a short story expert, the jacket copy explained that Mr. Hills worked at Esquire and had discovered all sorts of famous writers, and so it was with a mix of excitement and terror that I toted the book to my attic bedroom.
"Everyone knows what a short story is anyway," Mr. Hills began, and I thought, Hmm, everyone? Then he said that "the successful contemporary short story will demonstrate a more harmonious relationship of all its aspects than will any other literary art form" and I thought, Hmm, what's an aspect?
With each passing paragraph my anxiety compounded. "The story writer will not usually elaborate secondary characters," Mr. Hills declared on page 3, "won't usually mess much with subplots . . ." Was my runaway dog a secondary character? Maybe he was a subplot?
"Where the novelist may bounce around in point of view," Mr. Hills went on, "the short story writer will usually maintain a single point of view . . ."
Wait, dog point of view wasn't allowed?
I worried I was breaking rules that I didn't properly comprehend.
On page four Mr. Hills hurried back to his harmony thing, declaring that in a successful story "everything enhances everything else, interrelates with everything else, is inseparable from everything else—and all this is done with a necessary and perfect economy," but by then my drip-drip of uncertainty had swelled into a torrent. Rust Hills had published E. Annie Proulx, he had published John Cheever, whose bright-red tome of collected stories my mom kept face-out on the shelf downstairs, he knew the secrets of the craft, and here he was saying that the moves that brought me the most joy—introducing new characters midstream, hopping into the minds of farm animals, and chasing digressions—were exactly the moves I shouldn't be making.
I felt like the boy at the end of "Araby," alone in the darkening bazaar, my eyes burning with anguish. I wanted to make big sprawling jungles but Mr. Hills was saying I ought to be growing little bonsai trees.
I scrapped "Avalanche" and wrote a new story for the contest, most of which I have blocked from memory, except that it stayed in a single point of view, included zero subplots, contained zero secondary characters, and was zero fun to write. I titled it "Caesura," despite not really knowing what a caesura was, and handed it in, and did not win the short story contest. My friend Gabe won, for a three-page story in which he told me, laughing, nothing meant anything.
Years passed before I risked showing a story to anyone again. Any time I started careening around in time machines, introducing talking goats, or hot-wiring vans full of chocolate bars, my pleasures got all tangled up with insecurities. I worried I was breaking rules that I didn't properly comprehend, that nothing I was making was harmonious enough, and that my "economy" was unnecessary and imperfect.
In my twenties I encountered many more rules for writing short stories—I'm guessing you probably have, too. Don't start with a character waking up. Jump right into the action. Exposition is boring. Backstory slows you down. Stick with a single protagonist. Make sure he or she is likable. Don't break up chronology. Don't digress. Don't overwrite. Don't tell a story inside the story. Don't take a moral stance. Don't have a character wake up at the end of a story and discover that everything was a dream. Etcetera.
Although I could see where the rule makers were coming from—backstory risks slowing down frontstory, it's true, and time-jumping risks confusing the reader, and stories with moral stances risk becoming preachy—I always felt a bristling aversion to rules, because the stories I loved usually broke two or three of them in the first five pages. Indeed, whenever I came across a list of rules like the one above, what I really wanted to do was write a story that was all backstory, in which multiple protagonists, none of whom are exactly likable, wake up, tell lots of different stories inside the story, argue significant moral points, then wake up a second time and realize the whole thing was a dream.
____________________________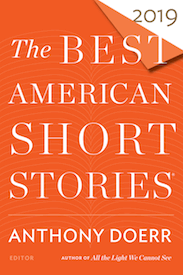 From the introduction of The Best American Short Stories 2019 edited by Anthony Doerr and Heidi Pitlor. Used with permission of the publisher, Houghton Mifflin Harcourt. Copyright © 2019 by Houghton Mifflin Harcourt Publishing Company. Introduction copyright © 2019 by Anthony Doerr. All rights reserved. 
---