On Co-Living and the New Generation of Digital Nomads
Diana Lind Visits Gramercy House in Manhattan
Coming home from school as a child, Gillian Morris was never sure whom she might find. Her family's home in the 1990s suburbs of New York had an open‐door policy toward guests. There was always a visiting musician, a family friend whose house was being renovated and needed to stay for a few months, a distant cousin in town for the week. Evenings were filled with characters from around the world who exposed her to new ideas and new places through their conversations around the dinner table.
"We had a wonderful, dynamic mix of people," Morris recalls. "So that made me assume this was the way it was for most people." As she grew older, she came to realize that her family was an outlier.
Given her upbringing, it may not be surprising that Morris went on to launch a travel app, Hitlist, that allows people to search for airfares like "JFK to anywhere" and find cheap flights across the globe. By Morris's mid-twenties, she was splitting time between New York, San Francisco, and the road, but she wanted a home base.
Her definition of "home" reflected her roots. Home meant a sense of community and interesting people coming and going. Thinking back to her childhood, she said, "I loved that openness of sharing space with other people, but I wasn't going to get it from a regular apartment."
So Morris, Melissa Kwan (another app entrepreneur), and Michael Gruen (another tech worker) started a "commune" in a 22‐foot‐wide Manhattan town house. "Commune" might carry a whiff of patchouli, but this is a decidedly different shared space. Morris and Kwan's Gramercy House does triple duty: a home for the two of them, rooms for an additional three people, and a salon for entertaining.
It took a while to find a landlord who was comfortable with the concept (their landlord still bugs them about "foot traffic"), but for the past four years the house's 1,500 square feet of entertaining space have hosted everything from meditation sessions to political fundraisers. With a dining table that seats 16 and a parlor boasting ample seating, a faux‐vintage oriental rug, and mid-century coffee table, the modest but chic space is ready to host a party any night of the week.
Gramercy House was a forerunner of co‐living and is a small‐scale application of what has become a full‐blown asset class, garnering hundreds of millions in investment around the country. While the definition and implementation of co‐living vary from places as small as Gramercy House to buildings housing hundreds of people, there are some key commonalities and ways to distinguish co‐living from an apartment shared among friends or a condo building with amenities.
Co‐living prioritizes the shared spaces of the house or building, both in terms of how much square footage the shared space is afforded and how it is programmed. While hosting a concert or yoga classes would be kind of weird in a regular apartment, public programming is expected in a co‐living space. Whereas most living situations offer plain shelter, co‐living is intentionally focused on community building.
The co‐living business model in many ways emulates the success of co‐working in the 2010s.
Historically, the shared aspect of living with strangers was a drawback. In the boardinghouses and SROs of yore, residents got a room of their own at a lower cost in exchange for sharing a bathroom or kitchen. But the new co‐living model emphasizes communality as a selling point. Whereas the default expectation in a normal apartment building is to keep to oneself, in co‐living arrangements there's an open invitation to connect with people in common spaces.
Since social interaction may not happen organically, operators put on programming—ranging from communal dinners to gym classes to off‐site trips—to bring residents together and break the ice.
The co‐living business model in many ways emulates the success of co‐working in the 2010s. Co‐working upended the traditional office rental landscape, which favored established businesses with long‐term leases and oversize footprints. Recognizing the market for office space for small businesses and solo entrepreneurs, co‐working offered not only greater flexibility but a host of other benefits like networking, all‐inclusive rents, free coffee, and attention to design.
Major co‐living operators like Common, WeLive, Ollie, and X Social Communities now offer many of the same benefits, swapping "community" for "networking." Like co‐working, co‐living offers people the opportunity to rent square footage in a location that they might not be able to afford if they had to take on a lease entirely on their own.
*
On a summer night in 2018, I join Morris and some other co‐living enthusiasts in Gramercy House's parlor. Barefoot, in keeping with the house rules, we sip wine and mango‐avocado smoothies and feast on homemade pizzettas, cherries, and halvah before diving into the night's subject: the advantages and challenges of co‐living.
From the dozen or so attendees, we hear about an array of co‐living situations: There's Jason from the Archive in San Francisco, a space housing 16 people in tech and "tech adjacent" fields. There's Eric from the Embassy Network, an international organization of "place‐based communities experimenting with new forms of governance and solidarity." There's a woman from a "sex‐positive" three‐story commune called Hacienda in the Brooklyn neighborhood of Bedford‐Stuyvesant.
Also visiting from Brooklyn is the founder of a co‐living space called Lightning Society in Bushwick—a neighborhood with plenty of new co‐living houses popping up each year.
What has driven these people and the others in the room to become ambassadors of and entrepreneurs in co‐living? It's clear co‐living has helped this crowd live their lives to the fullest, without the restrictions that standardized housing might put on them. There's Ethan, who works as a programmer and only needs a laptop and Wi‐Fi to work. Because he doesn't need to live in one place or city, he's gravitated toward a nomadic lifestyle.
He talks about how he spent the last month bopping around Europe, staying at spaces like Outsite in Lisbon, a co‐living and co‐working community for professionals. Outsite offers a global membership for remote workers, allowing them to explore working and living at locations ranging from New York City to Tulum, Mexico, to Santiago, Chile. At Outsite, he not only met new people but reconnected with friends and acquaintances in a beautiful locale.
Morris chimes in about the global digital nomad community. During her recent two‐week stint in Berlin, she encountered friends from several San Francisco communes. A female entrepreneur who runs a lifestyle company out of Los Angeles and is staying at the Gramercy House during her time in New York explains that her loyalty to co‐living comes from connections and conversations like this one. Where else could she find a dozen nomadic people whose values so clearly align with hers?
While co‐living might seem like a subculture, it is quickly turning into a widespread phenomenon and real estate asset class. Investors are pouring money into developments with hundreds of units. In contrast, these pioneers at Gramercy House look more like mom‐and‐pop co‐living operators.
The conversation turns to the nitty‐gritty of running co‐ living communities: How do you maintain a sense of belonging and friendship with a close community of ten or more people? What software do you use to manage shared budgeting decisions? Should you get rid of living rooms in favor of bigger kitchens and dining rooms?
People are eager to mingle with others who feel as passionately as they do about co‐living and want to spread its gospel.
"It's been scientifically proven, through studies where they put trackers on people, that no one uses living rooms," says David, a writer for Co‐Liv Lab, a networking organization for people in the business of co‐living. It's true, at least according to the most famous study on the subject, by UCLA researchers who tracked 32 dual‐earner couples and found that formal dining and living spaces (as well as yards) were underused.
The challenges of co‐living don't sound so bad to me, although those present have a few negative stories to share. In small communes like Gramercy House, the experience of one "guy who didn't work out" meant a few frustrating months and lessons learned about better screening of long‐term roommates. And Lisa, who's living in a co‐living/working space in Bed‐Stuy, is getting pushed out by a landlord who wants to sell the building. But rather than give up on co‐living, she's here tonight to learn more about starting her own space.
There's an excitement in the room akin to the giddiness of political volunteers readying for a campaign. People are eager to mingle with others who feel as passionately as they do about co‐living and want to spread its gospel. When the group conversation breaks into casual one‐on‐one chatter, it's nice to have support for co‐living as a shared starting point. Unlike parents who don't get it, or coworkers who think communes are weird, everyone here is open to co‐living, even if they're not living the lifestyle just yet.
But the vision of co‐living presented here tonight can feel limited, even exclusive. For everyone here, co‐living is a choice— and these are people who have many choices, from what restaurant to eat in to where to live. Many of the tech workers in the room chose their profession specifically because it offers the flexibility to get paid while they travel. They're not about to let conventional housing options lock them into a place or a way of life. "I've been so happy with the lifestyle that I'd like to live in a commune for the rest of my life," Morris says.
Morris, age 32, has lots of peers settling into familiar patterns of domestic privacy. But she has no plans to follow them yet, and in the future if she does have children, she says she'd want to raise them in a communal lifestyle, co‐parenting with her housemates. She sees no reason why the benefits of co‐living she's already experienced—pooling resources, sharing chores, meeting new people, and helping each other out when sick or busy—wouldn't carry over when it comes to raising kids.
In other words, Morris believes communal living isn't just for affluent young nomads—it could work for just about everyone. If she's right, co‐living could radically change housing as we know it.
__________________________________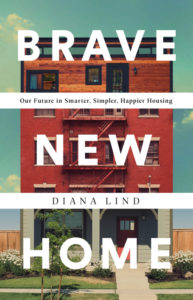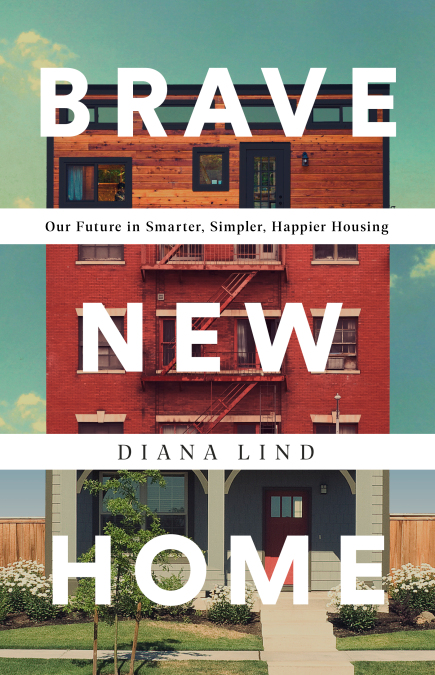 Excerpted from Brave New Home: Our Future in Smarter, Simpler, Happier Housing by Diana Lind. Copyright © 2020. Available from Bold Type Books, an imprint of Hachette Book Group, Inc.
---