On Civil Rights Activist Curtis Graves' Groundbreaking Electoral Campaign
Nick Seabrook on the 1966 Texas State Legislature Election
The Lone Star State had not elected an African American to its legislature since the nineteenth century, but that did not discourage Curtis Graves.
The 27-year-old Texas Southern University graduate—whose great-grandparents on his mother's side had both been the children of black slaves and white slave masters on the Evergreen Plantation in St. John the Baptist Parish, Louisiana—was ready to make his mark on the city that had become his adopted home. The Houston of the late 1950s, when Graves had arrived on the TSU campus in his blue 1951 Mercury, was one of transition.
A booming oil and natural gas industry had seen the city's population grow by almost 60 percent over the previous decade, but the economic windfall was felt almost exclusively by its white residents. Houston's lunch counters, hotels, public transportation, department stores, and drinking fountains were all still segregated along racial lines. Brown v. Board of Education, the Supreme Court case that ordered the desegregation of the nation's public schools, had been decided only five years prior.
The university where Graves enrolled in the fall of 1959 was itself a product of civil rights litigation. In 1946, Heman Marion Sweatt, an African American school principal from Beaumont, had applied to the University of Texas Law School in Austin but was denied admission on account of his race. With the assistance of Thurgood Marshall and the NAACP, Sweatt filed a lawsuit against the school's president, Theophilus Painter, in Texas state court. In an effort to moot the litigation, which they feared might lead to a court order requiring the state to desegregate all of its institutions of higher learning, the legislature passed a bill establishing the Texas State University for Negroes in Houston, which was renamed Texas Southern University in 1951.
Unsatisfied with the prospect of studying law at what was, at the time, an obviously inferior institution, Sweatt took his case all the way to the Supreme Court. In 1950, the justices ruled unanimously that the equal protection clause required his admission to the University of Texas. Curtis Graves wanted nothing more than to follow in Sweatt's footsteps as a civil rights pioneer, and like Sweatt he would lend his name to a lawsuit that eventually found its way before the nation's highest court.
Graves was born in New Orleans in 1938, the son of Fagellio "Buddy" Graves, who along with his uncle Butsy was the first African American to own an Esso gas station in the state of Louisiana. His upbringing was a study in contrasts. His father was actively involved in the NAACP and the cause of civil rights ("Thurgood Marshall slept in my bed while I slept on the couch—that's a fact!" he told Texas Monthly in 2015), but the family also took pains to shield young Curtis from the harsh realities of segregation and racism in the Jim Crow South.
The same article recounts stories from his childhood of his mother, Mabel, engaging in subterfuge to conceal the ugly underbelly of prejudice in the Big Easy. "She told her son that they sat in the back of the bus because it was cooler, or sat upstairs at the theater to see better, or avoided meals at department stores because the glasses weren't clean."
Initially majoring in math at Xavier University in New Orleans, he dropped out and enrolled at TSU after the dean of students, observing his C average during his first two years of study, suggested that he give manual labor a try instead. It was there that he became involved in the budding civil rights movement, making the acquaintance of Eldrewey Stearns, a law student and accomplished debater, and Earl Allen, a fellow undergraduate.
The three began to organize sit-ins on campus and at local grocery stores, garnering the attention of the local news media. Houston's mayor, Lewis Cutrer, a segregationist who had run on a platform of stoking racial fears about a black takeover of the city government, attempted to pressure TSU's president, Sam Nabrit, into quashing the protests.
But Nabrit, whose brother was an NAACP attorney who had been involved in a successful legal challenge to the state's white primary laws—which the Supreme Court struck down in the case of Smith v. Allwright in 1944—was unmoved. "Primarily, you're citizens of the United States," Graves recounts Nabrit telling a student assembly at the time. "Secondarily, you're students. So you have to do what you have to do."
Graves found himself the victim of a vicious campaign of racism, threats, and harassment, during both his state legislative race and his later bid for mayor.
Graves did what he had to do. He and his fellow students hatched a plan to disrupt a parade that had been planned in the city for the astronaut and Houston native Gordon Cooper. They hoped that their protest would provoke a reaction from the city government that would ignite a broader movement for desegregation and bring national attention to their cause. The plan worked, although not in the way that they anticipated.
On the eve of the parade, which 300,000 Houstonians were expected to attend, community leaders brokered a deal with local business owners to desegregate the city. But there was one condition: it had to be kept on the down low. "What was finally decided was that they would desegregate restaurants and department stores and all the Houston transit authority in one day," recalled William Lawson, a local pastor who advised the protesters, "and none of the major media—the Post, the Chronicle, the television stations—would mention it."
In contrast to the fire hoses and attack dogs that had greeted student demonstrators in Birmingham, Graves and his friends had desegregated Houston without violence or fanfare. The protest they had planned for the homecoming parade never happened. "Our signs were ready," he later lamented to a reporter. "I was at the coffee shop at the Y when Eldrewey came in and said a deal had been struck."
After graduating from TSU, Graves went to work as the manager of a local savings and loan association, and at that point a career in politics could not have been further from his mind. But after attending a party at Lyndon Johnson's ranch at the invitation of his boss, the community organizer Mack Hannah—among the guests were various political heavyweights, including Chief Justice Earl Warren—he decided to get involved in a friend's campaign for school board.
Discovering that his friend shared a last name with an incumbent white board member, Joe Kelly Butler, Graves devised a strategy to capitalize on the at-large system that was in use for the election. "If we can craft our campaign so we never show up at a white rally," he advised his friend, "we never allow a picture of you to be in the papers, we never do anything in white Houston, and we only campaign in black churches, the white folks will think that you are Joe Kelly Butler, . . . and you'll win." And indeed he did, becoming only the second African American to sit on the Houston school board, after Hattie Mae White in 1958.
Buoyed by his success as a campaign manager, and inspired by a visit to the state capitol in Austin, Graves decided to run for the state legislature in 1966. His timing could not have been better. Earlier that year, based on the precedent set by the Supreme Court's decision in Reynolds, a federal court had ruled in the case of Kilgarlin v. Martin that the Texas House of Representatives and Senate districts must be redrawn on the basis of population. A second parallel lawsuit, filed by the west Texas oil millionaire and future president of the United States, George Herbert Walker Bush, resulted in a ruling that struck down the state's US House of Representatives districts on the same grounds.
The new redistricting plan passed by the legislature increased the number of house seats allocated to Harris County, home of Houston, from twelve to nineteen, and the number of senate seats from one to four. Meanwhile, the previous at-large system was replaced with single member districts for the senate, and three multimember districts for the house, which followed the same boundaries as the county's redrawn congressional seats. Commenting on the new plan, the court observed that "Negroes residing in the four metropolitan districts, like all other citizens of every other color, creed and nationality, have the opportunity to vote for more Representatives and Senators than before."
Graves was not the only minority candidate to seek to take advantage of this more fertile electoral environment. He was joined by Lauro Cruz, a 33-year-old Mexican American precinct judge who also sought a house seat in a county that had not elected a Latino candidate since 1836.
Also running was Barbara Jordan, a 30-year-old attorney and fellow TSU graduate who had mounted two unsuccessful house campaigns in 1962 and 1964 and was now seeking a seat in the senate. All three ran as Democrats, at first blush a curious choice given the party's continuing support for Jim Crow in many parts of the South, but a necessity in their heavily Democratic districts. The Republican Party would not even bother fielding a candidate.
Of the three, Jordan had the name recognition and political connections and was expected to win comfortably. Graves and Cruz were unknown commodities and had to work for their respective nominations. Often campaigning together, driving around Houston in a black Volkswagen Beetle, they blanketed the district with signs and visited African American and Latino churches to encourage voter turnout. In his Texas Monthly interview, Graves recalls one incident where a white police officer observed him hopping a fence to attach a campaign sign to the underside of a billboard and began to admonish him. "Certainly, officer," he informed the cop, "I was just taking this down."
I interviewed Curtis Graves in April 2020 by telephone from his home in suburban Atlanta, where he retired in 2003 after a long career in the federal bureaucracy. He continues to work on his memoirs while moonlighting as a critically acclaimed fine art photographer.
But these days the most famous member of the Graves family is his daughter, Gizelle Bryant, the reality TV star of Bravo's Real Housewives of Potomac. Now 81 years old, Graves speaks in a slow, assured bass tone, his memory still remarkably sharp as he reminisces on events from almost fifty years prior with uncanny clarity, regaling me with numerous stories from his days as a civil rights pioneer.
The 1966 election was the first to be contested since the passage of the Voting Rights Act a year earlier, and minority voters were energized. In the end, Graves, Cruz, and Jordan all won their contests handily, while in Massachusetts the Republican Edward Brooke became the first African American to be elected to the U.S. Senate since Reconstruction.
Also victorious were two Houston-area candidates for the U.S. House of Representatives with whom Graves had struck up friendships during their time on the campaign trail, one a Democrat and the other a Republican. The Democrat, Bob Eckhardt, who would go on to serve for 14 years in Congress, had been a crucial ally to Graves and Cruz when it came to courting the votes of liberal white Houstonians. "If we went to a Latino church, Lauro was the lead person," Graves explained to me. "If we went to a white church, it was Eckhardt, and if we were in the black church, it was my responsibility."
The Republican candidate whose acquaintance they made during the campaign was none other than the man whose lawsuit had resulted in the creation of the district he was now running in: George H. W. Bush. "George Herbert Walker and I became really good friends as a result of that first campaign," Graves recalled, "when he was running for Congress and I was running for the state house. We stayed in touch, even throughout his presidency."
Graves also fielded a congratulatory phone call from another president, Lyndon Johnson, at the election night victory party after the Democratic primary. He later posed with Jordan in a photo for a Time magazine article headlined "Texas: A Quiet Change," in which they stood together beneath a sign that simply said "Victory." "Neither Democratic candidate campaigned exclusively on race," the article noted, "but concentrated instead on bread-and-butter issues that concern whites as much as Negroes in their working-class district. The result attested to a quiet change in the minds of many white Americans." The relationship between Graves and Jordan, however, soon found itself on the rocks.
Graves received slightly more than 50 percent of the vote in his primary, narrowly avoiding a runoff election against the second-place finisher. This included a strong showing of between 25 and 40 percent in his district's white precincts. Jordan won her race with 65 percent of the vote and performed even better with white Houstonians, capturing between 30 and 50 percent in those precincts. Cruz was forced into a runoff after garnering only 47 percent of the vote in his contest, short of the 50 percent threshold to be nominated outright. Despite the Houston Chronicle's endorsing his white opponent, he won it comfortably. With all three running unopposed in the general election later that year, victory was assured. But it did not come without substantial cost.
Graves found himself the victim of a vicious campaign of racism, threats, and harassment, during both his state legislative race and his later bid for mayor. "People would call and say they would castrate my children," he told me. "I'd get death threats through the mail. Somebody called one night and said, 'Is this Curtis Graves, the n*****?' and I said, 'Yes, it is,' and he said, 'N*****, you're gonna die in ten minutes.' And what do you do then? Do you pick up your children and your wife and run in the backyard because you think that there's a bomb somewhere? It was a tough time."
Unable to count on the protection of the Houston Police Department, whose chief he describes as "to the right of Attila the Hun," Graves had to take his own measures to guarantee his security during the campaign. "There were two or three guys who had volunteered to protect me, 24/7," he remembered. "They did not allow me to drive myself anywhere, and they were all armed. If it weren't for them, I don't know if I'd have made it through that."
Perhaps his most notable achievement was a continuation of his earlier student activism.
The political careers of Graves and Jordan, who entered the Texas statehouse at the same time in January 1967, could not have been more different. Jordan was a conciliator and consensus builder, steering clear of controversy while diligently building relationships with colleagues and cultivating political influence.
But Graves's brazenness and confrontational style that had served him so well as an activist were ill-suited to the day-to-day grind of policy making in Austin, and he quickly alienated the powers that be. "If I said I was in favor of a bill, it wouldn't pass," he later reflected, and he largely failed to move the needle on any of the grandiose proposals that had fueled his primary campaign.
On one memorable occasion, decked out in the spotless white suit he often wore around the statehouse, Graves pulled a pistol on the floor of the house during a debate on gun control and fired off a few blanks to better emphasize his point. On another, he climbed on top of the press table to gain a better vantage point from which to shout questions at the Speaker.
Perhaps his most notable achievement was a continuation of his earlier student activism. He led a successful campaign to desegregate the Austin Club, a popular dining hangout for members of the legislature. Though both Jordan and Graves were comfortably reelected in 1968 and 1970, and Jordan even endorsed Graves in his unsuccessful 1969 bid for mayor against the Republican incumbent, Louie Welch, their clash of personalities presaged the later deterioration of their relationship, with both harboring desires for higher political office. The same office, as it turned out.
The 1970 census marked the first time that Texas's legislative districts would be drawn afresh to comply with "one person, one vote," rather than under the aegis of litigation, as had happened in 1965. Jordan, who by this point was eyeing a bid for Congress, had been appointed by Lieutenant Governor Ben Barnes as vice-chair of the senate's redistricting committee, giving her significant influence in the drawing of the new boundaries.
Graves, meanwhile, was on the outside looking in. Well aware that Houston would be gaining an additional seat in Congress, and that Jordan could use her clout to craft a district that would represent the city's African American community, one that she herself would be uniquely positioned to run in, Graves set his sights on her soon-to-be-vacated senate seat.
But he had made many enemies during his tenure in Austin, and those chickens were about to come home to roost. "Curtis Graves wanted that seat," wrote the Houston-area representative Craig Washington. "Yet the power dynamics in the Senate would not allow that to happen; Lieutenant Governor Ben Barnes, the more conservative Senators, and the business lobby reportedly determined that they would never draw a district that Curtis could win."
The Legislative Redistricting Board redrew Jordan's Eleventh District so that it no longer contained a majority of African American voters. Graves, discouraged, resigned himself to the fact that he could never hope to compete for the seat. Jordan's exact role in this process is somewhat unclear, although Graves himself certainly believed that she had been part of the conspiracy. "She has sold us out," he told the press at the time, and even decades later he still appeared to harbor a grudge. "She put my house in the district that included River Oaks," he told Texas Monthly. "I called it 'the fickle finger district' because it had a little finger that went down and got my house. I was so pissed I didn't know what to do."
__________________________________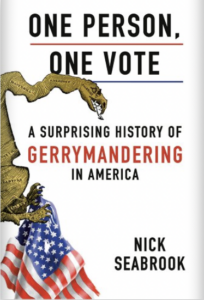 Excerpted from One Person, One Vote: A Surprising History of Gerrymandering in America by Nick Seabrook. Copyright © 2022 by Nick Seabrook. All rights reserved. No part of this excerpt may be reproduced or reprinted without permission in writing from the publisher. Top photo via Legislative Reference Library of Texas.
---