On Alternative Forms of Communal Care and Expanded Kinship Circles
The Care Collective Explain "Families of Choice"
We need not look far to find cultures where caring kinships have been arranged differently. Whether by necessity or design, care beyond the nuclear family has been acceptable to different degrees in different societies for centuries, some examples more radical than others.
Take "mothering," still upheld in our culture as the archetypal caring relationship, but one whose practices are so rigidly idealized that they may often burden even those women who desire the role and have the resources to perform it. But mothering has been imagined differently. In African American communities, where racism has made resources scarce and life more precarious, Black women have long reimagined what mothering might look like, dividing childcare between "blood mothers" and "other-mothers."
A blood mother is a child's biological mother, whereas other-mothers are the network of women a biological mother can rely on when she is not available to care for her child. This model of kinship, informed by West African traditions, adopted new forms when Black women became the primary carers of white children instead of their own, whether as the enslaved or as exploited domestic laborers. As a category, other-mothers would include family members—grandmothers, sisters and cousins—but, importantly, it would also include neighbors and friends. This expanded notion of kinship eased the burden of care for an already overburdened social group and spread the joys as well as the challenges of caring to other women in the community.
Closely related were the experiments in childcare that took place as part of second-wave feminism in the 1970s. The burden of childcare, its devaluation as a practice, and the way it worked to preclude women from participating in public life were all key objects of feminist struggle during this time. Second-wavers proposed different solutions. Some championed collective living arrangements (with and without men) in which all domestic labor, including childcare, was shared equally, so that all members could engage in the burdens and pleasure of care work as well as having a life outside the domestic realm. Others argued for well-resourced maternity leave and differing childcare arrangements, including cooperative nurseries and crèches (where men of the left also worked at times).
Families of choice emerged because non-normative sex or gender expressions could (and still can) cause a person to be rejected by their biological family.
A term we might use to describe these collective childcare arrangements is "families of choice." This term was developed primarily in relation to LGBT political movements contemporary with second-wave feminism. It originally referred not so much to childcare as to relationships outside of the biological family, which LGBT folk felt were the most significant to them. Families of choice emerged because non-normative sex or gender expressions could (and still can) cause a person to be rejected by their biological family. As a result, LGBT people often moved to "gay neighborhoods" within cities and forged family-like relationships with friends and lovers who fulfilled their caring needs. This was often out of necessity, but it was also advocated as part of the radical politics of gay liberation that sought to expand affective relations of care and intimacy beyond those sanctioned by and through heteronormativity.
Indeed, as societies "de-traditionalized" in the late 20th century, partly as a result of these social movements, the alternative kinship structures they encouraged started to migrate into the lives of people who did not necessarily consider themselves radical. In empirical work carried out by sociologist Sasha Roseneil with Shelley Budgeon, in the early 2000s, they discovered that it was very often friends, rather than relatives or partners, who were the primary carers of people in different parts of the UK. Friends cohabited, looked after each other's children and performed palliative care for the sick and the dying. The problem was, and remains, that there was not enough state recognition of these friendships to furnish them with either the decision-making powers or the resources necessary to care as well as they would have wished, making them less secure over the long term. Entirely in keeping with the spirit of this manifesto, Roseneil argues at the end of her study that "the friend" could easily replace "the mother" as the archetypal figure in our caring imaginaries, and that "networks and flows of intimacy and care" should replace the family as the prime relational unit.
There is surely no greater illustration of the failures of both neoliberalism and hetero-patriarchal kinship in providing adequate infrastructures of care than the AIDS crisis of the 1980s and 90s, a crisis which still persists among African Americans and in large parts of Africa. The market was incapable of responding to the speed and scale at which HIV/AIDS spread through different communities during the early years of the outbreak. And when it came to gay men and trans women—two of the largest demographics affected at the time—sufferers were frequently let down by their biological families, too.
Despite the advances made by LGBT+ movements over the past 50 years, trans folk remain amongst the most marginalized of social groups.
Building on the community models of the Black Panthers, and feminist and gay-liberation healthcare initiatives from the 1970s, community organizations of varying sizes and political stripes emerged to fill the gaps. In the US and the UK groups like ACT UP, Gay Men Fighting AIDS, Buddies and the Terrence Higgins Trust drew together gay men, lesbians, second-wave feminists, and people of color to demand that the government, Big Pharma, and the general public wake up and care about the marginalized populations being decimated by the disease, while also developing initiatives that could provide care for them. The scale of the crisis meant that these bottom-up efforts could only ever be partially successful. Nevertheless, they sketched out an important model for looking after others and offered a vivid example that can help transform our notions of what constitutes caring kinship. We might call this kind of care network "strangers like me": forms of care carried out by strangers whose lives resemble our own.
The care for "strangers like me" has taken on an intriguing twist in our digital times. The digital sociologist Paul Byron has researched the often life-saving forms of care unfolding amongst trans people on the social media platform, Tumblr. Despite the advances made by LGBT+ movements over the past 50 years, trans folk remain amongst the most marginalized of social groups. They are at greater risk of violence, more likely to commit suicide and are severely under-resourced when it comes to their care needs. Byron's work shows how Tumblr constitutes an ideal space for this community to come together and provide care for each other.
Unlike other platforms, Tumblr does not require users to identify themselves on their profile, allowing them to visit the platform anonymously. This anonymity is vital for a group who either may not have fully come to terms with their gender identity, or for whom expressing it publicly could be life-threatening. As a result, Tumblr has become a site where trans people from around the world share information, advice and emotional support. It offers a space of organization, belonging and care. This phenomenon helps us think about the significant place of the digital in relation to care (beyond the exploitative models of platforms like care.com, which profits from inefficiently attempting to match gig-economy care workers with those in need of care), to encompass care towards people whom we do not know and cannot even see.
__________________________________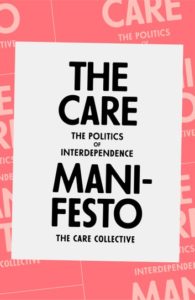 From The Care Manifesto by The Care Collective. Used with the permission of Verso Books. Copyright © 2020 by The Care Collective.
---