Oliverio Girondo's Absurd Cosmopolitan World
Meet the Flamboyant Poet of the Argentine Avant-Garde
Things are never only what they seem in Oliverio Girondo's early poems, and in fact they often merely imitate reality. In "Rio de Janeiro," the city "is a cardboard imitation of a porphyry city," and in "Siesta," Girondo writes, "How real, the landscape that looks fake!" "Café-Concert" ends with the line "The curtain, on closing, simulates a half-open curtain." Land and sea are inclined to mingle.
The poems are crisscrossed by the constant embarking and disembarking of ships, often metaphorically, so that elderly women "board" the nave of a church and weary, land-bound sailors "board" the city's cafés. The present moment mixes with memory, and nostalgia is a type of pipe smoke that wafts through the city. Sometimes a tavern is also a bullring, as in "Carousal," where the waiter inserts a corkscrew the way a picador jabs a bull with his lance. Everywhere, Girondo conveys the teeming metropolis with striking sensory details and playful comparisons. These lines from "Street Note" aptly summarize this urban experience: "I think about where I will store the kiosks, streetlamps, passersby that enter through my pupils. I feel so full I fear I'll burst . . . I might need to drop some ballast on the walkway." There are fleeting city scenes described as "notes" or "sketches," nocturnes, landscape poems, tango and nightclub poems, travel tales of ethnographic encounter, critiques of Catholic ritual, and a lone, unrhymed sonnet ("Siesta"). In one poem, Girondo announces the "Humble and humiliated song of urinals tired of singing!" in a twist on Marcel Duchamp's famous 1917 provocation. In these poems, the nightingale of lyric is replaced by a banal object already debased at an early moment of technological modernity. Car horns, shadows, and other elements of the evolving cityscape all take on intense feelings of their own.
The first two poetry collections published by the Argentine poet Oliverio Girondo, Twenty Poems to Be Read on the Streetcar (Veinte poems para ser leídos en el tranvía, 1922) and Decalcomania (Calcomanías, 1925), showcase Girondo's central place in the Argentine avant-garde, perhaps second only to his friend and sometime adversary, Jorge Luis Borges. Borges recalled his envy for the metropolitan ease of Girondo's poetry in the 1920s: "I saw him as so skillful, so apt at hopping off a streetcar in full stride, being reborn safe and sound amid the menace of car horns and stepping away from the passing crowd, that I felt provincial next to him." Borges and Girondo, along with their fellow writers in the famed Florida group of Buenos Aires, all wrote of what it meant to feel modern and worldly. They took cues from the avant-garde movements they observed first-hand or read about in Paris, Milan, Zurich, and Madrid. They joined a company of Latin American writers and artists making an entrance into the global avant-garde, such as Oswald de Andrade and Tarsila do Amaral of Brazil and Vicente Huidobro of Chile (with his one-person movement of "creationism"). The year 1922 alone saw the publication of Peruvian writer César Vallejo's Trilce, the establishment of Estridentismo in Mexico, the staging of The Modern Art Week in São Paulo, and the appearance of Borges's Ultraist manifesto.
Twenty Poems to Be Read on the Streetcar carves a distinctly Argentine path through the overwhelming experience of worldwide urban modernity, at home in Buenos Aires, Rio de Janeiro, and Dakar, as well as tourist hotspots in Western Europe: Douarnenez, Paris, Biarritz, Seville, Lago Maggiore, and Venice. The great Peruvian Marxist critic José Carlos Mariátegui marveled at how Girondo's poems absorbed sights, sounds, and literary techniques from European cities without diminishing his creole identity as a Latin American poet: "The Western metropolis has polished his five or more senses; but it has not slowed or spoiled them." He continues: "In Girondo's poetry, the embroidery is European, urban, cosmopolitan, but the weave is all Gaucho." When Girondo's friend Evar Méndez asked him for a prologue to the second edition, Girondo wrote an open letter to the culinary magazine La Púa, likening this creole cosmopolitanism to an ironclad Latin American stomach: "the best stomach in the world, an eclectic, very free stomach, able to digest, and to digest well, a northern herring or oriental couscous as much as a godwit cooked on an open flame or one of those epic Spanish chorizos." We might compare this to the 1928 "Anthropophagous Manifesto" of Oswald de Andrade, who thought Brazilian culture would flourish thanks to its cannibalistic capacity to digest and re-express cultural imports from Europe.
Twenty Poems offers an exuberant record of cities, cafés, ports of call, and picturesque seaside villages in an age where colonialism mixes overtly with global tourism. In a 1931 author's note, Girondo boasted, "I have lived 567 days at sea," and just so, a lyric sea diary offers some structure to the collection, knitting far-flung city scenes together. However, Girondo re-ordered the poems he composed to create jumps in time and space, rather than a neat chronological sequence.
For readers today, the title Twenty Poems to Be Read on the Streetcar may evoke an image of urban flânerie, exactly contemporary to Mário de Andrade's Paulicéia Desvairada (Hallucinated City, 1922), and a halfway mark between Charles Baudelaire's Les fleurs du mal (The Flowers of Evil, 1857) and Frank O'Hara's Lunch Poems (1965). Yet, unlike the City Lights "Pocket Poets" series where O'Hara's volume later appeared, Twenty Poems to Be Read on the Streetcar was not actually meant to fit into a back pocket and be perused on a morning commute. In fact, Girondo first published it in France in an oversize, demi-luxe edition, embossed and illustrated with his own watercolors. The idea of reading this particular volume of poems on a streetcar was an elaborate joke, as though such a large book could be casually flipped open while sitting shoulder to shoulder amid the tramway crowd. In 1925, Girondo republished Twenty Poems through the editorial house of the avant-garde journal Martín Fierro, this time in a cheap paperback "Streetcar Edition."
Between 1923 and 1925, Girondo traveled extensively in Spain and brought out his second book Decalcomania in Madrid, a sequence of ten long travel poems of wry observations about Spanish modernization. "Decalcomania" refers to an artistic process by which an image in one medium (such as a print) is transferred onto another medium (such as a ceramic vase or a canvas). The product is now known simply as a "decal." In the 1930s, many surrealist painters experimented with the technique, but a decade earlier Girondo employed the decal as a metaphor for a verbal construct, imagining the poem as a medium onto which the poet's sudden visual impressions are transferred. He observes Spain as a collection of outdated-yet-modern, ironic images that are ready-made to "impress" on the page. The poems can be understood as serialized "decals" of Spain, fantastic luggage stickers or guidebook illustrations, not unlike the sort of poetic implied by the title of Mina Loy's poem "Lunar Baedeker."
Girondo sold out the entire run of 5,000 copies in under a month by renting a six-horse funeral carriage attended by full livery, which paraded around town carrying a huge, papier-mâché scarecrow in a top hat and monocle.
Girondo's Decalcomania fit into a trend of literature depicting travel to Spain in the 1920s (readers may think of North American works by John Dos Passos, Ernest Hemingway, or Waldo Frank). These writers romanticized the pre-industrial character of picturesque "Old Spain," sometimes sidestepping mass poverty and growing political instability. Girondo's Decalcomania deflates that romance, and in this respect the poems prefigure the Italian scholar Mario Praz's anti-travelogue Unromantic Spain (1929), which lampooned North American tourists taking muleback tours to feel the thrill of life before the motorcar. Girondo's poems refuse to celebrate such lethargy. Not even the date Girondo liked to place at the end of each poem can be fixed amid Spain's halting adoption of technological standardization. "Express Train," a poem of exasperation at delayed travel, ends "Spain? 1870? . . . 1923? . . ."
*
Born into a wealthy family on August 17th, 1891 in Buenos Aires, the youngest of five brothers, Girondo saw his childhood home on Lavalle Street demolished in the 1930s for the construction of the grand July 9 Avenue. In life and in literature Girondo would often celebrate the convulsive processes of modernization or mock their failure to materialize. In 1900, at age eight, he accompanied his parents on a visit to attend the Exposition Universelle in Paris. He saw Oscar Wilde pass by with a sunflower in his lapel, the sort of sartorial detail his early poems frequently note. Insatiable for Europe, he returned often in his adolescence, studying at Louis Le Grand in Paris and Epsom College in Surrey, England. He struck a bargain with his parents in 1909: he agreed to study law if they consented to send him to Europe every year. By the mid 1910s, Girondo began frequenting the major literary salons in Buenos Aires. At the Hotel París, he met the Caras y caretas (Faces and Masks) magazine group and the poet Baldomero Fernández Moreno. In 1918 Girondo traveled again to Europe and Africa, and wrote for Caras y caretas about the Argentine Cubo-Futurist painter Emilio Pettoruti, whom he met in Lombardy.
Returning to Buenos Aires, he worked alongside Ricardo Güiraldes and Evar Méndez to reenergize the flagging journal Proa (Prow), which became an important outlet for his poetry. From April to August 1920 he again journeyed through Europe, composing poems along the way. These were the poems he gathered, in 1922, into Twenty Poems to Be Read on the Streetcar. The publication increased his visibility in the emerging vanguard, and when the editor Samuel Glusberg prompted Méndez to found a new journal called Martín Fierro (named after a previous magazine, which was in turn named after the outlaw hero of a famous 19th century gaucho poem), Méndez quickly drew Girondo into its orbit. Girondo wrote the group's 1924 manifesto and often filled the columns of the journal with his Membretes (Colophons). These pithy aphorisms borrow, as do Girondo's poems, from the style of the Spanish Ultraist Ramón Gomez de la Serna's invented genre of greguerías, or humorous one-liners. These hinge on a surprising or absurd metaphor, a signature rhetorical device of the Ultraist movement.
Martín Fierro had a nationalist edge to it, but it also imagined a Pan-Latin American and European audience, announcing the arrival of Argentine literature to a world readership. Girondo turned his cosmopolitan wanderlust into promotional work. In 1924, he traveled widely in Latin America, building a network of literary and intellectual exchange with vanguard groups in Peru, Cuba, and Mexico. He did not shy away from promoting his own works or keeping track of his admirers. Every Spanish critic who wrote a favorable review of Twenty Poems earned a dedication in a poem in Decals. The cheap "Streetcar Edition" of Twenty Poems was another promotional experiment. Later, with the publication of Espantapájaros: al alcance de todos (Scarecrow: Within the Reach of All, 1932), Girondo took his publicity stunts to new heights. He sold out the entire run of 5,000 copies in under a month by renting a six-horse funeral carriage attended by full livery, which paraded around town carrying a huge, papier-mâché scarecrow in a top hat and monocle. He then rented a shop on calle Florida where attractive young women were hired to sell the book.
In 1926, Girondo met a striking 20-year-old redhead named Norah Lange, the daughter of Norwegian and Irish immigrants, who was working as a clerk while publishing her first books of poetry. In most accounts, their love for one another came at the chagrin of a heartsick Jorge Luis Borges. The couple, who eventually married in 1943, held court at the center of the Buenos Aires avant-garde through much of the 1920s and 1930s, forging hijinks-fueled friendships with occasional visitors such as Pablo Neruda, Federico García Lorca, and Alfonso Reyes. When Girondo published Interlunio in 1937, Lange gave him a kind of public coronation, laureling him in a wreath made of electric lights. She also quipped that Girondo had transformed from playing the role of tireless traveler to that of "insular landowner," since he had purchased a house at calle Suipacha.
True enough, by the 1940s, his poems shied away from his earlier cosmopolitanism, tending toward a concern with national questions in books like Persuasión de los días (Persuasion of the Days, 1942) and especially in Campo Nuestro (Our Country, 1946). The most important work of his late career is En la masmédula (1955), a collection of poems that stretch, scatter, and recombine words with evident delight, and which reconfirmed his place in Argentine letters at the leading edge of verbal experimentation. Molly Weigl has wonderfully translated these poems as In the Moremarrow (2013).
Girondo remained a fixture of Argentine literature until his death in January 1967. By that time, what Pablo Neruda called the "iconoclastic excess" of Girondo's early poems held a distinct place in the story of Latin America's diminishing reliance on European cultural models. Neruda's long elegy "Oliverio Girondo" characterized that story in this way:
Se trata del inolvidable.
De su indeleble puntería
cuando borró la catedral
y con su risa de corcel
clausuró el turismo de Europa,
reveló el pánico del queso
frente a la francesa golosa
y dirigió al Guadalquivir
el disparo que merecía.
Oh primordial desenfadado!
Hacía tanta falta aquí tu iconoclasta desenfreno!
It has to do with the indelible.
With his unforgettable aim
when he wiped out the cathedral
and with his steed-like laugh
he ended tourism in Europe,
revealed the cheese's panic
as it faced the greedy Frenchwoman
and aimed at the Guadalquivir
the shot that it deserved.
Oh essential insouciant one!
How we needed your iconoclastic excess here!
__________________________________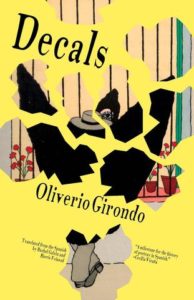 Adapted from Decals by Oliverio Girondo. Translated from the Spanish by Rachel Galvin and Harris Feinsod. Used with the permission of Open Letter. Introduction copyright © 2018 by Harris Feinsod and Rachel Galvin.
---