Older, Grayer, Sober: Aging Alongside the Jackass Dudes
Jonathan Russell Clark on the Changing Ethos of Skateboarding Culture
"It's heavy, dude."
–Steve-O, Jackass Forever
*
When I was 26, I took part in a weekend-long skate contest with a team of about ten other skaters. The contest was a New England version of Thrasher Magazine's iconic "King of the Road," in which groups of skaters are sent around the country with a list of tricks and tasks to accomplish scavenger-hunt-style while they travel around. The one I participated in was called "Search and Destroy" (a nod to Thrasher's slogan "Skate and Destroy"), and it was the wildest weekend of my life.
To begin with, we drank while we drove. Not drinking and then getting in a car, but getting in a car and then opening a beer. The skateboard brand Anti-Hero used to sell these covers that wrap around beer cans to make them look like Cokes or Mountain Dews. We brought 11 cases of Budweiser, a couple handles of Jim Beam, some champagne, and so much weed that our trip technically constituted trafficking. There's a photo of me in one of the vans (our crew was big enough to require two vehicles) taken from the other van. I've got a big shit-eating grin on my face (I was probably tipsy), and I'm holding the sliding door open, while we were driving on the highway. You can see our Budweiser-can-shaped cooler and my friend Mike holding a beer with one of the Anti-Hero covers on it.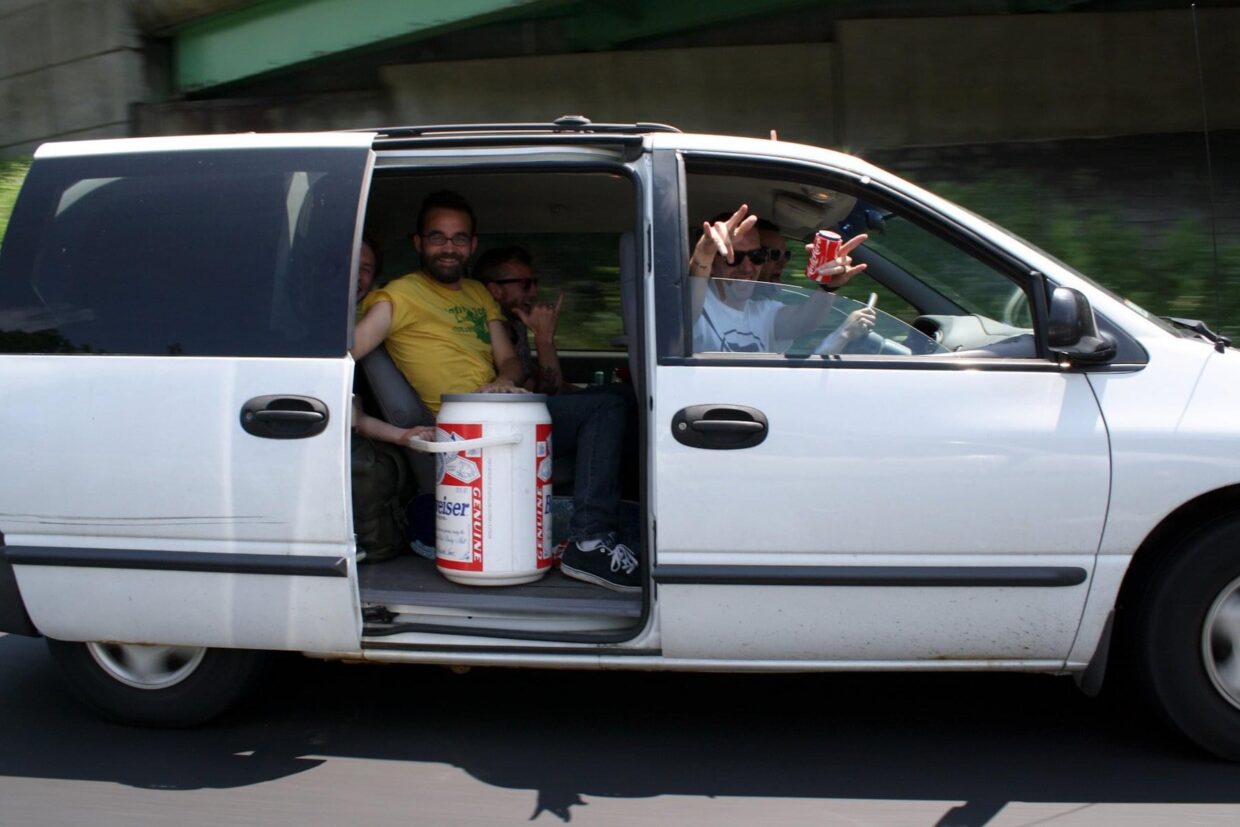 After arriving at some random small town in Maine late one night, we got a hotel and set out into the early morning hours. We drank beers and pushed along the nondescript streets until we came to a long but mostly mellow hill. Naturally, we decided to bomb it (which is just skateboarder speak for "ride down the hill") while lighting off fireworks. Did I mention we brought a ton of fireworks? We brought a ton of fireworks. Of course the cops came. Somehow, though, we didn't get into any trouble, probably because we were white. We tossed our beers (except for Mike, who miraculously hid his from view somehow) and mimed sobriety. We didn't get arrested or killed on this trip. We were lucky.
I tell this story because recently, someone asked me, "What's the craziest thing you've ever done?" Unsurprisingly, my mind jumped to skateboarding; what was surprising, though, was that the memories rarely involved actual tricks. Instead, I remembered things I'd done with my skater friends, actions that were, let's say, skateboarding adjacent.
Initially, I thought of my teenage years. For instance, in high school, my friend Larry often borrowed his mother's van for skate sessions. One winter, when the snow piles from plows amassed to person-sized hills, a couple of us climbed on top of Larry's mom's van while he crashed it into one of these freezing mounds, so that when it collided, we were sent flying off the roof and into the snow. I also became obsessed with dropping in off the roofs of buildings, which is technically a trick but is really a stunt—it required more recklessness than skill.
Our stupid antics, then, can be dismissed as the copycat idiocy of teenagers.
These memories occurred in the late 90s and early aughts, so it would be easy to dismiss them as the result of bad influence. In 1999, when I was 14, Landspeed Wheels released a skate video called CKY, an acronym referencing a band that stands for Camp Kill Yourself. The video was, along with the magazine Big Brother, one of the precursors to Jackass. It starred Bam Margera, Brandon DiCamillo, Ryan Dunn, Rake Yohn, Jess Margera (who was also the drummer of CKY), Mike Maldonado, Kerry Getz, and Brandon Novak, and it's basically an assemblage of skits, pranks, stunts, and skateboarding.
The skits are often very stupid. The pranks, looking back, feel like DIY Candid Camera, many of which are quite tame: DiCamillo drops a vase in front of passersby; Margera sings "Rock You Like a Hurricane" to random strangers. Sometimes, it's more like a punk version of Candid Camera—one of the recurring bits is Margera running through golf courses, pretending to trip, and rolling down hills directly into a group of golfers. (A few years later, in the first Jackass movie, this bit was significantly upgraded from rude to asshole: as a golfer raised a club to tee off, Johnny Knoxville set off an airhorn.)
The stunts, while low budget, are dangerous and daring and dumb—at one point, they tie a wooden sled to a car and pull Brandon Novak behind them. Sometimes they're mean and shitty, like when DiCamillo gets a soda from a fast-food drive-thru and throws it back into the window at the cashier. The skating remains rad. Margera does some crazy drop-ins (the inspiration for my roof shenanigans). Getz and Maldonado were in their prime, and there are cameos by legends like Tom Penny and Erik Ellington and Josh Kalis.
Watching it now, it's a lot choppier than I remembered. Throughout its 50-minute runtime are dozens of short clips of random shit. There's a brief montage of mullets, a clip of a guy picking his nose and eating his boogers on an airplane next to Getz, shots of various members of the crew hurting themselves or falling on purpose in public, DiCamillo and Margera hitting each other, and numerous other micro moments. There are also a lot of what can only be described as sports parodies: skits in which they play football in the snow, bowl in the woods, or joust in shopping carts. It is pure absurdist mayhem.
In May 2000, a sequel was released. CKY2K took things to the next level. The video quality was better, the falls were higher, the stunts wilder, and the pranks more extreme. DiCamillo (who really feels like the heart and soul of the first two videos) rubs a piece of his own poop on sleeping Ryan Dunn's chin and lips. Dunn, in response, pisses on DiCamillo's face as he sleeps. It's just as disjointed and silly as its predecessor, though there is a slightly more interesting aspect to the production. Margera and crew were in their early twenties, tasting success for the first time. They travel to Iceland, and there's a montage of beautiful Icelandic scenery set to techno band Orbital's "Halycon and On and On." Nothing really funny happens in these clips; I think those dudes were just in awe of a foreign and idyllic geography.
CKY2K is also horribly offensive. "Gay" and "retarded" are thrown around pejoratively. DiCamillo performs an extended freestyle rap in a cartoonish Asian accent that is filled with "chings" and "chongs." The initial release featured a 15-year-old boy exposing himself to patrons of a pizza place, but a lawsuit from the boy's parents forced Margera to edit out the scene from subsequent versions.
Oh, and one other thing they do: they climb on top of a van and drive it into snow piles.
Clearly, my friends and I were obsessed with these videos. Our stupid antics, then, can be dismissed as the copycat idiocy of teenagers.
While that may be true, the "Search and Destroy" trip wasn't the result of impressionable adolescents watching videos; it was part and parcel with the whole culture of skateboarding. The rise of Jackass in mainstream culture highlights something about the skating scene at the time, which is that it was fueled by drugs and alcohol. Outside of CKY and Big Brother, there were the Piss Drunx, a crew of popular skaters who, as you may have guessed, were heavy drinkers and chronic drug users. The 151 Skateboards video Too Loud for the Crowd from 1998 featured just as much drinking and puking as the CKY dudes. Watch almost any tour video and you'll inevitably see numerous clips of skaters raging. Judging purely by the footage from this era, any kid would assume that skateboarding and substances go hand in hand.
Which is not exactly an unexpected result. The very first mention of skateboarding in popular culture was a Life magazine cover featuring Patti McGee doing a handstand. The caption reads, "The craze and menace of skateboarding." From its first appearance in the mainstream, skateboarding connoted troublemaking misanthropy. Labeled a dangerous activity, for much of its history it was kept on the fringes, particularly in the late 80s and early 90s, when, for instance, there was a push to ban any boards featuring Natas Kaupas's name on it because his first name is Satan spelled backwards—this despite the fact that Natas's name is Lithuanian (a Baltic language) and only coincidentally inverts the Hebrew-derived (an Afroasiatic language) word for the devil. Kaupas would later use demonic imagery on his board graphics, but the ones from the 80s were mostly pictures of cats.
Judging purely by the footage from this era, any kid would assume that skateboarding and substances go hand in hand.
As a result of being kept outside the mainstream, skateboarders adopted an attitude of being anti-popular culture. They didn't happen to be fringe; they wanted to be. And like a lot of subcultures, especially ones revolving around kids, drugs and alcohol became a big part of the scene. By the time CKY and Big Brother and the Piss Drunx arrived, the association was pervasive. When Jackass launched and became one of the faces of skateboarding to the world, hard substances weren't merely supplemental but essential.
Today, the addiction issues of the Jackass crew are well known. Steve-O has gone on record to discuss how much weed, cocaine, PCP, meth, ketamine, Xanax, ecstasy, and nitrous oxide he used to abuse. In an interview with Page Six, Ehren McGhehey talked about how much pain they were constantly in and how painkillers quickly became a normal part of operations. Chris Raab's coke and alcohol addictions were so bad that he considered suicide and left Jackass after the first movie. Ryan Dunn died in a drunk-driving accident during which his Porsche went over 130 mph. There was a passenger with him who was also killed.
Intense substance abuse is unsustainable, and when it becomes intertwined with one's career, that career is unsustainable. Consequently, the skaters and Jackass stars who continued to work are mostly ones who got sober. Steve-O has been sober since 2008. Andrew Reynolds, of the Piss Drunx, has been sober for 20 years now. Brandon Novak is sober, too. A lot of skaters now abstain from drugs and alcohol because they are, after all, athletes. During the filming of the latest movie, Jackass Forever, the crew all accepted conditions to enforce sobriety: drug tests, breathalyzers, medications, and psychiatry. Everyone was able to follow the rules except Bam Margera, who was fired after he couldn't stay away from alcohol.
Jackass Forever features the kind of lunacy we've come to expect from Knoxville and co: testicles are beaten, bones broken, pain inflicted. In certain ways, the movie is an ode to the franchi'e's legacy. A number of the bits are callbacks: Knoxville faces off against a bull, as he did in Jackass 3D. He also brings back his Irving Zisman character from the other entries and the Bad Grandpa spinoff. Ehren McGhehey (the true VIP of the film) gets repeatedly pummeled and pranked on, most notably in an updated version of Knoxville's "Cup Test" from the first season of the show. Jackass Forever is gross and stupid and hilarious and true to its spirit, and as I watched it, I felt unexpectedly wistful. I had, after all, grown up alongside these guys. I, too, drank and skated and did dangerous things, and I, too, gave up alcohol because it was destroying my life.
As I sat in the theater and cackled at dudes waving their dicks around, I couldn't help but think seriously about a lot of this history. Skateboarding has come a long way since those raging eras of blackout drinking and indiscriminate ingesting. I quit drinking more than nine years ago, and it was the best decision I've ever made. For skaters, treating your body with the care of an athlete used to be considered lame. Being healthy and sober was, too. Things had to change so skaters could do more than just blaze bright and burn out fast. We want our skaters to have longer careers, to live past youth, so they can, as a local band from my hometown had it, "live through dying young."
Jackass Forever is hilarious and extreme and hugely entertaining. I laughed at one part so hard I almost choked. These guys are in their late forties and early fifties. They had to kick their addictions to stay alive, let alone continue to perform stunts. "Even children get older," Stevie Nicks told us, "I'm getting older, too." I'm glad we're all still here—older and grayer and sober, but just as willing as ever to do dumb shit.
---