Of Grief and Book Tours
Silas House on the Power of Collective Mourning
In the winter of 2015, I lost my aunt, Sis, who had been a second mother to me. Sis was foundational in so many ways—she fostered my love for cinema, bought me my first typewriter, my first guitar, most of my first books—and when she died, I was shattered. I had never lost anyone so close to me, and I was shocked to find myself on the floor, howling with pain. This was profound mourning: complex, physical, overwhelming. This was a grief riddled with regret, anger, and, most of all, deep sorrow. But life would not allow me to remain in the floor long.
Months before I had signed a contract that committed me to a job at the National University of Ireland at Galway as a visiting writer. The day after the funeral, I floated through the airports like a ghost, my husband steering me to my flights. I can barely remember delivering the lectures I had been hired to do, the dinners with faculty and students. Each day involved the process of waking up and realizing, again and again, that Sis was gone, that, although she had visited me in dreams, she had irreversibly died.
Nothing changes us more than grief.
I do remember moments of great beauty and wonder during my time in Ireland. The kindness of the people. The melancholy gray of the skies over Galway Bay. The incredible cleanness of the air as I rode a bicycle on Inishmore. I remember a sheepdog who followed alongside me on a grassy trail where I was walking and grieving. I squatted to pet him and he looked me right in the eyes as if to say, I have known great loss, too. He visited me on the path just when I needed him the most.
I have survived every trouble in my life by turning to the natural world, to dogs, books, and music. By writing through it. So I began to write a novel about a young man who is going through the worst grief imaginable. He has not only lost everyone he has ever known and loved but also his country. He is utterly alone, and he is undone in sorrow.
That novel, Lark Ascending, came out last month and I've been on book tour ever since. On my stops, I read passages and talk to people about the facets of the novel. I expected to spend most of our time together discussing its themes of dystopia, dogs, and Ireland. But what readers really want to talk about is the element of grief in the book, and their own grief. Many have lost people close to them in the last few years and feel the pandemic kept them from gaining closure. Others feel they are losing their own country to the division and vitriol that has increased so rapidly over the last few years.
I've discovered that I still need to talk about my own grief. While writing the novel made me feel as if my mourning had at least resulted in something positive, I still have a deep need to talk about my aunt and the loss that remains, as well as my fears for our democracy. It's been more healing for me than I could have imagined. Many in my audiences tell me it has been for them, too.
We don't know how to talk about grief, and we're doing it less.
We are not only going through our own personal griefs—loss of people, jobs, or even our rights—but also collective ones that feel like a gathering storm. Together we've witnessed shocking police brutality, environmental devastation, the extinction of species. We've read reports that a billion animals perished in the Australia fires, felt helpless as we watched bombs rain down on Ukraine, been stunned by school shootings. Many of us feel not only the weight of depression, but also PTSD. At least we talk about these collective griefs.
We seem less apt to speak up on our personal losses. If we're experiencing grief, we tend to not want to put it on others' shoulders. And if those we care about are going through it, we fear we will say the wrong thing. We don't know how to talk about grief, and we're doing it less.
Even before fears of spreading COVID reduced the number of funerals and wakes that were happening throughout the nation, public mourning was on the decrease. The National Funeral Directors Association says there are about 1,500 fewer funeral homes today than there were ten years ago, even though more people are dying now. There are many reasons people don't feel as strongly about funeralizing as they once did. Cost is chief among them; the median amount for a traditional funeral service with casket, viewing, and burial is now almost $10,000. As we become more secular and mobile we have also become less attentive to the particulars of celebrating our loved ones' lives and commemorating their deaths.
A century ago, most Americans participated in a well-regulated process of public mourning that may seem excessive—or even oppressive—from a modern point of view. However, wearing mourning clothes and refusing invitation to social events at least offered an invitation to acknowledge the sadness in one's life.
I grew up among rural people who constantly acknowledged death. Many of them had grown up on small farms, where mortality was always on display, whether because of a hog killing, squirrel hunting, or a chicken from the yard being eaten for Sunday dinner. Funerals have historically been a huge social affair in our culture and while my parents, who still live in Appalachia, continue to attend funerals on a regular basis, more people there are having smaller, more private affairs—or none at all.
In one of my signing lines a woman hovered at the end, waiting to talk to me. She told me that her husband had died alone because of Covid. "I'm haunted by that, every day," she said, her lips trembling. "But it's all made worse because I couldn't have a service for him, either." She lowered her voice and told me she had almost lost everything when he died at the height of their financial troubles. "But to hear people talk about it today makes me see that it's not too late. I can have my own memorial for him even if it is almost three years later. Just me and friends, and I don't have to pay anybody a dime."
I told her that sounded like an excellent idea to me. There are many ways to acknowledge grief openly. Some need an elaborate ceremony. Others just need to sit together and talk.
When my aunt died six years ago, the wake and funeral went on for two days. Family and friends stayed at the funeral home most of that time, publicly mourning. There was singing, preaching, and lots of storytelling. In one corner there was a group weeping and in another, a bunch laughing raucously as they recalled her wild past. She would have loved both reactions. As hard as it was to be there, crying in front of people, there was also something freeing. The hardest part was when I got onto that plane bound for Ireland the next day and went quiet.
Now that I am on book tour with a novel where grief has become a talking point I am reliving her death—and my reaction to it—just about every night. Sometimes it is difficult to speak about it in front of others without choking up. But more often I am thankful to give voice to the grief I am still carrying. Because that grief reminds me of the love.
______________________________________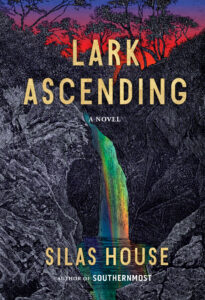 Lark Ascending by Silas House is available now via Algonquin. 
---