Of Course, Samuel Johnson Met James Boswell in a Bookstore
Where Else Do Men of Letters Pal Around?
James Boswell had been in London for half a year, and had still not met Samuel Johnson, much though he wanted to: he had read The Rambler and Rasselas, and admired Johnson as a master of wisdom. Thomas Sheridan, from whom he took elocution lessons in Edinburgh, was known to be a friend of Johnson's, and after renewing contact with Sheridan in London Boswell assumed an introduction would soon follow. But when he suggested it, Sheridan told him bitterly that they were no longer speaking. The reason, he claimed, was the disgust he felt when Johnson accepted a government pension of £300, and yet went on criticizing the prime minister and royal family.
Later on Boswell learned the full story. Johnson's was not the only pension awarded in 1762. Sheridan himself got one of £200. Lord Bute, the prime minister, was Scottish, and he was rewarding Sheridan for teaching Scots to talk like Englishmen and thereby to prosper in public careers. Johnson was indignant that someone he regarded as a mere actor should be honored in the same way as himself. When he heard about it he exclaimed, "What! have they given him a pension? Then it is time for me to give up mine." That jibe was duly communicated to Sheridan, who never forgave it. He was not mollified by hearing that Johnson added, "However, I am glad that Mr. Sheridan has a pension, for he is a very good man."
Johnson didn't much mind that his friendship was over with the prickly Sheridan, who greatly disliked being called "Sherry Derry." He was amused when he heard that Sheridan resented another of his wisecracks: "Sherry is dull, naturally dull; but it must have taken him a great deal of pains to become what we now see him. Such an excess of stupidity, Sir, is not in nature."
There was someone else who might connect Boswell with Johnson. A part-time actor named Thomas Davies kept a bookshop in Russell Street, close to the Covent Garden theaters. If a description by the satirist Charles Churchill is right, Davies wasn't much of an actor—"he mouths a sentence as curs mouth a bone"—but he was companionable, and Boswell became friendly with him. Davies mentioned that Johnson often dropped in at his shop, and the chances were good that an encounter with him could happen there. And now came the moment when, as Leslie Stephen says, Johnson "at last met the predestined biographer."
May 16th, 1763, began for Boswell like any other day, starting with breakfast with his friend Temple. In the afternoon he stopped in at Davies's shop and accepted an invitation to sit and drink tea. Suddenly Johnson appeared. In the Life of Johnson Boswell presents this as a dramatic turning point in his life: "Mr. Davies, having perceived him through the glass door in the room in which we were sitting, advancing towards us, announced his aweful [i.e., awe-inspiring] approach to me, somewhat in the manner of an actor in the part of Horatio when he addresses Hamlet on the appearance of his father's ghost: 'Look, my Lord, it comes.'" The Shakespeare allusion wasn't in Boswell's original journal. Davies probably didn't actually make the allusion at the time, and Boswell doesn't say he did. No doubt it occurred to him later as appropriate, which it certainly is. Johnson would indeed become an idealized father figure.
Davies introduced Johnson to Boswell, who immediately made a conversational blunder. "I was much agitated; and recollecting his prejudice against the Scotch, of which I had heard much, I said to Davies, 'Don't tell where I come from.' 'From Scotland,' cried Davies, roguishly. 'Mr. Johnson,' said I, 'I do indeed come from Scotland, but I cannot help it.' "
What Boswell meant was that he couldn't help being a Scot, but Johnson turned the phrase to mean that far too many Scots on the make were inundating England: "'That, Sir, I find, is what a very great many of your countrymen cannot help.' This stroke stunned me a good deal, and when we had sat down, I felt myself not a little embarrassed, and apprehensive of what might come next."
May 16th, 1763, began for Boswell like any other day, starting with breakfast with his friend Temple. In the afternoon he stopped in at Davies's shop and accepted an invitation to sit and drink tea. Suddenly Johnson appeared.
It's possible that this was not the gratuitous insult it's often taken to be. Johnson liked to test people with unexpected jabs, and this one has been persuasively described as "meant to tease and shock the starstruck and thus vulnerable young man." Throughout their entire relationship Johnson enjoyed pretending that he hated Scotland and the Scots, just to get a rise out of Boswell. Usually he was putting him on.
But when Boswell next spoke he made matters worse. Johnson mentioned to Davies that Garrick had refused to give him a theater ticket for his friend Anna Williams "because he knows the house will be full, and that an order would be worth three shillings." Boswell immediately put his foot in it. "Eager to take any opening to get into conversation with him, I ventured to say, 'Oh, Sir, I cannot think Mr. Garrick would grudge such a trifle to you.' 'Sir,' said he, with a stern look, 'I have known David Garrick longer than you have done, and I know no right you have to talk to me on this subject.' "Boswell acknowledged in the Life that it was "presumptuous in me, an entire stranger," to have any opinion about Johnson's relationship with one of his oldest friends.
The exchange illustrates something interesting about Boswell's writing methods. There is nothing in the original journal entry about Garrick refusing a ticket for Anna Williams, or about Johnson's "stern look." What does exist is a marginal memorandum in Boswell's manuscript: "Mem. Garrick refusing an order to Mrs. Williams etc." So the exchange did occur, but the version in the Life is an expansion of the story that Boswell created from memory more than 20 years later.
Boswell's faux pas and Johnson's retort might seem crushing, but Boswell was impossible to crush. He stayed on, joining the conversation only occasionally. After Johnson left Davies said, "Don't be uneasy. I can see he likes you very well."
A week later Boswell got up his courage and paid a call on Johnson in his lodgings; Davies probably told him that Johnson liked people to do that. "His brown suit of clothes looked very rusty; he had on a little old shriveled unpowdered wig, which was too small for his head; his shirt- neck and knees of his breeches were loose; his black worsted stockings ill drawn up; and he had a pair of unbuckled shoes by way of slippers. But all these slovenly particularities were forgotten the moment that he began to talk." Boswell was always vain about his own appearance, but deeply conscious that Johnson's value had nothing to do with costume.
Some other visitors soon got up to leave and Boswell did too, "but he cried, 'No, don't go away.' 'Sir,' said I, 'I am afraid that I intrude upon you. It is benevolent to allow me to sit and hear you.' He was pleased with this compliment, which I sincerely paid him." Johnson shook Boswell's hand cordially when he did leave, and he noted in his journal, "Upon my word, I am very fortunate. I shall cultivate this acquaintance."
In the Life Boswell says, "I found that I had a very perfect idea of Johnson's figure from the portrait of him painted by Sir Joshua Reynolds soon after he had published his Dictionary, in the attitude of sitting in his easy chair in deep meditation, which was the first picture his friend did for him, which Sir Joshua very kindly presented to me, and from which an engraving has been made for this work."
Actually that couldn't have happened. This particular portrait was unfinished, never shown in public or reproduced, and Boswell had not yet met Reynolds. Either he misremembered what went through his mind long before, or he simply needed to give readers of the Life a more positive first impression of Johnson than the uncouth, growling figure he had described in his unpublished journal. By using it as the frontispiece he could encourage readers to turn directly from the narrative to the image, which has been described as seeing Johnson "through the eyes of an admiring young stranger, an enigmatic, portentous figure." Reynolds was 14 years younger than Johnson, and not yet a friend when he painted it.
By the time Boswell left for Holland, less than three months later, an enduring friendship had been formed. It has been well said that Johnson saw in him "a being whose human need for just what he had to give was very nearly desperate." Their relationship lasted for 21 years, until Johnson's death in 1784, and all that time Boswell constantly relied on him for the advice, encouragement, and love he never got from Lord Auchinleck. The great biography that developed from their relationship represents "the almost involuntary tribute of a great human weakness to a great human strength." It was far from involuntary, though. It was the one thing in Boswell's life that he ever challenged himself to do as well as he possibly could.
__________________________________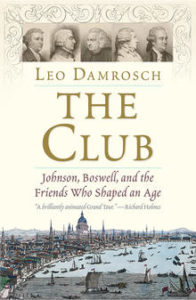 Excerpted from The Club: Johnson, Boswell, and the Friends Who Shaped an Age, by Leo Damrosch, just published by Yale University Press. Copyright © 2019 by Leo Damrosch. Reprinted by permission of Yale University Press.
---