Last week, Gothamist invited readers to choose their favorite New York book from a list curated by librarians at the New York Public Library. The books on the list were The Catcher in the Rye, Just Kids, The Amazing Adventures of Cavalier and Klay, The House of Mirth, Bonfire of the Vanities, Jazz, Motherless Brooklyn, A Little Life, Another Brooklyn, The Price of Salt, The Mambo Kings Play Songs of Love, Open City, and Native Speaker.
Since the upcoming New York mayoral primary will allow voters to used ranked-choice voting for the first time, Gothamist structured their ballot the same way. In the ends, 3423 readers elected The Catcher in the Rye as their city's fictional representative.
This is fairly boring but also entirely predictable, as A) a lot of people really like that book, and B) a lot of people stop reading for pleasure entirely after high school.
Far more interesting to me were the results when Gothamist put same question to mayoral candidates—without a list to choose from. It brings me no joy—but again, no surprise—to report that current front-runner Andrew Yang (who loves New Yorky shit like bodegas and escaping to his country house) still chose The Catcher in the Rye. Out of all the New York books in the world.
The other candidates, at least, was considerably more imaginative: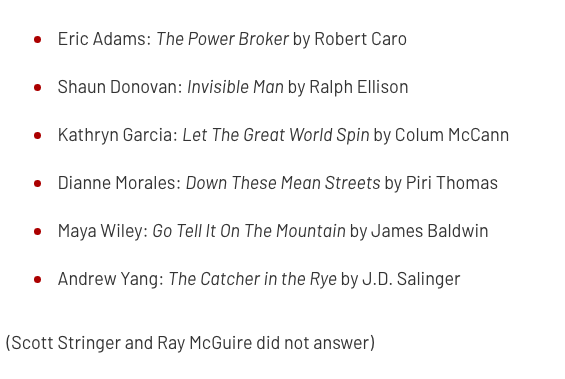 To be fair to Yang, having a really boring answer to a softball literary question is not even close to the worst thing he did this week.