October's 8 Best SF and Fantasy Books
Cozy Up With New Releases by Mur Lafferty, H.A. Clarke, Alan Moore, and, Well, More

The hits just keep coming: As autumn descends with blessedly cooler temperatures and falling leaves, so too drop some excellent science fiction and fantasy books. We already sung the praises of Elijah Kinch Spector's clever debut Kalyna the Soothsayer in August, but that's moved to October, so be sure to add it to your TBR. Otherwise, there's Saturnalia celebrations, Martian mathematics messages, and murder mysteries in spaaace. Plus, new works from comics legends like Alan Moore (in a short fiction collection) and Brian K. Vaughan and Fiona Staples (with the return of their beloved comic book series Saga).
*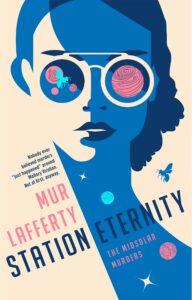 Station Eternity by Mur Lafferty
(Berkley Books, October 4)
This year's SFF has had just the best hooks, with "Miss Marple on a space station" right up there. But because this is Mur Lafferty, who already won at the locked-room murder mystery with Six Wakes, she adds a snarky but necessary twist to the Marple influence: Imagine if people kept getting murdered around you, and you were something between a constant suspect and an amateur detective despite solving every single case. It would ruin any chance at a normal life with relationships and the ability to put down roots. So no surprise that Mallory Viridian turns herself into a pariah by escaping to space… but when a shuttle of humans prepares to dock at the sentient Station Eternity, Mal will have to draw upon her preternatural crime-solving ability once again.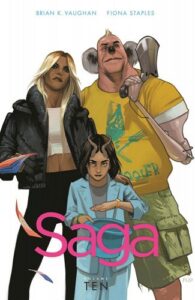 Saga Volume 10 by Brian K. Vaughan and Fiona Staples
(Image Comics, October 5)
Brian K. Vaughan and Fiona Staples' expansive space opera series about star-crossed lovers turned surprise parents left us on the most devastating cliffhanger imaginable in 2018… and then a few things happened to utterly change our world. But Saga, which has been running since 2012, was only halfway through its planned run, so we knew it was only a matter of time before Hazel and her family (blood, found/chosen, ghosts, and otherwise) returned with the next chapter in her childhood. This latest volume collects all of the issues from 2022 (including the double-sized return issue from the start of the year), as Hazel's exploration of magic, just like her impossible existence, yet again radically changes how her parents' two warring races see the universe.
Saturnalia by Stephanie Feldman
(Unnamed Press, October 11)
I haven't always been one for occult secret society stories because they can be almost too removed from reality, but Stephanie Feldman's latest seems grounded in the relatable: Philadelphia's Saturn Club is an elite social tier full of its own pecking-order bullshit, which is why Nina walked away from it three years ago. There's also the fact that its annual celebration of Saturnalia, or the winter solstice (which has become as entrenched in American culture as Thanksgiving) is a holiday for ignoring the looming climate change, which feels very much like something our present world would do. But when Nina gets an enticing invite to don her blackest black dress and the anonymity of a mask to plunge back into that genteel underworld, of course she can't resist. Because when you're most ignoring the problem is when it's also most likely to become a world-changing issue—and I'm willing to bet that the Saturn Club doesn't just flirt with the occult, but may be harnessing some real powers on the solstice.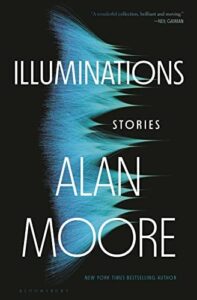 Illuminations: Stories by Alan Moore
(Bloomsbury Publishing, October 11)
At this year's U.S. Book Show, Alan Moore described the short story as "the best form for any writer to start and presumably end their career with." Big emphasis on presumably—the comics stalwart and novelist (Jerusalem) will soon be embarking on a five-novel fantasy series called Long London. But that's not out til 2024, and in the meantime there's Illuminations, a collection of nine pieces spanning forty years of Moore's illustrious career. Certainly the biggest draw for Watchmen fans will be the novella "What We Can Know About Thunderman," which bitingly retells comics history (through thinly veiled aliases) and examines the chasm between the original medium and the cinematic attempts at adaptation. But there are also shorts like "A Hypothetical Lizard," which was adapted into a comic in 2007 but now is present in its original prose form. As you might have guessed from the collection's title, each entry involves some level of illumination or realization, as processed through Moore's wild imagination.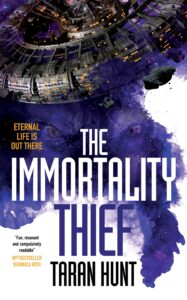 The Immortality Thief by Taran Hunt
(Solaris, October 11)
Though a certain fantasy series kind of cornered the market on the Philosopher's Stone, it's nice to be reminded that this mythical alchemical artifact has existed for centuries and that it can be used in other narrative contexts—like in Taran Hunt's sci-fi adventure debut. This fast-paced space heist drops criminal (slash linguist slash refugee) Sean Wren into an abandoned ship on the edge of a dying star about to go supernova. Days away from being wiped out is a good ticking clock for a thief who must snatch a chance at immortality for the human Republic mounting a last stand against the ruling alien Ministers. Whether Wren's talent for ancient languages will let him decipher the Philosopher's Stone, while fending off the claustrophobic spaceship's inhuman inhabitants, is another matter entirely.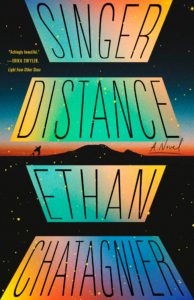 Singer Distance by Ethan Chatagnier
(Tin House Books, October 18)
With TV series like For All Mankind and Mary Robinette Kowal's Lady Astronaut books, there's a rising subgenre of alternate history SF wondering how Earth's relationship to space and other planets might have changed depending on various factors: a shift in the space race, a meteorite turning up the Doomsday Clock on our little planet… or if Mars started communicating with us. Such is the case in Ethan Chatagnier's (Warnings from the Future) debut novel, set in a version of the 1960s where Earth has been communicating with Mars since 1894 via symbols carved (or burnt, or planted) into its surface. MIT genius Crystal Singer is the latest would-be messenger who thinks she has solved the Martians' impossible math; but when she manages to start up the conversation again, her own disappearance prompts her boyfriend Rick and their hippie friends to ponder just how much distance is actually between Crystal and her fellow Earthlings.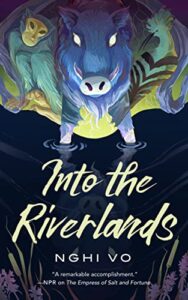 Into the Riverlands by Nghi Vo
(Tordotcom Publishing, October 25)
Nghi Vo's latest installment in the Singing Hills Cycle of novellas sees wandering cleric Chih, accompanied by their talking bird companion Almost Brilliant, recording the stories of the riverlands' martial artists. But considering these legends' near-immortal lifespans as well as differences in perspective and memory, Chih learns that there is no single story but rather various retellings—including concerning the adventures of Chih themself. The Singing Hills Cycle can be read in any order, but this seems the perfect entry point for new readers.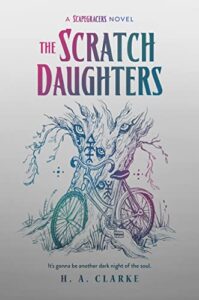 The Scratch Daughters by H.A. Clarke
(Erewhon Books, October 25)
My favorite way to describe August Clarke's witchy 2020 banger The Scapegracers is that it's got The Craftvibes but for readers like me who by dint of age or generation just happened to miss The Craft. (I'm much more of a Practical Magic gal.) It also doesn't feel like it's trying to capture that specific moment of 1990s cinematic history, but is hip to the times without pandering to Gen Z, or any generation, for that matter. It's sharp, it's queer, it's techy, it's spiky, it's magical: Social outcast Sidways Pike found her unlikely coven in the cool girls and the incredible spells they conjured together, but now she's back to being on her own. As she chases down the infuriatingly hot girl who stole her specter (a.k.a. what makes her a witch), Sideways may not be able to rely on anyone but Mr. Scratch, the inky book devil she's let possess her. But a specter-less daughter of Scratch is her own force to be reckoned with.
*
Natalie Zutter is a Brooklyn-based playwright and pop culture critic whose work has appeared on Tor.com, NPR Books, Den of Geek, and elsewhere. Find her on Twitter @nataliezutter.
---