October 9, 1967
October 9, 1967
Monday
Yesterday morning, when Fred Wright, a handyman, got back to the basement on Avenue B where he sleeps, he found two bodies next to the furnace: that of 18-year-old Linda Rae Fitzpatrick and that of 21-year-old James H. Hutchinson, both of them nude and lying on their stomachs, beaten to death, heads bashed in. The girl, from a wealthy Connecticut family, had been having a go at life with the hippies and unemployed in Manhattan's East Village for only a few weeks; the boy was known as a cheap source of LSD, marijuana, and barbiturates. People called him "Groovy," someone who knew the ropes, knew his way around.
Another picture shows a little girl surrounded by dense foliage. Black hair, black dress, a bit preoccupied with her serious task, she is marching a downed US pilot somewhere at the point of a cute little gun. His head is hanging forward as if the tendons in his neck have been torn.
Showers likely today.
Without closing her eyes, Lisbeth Cresspahl could see before them her mother writing the letters Lisbeth received from Jerichow that November 1932. The old woman sitting at the kitchen table where she could stare at the granary wall while she thought, the wall still often painted with yellow and the shadows of swaying branches by the low sun. Long pauses while searching her mind for the week's stories, head raised to the cool courtyard light, gaze fixed and unseeing. On Sunday, Papenbrock would add frivolous underlining and exclamation marks to all the Bible quotations and invocations to God she had put in. The fights between them had long since withered into teasing, and lately Lisbeth Cresspahl was starting to think that she and Cresspahl weren't far from the same arrangement.
Every Monday afternoon, whether the sea wind was sweeping wide shirttails of rain through the city streets or not, Louise Papenbrock would walk to the post office with her letter for England, look everyone on the sidewalk straight in the eye, stand in line with the letter there in her hand for all to see, and every time she would ask Knever, the senior postal clerk, to weigh it again and adjust the postage, so the letter scale in Papenbrock's office became something else they talked about in Jerichow. Her goal was to make sure people knew that she'd married off two daughters—one of them, admittedly, under police observation in Krakow at the moment, but the other prosperous, respected, and even abroad.
The more vaguely she described the news from Krakow, the easier it was to imagine what it might be. Just what you'd suspect from Hilde Papenbrock. She refused to take sides against her husband, Dr. Paepcke, former lawyer and notary, even when he used what his father-in-law had said was absolutely and irrevocably the last loan to lease a brickworks rather than pay back his earlier misappropriations. She let herself be talked into thinking there'd be enough of a profit to take care of their debts, and let him make it up to her for her worries with trips to Berlin, visits to one country estate after another, parties in the Krasemann am See spa hotel. Rumor had it she worshipped the ground her Alexander walked on; the fact was, she didn't want to rob him of any fun. As a child, when she'd done something wrong, her eyelids would flutter, escaping her conscious control for a few seconds. Now, on a calm wet night, the brickworks had burned down. The Paepckes could prove that they were at the city cinema, but when they
drove up to their house around midnight the police were there already, and they refused to come in for a drink, and they were inclined to accuse the gentleman of being there, and of arson, given that their insurance policy had just been increased. Hilde Paepcke was asked whether she knew anything about any Hindenburg lights. Whereupon she'd denied it a bit too quickly and categorically.
It's not my family, Cresspahl.
It's our family now, Lisbeth.
Eventually you'll have to bail them out too.
I will not bail out total stupidity. They put a Hindenburg light on a brick floor. Any child could see how that fire started.
The news about Horst Papenbrock was that the threatened encroachment on his inheritance had made him downright agreeable. Plus he was crestfallen at the Nazis' poor showing in the Reichstag election of November 6: as he saw it, his group's destiny was one smooth swift rise. He even seemed conciliatory to the sister who'd given up Germany for England, and in one letter he enclosed a photograph of a girl: a buxom brunette, her youth making her almost attractive if only she wouldn't keep her face so stiff. Elisabeth Lieplow, from Kröpelin. The picture showed her in a sleeveless white jersey, on its breast the emblem of the Bund Deutscher Mädel, the girls' Hitler Youth. With swastika. He asked for the picture back, but asked Lisbeth to make sure old Papenbrock didn't see it, not yet.
And Lisbeth Cresspahl, at the end of a long and detailed letter about the business situation and Richmond Park and cooking recipes, added a short P.S. – In March: she wrote. – Early March. Cresspahl hopes it's a girl. If I have my way, it'll be a boy, named Heinrich.
You mean Henry.
Yes, Cresspahl, I mean Henry.
That year, Adolf Hitler finally managed, with the help of an amenable senior official in Brunswick, to become an official citizen of the German Reich.
__________________________________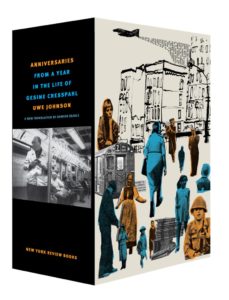 From Anniversaries. Courtesy of New York Review Books. Copyright by Uwe Johnson. English translation copyright 2018 by Damion Searls.
---