No Part of the World
by Stefanie de Velasco
At the Festival Neue Literatur, A Crash Course in Contemporary German Literature
Stefanie de Velasco will take part in this year's Festival Neue Literatur, March 28–31. To reserve your seat, click here. The following was translated by Tim Mohr. 
__________________________________
"Esther!" Mother calls.
There's thick black smoke far off on the horizon. Fire, fire! There's no fire. It's only the smokestacks. Like old, smoking sugarloaves. They'll be demolished soon, Sister Lehmann said. Nobody makes Feuerzangenbowle, she said, and even if they did, not out of those things. There's already a sign up, I can see it from my window, gleaming white as if aliens had planted it: Future site of Globus Garden Superstore, and behind the sign a soot-covered brick façade and a rusted gate. Nobody ever goes in or out, you'd be able to see them from my window. But despite that, the entire complex is surrounded by rusty barbed wire. Who would ever want to go in there anyway?
A narrow river slithers past the factory, light-colored runoff foam as stiff and dense as whipped cream gathers along the banks, the sight alone's enough to make you sick. Along the river stand buildings, the walls not gray, not brown. Someone needs to come up with a name for that color. Grawn. Almost all the roofs have collapsed, the windows are broken, out of rage or done in by time. On the ground floor they're patched with cardboard, bullet holes everywhere. Is that still from the war? Couldn't be, it's too long ago. Maybe it was a hailstorm. You could believe anything about those walls, even that they could be pockmarked by hail. You have to be careful on the streets. Chunks of stone are always breaking off and falling down. They're white and porous. On Sundays the people here sweep it all into into the courtyards. There it adds to the ever larger piles of rubble.
I wondered for a long time what it was those stone chunks reminded me of. I squatted down, picked them up, weighed them in my hand and rubbed them between my fingers, and then I realized what it was. When dogs eat too many bones they leave something like this behind. Sulamith and I used to sometimes mistake the stuff for chalk when we found it along the path in the field next to our raspberry patch. We'd use it to draw on the walkway at the entrance to our garage. I tried to write my name with it, the S in the middle facing the wrong way because I didn't know any better because I couldn't write properly yet, and Sulamith drew our building, me standing in front of the door and Mother and Father sticking their heads out the window, heads that were triangles, pointed chins, the noses just a line and two circles, gigantic nostrils, they looked really deformed, until Sulamith suddenly dropped the chalk.
It's dog shit! I'd never heard anyone I knew say that word out loud. Dog shit, it sounded as harsh as frying a chocolate bar in a pan. Unlike Sulamith, I've never been any good at drawing. And I can't tell the difference between dog shit and chalk, which is no good. But if I were good at drawing and I had to draw everything outside, the gray smoke-filled sky, the factory, the river, I'd draw it all with these chunks of stone, I'd take pieces from the rubble piles in the courtyards and keep drawing until there were no more rubble piles, no more buildings, long enough to get rid of everything, until there was nothing left here at all.
"Esther!" calls Mother again.
Sulamith's clothes are hanging out in the yard. I hung them in front of my window so I wouldn't have to see everything out there, the smokestacks, the crumbling buildings, the polluted river, the red sea. The red sea, that's what mother said yesterday at our first meeting. Everyone brought chairs from home because there aren't any in the hall. The roof is done but otherwise almost everything else still just looks the way an unfinished building looks. It was bitter cold. The walls aren't plastered yet, there's no carpeting. We'll be the first here in Waldleben with central heating, but it hasn't been installed yet.
Sister Wolf hobbled over to me, her artificial hip makes her walk like she's on uneven stilts. You're not a child anymore, she'd said, clapping her hands in front of her face like it was some sort of marvel, like growing up and getting older was a challenge. Her breath smelled of the plaque that gathers between back teeth when knotty fingers can no longer clean them well enough. Just like Luise, she'd said, the only thing missing is the braids. Anton Wolf was standing behind her. He laughed, a gravelly laugh, and like an old train the pitch of his laugh went up as it passed. The light of the ceiling lamp fractured like a Roman mosaic in his ancient eyes. His gaze went through me at the height of my jugular like an arrow into the past, a past when he'd once been as old as me, or as young.
We're still studying The Greatest Man Who Ever Lived. Books opened, the entire congregation sat down on brought-from-home chairs. It smelled of paint, the fluorescent lights on the ceiling crackled like rickety old bones. Gabriel stood next to Father on the stage and read aloud. He's the same age as I am and was baptized at the most recent summer congress. His parents are special pioneers, just like my mother and father. I can't imagine how anyone could manage to do 120 hours of fieldwork per month while underground.
Gabriel reminds me of Tobias. Just like Tobias he wears suits that are too big for him so he can grow into them, and just like Tobias he blushes easily and is apparently always hungry. After the meeting he pulled out a stick of dried salami and sucked on it like candy. His ears flushed bright red when he read aloud yesterday, as if there were something dirty about the passage, though it was just about Jesus going out to sea with Peter. A strong storm comes in, water spills into the boat, threatening to sink it. Peter gets scared and throws himself at Jesus's feet, but Jesus just passes his hand over Peter's head and says, from today on you will fish for men.
When Father posed the first question to the circle, Mother had volunteered. Her slender hand went up, Karin and the other sisters looked at Mother's manicured fingers, they stared at the red nail polish, the white blouse with the narrow lace collar and blue trim, they stared at the pencil skirt that clung to Mother's long legs, down to her fine patent leather shoes, and then at me, as if I were something like a lace collar or fine shoes. An accessory, as they say. Sister Lehmann was the only one unimpressed by Mother's getup. What do you want here? It was written across her face, this question and the inability to imagine leaving one's home only to start over again from scratch in this particular corner of the earth, of all places. Her newborn began to cry, she picked the baby up and put it to her breast. Her dark top was covered with milk stains. Mother had never had milk stains on her things. Mother had never nursed me.
When Father finally called on Mother, she'd spoken extensively on the passage and then she'd said, that's exactly the reason we were sent here. To fish for the last people before the great tribulation comes, because that's our mission, regardless of whether we're special pioneers, regular pioneers, auxiliary pioneers, baptized publishers or unbaptized publishers. Here, Mother had said, here lies the red sea. The red sea is full of fish. Jehovah parted it, and then he brought it back together. Now we come and fish until there are no human fish left.
Up on the ceiling a moth flew into the fluorescent bulbs, it careened into the lights, over and over again, eventually bouncing off and dropping down on us, dead. That's how Lucifer and his demons must have fallen when they were thrown out of heaven, Sulamith would have said. Sometimes she'd thought up profane sentences like that, not out of disrespect, simply to be able to deal with things a little better. I got goosebumps, not sure whether it's the cold or because it scares me that I hear Sulamith talking to me so often, that she's always still with me, sitting next to me on one of these hard folding chairs that must have been Grandmother's. Sulamith scratches her neck, tugs on a loose thread on her sock, unraveling it.
She stares at her book. The Greatest Man Who Ever Lived, Jesus and Peter in a boat. She takes a pen and draws speech bubbles above the heads of Jesus and Peter. In the one above Peter she writes It'll be asparagus season soon! and in the one over Jesus she writes: Sail away!, and then she draws a Beck's logo on the boat. Now Jesus looks like a party animal, and Peter no longer looks doubtful, he just looks like somebody anxiously awaiting his next plate of asparagus.
I felt her long hair on my forearm, that blonde impenetrable mat, and how she was trembling on the verge of laughter, but then I saw that it wasn't a mat of hair, it was my mother's blouse touching my arm, Mother with her Lady Di haircut, and then everything rushed back, as if I were experiencing it all for the first time again. Sulamith isn't around anymore. They'd awoken me in the middle of the night and bundled me into the car. I screamed and cried when we arrived here the next morning, but it didn't help. It's for your own good, Father had said, you'll thank us for it one day, Mother had said.
I still have to get used to Mother. I just can't call her Mama anymore, not since the whole thing with Sulamith. I always called Mother Mama. Now I don't address her at all. I avoid situations where I have to address her directly. It's the same with Father, but it's easier. There's no occasion when I need to address Father. Father's always out. As soon as this hall is finished, he'll make his way to other places where additional halls need to be built, where people need to be led to the truth, places where we're not yet known or are already banned.
"Esther!" Mother calls again, "get down here!"
The entire house smells of lentil soup. The scent makes me ill. Father is sitting at the dining table in the living room, his elbows resting on the tablecloth, white with blue trim. It's the same fabric Mother made us dresses out of for the 14th of Nisan. Father looks around as if he were a guest in a strange house, even though he grew up here. There are very few traces of Grandmother left here. The bench on the terrace, rusted tools and an old shoe polish kit, a couple washcloths and the cards that I found stuck to the inside top of my bureau, where the drawers go. I can barely remember what it looked like here when I was a child. Grandmother lived in a nursing home during her final years. Mother and I hardly ever came here, too dangerous. Father couldn't even come with us to her funeral. The way he sits there looking around nervously, as if someone might ambush him from behind at any moment. I'd really like to know what the story is with the cards, why they were hidden in the bureau like that. They must be Father's, it's his old room, the awkward child's handwriting.
Mother comes in with a steaming bowl. Unlike Father, the change of location hasn't affected her, on the contrary, she's fully adjusted, even her new sewing room up in the attic already looks just as organized as the one at home.
Mother ladles out soup.
"Next week the bathrooms and heating will be installed," says Father.
"In the hall?" asks Mother.
Father nods.
"Hopefully you'll be home more often after that," says mother.
I can't help cracking a smile. Home, that sounds funny. As if this place could ever be our home, and as if Father could ever stay home for more than two months at a time.
He bows his head and folds his hands.
"Herr Jehovah, enthroned in heaven, hallowed be thy name. We thank you for the food you've put on our table, and that we may eat together as a family in peace. We thank you that we may build a place of worship here, in an area where the truth and good news were for so long unable to be heard. Let us arrive here and, together with our new brothers and sisters, who were steadfast for so long despite persecution, proclaim your good news. Amen."
"Amen," says Mother.
"Amen," I murmur.
I pick up the spoon and dunk it into the brown lentil sea. Mother passes me the bread basket and motions to the thick slices of gray bread.
"No, thanks," I say.
Father pulls out the daily texts from the drawer next to him, flips through them until he's found today's date.
"So keep yourselves in expectation of me," Father reads aloud. "To pour out on them my indignation, all my burning anger; for by the fire of my zeal the whole earth shall be consumed."
I choke down a spoonful of lentils.
"For then I will change the language of the peoples to a pure language, so that all of them may call on the name of Jehovah, to serve him shoulder to shoulder."
Pure language, that was also the title of our last congress, in summer. Barely two months ago and I can't recall a thing, all the hours I sat there gone, as if painted over with black paint. It was Sulamith's last congress. Congo, she always said, and that's how she always marked the congress in her school calendar, with that word. Congo, congo, congo, congo, as if she had to travel to a strange, dangerous country for a long weekend.
"Esther?"
Mother puts down her spoon.
"I asked you something."
"What?"
Father shakes his head and takes a sip of rose hip tea, Sulamith's black dress, like she was going to her own funeral, her blubbering face. The way Lidia yanked her into Papa's car. Her screams, how she dug her long fingernails into Lidia's arms in the back seat. The strong smell of cold sweat that wafted from there into the front seat. Lidia's heavy breathing and next to me Father, who stubbornly sped down the autobahn.
Mother stands up and returns with the quiz cards. She shuffles them and then puts a small stack of them in front of each of us. Father starts.
"What are the names of Noah's three sons?"
"Shem, Ham, and Japheth," I say.
I pick up a card.
"What words appear on the wall at the feast of King Belshazzar and are interpreted by the prophet Daniel?"
"MENE, MENE, TEKEL, and UPHARSIN," says Mother.
"And what do they mean?" asks Father, looking at me.
"MENE. God has numbered the days of your kingdom and brought it to an end. TEKEL. You have been weighed and found wanting. UPHARSIN. Your kingdom is divided and given to the Medes and Persians."
Father nods with satisfaction.
Mother picks up a card from her stack.
"How many pieces make up the armor of God?"
Father leans back, chews and slurps.
"It consists of six pieces. The belt of truth, the breastplate of righteousness, the sandals of the gospel of peace. The shield of faith, the helmet of salvation, and the sword of the spirit, which is the word of God."
I take a sip of tea and wash down the rest of the lentils.
"May I be excused?"
"Wait," says Father, tapping on the cards. "This can't be a coincidence. For what does Esau sell his birthright?"
I shove my empty plate to the side.
"For a bowl of lentils. May I be excused?"
"Don't you want any dessert?" Mother asks.
"No," I say.
It's time for you to start going to school again," says Father.
Mother nods.
"Are you looking forward to it?"
"No," I say.
Sulamith's clothes flap in the wind outside my window. A pair of jeans, socks, underwear, a blue sweater, and a t-shirt. Fruit of the Loom it says on the t-shirt, and beneath that a little basket of fruit. The t-shirt has watermelons printed all over it. Sulamith loved fruit prints. Can you get watermelon here during the summer? They finished a new road here a few days ago. It goes from the train station out to the fields. They built a supermarket at the end of the road, in the middle of a hayfield. It looks like a Playmobil carton that's landed in the mud.
I was there yesterday. I wanted to buy some laundry detergent with my pocket money, but the store hasn't opened yet, so I washed Sulamith's things with Mother's expensive shampoo. I washed each item individually in the sink, by hand, as if they were made of silk. Sulamith's things were always lying around my room back home. School books, clothing, jewelry. She stayed over a lot, sometimes for weeks at a time if Lidia had to go back into the clinic. We'd eat breakfast together in the morning and read the text of the day. Mama took turns quizzing us as if we were sisters, and then we'd ride to school on our bikes, the same juice boxes in our bags, the same sandwiches spread with the same chocolate spread.
Before the evening coal dust comes, I'll bring in the clothes. They won't smell like Mother's expensive shampoo, but they wouldn't anyway, even if I had dried them in the house. The stench from outside oozes in through every crack. I don't know how to describe it. Disinfectant, gasoline, coal. All that mixes with the scent of wild animals. It smells like a zoo, as if there were tigers and camels living nearby.
Down in the kitchen, Mother is cursing to herself. She can't get the damn coal stove started. She would take the Lord's name in vain if she could. Brother Lehmann showed us how it works, several times. First light some old newspaper, then put some kindling on top, open the vent so it can draw air. Coal on top of that, and wait half an hour. But it still doesn't work right for us. Mother just isn't used to this type of heating, and, like me, will never get used to this type of heating, to the mess it makes and the black soot that smears on the toilet paper when you blow your nose in the morning. The coal shovel clangs on the kitchen tiles. Mother comes up the stairs and pushes open the door to my room.
"Bring in the washing. It won't dry properly in this weather. What is that stuff, anyway? They're all summer things."
"They're Sulamith's."
Mother's eyes widen.
"What are they doing here?"
"They were in one of the moving boxes."
"Hang them up. We'll send them back. Lidia will want to have them."
"Lidia gave away all of Sulamith's things."
"Gave away?
"Yes," I say.
"Bring the clothes inside," says Mother.
I walk out to the yard, pluck Sulamith's clothes from the line and lay them out upstairs on my stove. Later, when the things are dry, I'll light a candle and make the clothes smell like patchouli, all the little watermelons, and then they won't smell like Waldleben anymore, but like Sulamith, like before. Before. It wasn't long ago. It wasn't even ago. Some days I wake up in the morning and I've forgotten where I am.
I hear Sulamith breathing beside me. I open my eyes but nobody's there, there's none of Sulamith's hair in the bed, which used to annoy me so, especially when I found it in the shower. I get out of bed, walk to the window, but there's no white carpeting, just the cold floorboards that jab splinters into the soles of your bare feet, and when you look outside there's no green marsh, no stream, no blue sky, no sun shining down on a sea of raspberries, there's just those ash-colored buildings surrounded by frozen fields, there's just the smokestacks, the factory, the empty streets, the Trabants. Old women with scarves on their heads and mesh bags scurry along like there's a curfew, like bombs could start falling at any minute like in the Near East. The Near East, isn't that where we are, technically speaking?
__________________________________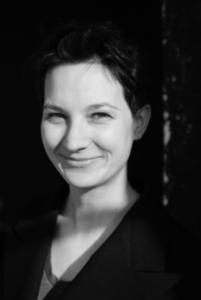 About the author
Stefanie de Velasco was born in the Rhineland and raised as a Jehovah's Witness. At fifteen she left the religious organization and subsequently studied Ethnology and Political Science. She is a regular contributor to publications such as Zitty, FAZ, and Die Zeit, and her debut novel, Tigermilch, was published in 2013 by Kiepenheuer & Witsch. It was translated into multiple languages, including English (as Tiger Milk), and adapted into a feature film.
---