Every week, a new crop of great new books hit the shelves. If we could read them all, we would, but since time is finite and so is the human capacity for page-turning, here are a few of the ones we'll be starting with. What are you reading this week?
FICTION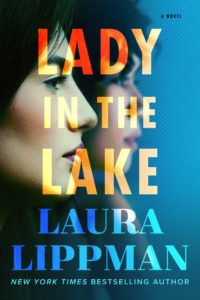 Laura Lippman, Lady in the Lake
(William Morrow)
Lippman's latest takes us back to Baltimore to explore the world of journalism in the 1960s, and the lives of two women—Maddie Schwartz, a 37-year-old Jewish woman who, after leaving her husband and son, doggedly pursues a career as a reporter; and Cleo Sherwood, a black waitress whose body was recently found in a city fountain, and about whom little is known. As the overconfident and naive Maddie obsessively investigates the murder, she encounters characters at the margins of society, from a bartender to the first black policewoman. Lippman tells a story both personal and political, painting a vivid picture of a city, its newsroom, and the privilege and tragedy that characterized the time.
–Camille LeBlanc, CrimeReads Editorial Fellow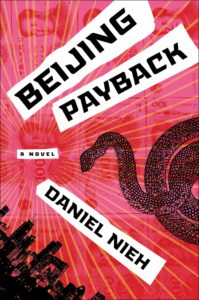 Daniel Nieh, Beijing Payback
(Ecco)
This self-assured debut is both a rollicking good adventure and a stirring meditation on the complexities of modern identity. When college basketball player Victor Li's father is found murdered, he teams up with his father's mysterious business associates to investigate (against the advice of his very practical and awesome sister who I wish was real just so we could be friends), and ends up on the trip of a lifetime.
–Molly Odintz, CrimeReads Associate Editor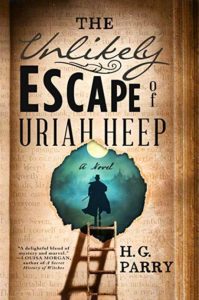 H. G. Parry, The Unlikely Escape of Uriah Heep
(Orbit)
If you're reading this space, you're probably pretty interested in books, and if you're pretty interested in books, you'll probably like this one: a charming debut in which a young boy developed the uncanny ability to bring literary characters (like Uriah Heep) to life—literally. And honestly, anything that the notoriously cranky Kirkus calls "just plain wonderful" is worth a shot.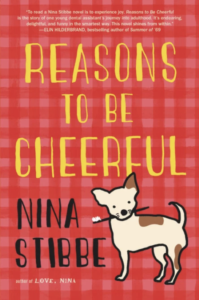 Nina Stibbe, Reasons to Be Cheerful
(Little, Brown)
Another entry in Stibbe's series about the very quirky exploits of Lizzie Vogel and her odd but charming family; in this volume, she's 18, and entering adulthood on rather shaky legs. Filled with minor capers, keen observations, and English humor.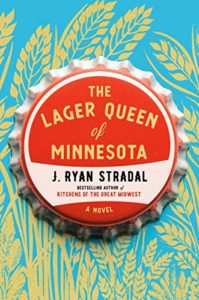 J. Ryan Stradhal, The Lager Queen of Minnesota
(Viking)
A warm, funny Midwestern romp about three women, family rifts (and family mendings) and the world of beer brewing.
NONFICTION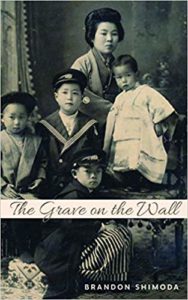 Brandon Shimoda, The Grave on the Wall
(City Lights)
In this memoir, Shimoda, an American poet of Japanese descent, tells the story of his family, starting with his grandfather, who was transformed into an "enemy alien" by World War II; and in doing so, tells a universal story of the horrors of war both physical and emotional, and the tensions that linger among people long after the wars are over. "Sometimes a work of art functions as a dream," wrote Myriam Gurba. "At other times, a work of art functions as a conscience. In the tradition of Juan Rulfo's Pedro Páramo,Brandon Shimoda's The Grave on the Wall is both. It is also the type of fragmented reckoning only America could instigate."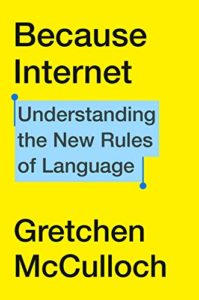 Gretchen McCulloch, Because Internet: Understanding the New Rules of Language
(Riverhead)
An examination of the evolution of the English language and the way we communicate in the era of the Internet, from the writer of Wired's "Resident Linguist" column. Fun fact: "lol" was invented by a Canadian in a chatroom. (Or, probably.)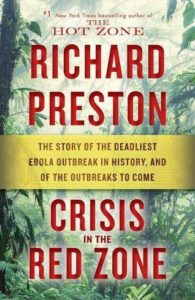 Richard Preston, Crisis in the Red Zone: The Story of the Deadliest Ebola Outbreak in History, and of the Outbreaks to Come (Random House)
In which Preston, the author of The Hot Zone, a bestselling horror novel that is also true, revisits the Ebola virus, the deadly outbreak of 2013-2014, and what's next for earthlings and infectious diseases. I'd really like to put this one in the freezer.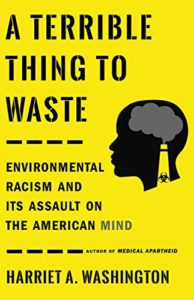 Harriet A. Washington, A Terrible Thing to Waste: Environmental Racism and Its Assault on the American Mind
(Little, Brown Spark)
Lead paint, pollution, unsafe waste practices—why are these things so much more likely in American communities of color? In this volume, Washington unpacks the causes of "environmental poisoning" as well as the long term damage that it can do, not only to our children, but to our country as a whole.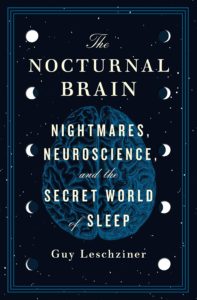 Guy Leschziner, The Nocturnal Brain: Nightmares, Neuroscience, and the Secret World of Sleep
(St. Martin's Press)
If you too are obsessed with your own sleep—and if you're getting enough, and if you're getting the right kind, and what happens if you're not—this popular science account from a consulting neurologist and sleep physician at Guy's Hospital in London may intrigue you. At the very least, it'll help you schedule some time away from your screen before bed.