New and Noteworthy Nonfiction to Read This October
Recommended Reading from Lit Hub Staff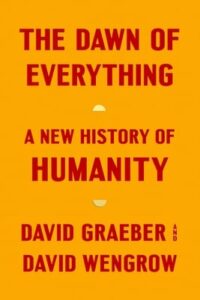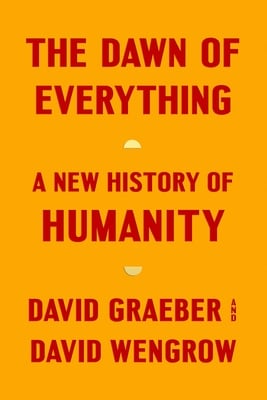 David Graeber and David Wengrow, The Dawn of Everything: A New History of Humanity
(Farrar, Straus and Giroux)
The world lost an important and original thinker when anarchist anthropologist David Graeber died in early September at the too-young age of 59. Known for a thoroughly engaging way of narrativizing history and a fearless enthusiasm in challenging orthodoxies, Graeber is perhaps best known for his wonderfully readable eviscerations of contemporary capitalism: Debt: The First 5,000 Years, and Bullshit Jobs. Planned as the first in a massive, all-encompassing trilogy, the 700-page Dawn of Everything was meant to be a kind of magnum opus, and though it's only the first third, its sprawling ambition (fueled by Graeber's quintessentially conversational erudition) is evident from the very first chapter, which features subheadings like How the Conventional Narrative of Human History is Not Only Wrong But Quite Needlessly Dull, and In Which We Set the Scene Broadly for a World of Cities, and Why Both the Hobbesian and Rousseauian Versions of Human History Have Dire Political Implications. Graeber and Wengrow aren't messing around, and though any "history of humanity" will require some pretty broad generalizing (as this book does), The Dawn of Everything is equally full of provocative reconsiderations of how, exactly, civilization has come to be.  –Jonny Diamond, Lit Hub Editor in Chief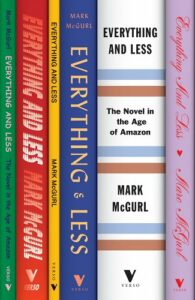 Mark McGurl, Everything and Less: The Novel in the Age of Amazon
(Verso Books)
Is it possible to disentangle book publishing from Amazon anymore? Dave Eggers has come as close as anyone to answering this question; he distributed the hardcover edition of his new novel The Every exclusively through independent bookstores and the publisher, McSweeney's, which created somewhat of a byzantine process, to say the least (as he recently recounted to The New York Times' Kara Swisher). Amazon is everywhere and increasingly inescapable in the rhythms of everyday consumer life: we've known that, and have been familiar with its cataclysmic effects on the publishing world, for a while now. What has been less obvious is how Amazon—in its massive popularity and monopolistic ubiquity—has changed the book itself; is it worth examining the ways that the online retailer has made its presence felt in contemporary storytelling?
Mark McGurl thinks so: his book Everything and Less breaks down the finer details of Amazon's relationship to authors, readers, and literary life on the whole. He asks what we can learn from recognizing its "conscious or unconscious intimacy with the ways and means of an online retailer," one that has collapsed the distinctions between different genres, publishers, and styles into a catchall algorithmic approach. His wide-ranging analysis, which touches many parts of the contemporary literary field, is a fascinating, important read on the effects of a behemoth that, like it or not, is going nowhere.  –Corinne Segal, Lit Hub Senior Editor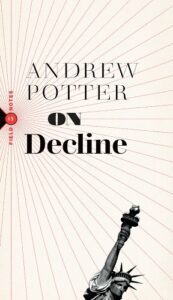 Andrew Potter, On Decline: Stagnation, Nostalgia, and Why Every Year Is the Worst One Ever
(Biblioasis)
That American systems are faltering on many fronts is no news to anyone who's currently alive and breathing; this past year and a half, in particular, has seen our society stretched to the limit in both a practical and a psychological sense. Andrew Potter doesn't sugarcoat it: while describing this state of affairs, he notes, "One of the more salient features of our current moment is how everything seems to be going wrong at the same time." A combination of geopolitical stressors and capacity overload, he writes, has created a "sense of relentless decline" or at least stagnation, and the COVID-19 pandemic pushed these forces to the breaking point. The future, if left unchecked, looks like a combination of further diminishing resources, (more) tribalism, and a continued sense that every year, things are getting worse. Potter is less interested in wallowing than in defining the problem in a way that anyone can understand; that he manages to be engaging and conversational on a topic that most people would find irredeemably depressing is an impressive feat of journalistic writing. This is a tough read, but I found it counterintuitively comforting; there's relief in the clarity of Potter's diagnosis.  –Corinne Segal, Lit Hub Senior Editor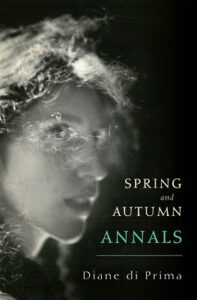 Diane Di Prima, Spring and Autumn Annals: A Celebration of the Seasons for Freddie
(City Lights)
Diane di Prima's Spring and Autumn Annals: A Celebration of the Seasons for Freddie is an extended letter to the dancer Freddie Herko, who she met in 1954 and with whom she immediately connected; she would later describe him as "closer than any lover" and their friendship as a sustaining force in her life amid a dynamic artistic community. After Herko died at the age of 29, she began writing to him; this book, which has never been published in full, is the product of that act of devotion, a loose collection of poetic vignettes from the years between 1954 and 1965. It's rare to read a book that drops you so fully into the world of its making.
Di Prima catalogs the settings and moments that make up a life lived between the countercultures of New York City and San Francisco: the black-box theaters of New York's Greenwich Village, tough conversations at Arthur's Tavern, "the steam on the windows at Houston Street," the drive to Stinson Beach, an endless rotating carousel of apartments and visits from friends. What emerges is a tribute not only to Herko, but to the practice of living collectively in an artistic community, in defiance of the pressure that capitalism exerts on artists to compete with one another. Her account is loving in its attention to detail, fascinating as a historical document, and moving in its portrayal of a life-changing friendship. –Corinne Segal, Lit Hub Senior Editor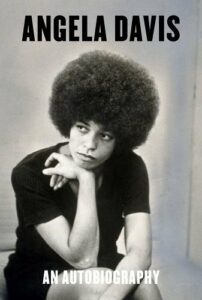 Angela Davis, Angela Davis: An Autobiography
(Haymarket Books)
Davis's autobiography, originally edited by Toni Morrison, first came out in 1974. The third edition will include a new introduction, in which Davis reflects on the shifts and growth in her thinking between the book's initial publication and now. The autobiography itself traces Davis's journey from Alabama to her work with the US Community Party, the Black Panther Party, and the Soledad Brothers, and her 1971 trial.
"Thousands of my ancestors had waited, as I had done, for nightfall to cover their steps, had leaned on one true friend to help them, had felt, as I did, the very teeth of the dogs at their heels," Davis writes. It is her deft blending of her own grief and anger with the wider political and historical context that makes the book one that invites multiple reads. In each anecdote, at each reflection of childhood or relationships, Davis expands outward, and toward very sort of collectivism that has driven her activism and political work. And in doing so, she gives insights into conditions that make liberation a necessity, from prisons and beyond.  –Snigdha Koirala, Lit Hub Editorial Fellow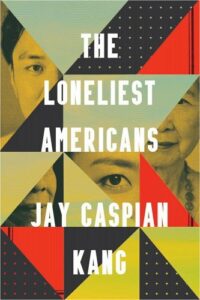 Jay Caspian Kang, The Loneliest Americans
(Crown)
Who gets to be American? The definition depends on the demands of colonialism, white supremacy, and political scapegoating. My mom, who is Filipino and an immigrant herself, often repeated the phrase, "America is a melting pot," and it wasn't until I grew older that I realized this was a fairy tale—a generous romanticization of a place that didn't actually exist. A melting pot implies that different ingredients are seamlessly mixed together, combined into one solid entity where dividing lines are blurred. As history has repeatedly shown us, America is diverse but it's never been a state of accepted coexistence. In reading Jay Caspian Kang's The Loneliest Americans, which combines history, reportage, and memoir, I did not find a perfect mirror to my own personal history, but a Sawzall.
For many marginalized people, identity can be a pursuit of the contradictory—an exercise of endless push-and-pull. Kang, who is a first-generation Korean American, speaks about assimilation in his introduction, writing, "The assimilating Asian, in other words, wants to become as white as white will allow. For the first three decades of my life, this process felt inevitable." This tension pulses like an electrical current throughout. He divides his family's story into three acts, beginning at a housing project in Cambridge and ending with the family's move to Chapel Hill, North Carolina. The title of the book, he explains, is derived from a 2017 magazine article he wrote about a college freshman named Michael Deng, who died during a hazing ritual for an Asian American fraternity. The ritual was a grotesque recreation of past brutality: the Rape of Nanking, the Death March of Bataan, Japanese internment, and the murder of Vincent Chin. Kang says, "What interested me were the rituals themselves, which all drew upon a shaky, yet brutal, understanding of Asian people not only in this country but throughout the world."
This flawed understanding is a guiding theme, as Kang retraces American history and questions the uncomfortable truths about his family's narrative. Similarly, the discussion of personal and cultural history allows Kang to contemplate the narratives that his young daughter may or may embrace as she grows up. And while it's inevitable that not everyone will agree with Kang, The Loneliest Americans dares readers to push beyond their comfort zones and deconstruct the mythology of American identity.  ­–Vanessa Willoughby, Lit Hub Assistant Editor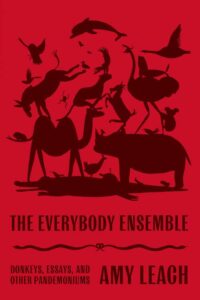 Amy Leach, The Everybody Ensemble: Donkeys, Essays, and Other Pandemoniums
(Farrar, Straus and Giroux)
So much nonfiction about the natural world right now ignites my panic center. This is, of course, both explicable and necessary, given the dire state of said world. Still, I admit that sometimes I just want to read something delightful about the planet's non-human residents—which is precisely what The Everybody Ensemble delivers. Leach writes playfully absurd (and absurdly playful) essays about all manner of organisms. Each one is short but somehow still pleasingly meandering, and teases some melodic line from our "sometimes discordant but always welcoming chorus of glorious pandemonium"—from our metaphorical uses of animals to the musical tastes of dogs. In the book's glossary, she defines her ideology as "everybodyism":
My problem with universalism is that it is too exclusive, so I have made up an ideology that includes not just all the human rascals but also all the buffalo rascals and reptile rascals and paddlefish and turkeys and centipedes and wombats and warty pigs and I call it everybodyism.
The essays are linguistically virtuosic, but still manage to retain an almost conversational intimacy—like emails from an especially passionate friend, recounting her week in bestiary. In a meditation on nature's "long march to imperfection," she writes, "To err is egg-eater and moonrat and spaghetti eel, and whales, who eat sweatpants," and honestly, if that doesn't sell you on The Everybody Ensemble, I'm not sure what to tell you.  –Jessie Gaynor, Lit Hub Senior Editor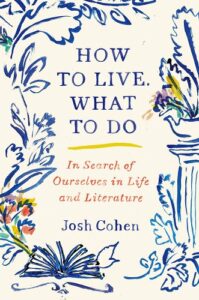 Josh Cohen, How to Live. What to Do: In Search of Ourselves in Life and Literature
(Pantheon Books)
The moment when you see yourself in a fictional character is not always purely pleasurable—it can be unnerving, too. It can feel like a breakthrough moment in therapy does, but out of context, when you thought you were just enjoying a nice sit down with a book. Still, if you're a reader, you've certainly seen parts of yourself reflected on the page—for better or worse. In How to Live. What to Do, Josh Cohen, who is both a psychoanalyst and a professor of literary theory, uses the lives of fictional characters—from Jane Eyre's inner strength to Jay Gatsby's obsession with a fantasy—to consider the knotty questions of, yes, living.
The magic of the book is Cohen's ability to treat the characters as full humans. He begins sections with therapist-style notes on each character ("Risks to current security and well-being of JE, ten, are of great concern. On her own account, adoptive mother prevents her from interacting with her biological children"), and delves into their psyches with minimal consideration for the author behind them. The result is a compelling an illuminating read—neither self-help nor literary criticism, exactly, but something new and wise and exciting.  –Jessie Gaynor, Lit Hub Senior Editor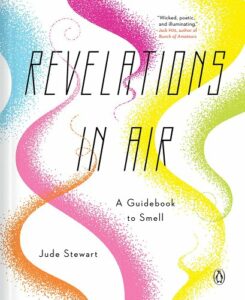 Jude Stewart, Revelations in Air: A Guidebook to Smell
(Penguin Books)
If you've ever taken a whiff of shampoo, flower, or old bar mop that instantly dragged you back to a specific moment in time, you have experienced the particular power of smell. Revelations in Air is both a guidebook to specific smells (from jasmine to gasoline to old book), a lesson on the history and biology of smelling, and a guide to how to make the most of your olfactory organs ("Waggle your nose and, if possible, waggle the smell itself. Perfumers and other professional smellers do both").
The book is bursting with the kind of facts that will make you want to do a terrible tweet construction: "I can't stop thinking about how the Stasi were building a database of dissidents' bodily smells." (It may also make you want to run over to your nearest gas station to smell gasoline. Don't do that, though. It's bad. Or is it? Yes. Definitely bad.) Revelations in Air manages to feel both breezy and substantial, exciting and informative—like an expertly guided tour of scents.  –Jessie Gaynor, Lit Hub Senior Editor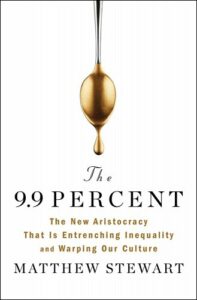 Matthew Stewart, The 9.9 Percent: The New Aristocracy That Is Entrenching Inequality and Warping Our Culture
(Simon & Schuster)
When people talk about the failure of Occupy Wall Street they often seem to forget the way much of its vocabulary found its way into mainstream discourse: that's right, I'm talking about the now ubiquitous (and still useful) division of the haves and the have-nots, aka the 99 percent and the 1 percent. And while there are many ways to subdivide the iniquities of American society (wait till we tell you about the 0.1 percent!), Matthew Stewart might be on to something in pulling out the top economic decile of the population, which, as it turns out, controls 50 percent of the country's wealth.
As Stewart sees it, one fundamental aspect of what we think of as wealth is comfort and stability, particularly in what seems like an increasingly unstable and profoundly uncomfortable world—and if anyone can afford a little comfort, it's the 9.9 percent. Sure, they work insane hours (which they justify through the myth of meritocracy), and will do whatever it takes to hang on to their outsize piece of the American pie, but isn't that the dream? Isn't it?  –Jonny Diamond, Lit Hub Editor in Chief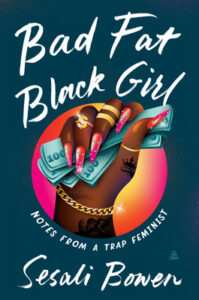 Sesali Bowen, Bad Fat Black Girl: Notes from a Trap Feminist
(Amistad)
In her debut essay collection, Bad Fat Black Girl: Notes from a Trap Feminist, Chicago native and entertainment journalist Sesali Bowen examines the nuances of feminism through the lens of hip-hop. Make no mistake—Bowen's inclusive vision is not shaped in the image of white feminism. Instead, Bowen's manifesto is a celebration of Blackness, Black women, Black femmes, and female rappers. Under the banner of white supremacist capitalist patriarchy—to borrow a term from bell hooks—Black girls are stripped of their humanity and innocence at a young age. Adultification, as recently reported by researchers with the Initiative on Gender Justice and Opportunity at Georgetown Law's Center on Poverty and Inequality, confirms that Black girls face gender and racial bias. Unlike white girls, Black girls are punished for failing to meet the dominant culture's racist, feminine ideals. Black girls who speak up for themselves are viewed as "aggressive" or "having an attitude." Black girls are often seen as older than their age, and depicted as "fast." But what if Black women could reclaim their power?
According to Bowen, "trap feminism" is a philosophy of empowerment based on the prioritization of pleasure, the fullness of Black womanhood, the beauty in the contradictory. Bowen's narrative voice is bewitching, exhibiting a fine balance between biting humor and thoughtful introspection. She doesn't sugarcoat observations (Example: In the first chapter, she starts off by simply saying "I'm fat") and she's open about her past experiences, no matter how unflattering or uncomfortable (In the same chapter, she talks about being violated by a male acquaintance and says, "To keep it real with you, there have been instances when I was okay with this kind of treatment."). Her appreciation of hip-hop is genuine, knowledgeable, and enthusiastic, but never dismissive of issues such as colorism, body politics, and misogynoir. Whether she's talking about the commodification of Megan Thee Stallon's catchphrase "Hot Girl Summer" or Rico Nasty's ability to creatively channel Audre Lorde, Bowen is not here for your approval. PERIOD. –Vanessa Willoughby, Lit Hub Assistant Editor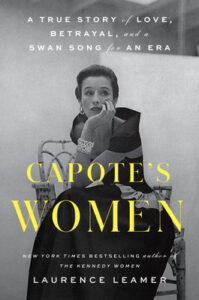 Laurence Leamer, Capote's Women: A True Story of Love, Betrayal, and a Swan Song for an Era
(G. P. Putnam's Sons)
What hasn't been written about Capote that most people don't already know? Perhaps you know the history behind Breakfast at Tiffany's (as most Capote and Old Hollywood scholars know by now, Audrey Hepburn was not Capote's ideal Holly Golightly) or how he came to write In Cold Blood. But what about the small cohort of women who both captivated and inspired Capote? Laurence Leamer's Capote's Women: A True Story of Love, Betrayal, and a Swan Song for an Era is as much about the legacy of the revered author as it is about the high-society, privileged "swans" that he pulled into his orbit. Part biography and part literary history, Leamer explores the inner lives of Capote's muses: Barbara "Babe" Paley, Gloria Guinness, Marella Agnelli, Slim Hayward, Pamela Churchill, C. Z. Guest, and Lee Radziwill. Leamer's portrait of New York's bold and beautiful is not a gushing ode to glamour but an unflinching character study.
Capote is painted as equal parts ambitious opportunist and sympathetic keeper of secrets. It's clear that the unpublished novel, Answered Prayers, was doomed from the start because of Capote's sense of superiority. When told that he couldn't publish the book because the real-life counterparts of his characters were easily recognizable, Capote reportedly dismissed the concerns and said, "They won't know who they are. They're too dumb." And yet, Capote's confidence (or arrogance?) initiated his downfall. Leamer writes of the fallout, "But from the evidence of what he had written so far, he had no problem betraying his closest friends in the name of his art." The examination of Capote's path to betrayal brings up current discussions about the autofiction genre, namely the ethics of mining real people and real incidents for fictionalized narratives. (See: Alexis Nowicki writing about "Cat Person" and the undeniable similarities to her own life.)
In the final chapters, Leamer lays bare Capote's vices and fatal flaws: an inability to form friendships that weren't based on transactional reciprocity, a preference for pills and booze, a hungry need for gossip, and a lack of professional tact, which spawned a contentious legal battle with Gore Vidal. Capote's transgressions almost read as a guide on what not to do as a published writer and literary figure. Lucky for us, Leamer's well-researched book is not focused on offering a cautionary tale, but peeling back the disguises we all use to camouflage our true selves from the public.  –Vanessa Willoughby, Lit Hub Assistant Editor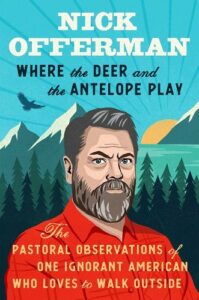 Nick Offerman, Where the Deer and the Antelope Play: The Pastoral Observations of One Ignorant American Who Loves to Walk Outside
(Dutton Books)
Nick Offerman, the actual man, seems more interesting and entertaining than any of the interesting or entertaining characters he plays on TV. Did you know that he's friends with the legendary Wendell Berry, who inspired the journeys behind this book? (One of said trips takes our hero through Glacier National Park with his buddies Jeff Tweedy and George Saunders, in what could only have been a search for the one true source of all Dad Jokes). Nature-loving pastoralia, with its fetishizing of tradition, can take itself so fucking seriously, to the point that you want to flick on otter on the back of the head for no good reason. Not so with Offerman, who leavens his reverence for the natural world—and those who live and work within it—with customary dry humor and a complete absence of self-importance. Where the Deer and the Antelope Play doesn't seem particularly focused on providing answers, but asks some pretty important questions about why contemporary society values what it does, and what will happen if we don't radically rethink our path forward.  –Jonny Diamond, Lit Hub Editor in Chief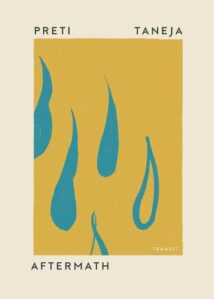 Preti Taneja, Aftermath
(Transit Books)
Taneja's new book, a collection of pieces grapples with what it means to write now, in the aftermath (as the title suggests) of 9/11—a historical cache that shifted everything from policy to the everyday, and  left in its way an unflinching hostility for South Asians and Muslims living in the West (and beyond). Within this context, Taneja concerns herself with the 2019 attack at Fishmonger's Hall in London. Usman Khan, a young man convicted of terrorism, whom she taught at a prison education program, had been allowed to attend the fifth anniversary of said program. There, he killed two people: Saskia Jones and Jack Merritt. Merritt was a colleague of hers.
The book is a mining—an attempt to dig out some words, or some way to say what happened. Exploring the various strands of context that give rise to such events, Taneja touches on racism in Britain, the violence of prisons, and the failure of de-escalation programs, alongside her own personal grief and shock. "It was as if I had lost language / been forced / to the outer edge of words," she writes. With words failing her, she turns to the body: "The body is grief, the body is guilt, the body is doubt, the body is state, I must write it." Indeed the book, written in fragments, in language borrowed and alluded to, invites a kind of  physical read—the gaps between words, the erratic use  of punctuation, the drops and enclosures mined from language all work to return to the sense, the aesthetic, which Taneja (drawing on Audre Lorde) describes as the material. In the face of trauma and violence, the book urges a return to the most intimate, most immediate site of reading and writing.  –Snigdha Koirala, Lit Hub Editorial Fellow
---