Never-Ending Nostalgia: Who and What Inspired Willa Cather
Benjamin Taylor on the Early Years of America's Chronicler of the Great Plains
The beautiful word "Shenandoah," of unknown Native American origin, stands for a river and an opulently green valley. Willa Cather's Virginia forebears on both sides had been there for four generations. Winchester township, seat of Frederick County, lies along the old turnpike between North and South and repeatedly changed hands in the course of the Civil War. Willa's grandfather William Cather, of Welsh ancestry, had stayed resolutely Unionist. Her mother's people, the Boaks, were secessionists. Her uncle William Seibert Boak had died of his wounds at Manassas. Willa's mother, Virginia Boak Cather, revered the memory of this nineteen-year-old, her favorite brother, and kept his saber and Confederate flag with her always.
In Sapphira and the Slave Girl (1940), Cather's final novel, published seven years prior to her death, she re-created the antebellum world of her grandparents. The setting is Back Creek, where her mother's people, the Boaks (Blakes in the novel), had been long settled. The year of the novel is 1856. Sapphira Dodderidge Colbert, a dropsical invalid, fears that her husband, Henry, is on the verge of having an affair with their "half-caste" housemaid, Nancy, and wishes to sell the girl. Sapphira's adult daughter—the warmhearted heroine of this otherwise chilly book—arranges for Nancy to escape across the Potomac and on to Canada via the underground railroad.
There is substance to Toni Morrison's objection that the novel submits its Black heroine to the white gaze of the Colberts; she is understood only from without. Yet in the end it is she, the slave girl, and Till, her mother—subject to the barbarity of the peculiar institution—who emerge as the only unmarred persons in the book. The moral mutilation of having owned chattel persists among the whites, an indelible sin. In the epilogue Nancy returns decades later to visit her former owners. Just such a visitation was among Willa's earliest memories. It is as though she had all along been treasuring it up for last. "In this book my end was my beginning," she wrote to Alexander Woollcott. What she knew during the first nine years of life was Back Creek and its environs and nothing beyond. The return of Nancy must have seemed to the little girl a visionary event.
In relative old age Willa brought all powers to bear on her remotest family recollections, the scenes of early childhood.
Edith Lewis felt Sapphira had been catalyzed by the deaths of Charles Cather, her father, and, three years later, her mother, Virginia Boak Cather. In relative old age Willa brought all powers to bear on her remotest family recollections, the scenes of early childhood. The valley of the Shenandoah, little on her mind for decades, grew luminous.
Lands west of the Missouri were a strong lure for Virginians in the aftermath of the Civil War. Congress had passed the Homestead Act in 1862; if you were white and male there was land for the taking. As Woodress writes: "A man could plow a straight furrow as far as the horizon, and the rich top soil was said to be twelve feet deep." This idealism would come up against the unforgiving reality of heat waves cooking the corn in its tassel, grasshopper invasions, howling winters—and the fundamental obduracy of a wild soil never before tilled, shaggy with the high red grass that covered plains as yet unbroken by any plow. Such had been the immemorial homeland of the hunting-and-gathering Cheyenne, Arapaho, Comanche, Kiowa, and other Indigenous nations. Such was the original West the first homesteaders came to. Its stubbornness was a trick nature played on the first settlers (some of whom gave up and went back to where they'd come from, or died by suicide, like Mr. Shimerda, Ántonia's father, in My Ántonia). Here is how Alexandra Bergson puts it in O Pioneers!: "The land did it. It had its little joke. It pretended to be poor because nobody knew how to work it right: and then, all at once, it worked itself. It woke up out of its sleep." The sea of grass that had covered for numberless ages the landmass from the Missouri to the Rockies became in the course of several decades a breadbasket to the world.
Cather was not slow to note the compensations of the fierce new land: flower-laden springtimes and, above all, brilliant crisp autumns. "In the newest part of the New World," she wrote in her essay on Nebraska, "autumn is the season of beauty and sentiment, as spring is in the Old World." By 1882, the Burlington and Missouri River Railroad was running between Chicago and Denver. Red Cloud was a division point along the line, with its newspapers, banks, stores and hotels, smithy and mill. In Webster County, by the time of Willa's arrival in 1882, there were more immigrants than native stock. She heard a variety of languages and seems to have embraced the confusion almost immediately. After all, she was an immigrant too, and suddenly a member of a minority: the Anglo-Saxon homesteaders.
In the course of the first year on the Divide—as the high ground between the Republican and the Little Blue Rivers and between the Little Blue and the Platte are known—she thought she'd die of homesickness for northern Virginia with its rolling hills and temperate weather. She and the new land— "as naked as the back of your hand"—had it out before she came to love it. Then the desert place became home.
The babel of Scandinavians and Central Europeans and Frenchmen and more captivated her. In this unlikely place she became a citizen of the world. She would say in a 1913 interview: "We had very few American neighbors. They were mostly Swedes and Danes, Norwegians and Bohemians. I liked them from the first and they made up for what I missed in the country. I particularly liked the old women; they understood my homesickness and were kind to me…These old women on the farms were the first people who ever gave me the real feeling of an older world across the sea. Even when they spoke very little English, the old women somehow managed to tell me a great many stories about the old country. They talked more freely to a child than to grown people…I have never found any intellectual excitement any more intense than I used to feel when I spent a morning with one of these old women at her baking or butter-making. I used to ride home in the most unreasonable state of excitement; I always felt…as if I had got inside another person's skin."
Farm life in rural Webster County did not suit Charles Cather, and after eighteen months he moved his family from the Divide to Red Cloud proper. Having raised sheep in Virginia, he seemed to have found raising hogs and cattle and breaking the soil in Nebraska more than he could handle. In Red Cloud he established a farm loan, insurance, and real-estate concern and made a go of it. That was the autumn of 1884, the year Willa turned eleven. The town would be transubstantiated into Hanover in O Pioneers!, Moonstone in The Song of the Lark, Black Hawk in My Ántonia, Frankfort in One of Ours, Sweet Water in A Lost Lady, and Haverford in Lucy Gayheart. Thus Cather kept faith with the genius loci of her youth.
Her parents purchased a story-and-a-half frame house on the southwest corner of Third and Cedar, and crowded their growing family of children—Willa, Roscoe, Douglass, Elsie—and Mrs. Cather's mother, and a servant girl, into it. Three more children, John, Jessica, and James, were shortly to follow.
She and the new land— "as naked as the back of your hand"—had it out before she came to love it.
The children slept dormitory-style in the narrow upstairs until Willa, as eldest, got a room of her own—one corner of the L-shaped attic. This became her sanctuary, her solitary reprieve from gregarious family existence. "One realizes," she writes, "that even in harmonious families there is this double life: the group life, which is the one we can observe in our neighbor's household, and, underneath, another—secret and passionate and intense—which is the real life that stamps the faces and gives character to the voices of our friends. Always in his mind each member of these social units is escaping, running away, trying to break the net, which circumstances and his own affections have woven around him. One realizes human relations are the tragic necessity of human life; that they can never be wholly satisfactory, that every ego is half the time greedily seeking them, and half the time running away from them." These extraordinary insights are from Cather's admiring essay on Katherine Mansfield—with whom she shared a desire to capture definitively the way of life of the childhood place (in Mansfield's case New Zealand) that neither could wait to escape.
The elder personalities of Red Cloud proved nearly as influential on her as family. There was, for example, the Englishman William Ducker, outwardly a failure, who clerked in his prosperous brother's dry goods store and in the evenings read Virgil, Ovid, Homer, and Anacreon with Willa. She would arrive at the University of Nebraska with a solid grounding in classical languages. Ducker was an amateur scientist as well, with a laboratory fitted up at home. Willa assisted him at his experiments. He was her first encounter with a freethinker and set the pattern for her own intellectual outlook. Edith Lewis reports that one afternoon "she was accompanying him home, and he said to her 'It's just as if the lights were going out, Willie.' After she left him a child came running to call her back. She found Mr. Ducker dead, a copy of the Iliad lying open on the floor beside him."
There was Dr. Robert Damerell, a local physician who took Willa along on his rounds. Present at the amputation of a young boy's leg, she was proudly unfazed. It was in these years that she announced her ambition to be a doctor.
And there was Norwegian-born Julia Miner, mother of the Miner sisters. The Miners would be among Willa's lifelong friends. Mrs. Miner was musically gifted and gave Willa her thrilling first exposure to music. Mrs. Miner would be the prototype for Mrs. Harling in My Ántonia: "Her rapid foot- steps shook her own floor and she routed lassitude and indifference wherever she came. She could not be negative or perfunctory about anything. Her enthusiasm, and her violent likes and dislikes, asserted themselves in all the everyday occupations of life. Wash-day was interesting, never dreary, at the Harlings'. Preserving-time was a prolonged festival, and house-cleaning was like a revolution."
Willa graduated from Red Cloud High School in June 1890. She came first in a class of three and accordingly delivered the valedictory address. Her spirited theme was "Investigation versus Superstition." She hailed the former and damned the latter. "Since investigation," she declared, "first led man forth on that great search for truth which has prompted all his progress, superstition—, the stern Pharaoh of his former bondage—, has followed him, retarding every step of the advancement." For its framing of large concepts, its intellectual assurance, its sheer élan, the address would be extraordinary as a college valedictory. In one as young as Willa, here only sixteen, it is unnerving: "There is another book of God than that of scriptural revelation," she declared to her audience, "a book written in chapters of creation upon the pages of the universe bound by mystery."
__________________________________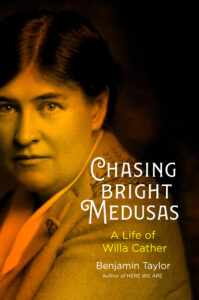 Excerpted from Chasing Bright Medusas: A Life of Willa Cather by Benjamin Taylor. Copyright © 2023. Published by arrangement with Viking Books, an imprint of Penguin Publishing Group, a division of Penguin Random House LLC.
---