Mythologies and Re-Rememberings: On the Synchronous Moments of Writing a Novel
Molly Aitken Deconstructs the Inspiration for Her Debut, The Island Child
The first time I read the tale of Demeter and Persephone wasn't in some battered collection of myths but in a collection by the contemporary Irish poet, Eavan Boland who sadly passed away in April 2020. The poem was "The Pomegranate" where Boland tells the story of a mother losing her child, her daughter to time. These two didn't inhabit ancient Greece but a world I knew. The girl drank coke, read teen magazines and yet still the pomegranate was there, still relevant, still a part of the story. I was sixteen so of course the story of a teenage girl leaving home resonated with me.
I had heard the story of Persephone before. I knew it as a girl stolen by the king who came up from the underworld. I knew it with all those implications of assault and women having no power over their own fate. It wasn't a story I clung to because why would I? There was no inspiration in that.
But, I read "The Pomegranate" over and over again. I revisited it when I left home and when I was heartbroken and when I was lonely living in a strange country. It became a kind of talisman. It showed me that writers could make old stories new and meaningful to the present moment. They could even put the women at the centre, giving them their own voices and power to make decisions. No man appears in the poem. It is about womanhood, motherhood and daughterhood.
It was Boland's tale of a mother and daughter that eventually influenced my first novel, The Island Child, though I didn't realize it at first—I thought I was writing something based on a much more male centric myth.
The first time I read The Odyssey I was far from the world of men and monsters it painted. I was nineteen, sitting in a classics lecture at Galway University on the west coast of Ireland. I gazed out a rain-lashed window picturing myself onboard Odysseus' galley beneath a hot sun, the wine dark sea lapping at the sides. Then the story changed: a storm, a shipwreck and the hero washing up on an island where he's found by a princess, Nausicaa. I perked up and turned back to the lecturer. As wonderful as the tale had been so far, I hadn't yet come across a woman who wasn't an evil monster or selfish goddess (let's ignore Penelope, Odysseus' patient wife who'd seemed far too well-behaved to me). Finally, here was a woman, a mortal woman, with gumption who saw what she wanted and bravely went after it even when all her servant girls ran away from the naked man they'd found on the shore. Here was a woman I could root for and even, if a bit arrogantly, a woman I could identify with.
Other people's stories, myths, plays and poems layer into a writer's work often without them ever realizing. These works are often the fabric of our own creations.
That day in that lecture theatre, I wondered what it would be like if a strange man washed up on the shore of an island not far from Galway and if a young woman found him there. I didn't write that story. I'd read about this type of man many times before, and he felt worn and boring to me. It didn't occur to me that the story wasn't his at all, but the young woman's. I was still too trained to think that I should be like others and write about the classic hero, instead of creating my own new female hero.
Six years later, I was studying for an MFA in Creative Writing in Bath, England, and despite the planned, geometric beauty of that spa town I was desperately missing the salt spray and wildness of home. It was there in Bath that my homesickness made me start writing about an island off the coast of Galway. I didn't write from the perspective of the 'great man'. Somewhere along the way I'd realized he wasn't important. Instead I wrote about my own Nausicaa, a girl I named Oona. The words poured out and more and more the story shaped itself around Oona and her mam. I became fascinated by that bond between mother and daughter; the need of the mother to protect her daughter from the world and the impossibility of that; and also the consequences of that over-protectiveness when the child does eventually grow up and escape into the world with all its dangers.
I hadn't read Boland's "The Pomegranate" in a long time, but I picked it up again. I was in my tiny bedroom at the top of Georgian terrace in what was once the servant's quarters. I was living my writing dream but despite that felt lost and lonely, only finding solace in the words I wrote every day in the novel that reminded me of home. And there in Boland's poem was the mother and daughter so like the two I had been writing. There was the plate of uncut fruit and a girl lost in Canada and the needing to protect a child but staying silent. I felt as if I had unknowingly carried Boland with me all along.
Other people's stories, myths, plays and poems layer into a writer's work often without them ever realizing. These works are often the fabric of our own creations. Nothing is completely original. No work of art truly can be. If anything, this is a compliment to the work that has gone before, to the work that hasn't been forgotten.
These similarities happened to me again and again in the writing of The Island Child and I began to accept and anticipate them. I thought I had chosen the name Oona for my protagonist at random. After nearly a year of writing her, I flicked through a worn copy of Irish folktales and there she was, Una, Queen of the fairies, wife of the High King of Finvarra. This Una was a human stolen away by the immortal king of Tír na nÓg, Ireland's folk answer to the underworld. She was forced then to be the queen of his fairy court forever, just like Persephone was snatched by Hades, and had to live out an eternity as queen below. Of course, I must've heard this story as a child and forgotten it since but I had no recollection of it. It made me realize that much of my inspirations are just stories that are dormant until I dig them out and find the connections.
Writing is full of these kinds of synchronous moments, these re-rememberings. In my experience they aren't accidents. Stories build and overlap inside us over time until they spill out in a new form.
____________________________________________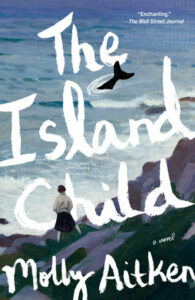 Molly Aitken's The Island Child is available now via Knopf. 
---