My Husband, My Job, Myself: A Story of Three Marriages
Sejal Shah and a Theory of Three Rings
Yellow Gold
Six months after my husband tied an ornate gold mangalsutra around my neck and friends showered us with rice, I chose a wedding ring. Under the noontime Chennai sun, the center stone glowed, a cabochon dome. Inside the store, the ring spoke quietly: reserved, a dark, almost dull magenta, set with two tiny diamonds. Yellow gold, typical Indian gold, South Indian temple-style setting. I picked this ring halfway around the world from where we live in Rochester, at a store in Chennai my parents-in-law have frequented for years. They designed my wedding necklace here and bought the other jewelry I wore, all of it presented as part of the ceremony. I had not chosen any of this adornment; it was, per tradition, my in-laws' choice.
Architectural
Three years earlier, I flew to New Mexico for a friend's birthday, a week after my own. We had once been roommates, long been friends. We spent one afternoon in Santa Fe, wandering the Georgia O'Keeffe Museum—the reason my friend chose New Mexico. O'Keeffe was a strong woman, an individual, an artist we both admired. In the gift shop, a particular designer's rings called to both of us—sturdy, each different, each with an architectural quality. I am usually drawn to simpler, smaller jewelry, though larger pieces look sharper and suit me. My friend and I deliberated over who would buy what, but different rings called to each of us. I found mine: thick-banded and modernist, a statement in a way I don't tend to make. They were inexpensive: we marked our 40th birthdays with jewelry less than 40 dollars.
Now my New Mexico ring is discolored from wear and water. I wore it every day for the two years I taught ninth graders and on dates and during the two months my grandmother was in the hospital and in rehab for her stroke; I did not remove it when I washed my hands at school or at the hospital.
This ring had presence, declaring itself without shouting. It evoked the moon, the sun, an egg, a shield; a talisman in motion, a pendulum at the moment of pause.
Silver
Later that same week, my friend and I drove south, to White Sands National Monument. My friend had signed us up for a moonrise walk there, and we tread and twirled, taking photos of shadows, across all that sparkling (in sun) then glowing (in dusk) sand (was it once an ocean?). It was a desert: beautiful—barren—stark. The dunes recalled salt flats I had seen in Sicily, a lifetime ago in my twenties, wearing a slight silver ring from Mexico I've since lost. The dunes and silver ring reminded me of all that had slipped by unnoticed, all that happened, and did not happen since then. What we knew or didn't know about friendship, about time; about which jewelry lasts and for how long; about which friendships last and for how long; about how meaning morphs with age; about age itself.
Hammered
A few years ago, I left New York City, unwilling, when it came down to it, to hustle. I had not found a partner, nor secured a book contract or tenure. All the golden handcuffs. But I didn't want to stay on the treadmill or in the water, treading, waiting for life to begin. I did not want to lean in. No, I opted out. I traveled in India for a few months that fall. Then, I returned home. Before all that, I threw a ring into the East River—a hammered silver one I had bought for the interview for the job I had just left. It was my longest relationship, that job. After eight years in academia, leaving was my divorce.
He is not an artist, but it is an art of sorts—marriage—learning a way to live together.
Mangalsutra
In western New York, I marry a teacher who had grown up two miles from me, just outside Rochester. We live here, ten miles from the shore of Lake Ontario, the smallest of the Great Lakes. His parents chose the mangalsutra and the particular design of the pendant. He is South Indian, I am North Indian, and we are Hindu. He is Tamilian, I am Gujarati, we are ourselves. We place flowers in rituals in water, at the temple, at home; we are told to gaze at the full moon, to drink in the moonlight, and there are special full-moon pujas. He is not an artist, but it is an art of sorts—marriage—learning a way to live together.
New Mexico Ring
I vacillate, take time to decide. Yet that first ring had been easy, like something out of Georgia O'Keeffe's world, harsh in its beauty and also elegant. An amulet, a protection, a shield, a decorated sword: proud, confident—not bashful. What a strong woman would wear when she's single and maybe has just lost her job. And maybe she hasn't published her first book, but who's counting?
Is it strange to have such a strong feeling about a ring? When I decided to marry my husband, no ring leapt out and said here. This. Here I am. Even after I got married. Perhaps part of it was that no engagement or wedding ring I tried on or found looked right with my New Mexico ring on.
I did not want him to choose a ring. I'll be wearing it, I said. How could someone else choose it?
Brass Ring
During the year we were engaged, I wore a slim hexagonal brass ring my husband bought at a small shop I liked where we knew the designer. Though I did not choose it, I wore the ring on my left pinky and it stamped a moss green band around the base of that finger, ghostly, oxidizing. But the whole time I was engaged, that whole year, I wore my New Mexico ring on my middle finger and an almost invisible band on my pinky finger. And no other rings. Nothing on my ring finger.
I consult the dictionary. A brass ring (informal) refers to wealth, success, or a prestigious position considered as a goal or prize, e.g.: few of those who reach for the brass ring of the presidency achieve it.
A month before my husband presented me with the brass ring (though we had already decided to marry), my in-laws hosted a ceremony in their home, according to South Indian tradition. This event proclaimed our engagement: a document signed by our parents and my brother and sister-in-law; a priest from Toronto, fire rituals, chanting, lunch, many flowers, our immediate families and my grandmother, aunt, nephews, cousin, and cousin-in-law present. No rings. I wasn't even sure I wanted one.
Getting engaged and married is considered an achievement in the countries or cultures to which I belong by birth and ancestry, by nationality or ethnicity, by language or skin, by blood or memory, by gender and age. I did not want getting married to be the greatest achievement in my life.
Tiffany Ring
A month before the wedding, my sister-in-law and I ducked into Tiffany's, an unplanned side trip at the Providence Place Mall. I slipped on solitaires and halos and snapped a few photos, images to send my fiancé.  Oddly thrilling, that sea-green, blue-green store. But 11,000 dollars? Ridiculous, obscene blood diamonds, lacking imagination. But sparkly: I could see how the parade could topple a person.
I didn't want the fact of my being married to be the most noticeable thing about me.
Engagement rings seem to be about signaling how much your fiancé is able or willing to spend. I didn't want to signal anything. My family originally hails from Gujarat, India. One of the professions Gujaratis have traditionally worked in is in the diamond industry; some of my relatives are still in it. Diamonds are important in our culture. I wanted something less obvious and more artistic. But after the wedding I began to scroll through designs. My husband told me about the four C's: carat, cut, color, and clarity. I had never bothered to learn anything about diamonds. They seemed so superficial then. And later attractive.
Totem
I lost the card that came with my New Mexico ring, but searched Google until I dredged it up. The designer, Christophe Poly, is Montreal-based. The rings, unique and particular, require care. Wear them in water, you ruin them.
Right now, my hands are swollen and I can wear no rings. But mostly I could never wear both, and that has been hardest: I knew this to be true the day we bought the wedding ring, and even more when I wore it followed by all the days after.
When I bought the New Mexico ring, I chose myself, my life, without needing to prove anything to anyone. I had already failed and still, I was happy.
Nothing has felt right in terms of an engagement or wedding ring. I debated returning to my New Mexico ring: sometimes adornment can serve as both talisman and totem, speaking for who we are. Then months pass, and we can never wear a thing again, or not for a while, leaving it to lie unworn and forlorn. Yet for a time, a pendant or ring can hold such power: an emblem filled with energy, force, intention, love.
Metal
Once I married, I found it almost impossible to be the self I had previously forged. Isn't the point of an engagement ring or wedding ring that it should trump your other rings? It is the thing that shows, that is meant to be noticed. Recently, I slipped on a plain band, something cheap I found in my jewelry drawer. It suited me and my husband agreed. A nondescript metal. I didn't want the fact of my being married to be the most noticeable thing about me.
The problem is I have never been simple. Though I knew my husband was the right one, I never felt that way about a ring. Now my hands are swollen, and I wear no rings. Not swollen from pregnancy, but just mysterious swelling, from punching these words perhaps.
Amulet
In India, I found a quiet-eyed cabochon, a cipher. The Burmese ruby has no flash, no game—it is a non-neon digital crimson; polished, not cut, modest and understated. Too understated? We would leave Chennai in a few days and I was afraid if I did not choose a ring there when I had a deadline, I might never do it.
I wear my wedding ring when I go out, and the mangalsutra to the temple and sometimes when I dress up. During the day, when writing or at the gym or preparing to teach, I wear nothing, my hands clicking away on keys, typing. No nail polish, no rings.
Two years after the wedding, I call my father-in-law to ask what the mangalsutra means, why it matters to them—to my mother-in-law, especially—that I wear it. I know it identifies me as married. But I had never seen the pendant's design before, nor would I have chosen it. It's a representation of Ganesh, he says. Remover of obstacles. To protect one's husband from harm. To protect one from harm. I resolve to wear my necklace more.
In a silver dish, the New Mexico ring and my wedding ring sit side by side. My mangalsutra lies coiled in my dresser drawer held in a hollowed-out gourd. I look at them; they look back at me. I wait for them to speak; I wait for the next talisman to enter my life, to be summoned, to appear—and to remind me of what I do not wish to forget.
__________________________________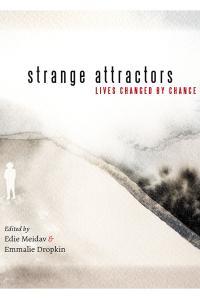 From Strange Attractors: Lives Changed by Chance, edited by Edie Meidav and Emmalie Dropkin, is out now from University of Massachusetts Press. "Ring Theory" copyright © 2019 by Sejal Shah.
---