Muhammad Ali: A Reading List
David Remnick, George Plimpton, Gerald Early, and More
Judging by the frequency and reverence with which he spoke of them, my father had two heroes—his grandfather and Muhammad Ali. I learned about both men through his telling, though with Ali, the tell included an embarrassing dose of show, with the old man backpedalling, circling around me, tossing cumbersome jabs in the direction of nothing in particular. ("I'm like Ali, boy!") He was fully aware of the ridiculousness of all this, the tongue-and-cheek uselessness of these boxing lessons. But it was a favorite gag, proof of his affection. And while he's always held his grandfather in great esteem, it was Ali who animated him, who lit something in the both of us when we saw him on television or revisited his triumphs through storytelling. With Ali, it's safe to say that my father's hero became my own.
Writing about my father is, in its own way, a tribute to Ali. One of the greatest athletes of the 20th century, one of the loudest enigmas of American culture, he was also, simply, an avenue between a father and son. And this impulse to begin a tribute to the boxer with a passage about my father underscores another truth about Ali's influence: For writers, he compels expressiveness, encourages flourishes. Boxing was already the richest literary sport before Cassius Clay arrived; the anecdotes of trainers and fighters from the post-war era alone are hard to beat. But when talking about Ali, when writing about him, you cannot help but try to rise to his occasion. He attracted as many superlatives as he proved. He evoked as much hyperbole as he lived up to. No other athlete—arguably no other figure of the 20th century—has been the subject of as much media as Ali, from film to television to tribute albums to comic books to public-service announcements. But best of all, Ali was the subject of some terrific books.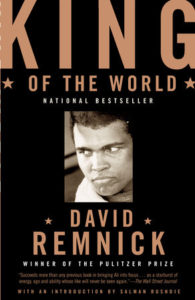 King of the World, David Remnick (1998)
Ali's impact on America was, of course, multi-layered. His brash persona as Cassius Clay, the phenom from Louisville who won Olympic gold for the U.S. in 1960, grew increasingly complicated as he became more closely affiliated with the Nation of Islam. Remnick's narrative focuses on Ali's early influences and transformation from a baffling pariah into a piper-like political radical. Remnick is an enviably gifted historian, graceful without adornment, for whom clarity is a kind of lyricism.
Many writers who covered Ali were motivated to use the first tool—voice—to render him. The art of King is its framing. The core humiliation of a stolen bike leads to afternoons after school at the gym, and that basic principle of answering an insult is the subtle pulse underneath the story of a great athlete who answered a call to social justice he thought was obvious, one for which sport itself was exhibit A, and in doing so grabbed the role as "the lead actor in his own improvisational American drama."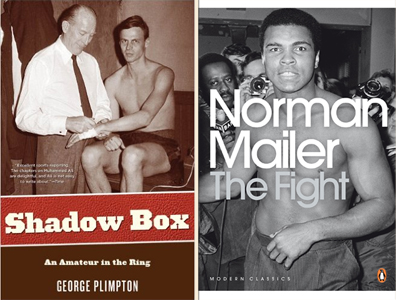 Shadow Box, George Plimpton (1977) and The Fight, Norman Mailer (1975)
It may seem obsessive to read two books about the same fight twice, but Plimpton and Mailer together provide disparate but complementary personalities covering the same epic event, two bright angles on the same moment. This is the most satisfying way to read these books, as a kind of match-up.
In Shadow Box, Plimpton, an easy, disarming storyteller, composed a kind of boxing bildungsroman as he immersed himself in the sport, beginning at New York's Stillman's Gym for three rounds against light-heavyweight champ Archie Moore (who Plimpton befriends after getting beat up by him for a Sports Illustrated article), ambling through intersections of boxing and literature, and ending at Kinshasa's 20th of May Stadium after one of the most shocking upsets in the history of sports. With both Moore and Ali, Plimpton ignored Hemingway's advice to never fall in love with your subjects. But in doing so, Plimpton never seems to have compromised his talent (and responsibility) for rendering them completely. And in Ali's case, you had to work hard to be neutral on the subject:
Norman Mailer once told me that he felt men didn't like to look at Clay—he emphasized just about everything they were not, and it cranked up all sorts of antagonisms they were ashamed to admit to—much as one avoided looking at a beautiful girl at a cocktail party for fear of a disruption of equanimity. I never could quite understand Mailer's notion. In Clay's presence, such as at those press conferences, I always found myself staring at him, my jaw slightly agape, and always a smile in the works somewhere, because so much of him came out in little digs and flourishes that we had to be on our toes to catch. (87)
Mailer's The Fight is a kind of analytical descent into the madness of spectacle, against which he studies Ali as archetype, as political reckoning, as the searching "psychologist of the body." If Plimpton's voice feels open, elegantly conversational, Mailer's prose is wrought, sweaty, each paragraph a three-way wrestling match between syntax, trope, and ego. But the man loved action, worshiped the physical, and was supreme at transmitting the thrilling stuff, as when he describes Ali's rope-a-dope technique of letting Foreman punch himself out:
And Ali, gloves to his head, elbows to his ribs, stood and swayed and was rattled and banged and shaken like a grasshopper at the top of a reed when the wind whips, and the ropes shook and swung like sheets in a storm, and Foreman would lunge with his rat at Ali's chin and Ali go flying aback out of reach by a half-inch, and half out of the ring, and back in to push at Foreman's elbow and hug his own ribs and sway, and say just further, and lean back and come forward from the ropes and slide off a punch and fall back into the ropes with all the calm of a   man swinging in the rigging. All the while, he used his eyes. (196)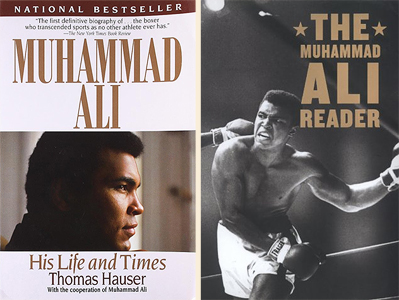 Thomas Hauser's Muhammad Ali: His Life and Times and The Muhammad Ali Reader, edited by Gerald Early
Until another 500-plus page compendium comes along to replace it, Hauser's oral history will stand as the most comprehensive account of Ali's life and influence. The simplicity and scale of the conceit are what make it so satisfying: the best takes from interviews with a couple hundred people who either knew Ali or contemplated him, in an effort to assemble a portrait of a champion who "reflected and shaped the social and political currents of the age in which he reigned," warts and all.
The cast includes familiar players—sportswriter Bert Sugar; Ali's official photographer, Howard Bingham; his cut man, Ferdie Pacheco—and terrific outliers—President Gerald Ford, Cheryl Tiegs, and singer/actor Kris Kristofferson, whose anecdote—deceptively simple and concisely vivid—seems typical of the hundreds shared here, this time on the subject of Ali's appreciation of what it meant to be famous:
Muhammad never begrudged the intrusions. There were times he'd be so weary from the demands people made on him that he'd nod out and fall asleep in the middle of an interview. But he never let a person go by without an autograph if that was what the person wanted. He told me once, 'You don't realize how much it means to these people. A lot of them have never met anybody famous.' And he told me how, when he was a little boy, his father took him to a tree that Joe Louis had leaned against in Louisville, and he realized how much that could mean to someone. (362)
The pleasure of an oral history like Hauser's is the intimacy it projects, the unguarded (but never unedited) forthrightness of its participants, and the art with which their voices are assembled. An anthology like The Muhammad Ali Reader, on the other hand, has the power of a great retrospective exhibition, artists at the height of their powers, all of whom seized the opportunity to translate the actions of a hero in their time.
Again, the usual sportswriting suspects make for good company. But Early also showcases how attractive Ali was to writers inclined to do a close reading by including contributions from playwright Wole Soyinka, cultural historian Garry Wills, Renaissance-lit professor (and MLB Commissioner) A.B. Giamatti, and, of course, Joyce Carol Oates (whose passion for the sport still, curiously, surprises many of her fans).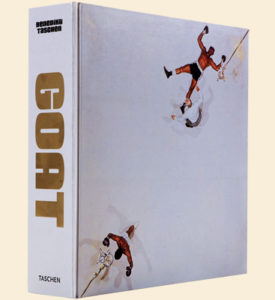 GOAT
In 2005, publisher Benedikt Taschen took his shtick for scale and produced one of the most expensive books of the 20th century—Greatest of All Time, which, depending on the edition you ordered, came in silk, in a box, even with a Jeff Koons inflatable sculpture. One of my favorite assignments was to write an essay about GOAT when it was first published (even the review copy was 20 x 20 inches; the only actual edition I could find was on the sixth floor of Macy's as a prop in home furnishings).
With more than 3,000 photographs splashed across 800 pages, GOAT is about as cinematic as a book gets. It's the finest archive of Ali's two most prolific photographers, Howard Bingham and Neil Leifer, whose giant images are buttressed by text ranging from interviews to essays to newspaper clips.
What's fascinating about GOAT is the truth it tells about pictures—that format matters. Many familiar images from famous fights—versus Floyd Patterson,  for instance—are transformed by the size, and in particular by the way in which a book this size must rest when you read it. His body lengthens and is foreshortened by the angle; he seems almost architectural. And this, of course, is the goal of the book as a whole: to reinforce the mythic while dissecting it.
Fame, wealth, titles: even combined, these accomplishments don't warrant a syllabus. Ali's longevity as a subject of study comes from that quality in him that welded these attributes into a larger purpose, what Oates—one of the best portraitists of boxers because she is one of the most dedicated students of character—described in a recent tribute as "this spiritual greatness… that seemed to have emerged out of a far more ordinary, even callow personality." Great books may yet be written about him. In the meantime, any student of the American character would do well to start here.
---