Moved to Tears at the Magic Mike Live XXX Revue
Tracy Clark-Flory: "I drank it up like a bottle of water discovered in the middle of the desert"
I was led down a moodily lit hallway that descended steeply into darkness. It had the mystery and intrigue of walking into a Prohibition-era speakeasy, save for the thrumming Katy Perry song surfacing from below. The stairs opened up to a lounge area outfitted with pink Art Deco couches: an Instagram trap. A framed black-and-white photo of a man's washboard abs hung on the wall and I stopped to take a picture on my iPhone as a pair of women flung themselves onto a nearby lounger. When I looked up, a smiling, attractive young man with puppy dog eyes greeted me with a "miss" and asked for my ticket.
The feminist website Jezebel had hired me as a staff writer just as my "maternity leave" ended and flew me to Las Vegas to cover the 2019 Adult Entertainment Expo. I'd spent all day reporting at the convention, petting limbless sex dolls and watching VR shot from a man's perspective. Now, in my off hours, I was going to see Magic Mike Live, which promised to be a modern reimagining of the stereotypically cheesy and crass "male revue." The show is the brainchild of the actor Channing Tatum, who starred in its Hollywood precursors: Magic Mike and Magic Mike XXL. The stated purpose of the stage adaptation was to take heterosexual women's desire seriously. Well, here I was trying to take my own desire seriously after spending over two decades primarily experiencing my sexuality through straight men—their desire, their pleasure, their sexual playgrounds.
The young man with puppy dog eyes ushered me down a set of stairs to another young man with puppy dog eyes. It was at this point, before any men had even taken off their clothes, that I decided I loved Magic Mike Live. It took so little: intentional scene setting, an artsy nude, catered attention, and some crappy dance music. This wasn't a facsimile of my interior erotic life—my Pinterest board for the space would have been much less pink—but it acknowledged that my interior erotic life might exist.
The stage sat in the center of the windowless room, surrounded by bistro tables. If it weren't for the blaring pop music, it would have seemed a high-scale jazz club instead of a woke Chippendales. On two sides, the dark platform was flanked by long pink couches with backs that rose and fell in a Cupid's bow, as though the stage was placed ever so unsubtly between a woman's lips, a pill perched on a waiting tongue. The imagery suggested that the audience would collectively swallow these men whole, but as I sat in the second row, waiting along with four-hundred-plus other women for the show to begin, my mood was more anxious anticipation than ravenous hunger. I was filled with Don't let me down.
This might have been a cheap, superficial acknowledgment of "female desire," but I drank it up like a bottle of water discovered in the middle of the desert.
A stubbled waiter wearing a crisp white button-down and old-timey suspenders chivalrously kneeled down next to my table to take my drink order. I heard a woman across the aisle wearing a "21st Birthday" sash whisper to her table of women, including her mother, "Even the waiters are hot." The hot waiter's reverential body language recalled Prince Charming preparing to slide the glass slipper onto Cinderella's foot. In truth, I realized, he was trying to upsell me on my drink order.
He pointed to a line on the menu reading, "Triple the size" and "XXL." "You get three drinks for the price of two," he said, delivering the sales pitch in the singsong style of a flirtatious compliment. In a too-chipper tone, I replied, "No thanks! I promised myself I'd only have two drinks tonight." I held up a pair of fingers like a peace offering. He quickly countered with a wink, "You can always throw out the third drink if you don't want it." I was but a few minutes into my empowering, feminist, sex-positive Magic Mike Live experience and a man was already trying to talk me into drinking more, and with the assistance of unsubtle phallic references. How quickly this sexual utopia had transformed into a canny money grab.
Soon, the lights dimmed and a man with crunchy hair, an oversize diamond-encrusted necklace, and the voice of a shock jock appeared in the audience, mic in hand. I shifted uneasily. Rock music began to blare and a group of dancers looking like a discount version of the Village People descended upon the room. This MC launched into rapid-fire raunch, shouting things like "Oooh that made my nipples hard" and "It's getting moist in here so take off all your clothes." A woman was pulled onstage and a man dressed as a firefighter pulled out a can of silly string, which he held at crotch level. Then he sprayed her in the face, mimicking a cum shot.
It was at this point, as I imagined reaching for my purse to leave, that she screamed, "Unicorn, unicorn, unicorn," and everything suddenly came to a halt. The whole thing had been a setup. The audience member was not an audience member; she was part of the show. In the universe of Magic Mike Live, we learned, unicorn was a safe word with the power to summon the voice of Channing Tatum in the rafters. As if speaking from the heavens, Channing's prerecorded audio breathily told her, "You can have anything that you want. You just have to ask." The show was transformed into a fantasy of her own making.
Tears pooled in my eyes as I fought my crumpling chin. I took a deep, wavering breath. I was crying in Magic Mike Live, a statement of fact nearly as horrifying as the prank that had just transpired. A grown, adult woman brought to tears by a male revue. They were tears of relief—at being rescued from cum-shot imagery, and at the nod to the steaming platter of crap that is so often served up as "female desire." The faux audience member transformed into the night's real MC, replete with her own rhinestone-encrusted mic, which she proceeded to thump desirously against her crotch. She was the comedic embodiment of tongue-wagging wanting.
Now I was grinning, watching these men follow her every request through the luster of my own tears. The guys, now clad in T-shirts and denim, swarmed the stage, awash in smoky purple light. They danced in unison and then broke out into individual routines with one of  them springing into a backflip. Shirts came off, revealing Ken-doll pecs and climbing walls of abs. They artfully humped the stage all at once and then jumped up to scan the audience with come hither looks as all of us screamed and clapped wildly. This might have been a cheap, superficial acknowledgment of "female desire," but I drank it up like a bottle of water discovered in the middle of the desert.
__________________________________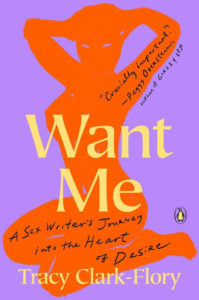 From Want Me by Tracy Clark-Flory, published by Penguin Books, an imprint of Penguin Publishing Group, a division of Penguin Random House, LLC. Copyright © 2021 by Tracy Clark-Flory.
---