Morning Brew: Nadiya Hussain's Very Simple Coffee Cake
Anyone Can Bake!
Baking is a language I never imagined I would speak. As a first-generation British child growing up in a lively, colorful Bangladeshi home, bursting at the seams with delicious exotic food, we cooked everything, we ate everything; you name it, we ate it. We ate everything… but cake.
We didn't bake. We did stovetop cooking and reserved the oven space for storing frying pans and such. The oven knob untouched, never turned. It lay unused.
For some reason I never questioned it, why we never baked like Delia in her Christmas specials. She had an oven in the wall, whereas we had a free-standing one and despite my small, ever-inquisitive brain, I never questioned if they were the same thing: an oven, but just slightly different.
Anyone can bake—you, even me—all you need is an oven.
It was someone else's world. Not mine; well, not until it became mine.
Eventually I realized that anyone can bake, you don't have to have a fancy kitchen, an oven in the wall, expensive equipment, a TV show. Anyone can bake—you, even me—all you need is an oven. You don't even have to love baking, as it's a love that grows with time, with every bake you undertake, and before you know it you'll be hooked on the sweet smell of baking in the kitchen.
*
Coffee Cake with Dalgona Coffee Cream
Serves 6 to 8; vegetarian 
*
For the cake
¾ cup/175g unsalted butter, softened, plus extra for greasing packed ¾ cup plus
1 tablespoon/175g brown sugar
3 large eggs
1⅓ cups plus
1 tablespoon/175g all-purpose flour
1 tablespoon baking powder
¼ teaspoon salt
2 teaspoons freeze-dried instant coffee
1 tablespoon hot water
For the dalgona coffee cream
2 tablespoons instant coffee
5 tablespoons/65g granulated sugar
5 tablespoons/75ml boiling water cocoa powder, for sprinkling
*
This is a very simple cake. It should be almost as quick as making a pot of coffee, with just a tiny bit of extra work.
Start by preheating the oven to 350°F. Grease and line the bottom and sides of an 8-inch/20cm round cake pan with a removable bottom. Put the butter and sugar in a bowl with the eggs, flour, baking powder, and salt. Combine the coffee and hot water and mix well. Add to the cake mixture.
Now, beat everything till you have a smooth, shiny cake batter. This should take 2–3 minutes. Pour the mixture into the pan and level off the top. Bake for 35–40 minutes, till a skewer inserted comes out clean. Take out and let cool in the pan for 10 minutes. Remove from the pan and completely cool on a cooling rack.
Make the dalgona cream by combining the instant coffee, sugar, and boiling water and whisking with electric beaters for a few minutes, till light and fluffy. Pour or swirl on top of the cooled cake. Sprinkle with a little cocoa and you are ready for your morning brew, in cake form!
___________________________________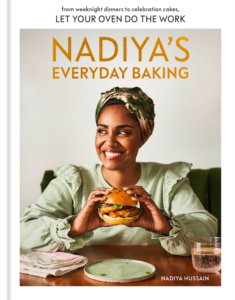 Reprinted with permission from Nadiya's Everyday Baking: From Weeknight Dinners to Celebration Cakes, Let Your Oven Do the Work. Copyright © 2022 by Nadiya Hussain. Photographs copyright © 2022 by Chris Terry. Published by Clarkson Potter, an imprint of Penguin Random House.
---