More Craft Than Art: Approaching a Novel As a Carpenter Would
Brian Hall on Balancing the "Two Cultures" in His Family and His Writing
In 1959, the year I was born, the British scientist and novelist C.P. Snow delivered a lecture at the University of Cambridge titled "The Two Cultures." Snow's thesis, which we would now say went viral, was that educated people of the West no longer enjoyed a common culture, but rather were divided into two mutually incomprehending camps, with scientists on one side and literary intellectuals on the other. When I was a little kid, my father loved to quote bits of this lecture to me.
My father was a physicist. My mother had been a chemist in college before becoming a mother and homemaker. They both liked to read, but both disliked what they considered fancy-pants literary writing or analysis. My mother read Trollope and British mysteries. My father read, in fact, C P. Snow—all eleven novels of his Strangers and Brothers sequence—and LeCarré. Perhaps surprisingly, he was also a devoted reader of Faulkner, but I think his attraction derived largely from nostalgia for the speech patterns and small-town customs of a Southern culture he'd grown up in and left long ago. His distrust of fancy writing was deep enough that he insisted all his life, with no little heat, that Faulkner was just a simple country story-teller.
Among their three children, my parents pegged me early on as the scientist, while my older brother was handed the consolation prize of being the writer. (The potential vocation of our younger sister wasn't much discussed, as she was a girl.) In college I pulled a switcheroo and majored in English, but by that point I had been the favored son for so long that in my parents' eyes I elevated the literary arts, rather than myself being debased by them. My brother, who could never win, was at that point studying English and American literature in graduate school, and the Frenchified literary theory he brought into the natal house on holidays was hooted down, while my under-informed undergraduate opinions were lauded as insightful.
Both of my parents had volcanic emotions, particularly anger, which in the cultivation of scientific rationality they tried mightily to repress and deny. Analyzing one's feelings was "navel-gazing"; going to a therapist was self-indulgence; psychiatrists were all crazy. My mother attacked her inner pressure with alcohol, whereas my father bled off steam through listening to music. He was an insightful and emotionally intuitive listener to a huge range of the classical repertoire, from Palestrina through Beethoven to Ligeti. But that was only his dumb heart. His brain, whose opinion was all that counted, took an engineer's view. How exactly did music work? What combination of keys and motifs created this or that emotional response? Perhaps it's needless to say that he never found an answer, and consequently always said that he loved music, but didn't understand it.
Both of my parents had volcanic emotions, particularly anger, which in the cultivation of scientific rationality they tried mightily to repress and deny.
When I started writing novels, I already had one about my family in the back of my mind. But my parents read every word I wrote, and the thought of their discovering how I saw them was horrifying. I loved them both, but considered their parenting skills bad, and their relationship terribly sad. My father died in 2006, my mother in 2012. By that time I had been compiling notes and sketches; it took me a long time, eight more years, to construct a novel about my family that felt right. The Stone Loves the World tells a half-fictional story about my own life, and a wholly nonfictional one about my parents. Thankfully, being a rationalist like them, I don't believe their spirits have lingered on to notice what the hell I did to them.
But am I thoroughly a rationalist, as my parents would have defined it? I was the little scientist who morphed into the fancy-pants writer. Still, my first marriage was to a woman with a far more typically artistic and mystical temperament than mine, and our relationship ultimately foundered on the unbridgeable gap between our respective ways of interpreting the world around us. I don't try to reverse-engineer music the way my father did, but I approach the craft of novel-writing—and it's probably significant that I think of it as a craft more than an art—in the spirit of a carpenter. Or maybe that of a physicist, in the way that my father loved to define physics: the study of why some things stand up and other things fall down.
I decided early on that my novel's main character, Mark, would be more of a thorough-going scientist than me, a version of me that never turned toward novel-writing, becoming an astronomer instead. Mark, like many scientists, and like me and my father, loves classical music. Like many men, and unlike me, he doesn't read much fiction, and deeply distrusts poetry. But like me, and my father, and most human beings, he is sometimes overcome with feelings that he can't define, sometimes beset by the perhaps illusory but powerful sense of a trembling nearness of some otherworldly meaning. If I may put on my engineer's hat, I wanted a widget in the novel that would function for Mark as listening to Beethoven string quartets functions for his father.
I recalled a fleeting notion I had had decades ago. I was an undergraduate in English literature, feeling the first stirrings of a desire to maybe someday write creatively, but not having yet written a line. I was walking along a city sidewalk, when a red field ball came out of nowhere and bounced into the busy street. It was followed by a kid, who ran between the parked cars and—my mouth was open to yell—jerked to a stop just shy of the traffic. He stood in agonized suspension, his popped eyes flitting to the ball that might any second get either flattened or booted into the next block, then to a car bearing down, then back to the ball, then to another car. The drama was so simple—a cast of one, a running time of six seconds—yet so dramatic. In the audience, my heart was racing. Today I can still see that kid and that ball.
But I approach the craft of novel-writing—and it's probably significant that I think of it as a craft more than an art—in the spirit of a carpenter.
Maybe because I hadn't written anything creative yet, and was intimidated by the thought of trying, I wondered if I could at least capture that, that moment of pity and terror. And maybe because I hadn't written anything yet, and was embarrassed by the disconnect between that fact and my frequently expressed desire to be a writer, when I got drunk that evening in the company of a woman I had a crush on, I hiked up Mount Eloquence, blathering on about this haiku-like prose-poetry form that no one else was writing, but that I would write, that would capture ordinary moments brimming with inarticulable meaning, just you wait.
Then I woke up, sober and mortified, and forty years went by. But the discarded idea seemed right for Mark. He lives alone, long separated from his daughter and her mother, working seventy hours a week teaching astronomy to undergraduates and conducting research on galaxy formation. He has no social life. He considers himself self-sufficient. Yet he has feelings that come bouncing redly out of nowhere. In the contemplation of something as prosaic as an empty Chinese take-out place in an isolated part of town, he feels . . . something. He can't define it, which should relegate it to his inattention, but it refuses to go away. He wants to express it.
Since the feeling is engendered by certain phenomena in his immediate environment, he wonders if listing the phenomena, in simple declarative sentences, will communicate the feeling. He calls these lists "data sets." They look sort of like poems, but don't tell him that.
I had a lot of fun writing Mark's data sets. They felt like an adolescent half-baked idea finally put back in the oven. The carpenter in me—or I guess the metaphor now requires that I be a mason—sees them as the keystone of the novel, the marriage of science and poetry. For Mark, whose reason tells him he has all he needs, they become the way he learns to say something simple to another human being, an artist: that for many years, in fact for all of his adult life, he has been lonely.
I was far into the writing of the novel before I realized that its epigraph, if I wanted to steal from E.M. Forster, could be "Only connect." In retrospect, it all makes sense. I was the middle child, whose typical role is the peacemaker. I was also the most loved child, and wasn't I loved enough to bring my parents together? Well, I was loved enough, but I didn't bring them together. Neither do I achieve that in the novel—as I said, that part is nonfiction—but the peacemaker's urge is all over the rest of the text. I really don't believe my parents' spirits linger in this world. But that's only my dumb head. My heart seems all along to have been arguing with them through example: See? It's possible.
__________________________________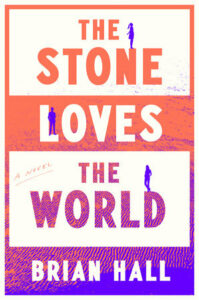 The Stone Loves the World by Brian Hall is available now via Viking.
---