Monica Sok on Writing the Cambodian Story Beyond Trauma
In Conversation with Louis Elliot
Monica Sok's debut poetry collection, A Nail the Evening Hangs On, grew from her reflections on the Cambodian diaspora and experience as the daughter of former refugees. Sok, a 2018–2020 Wallace Stegner Fellow at Stanford University, spoke with Louis Elliot.
*
Louis Elliott: A Nail the Evening Hangs On covers such vast physical distances and space between the living and the dead. I read you were working on it as early as 2016. The book is a beautiful accomplishment, Monica. How did the poems here begin to take shape for you? Was there an originating moment?
Monica Sok: Thank you so much for reading my book. It's hard to say when I began to write the book. I didn't know that it was possible for me to do such a thing. I had so many questions about my experience as a Cambodian American woman. I needed to write poems to understand my collective history. I had written some poems earlier than 2016, but that was a significant year for me because I had taken a trip to Cambodia. I started in Siem Reap to visit Angkor Wat and other temple sites, specifically Ta Prohm Temple. I had been there before with my family, as a child. This time felt less enchanting as I witnessed levels of tourism that disturbed me. I had put together many versions of my manuscript but felt that something was missing.
The poems I wrote during this trip focused more on my own experience as a daughter of survivors, as a person of diaspora. I wrote poems like "In a Room of One Thousand Buddhas," "Self-Portrait as War Museum Captions," and "Self-Portrait in Siem Reap" as I reflected on my history. I wrote early versions of "ABC for Refugees" in 2012 and it took me six years to fully realize it.
LE: The movement from Buddhas, these divine figures, to smaller people in "In a Room of One Thousand Buddhas," is so indicative of the way your poetry evolves on the page. This torque then turn from big to private. The tension between enchantment and disillusion—or rather an awakening into a knowledge of one's collective history in conversation with the present feels integral to the world of these poems. Have you discovered what was missing from your earliest manuscripts, Monica? And, if so, wherever did you find it that allowed you to share with us? What kind of place would you store this wonderful discovery? Or is it more a secret box that demands exploration? Where does one find the grit and patience to endure a six-year poem?
MS: That six-year poem used to be called "Reading." It was a terrible draft, but the sliding glass door would just not leave me alone! That's where I sat on the floor with my father to practice reading, while watching my brother play outside with his friends. I was longing to write the poem the way I longed to go outside and play. There are some things that don't let you go. I needed to listen for six years to find the language for the poem.
"My mission, perhaps, for this book was write the Cambodian narrative toward wholeness."
As for the earliest manuscripts, the poems that did not make it into the book operate in another universe. I have yet to create that world for poems that seem to aspire for a mythic quality. To write those poems, I need to operate slowly. I need to grow in ways I have not yet grown.
The last poem I wrote for the book was "Ode to the Loom." I was in Ithaca with my friend, Khmer visual artist Peter Pa. We went to see some gorges. It had been snowing, when we got close to the water, I felt small against the waterfall. Experiencing something larger than myself made me go inward. That's when I wrote the ode. This poem offers a different tone in the book, I think. I realized then how much my grandmother was a part of this book. Her loom, her grief, her joy and perseverance. My grandmother had been missing in the book.
I believe that my ancestors had a hand in making the book. Talking to them and trusting their guidance throughout my creative process––that's how I discovered a lot of my poems too. It's not a secret box that demands exploration. It's something inherited from generations of ancestors I needed to tap into. I had been stressed about finding a book cover. I wanted the work of a Khmer artist to decorate the cover. One day in bed, as I reached for my phone, I knocked over a vase of a plant that my mother brought me from her garden. I was so annoyed at my own clumsiness. My whole head was wet. But that was definitely a blessing.
I was about to call someone, and I looked at my black phone screen. I caught my own refection and noticed in the pupil of my eye, an old woman sitting on a mat. In my other eye, the old woman pressed her forehead to the mat in prayer. The blessing from my mother's plant, the old woman inside of my eye. My ancestors were saying, Foolish girl. We got you. We got your book cover.
The first artist I ever knew was my grandmother. Bun Em. She was a weaver. It was so clear to me in that moment that I needed to use her silk, the phamoung she wove. So my mother and my aunts in Pennsylvania all mailed me my grandmother's silks to Oakland. I'm telling you that throughout the entire making of the book, my ancestors were present.
LE: How phenomenal. Like your poems that depict a weaver, almost as the holder and caretaker of all things. She was taking care of you. I love how this taps into the realm of the unseen, and treats this world as a source, tapping into a conversation with those whose bodies are gone. Your trust in it is so tenderly frank. Powerful moments of family love and the disruption of it grace these pages. In "Recurring Dreams," a sister manages to make it to where her brother works in the field gathering grains. When you write, "Someone found her,, it communicates grave danger. Talking to you now, I see her reaching out for not just her brother but for generations of them. What about these poems seeks danger in pursuit of knowledge and perhaps liberation? What is at stake for the little girl in search of her missing brother?
"I had to figure out how to say the name Pol Pot or Henry Kissinger without relinquishing my power. It was important to me to center reclamation while looking oppression in the eye."
MS: Thank you for describing this as care. At times when I didn't know how to care for myself or my poems, someone in another realm was caring for me and my work.
LE: Realms, layers, the past present in a new form, I felt this reading. "Ask the Locals," the opening poem, is staggering in its real world scope and metaphoric power, a beautiful opening punch. It felt like a fist reaching down into my throat to wrench out a truth in the tender way we rely on poetry to accomplish. Yet the language is conversational. Where did the image of naming so-called revolutionaries as mosquitos originate? What was your creative movement towards realizing this image? Did you see visiting historical sites as an empowering journey?
MS: In "Recurring Dreams," some memory is lost, remembered, and deepened from one generation to the next. I don't know what it's like to lose a brother in the way the speaker does. But that longing to know what happened is passed down.
I don't know if my poems seek danger in pursuit of knowledge. I grew up with familial silence, so I try to create an opening to better understand my history. There's so much at stake when writing about lost family members.. This poem made me address how difficult it is to actually break that silence.
Mosquitoes are just annoying. The first time I went to Cambodia with my family, I was about ten years old and the mosquitoes devoured me. I was always itching my arms, my legs. I used mosquitoes as metaphor to describe the Khmer Rouge regime. At first, I didn't want to write the words "Khmer Rouge" anywhere. I didn't want them to take up space in my book.
That is what the world knows Cambodia for: the genocidal Khmer Rouge regime and Angkor Wat. I was annoyed by how much space the Khmer Rouge took up in the Cambodian narrative, almost whittling down an entire history to that regime. So I began to think of them as mosquitoes whenever I approached the page to engage with my history.
I had to figure out how to say the name Pol Pot or Henry Kissinger without relinquishing my power. It was important to me to center reclamation while looking oppression in the eye. I don't know if visiting historical sites was an empowering experience. It was painful to see remnants of war. Visiting Tuol Sleng in 2010 was different than visiting Tuol Sleng in 2016. The first time I went with my nephew. No audio tour, no path to follow. Photographs were on display, but many rooms were left the way they had been found, I think, so that nobody could ever deny what had happened there.
LE: Your family, your journey, the Cambodian past is so alive here, your grit and willingness to endure that is courageous and deserves to be recognized, Monica. These are brave poems. I found the tension between identity and liberty the speaker deals with in "Americans Dancing in the Heart of Darkness" so startling. The speaker hates Americans but wonders if she is one. There is trauma but also a sense of the need to understand one's history. "Cambodia, a perpetual stampede," she says. This captures a peculiar paradox of what it means to grapple with the shameful history of one's present country and the way that country impacts the place of one's ethnic heritage.
In Cambodia she might be American, but she is not a tourist. How much of this book delves into that tension? What draws you into this mystery? The poem lives on a knife edge between mass death, a bridge stampede, and young people dancing at a night club. Is there something poignant in this juxtaposition? If the Heart of Darkness was a song what kind would it be? What is the tempo? What kind of beat? I envision a slow trance club beat, body silhouettes in a lace on the wall. Many blue and green lights. But sirens not celebrations.
MS: The U.S. secretly bombed Cambodia during the war in Vietnam, and this escalated the Khmer Rouge into power. This is not a mystery to me. If my readers learn anything by reading my book, I hope they learn that the U.S. is also responsible for what happened in Cambodia. The Heart of Darkness would not be a song that I could invent. The song you imagine almost sounds romantic, even with sirens to signal alarm. That is what terrified me about that nightclub and that night, being both Cambodian and American in The Heart of Darkness.
LE: I wanted to think into that expected space, that romantic place that is in no way for romantic for the speaker, or for anyone considering the reality of how the poem exists, which demands considering the U.S., Cambodian, and Vietnam relations.
MS: The violence continued when Americans went out for a night of fun while Cambodians were grieving their loved ones who died in a human stampede.
LE: You captured this nightmare in the poem.
MS: They went for different reasons, to enjoy themselves on a day when school was cancelled. I went for different reasons. Because I didn't know how to handle the grief of another tragedy in Cambodia. Because I couldn't stay inside the hotel any longer and wanted to be in the city, which was so quiet. You could feel the grieving of others.
I guess during that time, I realized that Phnom Penh was still in the heart of darkness. I believe that in Saigon, there is also a nightclub called Apocalypse Now. The whole culture of nightclubs and these names and tourists … all of it is hard to wrap my mind around.
LE: The emotional intensity is staggering. At the same time, the tone of some poems is gentle and matronly, of the warrior. In "Song of an Orphaned Soldier Clearing Land Mines," you write of a child and her father soldier, "My father / took me gently, each one of us / gently, he took us up to the flames humming my children, my children." In this same poem you write, "There are things in this world / we must make one another see." I feel these two lines touch on so much of you aesthetic but also your mission, if I can say there is one. I feel we are indeed in caring hands. Did you have a specific mission in mind for these poems? Are they concerned with things terribly difficult yet essential to see?
"In my life, I try to not turn away from what is difficult. In my poems, I try to do the same."
MS: Thank you for reading with such care. I felt that I had a responsibility to speak tenderness into the narrative of my people. "Song of an Orphaned Soldier" enabled a voice that was not my own. I'm grateful for the invisible hand that wrote it. I didn't always know where a voice was taking me, but I would follow.
As the poet, as the vehicle for some poems, I wanted to provide a way out of the trauma narrative. I tried to be careful. I didn't want the poems to perform for trauma gazing, I wanted to acknowledge what was true within the experience of trauma. Reclamation was a way out of the expected trauma narrative. But sometimes reclamation was not exactly what each poem asked for.
In "Cruel Radiance," for example, I'm saying please look at my pain rendered invisible in the real world, on the subway, in America. In my life, I try to not turn away from what is difficult. In my poems, I try to do the same. I urge others to see the world with nuance, and I ask others to help me do this too. My mission, perhaps, for this book was write the Cambodian narrative toward wholeness. I can't say that this book alone will do it, but I am aware of the way my people have been marginalized. And so, this is something I'm always thinking about when I write.
LE: I am currently parked in NIKE Park outside of Philadelphia. Not Nike Air Jordan—nuclear intercontinental ballistic missiles. In the 80s, they pointed at Russia. Now people run here. These poems strike a closeness between the hallways of Tuol Sleng and the cornfields of Lancaster, PA. Do you think moments lived in the mind are as real as physical experiences? And, how important was it for you to bring the names of Phnom Penh, Pol Pot, of Cambodia to the page? Does wholeness involve creating a narrative bridge between Cambodia and the States?
MS: When you ask, are moments lived in the mind as real as physical experiences?, I think, yes. Memory lives in the body. Trauma lives in the body. I read somewhere that the body has the ability to unlearn trauma.
I'm investigating what it means to be a person of diaspora who is learning about her history in the context of everyday life in America.
LE: In "Cruel Radiance," the speaker says, "I see how the distinction between / victim and executioner becomes blurred." In a way, by visiting thoughts of being a traitor to her roots, she partakes in her own not full execution but she keeps touching on the pain to see what it says. How much of this work is looking at the relationship between victim and executioner.
MS: The quote, "We were not inside / those prisons: they were. Our hells / almost certainly are not theirs" suggests that the speaker understands that there is a fine line between what one has lived and what one has inherited. She must also grapple with being a woman of color in America, with the experience of not being seen. I don't think the poem suggests the speaker's own execution but her own traumas as a person of color. I ask my readers to look at this experience of being seen v. not being seen. As for the question about the relationship between victim and executioner, I'm really thinking about who has power and who doesn't. Who is witnessed? Who is overlooked?
Once a stranger told me that I was the bridge between Cambodia and America, and I didn't like that.
LE: Yes, that seems unfair. Pigeonholing.
MS: My work may act as a bridge for some people and that's all right. I don't mind that. But I hope it also acts as a world on its own.
I am writing new poems now. That feels like a different world, one that doesn't quite focus on my collective history. But when I began writing poetry, I was concerned (and will always be concerned) with questions about my history, the kind that wasn't taught in schools or spoken aloud at my family's dinner table. Those were the questions that pushed me to write poetry. Now I have other questions.
__________________________________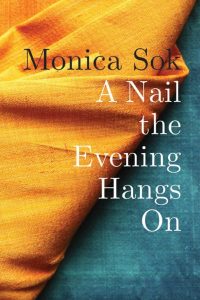 A Nail the Evening Hangs On by Monica Sok is available via Copper Canyon Press.
---