Mikhal Dekel on Anna Karenina, Dubliners, and A Room of One's Own
Rapid-fire book recs from the author of In the East

Welcome to the Book Marks Questionnaire, where we ask authors questions about the books that have shaped them.
This week, we spoke to the author of In the East: How My Father and a Quarter Million Polish Jews Survived the Holocaust, Mikhal Dekel.
*
Book Marks: Favorite re-read?
Mikhal Dekel: For sheer pleasure, hands-down Anna Karenina. I have been reading and re-reading it since my teens and can quote entire passages by memory. As inspiration for my own writing, the logical, succinct, emotionally devastating sentences of Phillip Roth's Patrimony and Hannah Arendt's "We Refugees" and other essays.
BM: What book do you think your book is most in conversation with?
MD: Not a book, but books: Daniel Mendelsohn's The Lost, Edmund De Waal's The Hare with Amber Eyes, and Susan Faludi's In the Darkroom. They tell very different stories from mine, but genre-wise they are all "investigative" Holocaust memoirs that focus less on the second generation's psychological trauma than on unearthing the details of what happened to a parent/ relative during the war. Differently from these books, however, In the East (formerly published as Tehran Children) is also about understanding the present as a consequence of the unearthed past. For this I haven't quite found a perfect conversation partner yet.
BM: A book that blew your mind?
MD: To Be A Man by Nicole Krauss: a gem of a book that encapsulates vast worlds in tiny installments of literary real estate.
BM: A book that made you cry?
MD: Journey into the Land of Zeks and Back, a gulag memoir by Julius Margolin, written in 1946, published in English only this year. Devastating, profound, and beautifully written, it tells the story of my father—and thousands like him.
BM: What book from the past year would you like to give a shout-out to?
MD: Out of Mesopotamia by Salar Abdoh, a novel about an Iranian journalist embedded with volunteer fighters in Syria and Iraq. Salar himself was embedded with these fighters. He speaks their language and has an insider-outsider perspective that no one else has. As he was writing that novel Salar was also helping me research my own book in Iran, and so there are faint echoes of my book in his, and of his book in mine.
BM: A book that actually made you laugh out loud?
MD: Terry Castle's memoir The Professor has a chapter on Susan Sontag ("Desperately Seeking Susan"), which contains hilarious descriptions of the late critic. I burst out laughing when I first read it, and still do when I re-read.
BM: What's one book you wish you had read during your teenage years?
MD: A Room of One's Own by Virginia Woolf. When I first read it in my mid twenties, after immigrating to the United States from Israel, I immediately felt that it gave voice to unformulated thoughts that had been with me for a long time. In my teens I had feminist instincts but no access to any feminist works.
BM: Classic book you hate?
MD: I wouldn't call it hatred, but I have never connected to Dostoyevsky's works, which I have read and studied extensively.
BM: Favorite book no one has heard of?
MD: Hayo hayta (She Once Was) by the Israeli writer Yael Neeman is a creative non-fiction book no one in America has heard of. It's a biography of an anonymous woman pieced together through a collage of tightly curated interviews with people who knew her. I have not encountered anything like Neeman's rigorous writing technique—in any language.
BM: Favorite book you were assigned in high school?
MD: James Joyce's Dubliners was among the first English language books we were assigned in my high school in Haifa, which by the way is a port town, like Dublin. I still remember the first encounter with Joyce's prose. I was transported.
BM: Favorite children's book?
MD: Uri's Special Language by David Grossman is a Hebrew children's book about a boy who is just acquiring language and is understood by no one except his older brother. When my own son was learning to speak, he loved cracking up to Uri's mangled phrases, and so without knowing Uri or ever living in Israel, Uri became his imaginary friend. We were devastated when the real Uri, the author's son, was killed a decade later.
BM: Book you wish would be adapted for a film/TV show?
MD: My own book, of course! An epic WWII survival story that takes place across Soviet gulags, Kazakh villages, Uzbek cities, across Tashkent, Tehran, Baghdad, Tel-Aviv, Karachi—the script is already in my head.
*
Mikhal Dekel is the 2021-2022 Stuart Z. Katz Professor of Humanities at CCNY, where she teaches in the English Department and directs the Rifkind Center for the Humanities and Arts. She is the author of In The East: How My Father and a Quarter Million Polish Jews Survived the Holocaust, formerly published as Tehran Children: A Holocaust Refugee Odyssey. The book was a finalist for the Sami Rohr Prize, the Chautauqua Prize and the National Jewish Book Awards, and has been translated into German and Hebrew.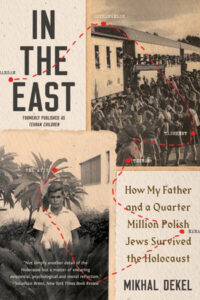 Mikhal Dekel's In the East is out on December 7 from W. W. Norton & Company
*
---