Michael J. Fox: When Dealing with Serious Medical Conditions,
A Little Laughter Helps
"It's clear now that this is more than just a pain in the ass;
it is a tumor in my spine."
For years, my neurologist had been monitoring a growth in my spinal cord, an ependymoma tumor, which began in the ependymal cells that line the pathways for cerebrospinal fluid. The tumor first appeared on an MRI during an assessment of my neurofibromyalgia. At that time, I surveyed four differently affiliated surgeons, each of whom described the ependymoma as benign, but a serious concern, and laid out what would be involved in addressing the problem.
The consensus was that I avoid invasive surgery to remove the mass. This would be an intensely complicated procedure; the work difficult, dangerous, and not likely to be 100 percent successful. They all agreed that the risks were prohibitive, and as long as the tumor was dormant and not overly compressing the spinal cord, the surgery was not advisable. "Let's wait, monitor it, and keep the focus on improving your PD therapy."
After remaining essentially static for years, things have taken a recent, ominous turn. Something has triggered an acceleration in the tumor's growth. And there 's another red flag: The new imaging reveals a slight bleed in the cyst. This causes some rethinking of their "wait and see" position. Now these same doctors agree that the tumor should be removed.
Tracy and I consider all of this carefully. We're wary, even fearful, about the decision we have to make. We love our life, although after all of these years with Parkinson's, we know that few things are predictable.
It's pretty clear now that this is more than just a pain in the ass; it is a tumor in my spine, and it's got to go. Now, the question is: Who's going to take it out, and when, and will they know what the hell they're doing?
Dr. Theodore then leans forward and confides,"I mean, who wants to be the guy who paralyzes Michael J. Fox?"
The Northeast has some of the most prominent neurosurgeons in the country, at some of the most prestigious hospitals. We interview a number of them. They review the latest imaging, and weigh the risks inherent in attempting a fix. Some are willing; some hesitate; a few outright decline. I need a wise man or woman, to help us make a decision.
Dr. Allan H. Ropper, the legendary Harvard neurologist who guided me through the first years of my Parkinson's diagnosis, recommends that I meet with Dr. Nicholas Theodore, director of the Neurosurgical Spine Center at Johns Hopkins in Baltimore. Allan's son, Alexander E. Ropper, himself a neurosurgeon, worked as Dr. Theodore's fellow at his previous post at the Barrow Neurological Institute in Phoenix.
Tracy and I travel the I-95 from New York to Maryland to consult with Dr. Theodore. Nina is with us; in fact, Nina is driving. Johns Hopkins is an iconic institution, the birthplace of neurosurgery in the United States. Another reason to consider this hospital is their first-class and world-renowned rehabilitation facility, located in the same complex. I wouldn't have to transfer to a separate rehab location, post-surgery.
We reach the medical center and, once inside, I shuffle down a corridor toward a tall man in a white coat, waiting in a doorway, about 20 steps away. It seems more like 20 miles. Having difficulty with balance, I'm palming the wall for support. When we reach Dr. Theodore, he shows Tracy into a handsome office, and me into the adjoining exam room. It's the type of setup you'd expect for an acclaimed surgeon.
My first impression is that he's larger than life; a down-to-earth pro-linebacker with the demeanor of a happy John Goodman. Dr. Theodore says that he has reviewed my MRI several times, and is caught up on my medical history.
He examines my spine, checks my reflexes, the regular drill. He records his observations into his computer: "Imaging shows a massive intramedullary [within the spinal cord] tumor, with a large, associated syrinx [a fluid-filled cavity within the cord] causing significant pressure. Deteriorating balance issues, significant weakness and spasticity in the legs, and clear-cut evidence of myelopathy [spinal cord dysfunction]."
As I am getting dressed, he comments on the cuts and scrapes on my knees. "Falling a lot?"
"Falling more and enjoying it less," I say.
"Do your knees ever get the chance to heal?"
"Not lately. I'm pretty rough on them."
We rejoin Tracy in Dr. Theodore's main office. He begins the meeting by explaining that when Dr. Ropper contacted him about a patient with an ependymoma in the upper thoracic spinal cord that no one else wanted to touch, it got his attention. Ropper chose not to reveal my identity until after Dr. Theodore agreed to consider my case. "When I first saw your imaging, I was alarmed, to say the least."
I glance at Tracy, who has pen in hand and is getting this all down in a spiral notebook.
"Any neurosurgeon," he continues, "would get a pit in their stomach, looking at your spine. I just had to take a deep breath." Dr. Theodore says he understands why others have shied away from this as being inoperable. "Given the size and location of the tumor at the cervicothoracic junction, it is risky." He then leans forward and confides, "I mean, who wants to be the guy who paralyzes Michael J. Fox?"
Most people don't evaluate neurosurgeons with a bias toward a sense of humor, but I tend to trust folks who make me laugh when things get grim. His last comment earns a chuckle from me.
Tracy speaks up. "Why do you think this growth initially started on his spine? We've heard differing opinions."
"We don't know why a tumor of this kind develops; whether he was born with the abnormal cells, or if it developed spontaneously. Either way, these types of tumors tend to grow slowly, so he may have had this for quite some time before he noticed he had a problem."
My nervousness fast approaching fear, I attempt to cut the tension.
He turns from Tracy toward me. "In your case, Parkinson's disease probably made it difficult to detect a separate problem with your spine," he explains. "I don't need to tell you—PD is a progressive illness; it's constantly changing, so it would be easy to presume that the issues caused by the tumor were just new Parkinson's symptoms. It is highly unusual to have these two conditions simultaneously. I wouldn't want anyone to have either of them, let alone both."
"Well, my Parkinson's isn't going anywhere anytime soon. Knowing that, do you think you can fix the other problem?"
"There's definitely reason to hope that we can. But there are no guarantees or shortcuts." Dr. Theodore reviews the potential complications, including the possibility that I could experience worsened weakness, or, as other doctors feared, paralysis.
"The blood supply in the thoracic spinal cord is very tenuous; it's minimal. A little too much manipulation, or a little blood vessel that goes into spasm, and the spinal cord decides it's not going to work anymore."
I listen carefully, but count on Tracy to absorb the details and ask all the right questions. In full advocate's mode, she asks, "Could you describe the procedure for us?"
"Of course. Assuming all goes well, the surgery will last about five hours. Once you are delivered to the OR, we'll prep you and put you to sleep. Then we 'll turn you onto your belly and mark out the region of interest between your shoulder blades, where we are going to make our incision. We use ultrasound, your MRI, and other techniques to determine where to make the incision."
My nervousness fast approaching fear, I attempt to cut the tension. "Hey, at least it ain't brain surgery."
Dr. Theodore laughs. "I know you've actually had brain surgery, but that's much easier than what we're talking about."
Tracy adds, "Mike's brain surgeon said the same thing about his job versus a rocket scientist."
__________________________________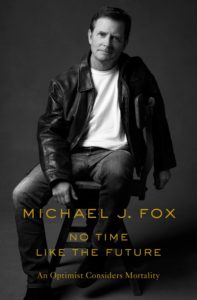 Excerpted from No Time Like the Future. Copyright © 2020 by Michael J. Fox. Excerpted by permission of Flatiron Books, a division of Macmillan Publishers. No part of this excerpt may be reproduced or reprinted without permission in writing from the publisher.
---