Melissa Febos on Frankenstein, Elissa Washuta, and The Velveteen Rabbit
Rapid-fire Book Recs From the Author of Body Work


Welcome to the Book Marks Questionnaire, where we ask authors questions about the books that have shaped them.
This week, we spoke to the author of Body Work: The Radical Power of Personal Narrative, Melissa Febos.
*
Book Marks: First book you remember loving?
Melissa Febos: The Velveteen Rabbit. I'm not sure they allow children's books to be this tragic anymore, but thank goodness they once did. In my household we referred to our most threadbare and beloved stuffed animals in hushed tones as alive.
BM: Favorite re-read?
MF: Don't make me choose! Anne Carson's Autobiography of Red, James Baldwin's "Sonny's Blues," Siri Hustvedt'sWhat I Loved, Audre Lorde's Sister Outsider, Lacy Johnson's The Other Side—I work these into my teaching syllabi a lot to facilitate my own rereadings.
BM: Last book you read?
MF: God, Human, Animal, Machine by Meghan O'Gieblyn—brilliant. I also just reread Flynn Berry's Under the Harrow, which is a perfect book.
BM: What book from the past year would you like to give a shout-out to?
MF: Elissa Washuta's White Magic is one of my favorite essay collections ever—it's hilarious, grave, wise, and so weird; everything I want from an essay collection. Washuta is a national treasure.
BM: A book that actually made you laugh out loud?
MF: I'm reading the novel-in-progress of one of my thesis advisees—Jenny Fran Davis—and it has made me laugh out loud multiple times, just in the first 80 pages. She has another novel coming out next year called Dykette, which is honestly all the recommendation you should need.
BM: What's one book you wish you had read during your teenage years?
MF: Is it insufferable to say Body Work? Probably, even though it's true, so let's go with Melissa Faliveno's Tomboyland.
BM: Favorite book to give as a gift?
MF: When Things Fall Apart by Pema Chodron, which might have literally saved my life many years ago. Everyone's life falls apart a few times, so it makes a great gift.
BM: Classic book on your To Be Read pile?
MF: I've been picking my way through The Bostonians at a glacially slow pace, which is a pleasure, but I guess that's not technically TBR, so let's go with Middlemarch. Though that is probably in my Would Like To Read But Know I Probably Never Will pile. You know, let's go with Mary Shelley's Frankenstein, which I just agreed to read with my wife.
BM: Favorite book no one has heard of?
MF: My other MFA thesis advisee's work-in-progress! It doesn't have a title yet, but remember the name Sanjna Singh. You're going to love this book, a beautifully written page-turner of a memoir.
BM: Favorite book you were assigned in high school?
MF: I dropped out of high school, partly because I didn't agree with the books they assigned, Instead I read folks like Anaïs Nin, Anne Sexton, Sharon Olds, Toni Morrison, Jeannette Winterson, Dorothy Allison, and Alice Walker. I think the only author that both I and my high school reading list cared for was J.D. Salinger.
BM: Book(s) you're reading right now?
MF: Butts: A Backstory by Heather Radke and I've Had to Think Up A Way To Survive by Lynn Melnick. Both fantastic so far.
BM: Favorite children's book? 
MF: Goodnight Moon. I love that this weird-as-hell book (another favorite of my childhood)  has been cultishly popular for so long. "Goodnight, bowl full of mush" forever!
*
Melissa Febos is the author of the memoir Whip Smart and three essay collections: Abandon Me, a LAMBDA Literary Award finalist and Publishing Triangle Award finalist; Girlhood, a national bestseller and National Book Critics Circle finalist; and the forthcoming Body Work: The Radical Power of Personal Narrative. A recipient of the Jeanne Córdova Nonfiction Award from LAMBDA Literary and of fellowships from the National Endowment for the Arts, MacDowell, Bread Loaf, Lower Manhattan Cultural Council, The BAU Institute, Vermont Studio Center, The Barbara Deming Foundation, and others; her essays have appeared in The Paris Review, The Believer, McSweeney's Quarterly, Granta, The Yale Review, Tin House, The Sun, New York Review of Books, and The New York Times Magazine. She is an associate professor at the University of Iowa, where she teaches in the Nonfiction Writing Program.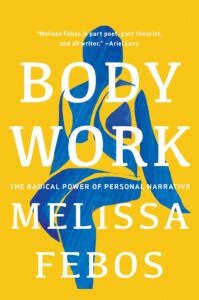 Melissa Febos' Body Work is out now from Catapult
*
---