Meet National Book Award Finalist Elana K. Arnold
The author of What Girls Are Made Of on teen girls, twitter, and Agatha Christie
The 2017 National Book Awards (also known as the Oscars of the literary world), will be held on November 15th in New York City. In preparation for the ceremony, and to celebrate all of the wonderful books and authors nominated for the awards this year, Literary Hub will be sharing short interviews with each of the finalists in all four categories: Young People's Literature, Poetry, Nonfiction, and Fiction.
Elana K. Arnold's What Girls Are Made Of (Carolrhoda Lab / Lerner Publishing Group) is a finalist for the 2017 National Book Award in Young People's Literature. The novel centers on 16-year-old Nina, informed by her mother that unconditional love does not exist, as she attempts to navigate loss and desire and the casual horrors of girlhood. Literary Hub asked Elana a few questions about her book, life as a writer, and how it feels to be a finalist.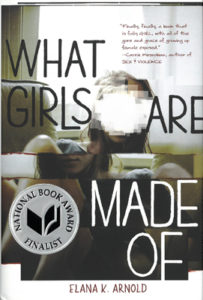 Who was the first person you told about making this list?
When I found out What Girls are Made Of was a finalist, I was with my friend Erin O'Shea. She snapped a picture of me while I was on the phone hearing the amazing news. But the first person I told about making the list was my daughter, Davis. She is absolutely one of the bravest, kindest, most thoughtful people I have ever known; she takes care of herself and conducts herself in ways that inspire me to be a better person, both in the world and to myself.
What time of day do you write, and why?
My favorite time to write is in the morning, in bed, surrounded by animals and with a hot cup of coffee. But often the writing happens in less luxurious circumstances. My two teenage kids are both homeschoolers, and I am their primary facilitator, which means that I spend lots of time driving and then waiting for them while they meet with friends, take classes, and participate in events. I carry my laptop with me most everywhere and have learned to write when and where I have time. This means I often write in my car, or at a park, or at a coffee shop near my kids' activities. I've learned that the work I produce in my favorite place is not measurably different from the work I produce awkwardly curled up behind my steering wheel in the parking lot of my daughter's dance studio. What's important is that I do the work.
Which books do you return to again and again?
Agatha Christie's books have been in my life since I first discovered them in my grandmother's home library when I was ten years old. Rereading her mysteries makes me feel connected to the happy days I spent lounging on the carpet, chasing a patch of sun, and nibbling on fruit as I disappeared into her mysteries. Nana, who died in March, was my longest, strongest, most stalwart supporter and force of good in my life. The best parts of me are because of her. When I return to Agatha Christie's books, I am returning to my Nana.
Which non-literary piece of culture could you not imagine your life without?
Social media. As an introvert/extrovert, a homeschooling parent, and a writer, I both crave connection and shy away from it. Social media has allowed me to become more educated and connected to other writers, thinkers, and artists. Writing and parenting can be lonely jobs, and I'm deeply grateful for the relationships I've made online.
What is the best writing advice you've ever received?
The writer Max Byrd was a professor of mine in graduate school. He told us, "If you have access to a world that most people do not, write about that world." His words inspired me to write about my experience with horses, and following that advice over and over again has provided footholds into each of my projects.
Despite Ferrante fever, literature about teen girls often seems like it isn't treated seriously by the book world. Why do you think this is, and how does What Girls Are Made Of fit in?
We don't respect books about teenage girls because we don't respect teenage girls. I hope that this is changing. What Girls Are Made Of centers a certain female teenage experience of external and internal devaluation that certainly reflects my own coming of age. Even now I have to actively combat my instincts to shame, chastise, and self-flagellate.
I hope that by the time my daughter is an adult, What Girls Are Made Of will feel like a relic. In ten years, I hope that young readers won't be able to identify with Nina because their lived experiences will be so different from Nina's, and from mine. But I'm not holding my breath; the Weinstein revelations, the Trump era, and the still-pervasive problems of sexism (which, for girls of color, are often compounded with racism) tell me that books like What Girls Are Made Of may, unfortunately, still be relevant for years to come.
---