Meet National Book Award Finalist Carmen Maria Machado
The author of Her Body and Other Parties tells us about her favorite stories
The 2017 National Book Awards (also known as the Oscars of the literary world), will be held on November 15th in New York City. In preparation for the ceremony, and to celebrate all of the wonderful books and authors nominated for the awards this year, Literary Hub will be sharing short interviews with each of the finalists in all four categories: Young People's Literature, Poetry, Nonfiction, and Fiction.
Carmen Maria Machado's Her Body and Other Parties (Graywolf Press) is a finalist for the 2017 National Book Award in fiction. The story collection is sexy, scary and deeply satisfying, a witch's brew of horror, fairy tale, feminist literary fiction, and crime television that pushes up against the boundaries of storytelling. Literary Hub asked Carmen a few questions about her collection, her reading habits, and her life as a writer.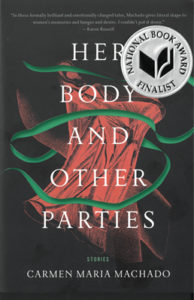 Who do you most wish would read your book?
Every gay teen; (the late) Angela Carter; Mariska Hargitay.
What's the best book you read this year?
It's a three-way tie between Lesley Nneka Arimah's What It Means When a Man Falls from the Sky, Jenny Zhang's Sour Heart, and Bennett Sims's White Dialogues.
What time of day do you write (and why)?
As early in the morning as possible, when my brain is all fresh and supple and porous from sleep, and I haven't seen the news or checked social media or done any other mind-deadening things.
How do you tackle writer's block?
Read a good book or story. It always gets the juices flowing again.
Which book(s) do you return to again and again?
Shirley Jackson's The Haunting of Hill House, Kelly Link's Stranger Things Happen, Gloria Naylor's Mama Day, Gabriel García Márquez's One Hundred Years of Solitude.
Which non-literary piece of culture—film, tv show, painting, song—could you not imagine your life without?
Law & Order: SVU.
Which story in the collection is your own favorite, and why?
"The Resident." It was the most hard-won story of the entire collection; it took me years to get it right, and then I did. She's my white whale, except I actually caught her.
---